Anterior ankle pain refers to pain experienced at the front of one's ankle and is a common ailment affecting people of all age groups. The discomfort may range from mild, persistent irritation to acute pain disrupting one's daily routine. Understanding the fundamentals, potential causes, diagnostic procedures, and treatment options can be instrumental in managing, treating, and preventing this condition.
Causes of Anterior Ankle Pain
The most common causes of anterior ankle pain are usually injury-related, with sprains, bone breaks, and tendonitis taking the lead:
1) Sprains
Ankle sprains happen when the ligaments surrounding the ankle joint endure excessive force, causing them to stretch or tear. This often results from stepping in an awkward manner, tripping, or vigorous sporting activities resulting in a rapid change of direction. The anterior talofibular ligament (ATFL) on the outer ankle is the most commonly affected.
2) Bone Breaks
Bone breaks or fractures involving the tibia, fibula, or talus bones create severe pain, bruising, and swelling. In cases where a dislocation accompanies a fracture, the ankle may appear deformed.
Read More: Stomach Pain When Coughing: What Causes It & Remedies
3) Tendonitis
Tendonitis occurs when tendons become inflamed due to overuse or injury. Ankle tendonitis affects either the peroneal, posterior tibial, or Achilles tendons, causing a burning, tightening sensation in the affected area.
Rare Causes of Anterior Ankle Pain
Less frequent causes of anterior ankle pain include inflammatory conditions such as gout, rare instances of bone infection (osteomyelitis), tarsal tunnel syndrome, peroneal neuropathy, and benign and malignant tumors.
Diagnosing Anterior Ankle Pain
A combination of medical history, physical examination, and imaging tests are typically involved in diagnosing anterior ankle pain. The physical examination allows health practitioners to assess swelling, bruising, and range of motion. In comparison, imaging tests, including X-rays, provide a detailed view of the internal structure of the ankle.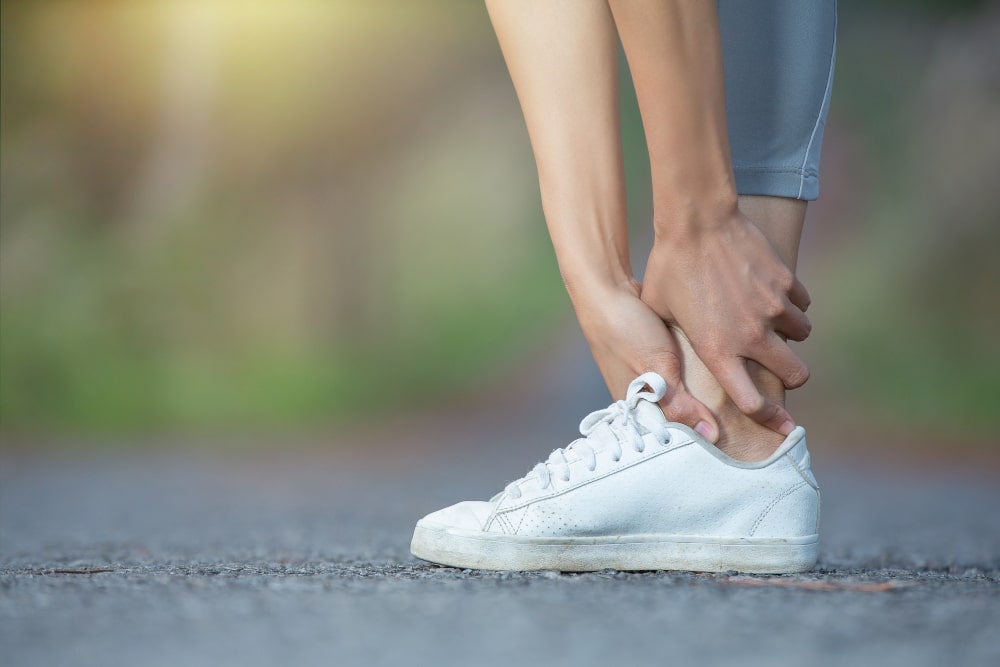 Read More: Back Pain After Epidural: Everything You Need to Know
Treatment Options for Anterior Ankle Pain
Anterior ankle pain management is usually dependent on the underlying cause of the pain. Here are some notable treatments:
Rest and Elevation: These are crucial first steps in managing many ankle injuries. Rest gives the body time to begin the healing process, while elevating the ankle can help decrease swelling and promote healing.
Ice: Applying ice to the ankle can reduce swelling and alleviate pain. Use a cloth to wrap the ice or an ice pack to prevent direct skin contact and limit applications to 15-20 minutes at a time, with at least 40 minutes between each application.
Non-Steroidal Anti-Inflammatory Drugs (NSAIDs): Over-the-counter medications like Ibuprofen can be used to help reduce inflammation and manage pain, but it's important to use as directed.
Physical Therapy: This option is crucial for rehabilitative purposes. A physical therapist would guide the patient on specific exercises aimed at improving ankle strength, flexibility, and balance to speed up recovery and reduce the risk of future injuries.
Ankle Braces or Supports: These can provide stability during the healing process and potentially prevent further injury.
Corticosteroid Injections: If the pain is severe or persistent, physicians might administer corticosteroid injections to reduce inflammation.
Surgery: This is typically considered only if conservative treatments haven't been effective — particularly for conditions like severe fractures or the presence of bone spurs. The exact surgical procedure would depend on the specific problem.
Read More: Gluteus Medius Pain: Causes, Symptoms, and Treatment
Exercises for Managing and Alleviating Anterior Ankle Pain
Practicing specific exercises can significantly aid the management and alleviation of anterior ankle pain. These exercises aim at increasing flexibility, building strength, and improving the range of motion in the ankle. Here are a few helpful exercises:
1) Ankle Dorsiflexion:
This exercise involves bending your ankle upwards towards your shin, which aids in regaining the ability to walk normally again. The steps are as follows:
Start by straightening your knee.
Point your foot back towards your nose, moving only your ankle until you feel discomfort or can't tilt it back further.
Hold for 15 seconds and return to a neutral position. Repeat five times.
2) Ankle Plantar Flexion:
Plantar flexion accents the motion by pointing your ankle down and away, helping to improve your range of motion.
Straighten your knee.
Point your foot downwards, moving only your ankle until discomfort is felt or you can't move further – Hold this position for 15 seconds, then return to a neutral position.
Read More: Thenar Eminence Pain: What Causes It and How to Treat It?
3) Ankle Alphabet:
The goal of this exercise is to gain mobility in all directions. It involves drawing the alphabet with your ankle:
Start by sitting on a chair with your foot dangling off the edge.
Draw each letter of the alphabet by moving your injured ankle.
Make sure you move your ankle in all directions, using your big toe as a "pencil."
4) Ankle Eversion and Inversion Isometrics:
This exercise involves pushing the ankle inwards and outwards, helping to strengthen the ankle and reduce lateral instability.
Start by sitting and placing the foot (inner or outer side) in question against a stable object.
Gently push your foot into the object, making sure the ankle joint doesn't move.
Hold this position for 15 seconds before releasing.
Read More: Acupuncture for Neck Pain: An Effective Treatment Option?
5) Resisted Ankle Strengthening Exercises:
Using a resistance band, these exercises help strengthen the muscles around the ankle.
Practice flexing your ankle against the resistance band in all four basic movements: dorsiflexion, plantar flexion, eversion, and inversion.
Repeat each movement at least 10 times for best results.
Always consult a healthcare provider or physical therapist before beginning any exercise regime. They can ensure these exercises are safe for your specific condition and help customize a routine for optimal recovery. If you experience increased pain during any of these exercises, stop and consult your healthcare provider. Remember, pain is your body's way of signaling that something may be wrong.
Conclusion
At large, anterior ankle pain is an umbrella term encompassing a plethora of conditions. The key to effective treatment lies in an accurate diagnosis, which inherently requires an understanding of the potential causes. It's critical to seek medical advice for persistent anterior ankle pain to avoid possible complications and to return to optimal health more rapidly.
Read More: Lose Arm Fat: Effective Strategies and Exercises
FAQs
What is anterior ankle pain?
Anterior ankle pain refers to discomfort or pain felt at the front part of the ankle. While this pain can originate from a multitude of causes such as sprains, fractures, or tendonitis, it may also result from overuse, especially in those who participate in high-impact activities or sports.
What other symptoms might accompany anterior ankle pain?
In addition to discomfort or pain in the front of the ankle, possible accompanying symptoms may include swelling, bruising, stiffness, reduced range of motion, and difficulty in walking or bearing weight on the affected ankle.
Does anterior ankle pain occur due to aging?
While age can increase the risk of certain conditions such as arthritis which could lead to anterior ankle pain, it is not an exclusive factor. Injuries, overuse, and specific medical conditions can cause anterior ankle pain in individuals of any age.
What type of doctor should I see for my anterior ankle pain?
Start by discussing your symptoms with your primary care physician, who can guide you to the appropriate specialist if needed. This could be an orthopedic doctor who specializes in musculoskeletal conditions, a sports medicine specialist for sports-related issues, or a rheumatologist if an inflammatory condition such as arthritis is suspected.
What remedies can I employ at home for anterior ankle pain?
Resting, elevating the affected ankle, applying ice, using over-the-counter pain relievers, and performing gentle ankle exercises can help alleviate pain and promote healing. However, these remedies should supplement, not replace, professional medical advice.
Does footwear type impact anterior ankle pain?
Yes, inappropriate or ill-fitting footwear can exacerbate anterior ankle aches, especially if it lacks adequate support. Shoes that provide proper arch and ankle support can promote better foot and ankle alignment, potentially mitigating pain.