Steroids have gained substantial attention in the medical field due to their beneficial properties in managing numerous diseases. However, their frequent use also presents a set of concerns, particularly the fear of hair loss. This article will explore the intricate relationship between steroids and hair health, aiming to clarify the question: does steroids cause hair loss?
Understanding Steroids
Steroids, in a biological sense, refer to a broad category of chemical compounds. The body naturally produces several types of steroids, such as cortisol and testosterone. Synthetic versions of these hormones can be created in a laboratory and function similarly to their natural counterparts.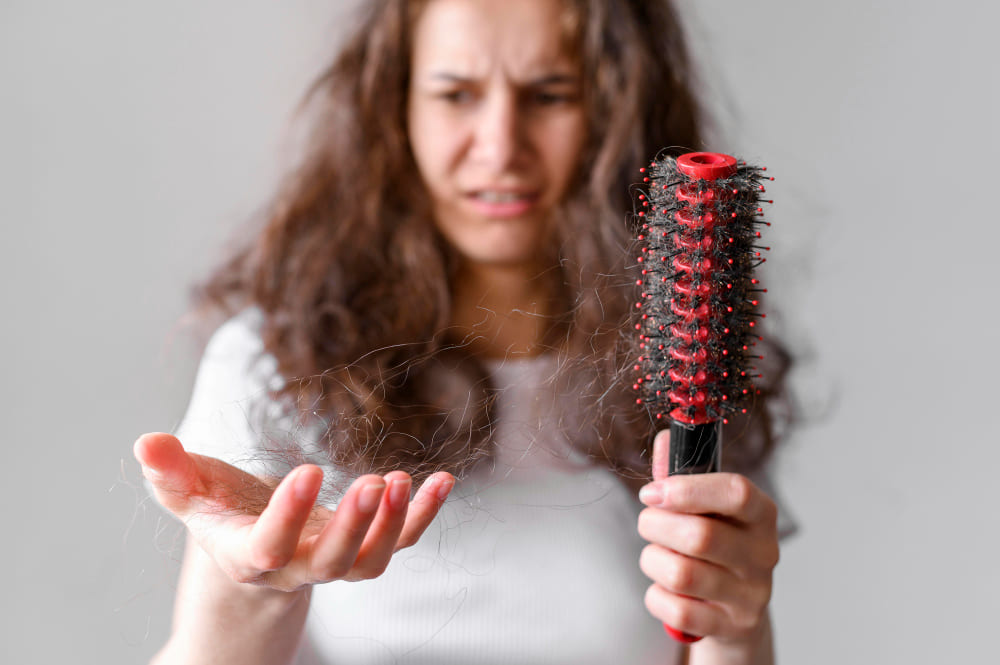 Read More👉 Keratin Treatment for Curly Hair: A Comprehensive Guide
Types of Steroids
Corticosteroids
Unlike anabolic steroids, corticosteroids seldom cause hair loss. Instead, long-term usage might result in thinning or reduced hair growth. Meanwhile, specific corticosteroids like prednisone could instigate excessive hair growth due to increased testosterone production, mainly if used for a considerable duration. So, while corticosteroids have been noted for fluctuating hair health, causing total hair loss is infrequent.
Anabolic Steroids
Anabolic steroids share structural similarity with testosterone, the predominant male sex hormone. These steroids contribute significantly to muscle building, a characteristic coveted by many athletes, leading to the widespread misuse of this category of steroids. Beyond performance enhancement, anabolic steroids cater to those with low testosterone levels and AIDS patients requiring muscle mass augmentation.
Links between Steroids and Hair Loss
Amidst the ocean of possible side effects induced by steroid use, hair loss seems well-anchored. While not a universal occurrence, steroids, particularly the anabolic kind, could accelerate male pattern baldness in genetically predisposed individuals.
Read More👉 How to Detangle Matted Hair: A Comprehensive Guide
How Do Steroids Cause Hair Loss?
Anabolic Steroids
Anabolic steroids stimulate the synthesis of dihydrotestosterone (DHT). It's this hormone that, in large amounts, can provoke androgenic alopecia (male or female pattern baldness). Individuals genetically predisposed to this condition who indulge in anabolic steroids may accelerate their possibility of experiencing hair loss.
Corticosteroids
Corticosteroids present a more complex relationship with hair loss. While side effects like thinning hair have been observed, it is far less universal than with their anabolic counterparts. On the contrary, on some occasions, growth has been noted due to corticosteroid therapy.
Prednisone and Hair Loss
Prednisone, a frequently prescribed corticosteroid used in conditions such as multiple sclerosis, lupus, and arthritis, amongst others, has also shown a connection to hair loss. Nevertheless, hair thinning is considerably rare, further underscoring the variable effect corticosteroids have on hair growth.
Do Steroids Cause Hair Loss in Women?
Similar patterns exist when examining females on steroids. Women who use anabolic steroids may experience abnormal hair growth, deepening voice, irregular menses, and potentially, hair loss.
Read More👉 What Vitamin Deficiency Causes Hair Loss?
How to Prevent Steroid-related Hair Loss?
Discerningly, not all individuals who intake steroids will witness drastic hair loss. Preventive measures may minimize the risk of customary hair. If you're keen on preventing steroid-induced hair loss:
Use steroids responsibly, adhering to prescribed dosages.
Consult a healthcare professional before starting or modifying steroid therapy.
For genetic predisposition, consider utilizing hair loss treatment medications like Finasteride.
Case Studies
Real-life examples of individuals who have experienced steroid-related hair loss offer valuable insights. Examining these cases provides a practical understanding of the challenges and potential solutions.
Recovery from Steroid-Induced Hair Loss
Distinguishing between temporary and permanent hair loss is essential. This section explores strategies for promoting hair regrowth and recovery after steroid use.
Lifestyle and Dietary Considerations
Beyond medical interventions, lifestyle and dietary choices can influence hair health. Exploring the impact of nutrition on hair and adopting healthy practices can complement efforts to counteract steroid effects.
Expert Insights
Seeking the opinions of dermatologists and other health professionals adds depth to our understanding of the topic. Expert insights provide a well-rounded perspective on managing the potential side effects of steroid use.
Read More 👉How to Dye Synthetic Hair: A Detailed Step-by-Step Guide
User Testimonials
Hearing from individuals who have navigated the challenges of steroid-induced hair loss offers a human touch to the discussion. These testimonials provide diverse perspectives on the complex relationship between steroids and hair health.
Debunking Common Steroid Myths
Separating fact from fiction is crucial in dispelling common misconceptions. Addressing misinformation head-on helps individuals make informed decisions about steroid use and its potential impact on hair.
Conclusion
In the intricate web of steroids and hair health, understanding the nuances is crucial for making informed decisions. While the link between steroids and hair loss exists, it's essential to recognize the variability in individual experiences. Whether you're on a journey of recovery or proactively managing potential side effects, patience and a holistic approach are key. Embrace a balanced lifestyle, prioritize nutritional well-being, and seek professional guidance when needed. Remember, your hair health is a reflection of your overall well-being, and with thoughtful care, you can foster a vibrant and resilient mane.
FAQ'S
Q1: Do all steroids cause hair loss?
A: Steroids can impact hair health, but not all types lead to hair loss. Anabolic steroids are more commonly associated with this side effect.
Q2: Can hair loss from steroids be prevented?
A: Balancing steroid use, adopting healthy lifestyle practices, and seeking professional advice can help prevent or minimize hair loss.
Q3: Are there specific foods that can promote hair regrowth during steroid recovery?
A: While no magic food guarantees regrowth, a balanced diet rich in vitamins and minerals, including biotin and omega-3 fatty acids, can support overall hair health.
Q4: What role do genetics play in steroid-induced hair loss?
A: Genetic factors contribute significantly to an individual's susceptibility to hair loss caused by steroids.
Q5: Are there alternative treatments for steroid-induced hair loss?
A: Depending on the severity, various treatments, including topical solutions and medications, may aid in hair regrowth post-steroid use.