Anesthesia is a vital aspect of medical procedures, ensuring patients undergo surgeries and interventions with minimal discomfort. However, there have been concerns about its potential side effects, with one recurring question being, "Does anesthesia cause hair loss?" In this article, we'll explore the relationship between anesthesia and hair health, examining various aspects to provide a comprehensive understanding.
Anesthesia: A Brief Description
Anesthesia involves the administration of drugs to eliminate physical pain and discomfort during surgical procedures. It can be of three major types: general anesthesia, regional anesthesia, and local anesthesia. The type and dosage administered depend on factors like surgical procedure, patient's health condition, age, and more.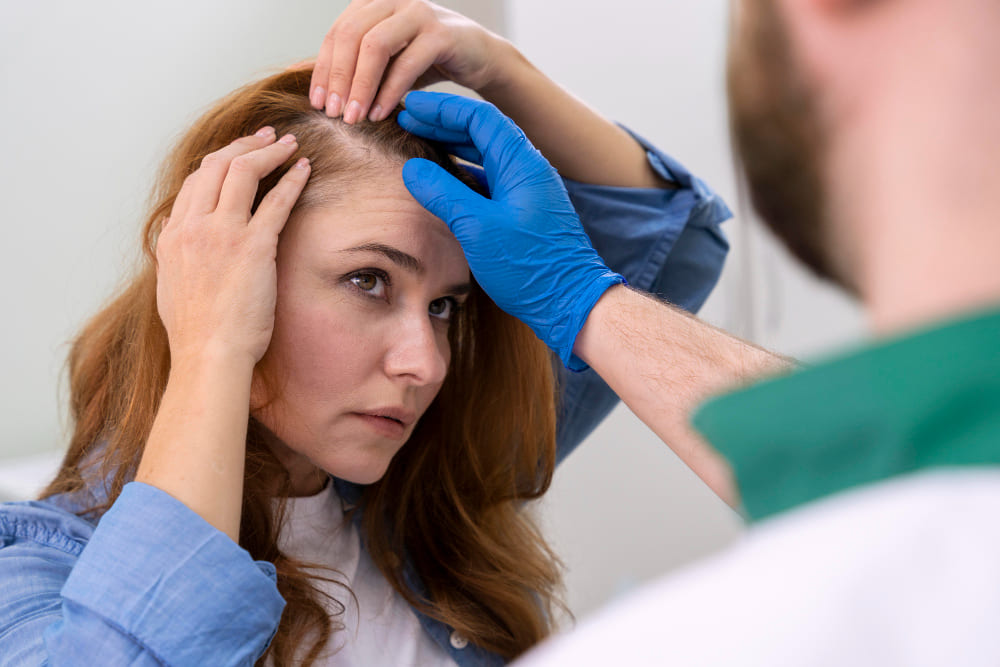 Read More👉 Can Low Calcium Cause Hair Loss? Everything You Need to Know
Anesthesia and Hair Loss: Is There A Connection?
While there's no direct evidence citing anesthesia as a root cause of hair loss, certain factors may create an incidental correlation. It's important to decode these factors to arrive at a more defined understanding.
1. Stress and Anesthesia
Surgical procedures are recognized as significant physical stress events which may trigger telogen effluvium, a temporary hair loss form. This happens when the body's stress response shifts a significant number of hair follicles into the resting phase(faster than normal), post which excessive shedding might transpire. Anesthesia, being a crucial part of surgical procedures, indirectly contributes to this type of hair loss.
2. Length of the Procedure
In some instances, the duration of anesthesia and consequently the length of the surgical procedure might be related to hair loss. Longer periods of immobility under anesthesia could theoretically cause stress to the scalp tissues, disrupting the hair growth cycle.
3. Post-Surgical Medications
Post-surgical medications, including antibiotics and pain relievers, could potentially contribute to hair loss. While anesthesia may not directly instigate hair loss, the combined stress of surgery, anesthesia, and ensuing medication could cumulatively contribute to temporary hair loss.
Read More👉 Lack of Sleep Cause Hair Loss : Tips For Better Sleep Habits
Demystifying the Phases of Hair Loss Post Anesthesia
Understanding the stages of hair loss post-anesthesia can help manage expectations and plan for effective prophylaxis or treatment:
1. Post-Surgical Period
Immediately after surgery, hair loss may not evidently manifest. However, the stress of the surgery, amplified by the administration of anesthesia, sets the stage for potential hair loss in the subsequent months.
2. Hair Shedding Phase
Between 2 to 3 months post-surgery, the delayed response to the significant stress event(surgery) manifests as increased hair shedding, a condition known as telogen effluvium. This phase is characteristically marked by generalized hair thinning rather than bald patches.
3. Regeneration Stage
Approximately six months post-surgery, the body recovers from the surgical stress, and the hair cycles return to normal. Hair regeneration takes place, and the hair thickness gradually restores.
While this is the typical course, variations exist based on individual physiology and post-operative care and management.
Read More👉 Can Selenium Cause Hair Loss : Everything You Need To Know
Prevention and Management of Hair Loss Post-Anesthesia
While preventing hair loss post-operatively entirely may not be possible, the effects can be minimized with proper care and management:
1. Balanced diet
Maintaining a nutrient-rich diet aids in supporting hair growth. Ensuring the intake of proteins, vitamins, and minerals can help reduce hair loss.
2. Regular Exercise
Physical movement aids in reducing stress and boosting overall health, including the health of your hair.
3. Medication Review
Discuss any post-surgery medications with your healthcare provider and convey concerns about potential hair loss.
Mitigating the Risks
A. Pre-surgery Preparation
Patients can take proactive steps before surgery to minimize potential risks. Communicating openly with healthcare providers about concerns and pre-existing conditions is essential.
B. Post-surgery Care
Post-surgery care is equally crucial. Following guidelines provided by healthcare professionals can contribute to a smoother recovery, minimizing the likelihood of side effects.
Read More👉 Does Diabetes Cause Hair Loss: Exploring the Connection
Addressing Common Myths
A. Debunking Misconceptions
Separating myths from facts is vital to provide patients with accurate information. Common misconceptions about anesthesia and hair loss need to be addressed to ensure realistic expectations.
B. Realistic Expectations
Understanding that hair loss might be a result of various factors, including stress and medication, is essential. Setting realistic expectations can alleviate unnecessary anxiety.
Patient Experiences
A. Real Stories from Individuals
Sharing real-life experiences of individuals who have undergone anesthesia can provide a balanced perspective. Some may have experienced hair loss, while others did not notice any significant changes.
B. Positive and Negative Experiences
Highlighting positive outcomes alongside challenges ensures a nuanced understanding. Not every individual will experience the same side effects, emphasizing the importance of personalized care.
Conclusion
While the connection between anesthesia and hair loss isn't direct, anesthesia, as part of the surgical process, can potentially magnify stress that might contribute to temporary hair loss. Understanding this correlation and adopting corrective measures can mitigate the impact. With medical advancements, managing such hair loss is feasible and usually ensures restoration of the hair's health and vibrancy over time.
FAQs
Does anesthesia cause hair loss?
No, anesthesia itself doesn't cause hair loss. However, factors like stress or surgery may contribute temporarily.
Can hair loss after anesthesia be permanent?
While some cases may result in permanent hair loss, many are temporary and reversible.
Can medications used during anesthesia contribute to hair loss?
Medications used during anesthesia are carefully selected for safety. While medications can have side effects, significant hair loss directly attributed to these drugs is uncommon.
Does the type or duration of surgery impact the likelihood of hair loss?
The type and duration of surgery may influence the overall stress on the body, but there isn't a straightforward correlation between these factors and hair loss. Individual responses can vary.
Is telogen effluvium a common occurrence after anesthesia?
Telogen effluvium can occur after various stressors, including surgery and the use of anesthesia, but it is generally a temporary condition.