Introduction:
Across cultures and continents, women have devised innumerous means to manage their menstrual cycles, often leaning on natural remedies. A remedy that has sparked considerable curiosity is the consumption of lemon juice to delay or completely halt periods. Despite numerous testimonies, the exact dosage and efficacy of this remedy remain foggy areas. So, how much lemon juice should a woman drink to potentially stop her period? In this article, we delve into the details while keeping scientific realities in perspective.
How Much Lemon Juice to Drink to Stop Period?
There's currently no scientifically-backed evidence supporting the claim that lemon juice can stop or delay periods. Women's health and menstrual cycles are complex and differ from person to person, influenced by numerous internal and external factors. While testimonials from women who found success manipulating their menstrual cycle using lemon juice exist, these testimonials cannot be generalized applicable for all.
Read More: How to Make Cucumber Juice: A Comprehensive Guide
The Correlation between Lemon Juice and Menstrual Cycles:
Lemon juice has long been acclaimed for its various health benefits—for instance, its acidity is believed to balance hormonal levels, thereby regulating irregular periods. Furthermore, lemons are rich in vitamin C, which bolsters the immune system and aids toxin elimination that indirectly contributes to menstrual regularity. These properties make lemon a popular natural remedy.
However, can these benefits really contribute to halting your period? and if yes, how much lemon juice should you consume? Let's dig a little deeper.
Recommended Lemon Juice Consumption: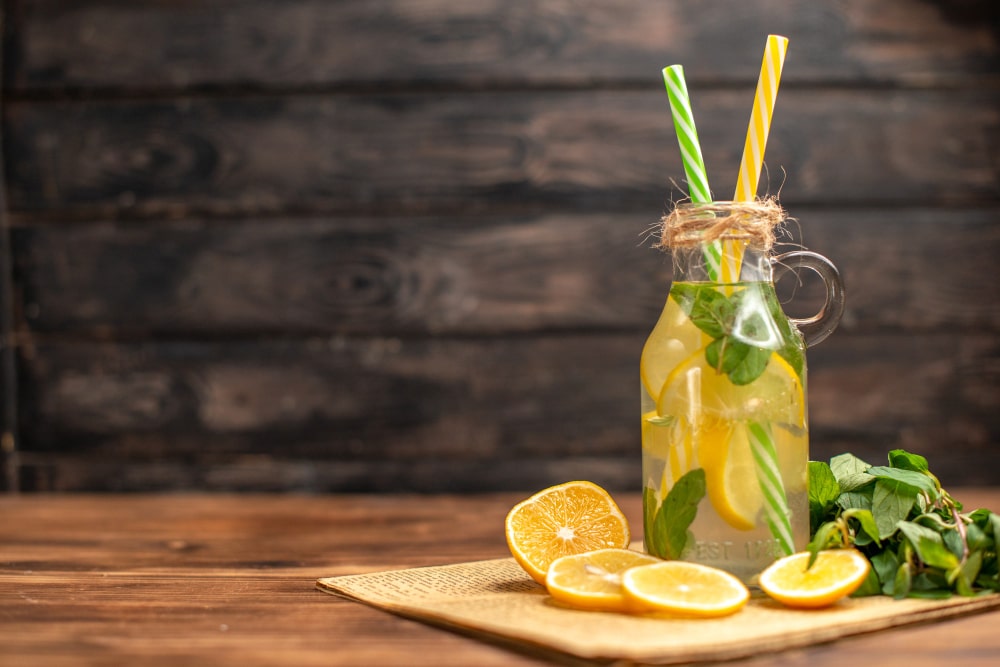 Despite the lack of precise scientific guidelines, some suggest drinking one or two cups of warm water mixed with the juice of one lemon daily could theoretically help manage menstrual bleeding and discomfort. However, it's crucial to note that over-consumption may lead to stomach-related issues such as heartburn or acid reflux. Therefore, the key is, as always, moderation.
Read More: Why Pickle Juice Help with Cramps? Everything You Need To Know
Potential Risks of Excessive Lemon Juice Consumption:
While lemon juice is generally deemed safe, excessive intake may cause several side effects due to its high acidity. These can include stomach lining irritation leading to heartburn, acid reflux, digestive issues, and even tooth enamel erosion. Moreover, citric acid in lemons can increase kidney stones risk, particularly in individuals predisposed to this condition. Therefore, moderating lemon juice consumption, especially during menstrual cycles, is crucial to avoid potentially harmful effects.
Alternative Methods to Naturally Aid Menstrual Cycles:
Apart from lemon water, there are other natural methods to alleviate menstrual discomfort or potentially influence menstrual cycles. Incorporating vitamin B-rich foods into your diet or regular exercise are two viable options, as both have been implied to influence menstrual cycles positively.
If lemon juice is part of your menstrual relief strategy, combining it with ingredients like honey, ginger, cinnamon, or turmeric, which have their own anti-inflammatory and other health benefits, can create a powerful mix that could potentially alleviate menstrual discomfort.
Debunking Myths:
The effectiveness of lemon juice to halt periods is often shrouded in misconceptions. One widely believed myth is that consuming large quantities of lemon juice can completely stop a period. However, this is unsubstantiated by scientific evidence, and such excessive consumption can result in acidity-related health issues. It is always advisable to seek healthcare professional consultation before opting for this or other such remedies to manage menstrual cycles.
Read More: Are Bananas Good for Urinary Tract Infection?
Conclusion:
Despite the widespread discourse, there's no scientific consensus supporting the claim that drinking lemon juice can stop periods. Every woman's body is unique, and while lemon juice might help some, it may not yield the same results for everyone. Therefore, it's essential to consult with a healthcare provider before implementing any change, especially concerning menstrual cycles, a natural bodily function regulated by complex hormonal mechanisms. Safe and proven methods, like birth control pills, are generally recommended to manage menstrual cycles effectively. Always prioritize your overall health and wellbeing, ensuring any choices made are both safe and effective.