Introduction
A glass of fresh orange juice on a vibrant morning often raises the question, "What is that cloudy stuff floating around?" Many of us overlook this texture enhancer, casually referring to it as 'pulp'. This article unravels the intriguing character of pulp and its role in the flavor, nutritive value, and overall appeal of orange juice.
What is Pulp?
In the most straightforward terms, pulp in orange juice is the remains of an orange that generally includes its stringy fibre and juicy cells – often known as 'vesicles'. While making juice, an orange is mechanically squeezed, flushing out refreshing orange juice. However, some parts of the fruit traditionally resist this process. These fibrous leftovers are what we call 'pulp'.
The Path of Pulp: From Orange to Glass
When it comes to understanding pulp, it's essential to appreciate its origin and journey. Pulp originates from the orange itself – the fibers and juicy sacs that constitute the 'meat' of the fruit. When the fruit is squeezed to make juice, the mechanical processing ruptures these sacs, liberating the juice. The fibrous particulate matter that remains is what constitutes pulp.
Read More: Does Orange Juice Help with a Cold? An In-depth Analysis
Pulp Varieties: Catering to Taste Preferences
Commercially available orange juices commonly come in three varieties – Pulp-free, Some Pulp, and High or Extra Pulp. These varieties cater to the individual textural preferences of consumers. Some people opt for pulp-free orange juice, preferring a more consistent, smooth, liquid experience. Others covet the nuanced texture that comes with some pulp or even relish the uniquely robust, almost smoothie-like mouthfeel of high-pulp juice.
Processing and Commercial Production
Orange juice producers utilize comprehensive processing facilities that mechanically squeeze juice from oranges and separate it from the pulp. The juice and pulp then follow different paths of pasteurization, deaeration, and some concentration before being recombined in calculated proportions to provide "some pulp" and "high pulp" variants of orange drink.
Role of Pulp in Orange Juice
Pulp plays a fundamental role in determining the texture and quality of orange drink. It infuses the juice with a distinctive richness and smoothness, creating a satisfying mouthfeel that takes your juice-drinking experience to a whole new level. Moreover, it contributes to the brightness of the juice, adding a visually enchanting, hearty hue.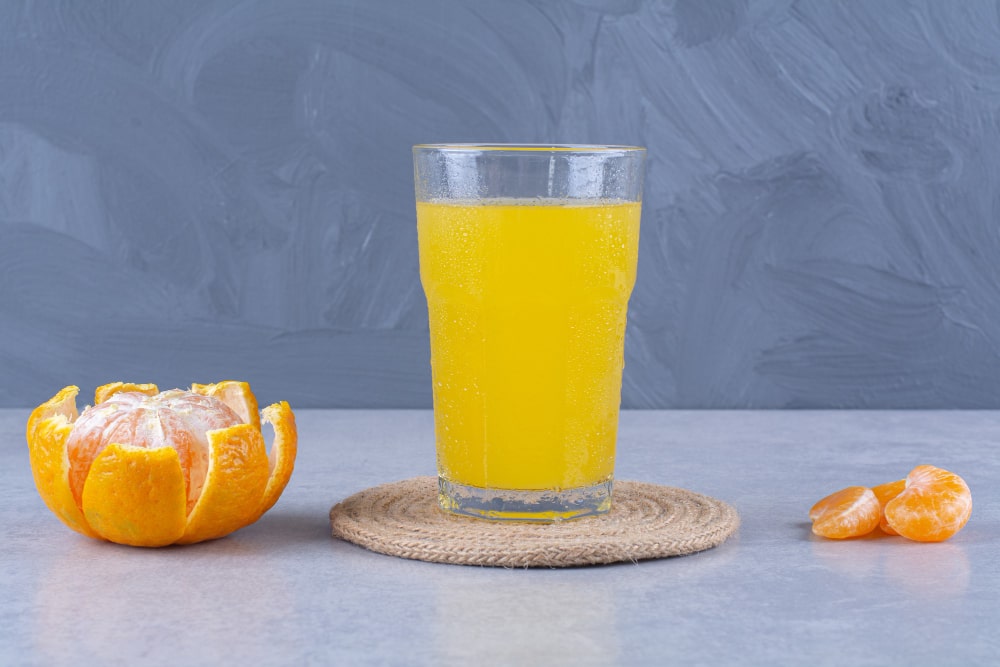 Read More: Orange Mango Juice: Recipes, Benefits, Nutritional Value
Health Benefits
Pulp in orange juice is more than just a textural element, as it brings substantial health benefits. According to WebMD, orange drink with pulp boosts your daily fibre intake. Regular consumption of dietary fibre has been associated with lower risk of diseases like heart disease, diabetes, and certain types of cancer. Fibre also aids in digestion and helps maintain a healthy weight.
Additionally, pulp-rich orange juice has a higher count of flavonoids, antioxidant plant compounds, known to enhance health and longevity. Flavonoids have also been linked to better weight management, improved cardiovascular health, and prevention of cancer and neurodegenerative diseases.
The Deeper Physiological Significance
The fiber in pulp is made up of cellulose and hemicellulose, complex carbohydrates that act as an integral part of plant cell walls. Along with providing texture and, with the juice sacs, imparting a unique flavor profile to the juice, these dietary fibers slow the digestion of sugars present in juice, promoting a steady energy supply rather than a quick spike and subsequent crash.
Read More: Pineapple Orange Juice: Benefits, Recipe, Nutrition Facts
Controversy: Pulp vs No-Pulp
Despite the health benefits, not everyone enjoys pulp in their orange juice. The debate between pulp and no-pulp enthusiasts boils down to personal preference and the 'mouthfeel' one expects from their juice. Pulp-free orange drink provides a smooth and uniform texture that many find appealing. However, juicing methods and processes that remove pulp may lead to some loss of nutrients inherent in the pulp.
Making an Informed Choice: Nutritional Considerations
While the discussion around pulp often centers around personal preference and taste, an overlooked aspect is its nutritional implications. When deciding between pulp-containing and pulp-free orange drink, one must consider potential dietary benefits. Pulp retains minor nutrients, antioxidants, and compounds like flavonoids and limonoids. Many of these are associated with a host of health benefits, ranging from anti-inflammatory effects to potential anti-cancer properties.
Conclusion
Whether you embrace the cloudy texture or prefer your orange juice pulp-free, it's clear that pulp is more than just a fibrous leftover. Being a textural enhancer and nutrient powerhouse, it undeniably adds an extra dimension to orange juice. As you pick up your next glass of orange drink, remember the pulp – the understated hero that adds character and nutrition to your favourite breakfast drink.
Read More: How to Make Cucumber Juice: A Comprehensive Guide
FAQs
Is it possible to have orange juice without pulp?
Yes, many commercial orange juice producers offer a 'pulp-free' version of their product for those who prefer a smoother consistency.
Does the pulp in orange juice contain the same nutrients as the juice itself?
While the juice and pulp both have nutrients like Vitamin C, the pulp has additional dietary fibers and compounds that might not be as abundant in the juice.
Can pulp be added back to pulp-less orange juice?
Yes, some manufacturers add pulp back to juice after it has been initially extracted to create their 'some pulp' or 'extra pulp' juice variants.
How does pulp contribute to the color of orange drink?
The pulp in orange juice contributes to its characteristic cloudy appearance. It gives the juice a more robust, bright orange color by reflecting light differently than the clear juice alone would.
Is pulp the same in all types of citrus juice?
No, the composition and texture of pulp can vary among different citrus fruits. Pulp from oranges, grapefruits, lemons, or limes may differ in texture, flavor, and nutritive content.
Does the amount of pulp affect the storage life of orange juice?
No, the presence of pulp doesn't significantly affect the shelf life of orange drink. The storage life of orange juice is more influenced by factors such as pasteurization and refrigeration.