Introduction:
The search for natural solutions for weight loss has seen numerous contenders over the years. A recent standout is a seaweed known as sea moss or Irish Moss. Commonly found on the rocky shores of the North Atlantic, sea moss is a nutrient powerhouse that's been employed in various health improvement regimens. This article, we will explore the health benefits of sea moss are numerous, aims to explore its potential role in weight loss..
The Nutritional Bounty of Sea Moss:
Sea moss is recognized for its remarkable nutritional profile. It boasts a wealth of vitamins and minerals, containing 92 of the 102 essential minerals required by the human body. It is loaded with crucial minerals such as iodine, potassium, calcium, and magnesium, along with vitamins A, C, E, and K. Besides, it is rich in fiber and contains trace amounts of amino acids, omega-3 fatty acids, and antioxidants.
The Weight Loss Connection – How Can Sea Moss Help?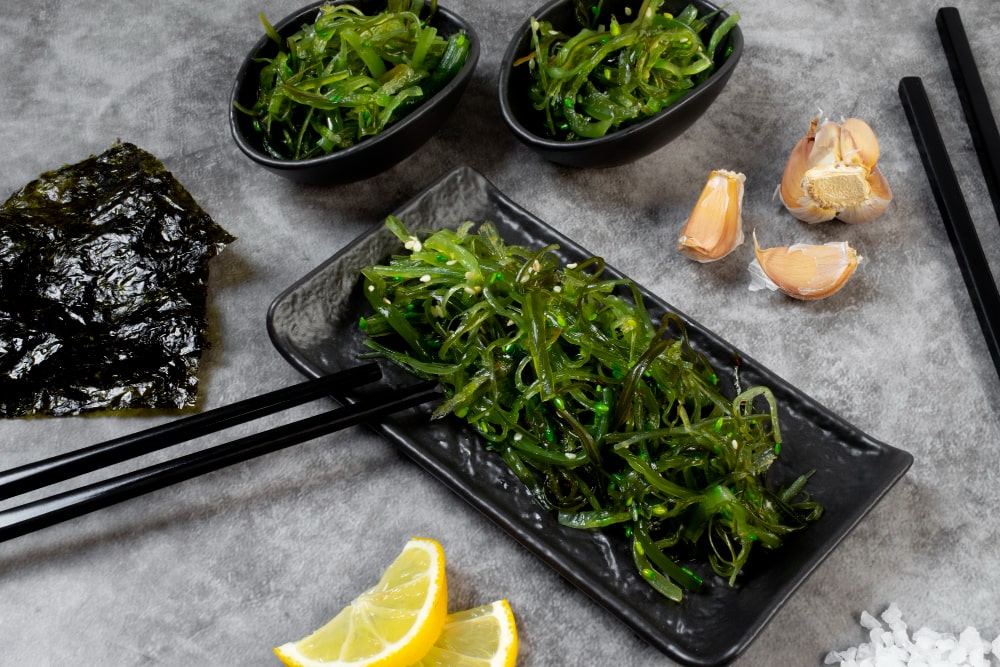 Here are some Benefits of sea moss for weight loss, include;
1) An Organic Answer to Hunger Pangs:
Sea moss could help with weight loss by keeping hunger at bay. Due to its high fiber content, sea moss creates a sense of satiety, causing you to feel full for longer periods, therefore cutting down unnecessary snacking or overeating. By helping you reduce your calorie consumption, sea moss may indirectly help manage your body weight.
Read More: Baking Soda for Weight Loss – Exploring the Myths and Facts
2) Keeping the Metabolic Fire Burning:
The rich iodine content in sea moss plays a key role in ensuring optimal thyroid functionality. The thyroid gland plays an instrumental role in controlling metabolism. Therefore, a healthy thyroid can boost your metabolic rate, which in turn leads to a higher calorie burn and potentially aid in shedding excess weight.
3) Digestive Wellness:
A smoothly functioning digestive system is vital to weight control. Being a rich source of fiber, sea moss boosts gut health by enhancing digestion and averting bloating. Further, the fiber in sea moss acts as a prebiotic, nurturing the growth of beneficial gut bacteria, which contributes to a healthier metabolism and could indirectly facilitate weight loss.
4) Boosting Energy and Vitality:
Including sea moss in your diet might enhance your energy levels owing to its abundant mineral content, including iron, vital for transporting oxygen to cells for efficient functioning. The energy boost provided by sea moss could inspire more physical activity, a critical element in any weight loss regimen.
Sea Moss Smoothie For Weight Loss
Here's a simple recipe for a Sea Moss Smoothie for Weight Loss:
Ingredients:
1 tsp Sea Moss Gel
1 cup Walnut Milk
A mix of Fresh Fruits of your choice
Raw Blue Agave Nectar
2 Dates
A dash of Coconut Nectar
A handful of Frozen Fruits (for added taste and freshness)
Steps:
Gather all your ingredients.
Blend all the ingredients at high speed until smooth.
Pour the mixture into a glass.
Garnish the smoothie with frozen fruits.
Enjoy this guilt-free, body nourishing drink.
Read More: Japanese Weight Loss Diet: Everything You Need to Know
Incorporating Sea Moss into your Dietary Regime:
Sea Moss is available in various forms such as capsules, dried, powder, or gel. Here's an uncomplicated way to include sea moss in your daily diet:
Rinse the sea moss thoroughly to remove any ocean debris and surplus salt.
Soak it overnight in water until it softens.
Blend the hydrated sea moss with some water until it forms a gel-like consistency.
Refrigerate this gel.
Use this sea moss gel as a supplement in smoothies, soups, cereal, and more.
Conclusion:
Sea moss has shown significant potential as a supplementary aid in weight management due to its comprehensive nutritional profile. However, it's pivotal to keep in mind that no single food or supplement alone can facilitate weight loss. A comprehensive approach involving a balanced diet and regular physical activity is the golden standard for healthy weight management. As sea moss steps into the weight management scene, it should be used as a part of this larger, holistic lifestyle strategy. Always consult with healthcare professionals before incorporating any new supplement into your regimen, especially for people with underlying health issues.
Read More: 7 Best juice cleanse for weight loss: A Comprehensive Guide
FAQs
Can you introduce me to sea moss and its relevance to weight loss?
Commonly referred to as Irish Moss, sea moss is a red seaweed consumed for its prospective health benefits. Researchers have found that it may help in weight loss by making you feel satiated, reducing the deposit of body fat, and promoting a healthier gut.
How does sea moss contribute to weight loss?
In sea moss, there's a substance called carrageenan, which behaves like soluble fiber. This specific fiber may delay digestion and thereby enable you to feel full longer, which can consequently decrease your food intake. Also, preliminary studies indicate that sea moss might reduce the body's accumulation of fat and diminish the absorption of dietary fats.
Is sea moss a trusted weight loss aid?
Sea moss indeed has certain qualities – like fostering a sense of fullness and lessening body fat – that point to its potential assistance in weight loss. However, it's important to understand that these findings primarily stem from smaller studies. To confirm these advantages, larger clinical trials are crucial.
How can I integrate sea moss effectively into my diet for weight loss?
Sea moss can be ingested in numerous ways. Available options include capsules, gummies, gels, and powders. Further, given that it's a thickening agent, sea moss is a great addition to dishes like smoothies, stews, sauces, and homemade jams.
Are there any risks connected with employing sea moss for weight loss?
It's noteworthy that while sea moss can be beneficial, it also contains a high level of iodine and possible traces of heavy metals. Overconsumption of iodine or heavy metals can potentially lead to health issues, such as thyroid dysfunction. Thus, before you start any new supplement regime for losing weight, first consult with your doctor.