Anxiety disorders and panic attacks can be crippling. For ages, Xanax (Alprazolam), a benzodiazepine medication, has been a lifeline for people who experience these conditions. It aids in relieving the mind and body, bringing relief from exhausting episodes. However, when it comes to pregnancy, the narrative changes due to the potential risk the medication poses to the unborn child. This article dives into a critical question: Can you take Xanas while pregnant? and provide a comprehensive overview.
Understanding Xanax
Xanax, clinically known as Alprazolam, a medication belonging to the benzodiazepines classification, treats conditions primarily tied to anxiety and panic disorders. It functions by decreasing abnormal excitement in the brain, producing calming effects. However, its impact goes beyond managing disorders. Prolonged Xanex usage can result in addiction, elevating the chance of misuse and signaling a danger for pregnant women and their unborn babies.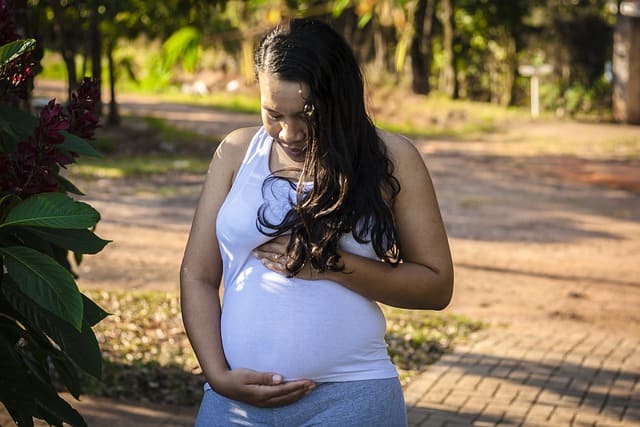 Read More👉 Can You Eat Tuna While Pregnant: Comprehensive Guide
Xanax and Pregnancy: The Professional Perspective
Most medical professionals and researchers consider Xanax a "Category D" medication under the FDA classification, indicating a potential health risk to the fetus. However, unlike "Category X" medications, which are proven harmful and are not recommended during pregnancy under any circumstance, Category D drugs like Xanax pose benefits that might outweigh the potential risks—signaling the necessity of a professional consultation for expecting mothers using Xanax.
Xanax's Confluence with Pregnancy
Xanax's usage during pregnancy involves a complex narrative. It is classified as a group D drug according to the U.S. Food and Drug Administration (FDA). This implies potential risk to fetuses based on human trials.
A. First Trimester Exposure Risks
Early exposure to Xanax during pregnancy has been linked by scientific studies due to possible fetal harm. Anomalies, such as cleft lip or palate, may develop, though these claims need more thorough, contemporary research for validation.
B. Second and Third Trimester Exposure Risks
Xanax consumption towards the end stages of pregnancy could lead to dramatic issues for newborns. Neonatal abstinence syndrome (NAS) – withdrawal symptoms experienced by infants after birth – is a serious condition linked with later-stage Xanax use, with enduring impacts not yet fully understood.
C. Floppy Infant Syndrome
There's a potential consequence known as 'floppy infant syndrome,' a condition realized when Xanax is taken during pregnancy. Affected babies often exhibit reduced muscle tone leading to rag-doll-like motion, which could persist for weeks following birth.
Read More👉 Can You Eat Oysters While Pregnant: A Comprehensive Review
Safe Alternatives to Xanax During Pregnancy
There might be a scenario where an expectant mother is dealing with severe anxiety that needs medical intervention. In such cases, healthcare providers may recommend safer alternatives that pose less risk to the fetus.
a. Cognitive Behavioral Therapy
Without the use of drugs, CBT is a therapy strategy that promotes better cognitive behavior. It helps manage anxiety through the cultivation of healthier thinking patterns.
b. Antidepressants
It has been determined that selective serotonin reuptake inhibitors (SSRIs) are generally safe to use while pregnant. Such medications usually strike a balance between managing anxiety symptoms and ensuring the baby's safety.
c. Holistic Approaches
Practices like yoga, meditation, and exercise can offer non-pharmaceutical methods to manage anxiety. They help release endorphins and reduce stress levels, providing natural relief to an anxious mind.
Xanax Withdrawal and Detox
Abrupt discontinuation of Xanax can lead to risky withdrawal symptoms, including blurred vision, mood swings, cramps, and intense anxiety. Given these potential issues, professional medical guidance is paramount when a pregnant woman who has been taking Xanax wants to stop.
The Importance of Medical Guidance
Can you take Xanas while pregnant? Given the repercussions associated with sudden Xanax discontinuation, medical consultation prior to making changes to its usage during pregnancy is crucial. Healthcare professionals can outline how to safely stop Xanax consumption and navigate alternate routes for anxiety management.
Read More👉 7 Best Glute Stretches for Superior Flexibility and Strength
Conclusion
Pregnancy is a delicate period requiring careful judgment regarding medication intake, including Xanax. Can you take Xanas while pregnant? Its consumption may provide much-needed relief from anxiety, yet it presents serious risks to both mother and infant. Coordinating with a healthcare provider for suitable treatment alternatives is essential, focusing equally on alleviating anxiety and ensuring overall safety.
Remember, your healthcare provider is the best source of guidance. Any decisions or changes to your medication routine, including Xanax, should be deliberated with a professional. With their advice, you can navigate the challenges of pregnancy while maintaining optimal mental and physical health.
FAQs
Can you Take Xanas While Pregnant?
A: It is imperative that you speak with your healthcare professional prior to taking any drug, including Xanax, while you are pregnant.
Are there safe alternatives to Xanax during pregnancy?
Yes, non-pharmacological options such as therapy, mindfulness practices, and lifestyle changes can be explored. Discuss these alternatives with your healthcare provider for personalized recommendations tailored to your specific needs.
What are the potential consequences of abruptly stopping Xanax during pregnancy?
Abruptly stopping Xanax can have withdrawal effects on the mother and may impact the developing fetus. Consult with your healthcare provider for a proper tapering plan.
What precautions should be taken if Xanax is deemed necessary during pregnancy?
A: Regular monitoring, dose adjustments, and open communication with healthcare providers are crucial precautions.
What lifestyle changes can complement or replace Xanax during pregnancy?
Lifestyle changes, including stress management techniques and healthy habits, may be explored. Discuss these with your healthcare provider for personalized advice.