Introduction:
The trio of muscles known as the gluteusus, gluteus medius, and gluteus minimus make up the primary constituents of what we commonly term 'glutes.' We rely heavily on these muscles in numerous routine activities, from standing and walking to running and maintaining proper body alignment. While building their strength is undeniably important, it's equally crucial to focus on their flexibility. This article introduces a selection of optimal glute stretches, aiming to improve not only your flexibility but also the overall strength of your gluteal muscles.
1) Seated Figure-4 Stretch
This stretch primarily targets the piriformis, a muscle deep in the glute. When seated, cross your right ankle over your left knee, forming a "4" shape. Gently press down on your right knee maintaining an upright posture. Hold this position for 15-30 seconds and switch sides.
2) Lying Glute Stretch
If you're looking to relieve tension in all glute muscles, the lying glute stretch is perfect. Begin by lying on your back with bent knees and flat feet. Cross the right ankle over the left thigh near the knee. Loop your hands through the space between your legs, interlocking behind your left thigh. Draw both legs toward your chest until you feel a stretch in the right glute. This stretch should be held for 30 seconds, then switched and repeated on the other side.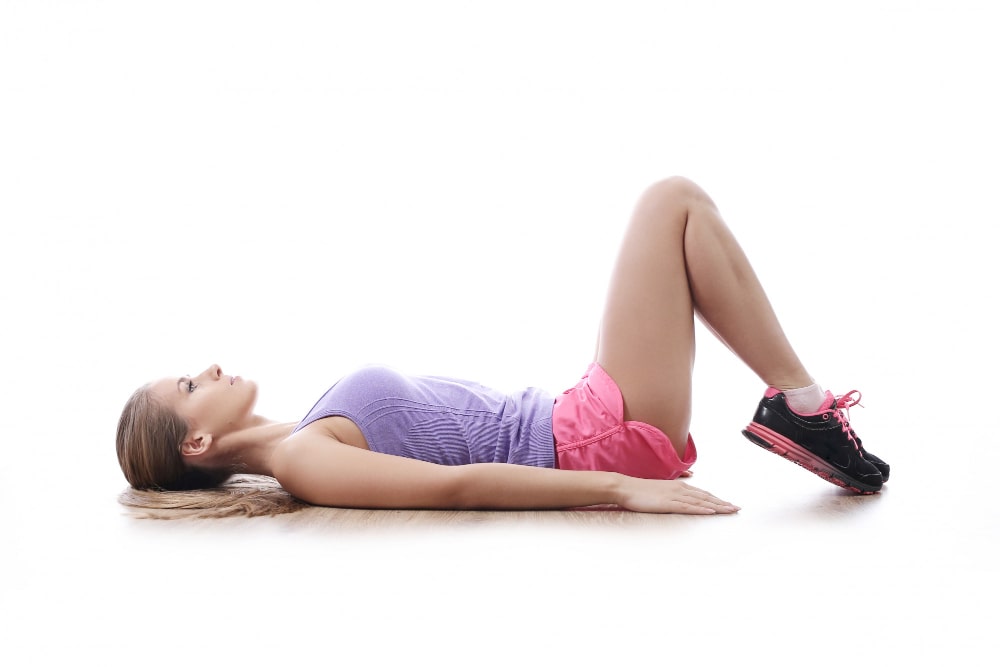 Read More: Top 5 Inner Thigh Stretches: Boost Flexibility and Reduce Tightness
3) Runner's Stretch
Despite its name, this stretch isn't exclusive to runners; it can benefit anyone. From an all-fours position, step your right leg forward into a lunge, maintaining a 90-degree angle at your knee. Hold this pose for 30 seconds. For increased intensity, straighten up your upper body.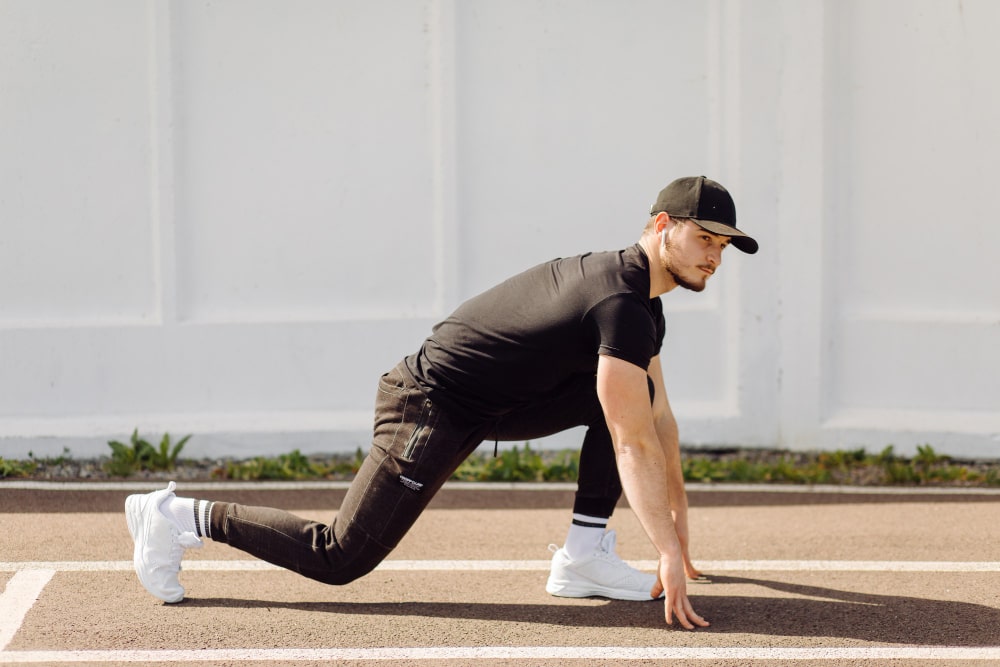 4) Pigeon Pose
Derived from yoga, the pigeon pose dynamically stretches the glutes as well as the lower back. Start in a plank position and draw the right knee forward, placing it behind your right wrist at a 90-degree angle. Extend your left leg straight back and keep your hips parallel to the ground. Maintaining square hips will maximize the benefits of the stretch. Aim to hold this pose for 20 to 30 seconds before shifting to the other side.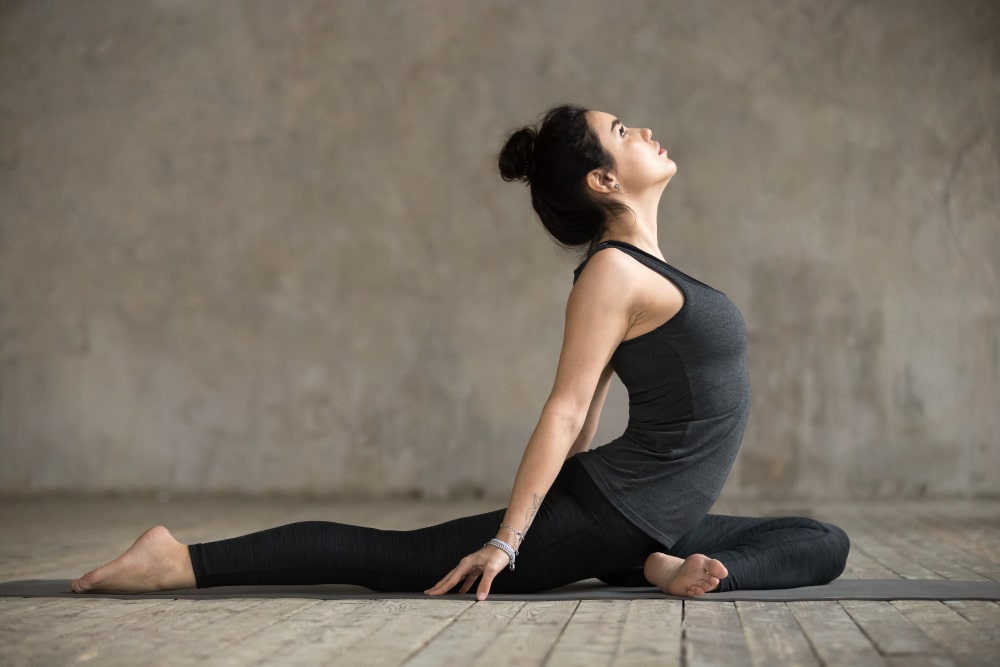 5) Single Knee to Chest
This stretch improves hip flexion mobility, vital for sitting postures and dynamics like squatting. Begin lying down on your back, bring one knee towards your chest, and hug it After 30-45 seconds, switch legs. A dynamic version of this is to hold for 3 seconds, release, and alternate legs for ten repetitions each.
Read More: 9 Best Morning Stretches For Men: A Comprehensive Guide
6) Bulgarian Split Squats
This stretch requires balance and works exceptionally well on your glutes. Start standing with your back to a bench or sofa. Lift one foot back to rest on the bench's edge, and hop the other foot forward. Descend into a lunge till the front thigh is almost horizontal. Thrust back up through your front heel, back to the standing position. Repeat the movement for about 15-20 reps on each leg.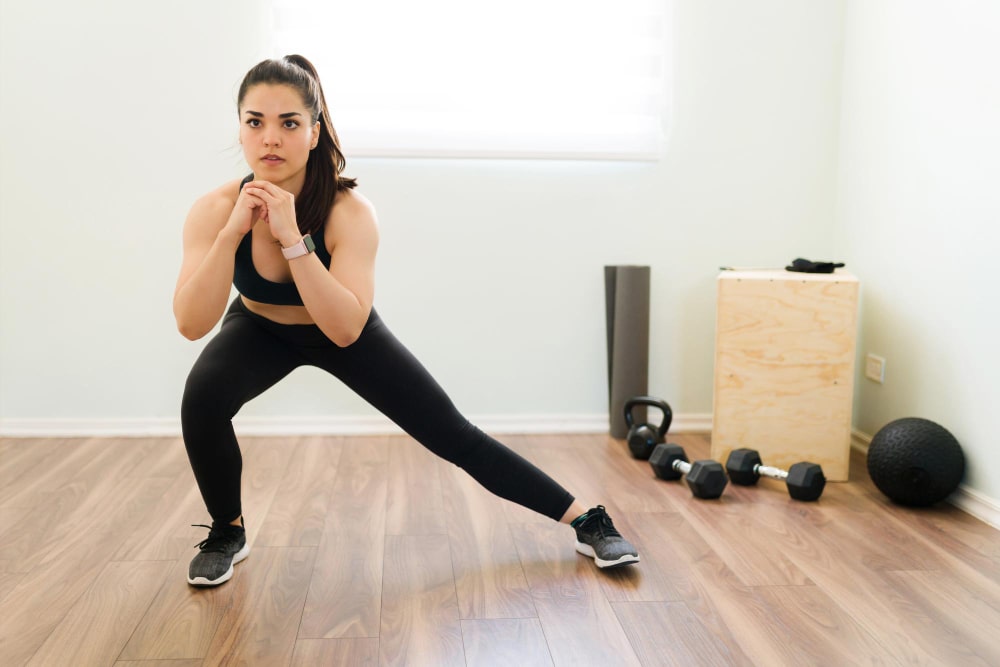 7) Donkey Kicks
Begin in a hands-and-knees position, with wrists lined with your shoulders and knees lined with your hips. Keep your right knee bent at 90 degrees and flex your foot as you lift your knee until it's level with your hip. Lower your knee without touching the floor and repeat the lift. Switch to the other leg after a set of 15-20 reps.
Conclusion:
Enhancing the flexibility of your gluteal muscles is as crucial as strengthening them. These stretches will not only alleviate muscle tension and tightness but also improve your overall mobility. As with any physical regimen, consistency plays a pivotal role in seeing positive results. Lastly, if you're struggling with discomfort during these stretches, it's advisable to consult with a healthcare professional or physical therapist to ensure the correct technique.
Read More: 8 best Stretches for Achilles Tendonitis: How to Relieve Pain
FAQs
Can these stretches help alleviate pain from existing conditions such as sciatica?
A: Yes, some glute exercises like the pigeon pose or seated figure-4 stretch target the piriformis muscle, which, when inflamed, may contribute to sciatica. Regular glute stretches can help alleviate tension and enhance flexibility in the area, potentially reducing discomfort.
Is there any risk associated with glute stretching exercises?
As with any physical activity, glute stretches should be carried out correctly to avoid straining the muscles. If you are unsure about how to do certain stretches or have an existing physical condition, you should seek advice from a healthcare provider or fitness professional.
I am new to exercise; can I include glute stretches in my beginner's workout routine?
Of course! Glute stretches are suitable for all fitness levels. They can be an excellent way to gradually enhance your flexibility and physical abilities. Just ensure to do each stretch carefully to avoid injuries and get the most benefits.
Can glute stretches help in toning my buttocks?
While glute stretches are not designed to build muscle, they help in increasing overall flexibility, muscle performance, and maintaining muscle health- all of which can indirectly assist in toning when combined with strengthening exercises.
Are warming up and cooling down essential when doing glute stretches?
Yes, warming up before and cooling down after a workout including glute stretches, slowly increases and decreases your heart rate, minimizing the risk of injuries, and facilitating better muscle recovery.