Life's daily stresses and strains can take a toll on our body, often manifesting in the form of various aches and discomforts. Among these, neck ache and nausea can be particularly distressing. Though seemingly unrelated, these two conditions can sometimes occur in conjunction, potentially indicating an underlying health issue. This article explores the relationship between neck pain and nausea, shedding light on their manifestations, connections, causes, symptoms and treatments.
The Physiology Behind Neck Pain
The Physiology Behind Neck Pain The neck, comprising intricate structures like muscles, ligaments, and vertebrae, is susceptible to various issues that can result in pain. Poor posture, overuse, and traumatic injuries can strain these delicate components, leading to stiffness, soreness, or sharp pain.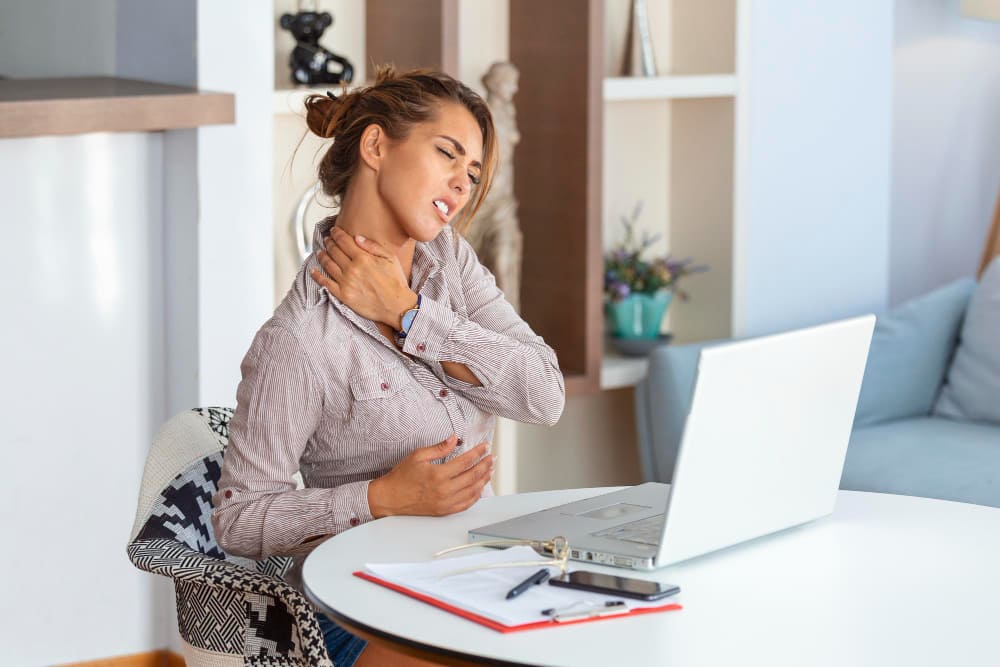 Read More: 👉 Gluteus Medius Pain: Causes, Symptoms, and Treatment
Common Causes of Neck Pain
Neck pain can arise from multiple sources, including muscular strain from poor posture or sudden movements, injuries from accidents, and underlying medical conditions like arthritis or herniated discs. Identifying the root cause is essential in determining the most effective treatment plan.
Unraveling the Relationship Between Them
While the correlation between vomiting and neck pain remains a subject of ongoing research, certain patterns suggest a noteworthy association. Some individuals experiencing chronic neck pain have reported concurrent episodes of vomiting, indicating potential neurological implications linking the two symptoms. Nausea, in this context, can manifest as a response to the body's distress signals triggered by the persistent discomfort in the neck region.
Conditions That May Present with Neck Pain and Nausea
Several conditions may exhibit both vomiting and neck pain as symptoms. These include:
Migraines: These severe headaches often come with various other symptoms, which may include motion sickness and neck pain.
Whiplash: Common in car accidents, whiplash is a neck injury due to forceful, rapid back-and-forth movement of the neck. This condition can result in considerable neck pain and, in some instances, vomiting.
Vertigo: A type of dizziness where a person feels as if they or their surroundings are spinning. It can be related to issues in the neck and is often accompanied by nausea.
Neck injury or infection: Certain injuries or infections can lead to immediate neck ache and may trigger nausea due to the body's response to trauma or infection.
Identifying Symptoms and Warning Signs
Understanding the distinction between ordinary neck pain and severe underlying conditions is crucial. Common symptoms, such as limited mobility, radiating pain, and headaches, may indicate the need for medical intervention. Concurrent episodes of nausea, particularly when accompanied by dizziness or vomiting, should prompt a comprehensive assessment to evaluate potential correlations with neck ache.
Read More: 👉 Acupuncture for Neck Pain: An Effective Treatment Option?
Lifestyle Adjustments for Preventing vomiting and Neck Pain
Preventive measures play a crucial role in minimizing the recurrence of neck pain and associated symptoms. Implementing ergonomic practices, maintaining proper posture, and incorporating regular exercises that promote neck flexibility and strength are instrumental in preventing muscular strain and tension. Additionally, adopting stress management techniques and ensuring adequate rest contribute to overall well-being, reducing the likelihood of experiencing persistent discomfort.
Exploring Alternative Medicine and Therapies
In conjunction with conventional medical approaches, alternative therapies have gained prominence in alleviating neck pain and managing associated symptoms. Practices such as acupuncture, massage therapy, and yoga have demonstrated promising results in relieving muscle tension and promoting relaxation, thereby complementing traditional treatment methods and fostering holistic well-being.
Neck Pain & vomiting in Specific Demographics
Certain demographics, such as individuals with sedentary lifestyles, desk-bound professionals, or those engaged in physically demanding occupations, may be more susceptible to experiencing neck pain and related symptoms. Understanding the specific challenges faced by these demographics enables the development of targeted preventive strategies and tailored interventions, emphasizing the importance of promoting a healthy work-life balance and advocating for ergonomic awareness in various professional settings.
Insights into Chronic Neck ache and Long-term Nausea
In cases where neck cramp and nausea persist over an extended period, it is crucial to recognize the potential complications and adverse impacts on overall health. Prolonged discomfort can lead to reduced mobility, chronic headaches, and a compromised quality of life. Close monitoring, regular check-ups, and adherence to prescribed treatment plans are vital in managing chronic conditions and mitigating potential long-term repercussions.
Read More: 👉 How to Lose a Double Chin: A Comprehensive Guide
The Role of Diet and Nutrition in Mitigating Neck Cramp & Nausea
A balanced diet enriched with essential nutrients contributes significantly to the body's overall resilience and ability to combat discomfort. Incorporating foods rich in anti-inflammatory properties, such as fruits, vegetables, and omega-3 fatty acids, can aid in reducing inflammation and alleviating neck pain. Additionally, staying hydrated and avoiding trigger foods that may exacerbate nausea play a pivotal role in promoting digestive health and overall well-being.
Holistic Approaches for Holistic Well-being
Adopting a holistic approach that addresses both the physical and emotional aspects of nausea and neck cramp fosters comprehensive well-being. Integrating a combination of conventional and alternative treatments, prioritizing self-care practices, and cultivating a supportive environment contribute to a balanced and sustainable lifestyle. Embracing holistic well-being not only alleviates discomfort but also promotes long-term health and vitality.
Effective Management and Treatment
For mild cases of neck pain and occasional episodes of , several home remedies can offer relief. These include gentle neck exercises, heat therapy, and over-the-counter pain relievers. However, in cases where symptoms persist or intensify, seeking medical advice becomes imperative. Professional interventions may involve physical therapy, chiropractic adjustments, or even surgical procedures, depending on the underlying cause of the discomfort.
When to Consult a Healthcare Professional
While occasional neck ache or a bout of nausea may not necessitate a trip to the doctor, the simultaneous occurrence of these symptoms should prompt medical consultation. Seek immediate care if these symptoms are accompanied by other severe symptoms such as headache, fever, confusion, or vision changes.
Read More: 👉 Why Does My Back Hurt When I Breathe?: Causes and Treatments
Conclusion
The interlinking of neck pain & nausea presents a complex scenario that requires vigilance in observing symptoms and responsiveness in seeking medical attention. Understanding this connection can help mitigate discomfort, guide treatment, and enhance overall well-being. So, never underestimate your discomfort – your body could be trying to communicate something vital about your health.
FAQ'S
Q1. Can stress contribute to neck pain and nausea?
A: Yes, heightened stress levels can lead to muscle tension and stiffness in the neck, potentially triggering discomfort and accompanying symptoms like nausea.
Q2. What lifestyle modifications can help alleviate neck pain and associated symptoms?
A: Implementing ergonomic adjustments, practicing stress management techniques, and engaging in regular physical activity can significantly contribute to reducing discomfort and promoting overall well-being.
Q3. Are there specific exercises that can target collar pain and minimize the likelihood of experiencing nausea?
A: Yes, gentle stretching exercises, neck rotations, and shoulder rolls can help improve flexibility and alleviate muscle tension, thereby reducing the intensity of neck pain and associated symptoms.