Back pain while breathing is a common phenomenon that many people may encounter. While it might seem trivial on the surface, it can indicate various underlying health issues. Although minor in some instances, it can also be a harbinger of grave conditions. Here we delve into the causes of upper back hurt when I breathe and discuss various approaches to treatment that you might find useful.
Causes of Back Hurt When I Breathe
1. Muscular Strain:
This is the most common reason why for back hurts when I breathe. Activities such as heavy lifting, strenuous physical exercise, or even a sudden, awkward movement can strain your back muscles and ligaments. The repeated movement of the lungs while breathing may exacerbate the discomfort initiated by such a strain. For minor cases, rest, ice application, and over-the-counter anti-inflammatory drugs may suffice.
Read More: Back Pain When Breathing Deeply: Causes, Symptoms, Cure
2. Spine or Vertebra Damage:
Accidents such as falls, car crashes, or sports injuries can cause trauma to the spine and the vertebrae, which might trigger upper back hurt when I breathe. Pain often worsens with movement and could be a sign of a fractured vertebra. More severe cases might involve vertebral fractures and require immediate medical attention.
3. Pleurisy and Chest Infections:
Pleurisy refers to the swelling of the tissue layer covering the lungs due to an infection. It can result in upper back pain when breathing due to the stretching and constricting of chest muscles. Chest infections like pneumonia and bronchitis can also make breathing harsh and cause upper back pain.
4. Heart Conditions:
Heart problems such as heart attacks or a condition called pulmonary embolism can cause chest and back pain, as well as difficulties in breathing. These conditions are severe and require immediate medical attention.
Read More: Vertebrogenic Low Back Pain: Causes, Symptoms, Treatment
5. Scoliosis:
Scoliosis is a condition where the spine curves sideways. Depending upon its severity, patients might experience back pain due to an abnormal spinal structure. However, the pain isn't always influenced by breathing.
6. Anxiety and Other Mental Health Conditions:
Anxiety can often manifest as physical symptoms including upper back pain. These episodes might become more pronounced during panic or anxiety attacks, resulting in increased pain with breathing.
7. Chronic Lung Conditions:
Certain health issues, such as asthma and chronic obstructive pulmonary disease (COPD), can contribute to back pain while inhaling and exhaling. Chronic coughing and struggles with breathing can over time add stress to the muscles in the chest and back, leading to discomfort and pain.
It is crucial not to overlook the sudden or ongoing occurrences of upper back pain when taking breaths. This is especially important if other symptoms accompany the pain, such as high temperature, accelerated heart rate, pain in the chest, or problems with breathing. Immediate medical attention can ensure timely diagnosis and intervention, preventing complications, and alleviating the pain effectively.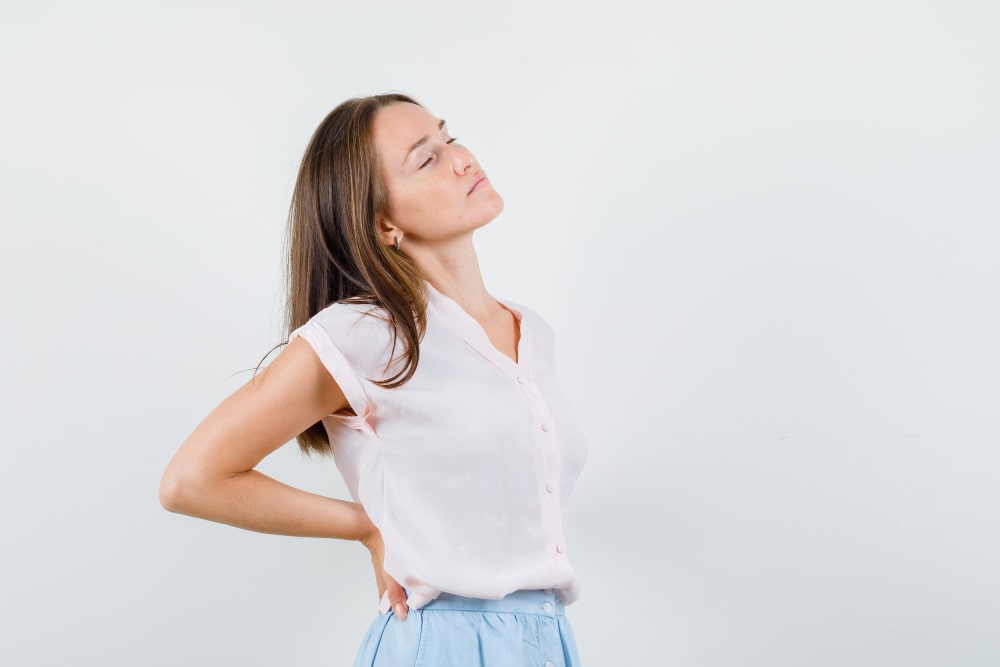 Read More: Back Pain After Eating: What Causes It, How to Prevent It?
Symptoms of Back Hurt When I Breathe
Symptoms could vary greatly based on the underlying cause of the back pain. Typically, you could experience a dull ache to sharp pain in the back that worsens with breathing. You might also encounter other symptoms such as chest pain, difficulty breathing, fever, tiredness, cough, rapid heart rate, and even anxiety attacks.
Diagnosis
Back pain can be diagnosed using several methods. Your doctor will start with a thorough understanding of your medical history and a physical examination. They may check your back and push on different areas to see if it hurts. Your doctor might order imaging tests, like X-rays or MRI scans, to visualize the structure of your spine, depending on the severity and symptoms. If lung or heart-related issues are suspected, additional testing like ECGs, pulmonary function tests, or cardiac stress tests may be arranged.
Read More: Can Gallbladder Cause Back Pain: Causes, Symptoms, Cure
Treatment For Back Hurt When I Breathe
Treatment for back pain whilst breathing varies depending on the cause.
Muscle strains are usually treated with rest, ice application, anti-inflammatory drugs, and physical therapy.
Spinal injuries may require immobilization, pain medications, and in severe cases, surgery.
For respiratory conditions like pleurisy or pneumonia, treatments can involve antibiotics, anti-viral medication, pain relievers, and rest.
Heart conditions like heart attacks and pulmonary embolisms are medical emergencies requiring immediate treatment, possibly including thrombolytic medications or surgical interventions.
Therapy, medication, and relaxation techniques are often used for treating anxiety disorders.
Chronic lung conditions like asthma and COPD may require a combination of medication, breathing exercises, and lifestyle changes.
Scoliosis treatments may range from watchful waiting to bracing or surgery in severe cases.
Prevention Tips
Back pain can be prevented or minimized by maintaining a healthy lifestyle. This could include regular exercise with a focus on strengthening the core and back muscles. Proper lifting techniques, maintaining a healthy weight, adequate hydration, and good posture are key elements to preventing back pain. Regularly practicing stress management techniques can also help in cases where pain is related to psychological stress or anxiety.
Remember that if you are experiencing persistent back pain, especially if it worsens while breathing, visit a healthcare professional. For severe symptoms like chest pain, difficulty breathing, and rapid heartbeat, contact emergency medical services immediately.
Read More: Back Pain When Coughing: Causes, Symptoms, Treatment
FAQs
When should I be worried about back pain when breathing?
If the pain is persistent, severe, or is associated with symptoms like chest pain, difficulty breathing, or fever, you should seek immediate medical help.
What does it mean when it hurts to breathe?
Pain while breathing could signal a variety of conditions, from muscular overuse or strain to lung, heart, or spinal problems. If you experience pain when breathing, especially if severe or persistent, medical evaluation is vital.
Can back pain affect breathing?
Yes, certain conditions like pleurisy, pneumonia, heart attacks, and even muscle strain can cause back pain that worsens while breathing.
What might help alleviate back pain when breathing?
Temporary relief might be achieved with rest, ice or heat application, and over-the-counter pain relievers. However, it's essential to diagnose and treat the underlying cause for persisting relief and prevention.
What role can lifestyle play in such cases?
A healthy lifestyle plays a significant role in preventing or reducing back pain. Regular physical exercise, maintaining an optimal weight, practicing proper posture, and refraining from smoking can contribute to a healthy back.