Tuna consumption during pregnancy is a topic that often leads to confusion. The benefits of fish consumption, particularly regarding essential nutrients for fetal brain development, are widely recognized. Contrarily, concerns over mercury levels in fish and potential health threats, especially in the context of pregnancy, have also been raised. This article will thoroughly examine the implications of consuming tuna while pregnant.
Tuna is a significant part of many diets around the globe, known for its high protein content and rich supply of omega-3 fatty acids, iron, and vitamins essential for a developing baby. However, tuna also possesses a characteristic that could potentially harm the developing fetus – mercury.
Varieties of Tuna
The type of tuna consumed significantly influences the associated mercury risk. In general, smaller tuna species, like skipjack and tongol, contain lesser mercury compared to larger species like bigeye and bluefin. Therefore, selecting the right variety positively impacts nutritional benefits over potential hazards.
The Nutritional Complexity of Tuna
Beyond its high protein and beneficial fat content, tuna offers a variety of other nutrients beneficial during pregnancy. Tuna is a good source of choline, a nutrient essential for brain health, cognitive functioning, and fetal development. Moreover, it also offers selenium, an antioxidant that supports the immune system, and iodine, responsible for proper thyroid function.
Read More: How to Make Rice Salad Recipe at Home?
The Benefits of Tuna While Pregnant
Tuna is acclaimed for providing eicosapentaenoic acid (EPA) and docosahexaenoic acid (DHA), two essential long-chain omega-3 fats. These Omega-3 fatty acids play central roles in the healthy development of a baby's brain and nervous system. Besides, other elements including essential protein, iron crucial for the developing baby's brain, nervous system, adequate blood supply, as well as Vitamin B12 and Vitamin D, add to the beneficial constitution of tuna.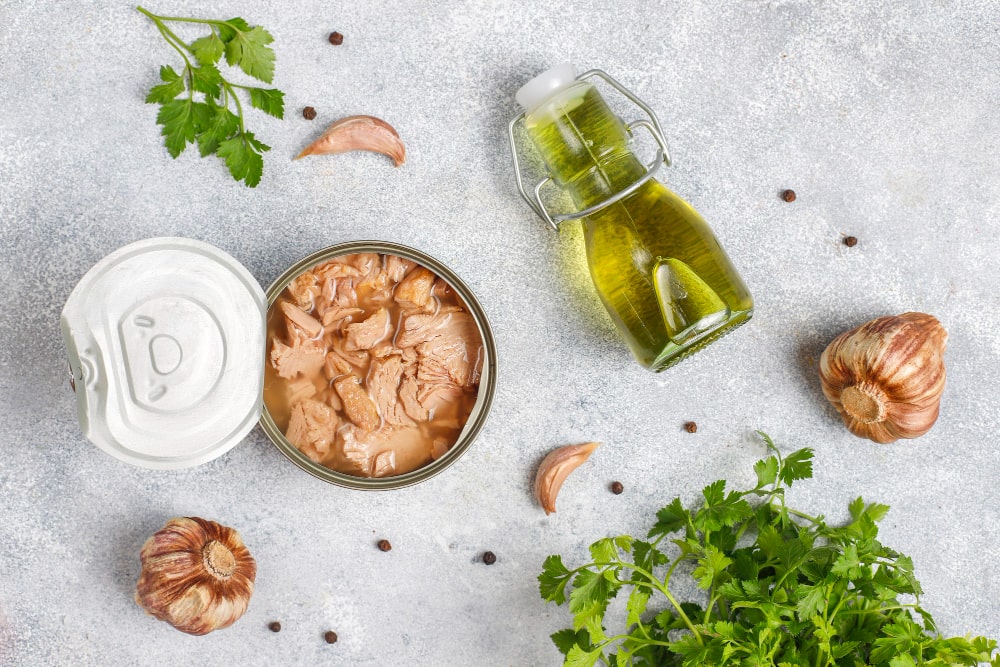 Cooking Tuna
The manner in which tuna is prepared also impacts its safety during pregnancy. Fully cooking tuna significantly reduces the risk of foodborne illnesses, an issue particularly pressing during pregnancy due to heightened immunological sensitivities. Also, cooking evaporates some of the naturally occurring water in fish, concentrating beneficial nutrients like omega-3 fatty acids.
Pre-packaged Tuna
Pre-packaged or canned tuna is often seen as a convenient alternative, although these generally come with added salt. As higher sodium intake might increase the risk of hypertension and other health issues during pregnancy, it's important to scrutinize the nutritional labels of pre-packaged foods.
Read More: What Is Pulp in Orange Juice: Unveiling the Mystery
The Mercury Factor
Mercury is a natural component, but its levels in fish, primarily as a result of industrial pollution, can be concerning. Tuna, particularly the larger variants and those higher up in the food chain, are known to accumulate significant amounts of mercury. High mercury intake during pregnancy can negatively affect the development of the baby's brain and nervous system, resulting in potential learning difficulties, delayed motor skills, lower intelligence quotients (IQs), and possible cardiovascular problems later in life.
Sustainability Considerations
While not directly related to your health or that of your baby during pregnancy, it's worth noting the implications of tuna fishing on the environment. Overfishing has become a significant global concern, making it crucial to choose tuna sourced sustainably. Certified products (like 'Marine Stewardship Council' certified) can help make more environmentally conscious choices.
Read More: How Much Lemon Juice to Drink to Stop Period?
Balancing the Benefits and Risks
Pregnant women are typically recommended to consume a balanced diet, including fish, considering the nutritional advantages. This recommendation, however, needs a caveat when it comes to the consumption of certain fish like tuna.
Canned light tuna, commonly skipjack, is considered safe for consumption during pregnancy if limited to no more than 12 ounces a week. This form of tuna allegedly contains the lowest mercury levels among its peers. Albacore or yellowfin tuna is also safe when restricted to 4 ounces per week only.
On the other hand, it's crucial to avoid high-mercury tuna, like big-eye tuna, altogether during pregnancy. Consumption of any kind of raw, smoked, or seared tuna is also discouraged due to the risk of bacterium Listeria. It can lead to certain infections such as listeriosis – potentially harmful to an unborn baby.
Consulting Your Healthcare Provider
Lastly, each pregnancy is unique, with diverse nutritional needs and potential risks. Thus, consulting with a healthcare provider about your individual circumstances is the best way to decide on the right dietary pattern, including the safe consumption of tuna.
To encapsulate, while there's a need for caution regarding mercury content, tuna, when judiciously incorporated, can offer significant health benefits during pregnancy, thereby striking a balance between rewards and possible risks.
Read More: How to Make Cucumber Juice: A Comprehensive Guide
FAQs
Can I eat sushi made from tuna while pregnant?
Raw fish, including sushi, can carry harmful bacteria and viruses, which can increase the risk of foodborne illnesses. So, it is advisable to avoid consuming raw or undercooked tuna when you are pregnant.
Are there any alternatives to tuna that I can eat while pregnant?
Low-mercury seafood includes salmon, shrimp, pollock, catfish, and canned light tuna. These can be consumed safely by pregnant women, but the variety and quantity should always be according to the guidelines provided by healthcare professionals.
Does the type of tuna matter when I am pregnant?
Yes, the type of tuna can affect how much you can safely eat. Canned light tuna generally has less mercury than albacore (white) or yellowfin tuna. Fresh or frozen tuna can contain even higher levels. It's best to avoid consuming large amounts of bigeye tuna, as it's known to have high levels of mercury.