Introduction
Pregnancy is a special phase in life marked by significant changes and considerations, particularly when it comes to dietary choices. Among these many dietary inquiries, a frequently asked question is, "Can you eat oysters while pregnant?" The discussion that surrounds this question is filled with mixed views, and as such, it demands an in-depth examination.
Unveiling the Nutrient Powerhouse: The Oyster
Oysters are virtually synonymous with a highly nutritious diet. They offer a wealth of important nutrients such as iron, iodine, selenium, and copper, essential for the healthy growth of the fetus and the overall health of the expecting mother. Oysters are most famous for their zinc content – vital for the immune system; furthermore, they are an excellent source of protein and house a decent amount of heart-healthy fats.
Therefore, considering their nutritional richness, oysters could convincingly find a place in the dietary regimen of an expecting mother. However, the key arena of consideration is not nutrient content, but rather safety regarding the consumption method.
Read More: 11 Best Calf Stretches for Optimal Flexibility and Strength
Health Benefits of Oysters During Pregnancy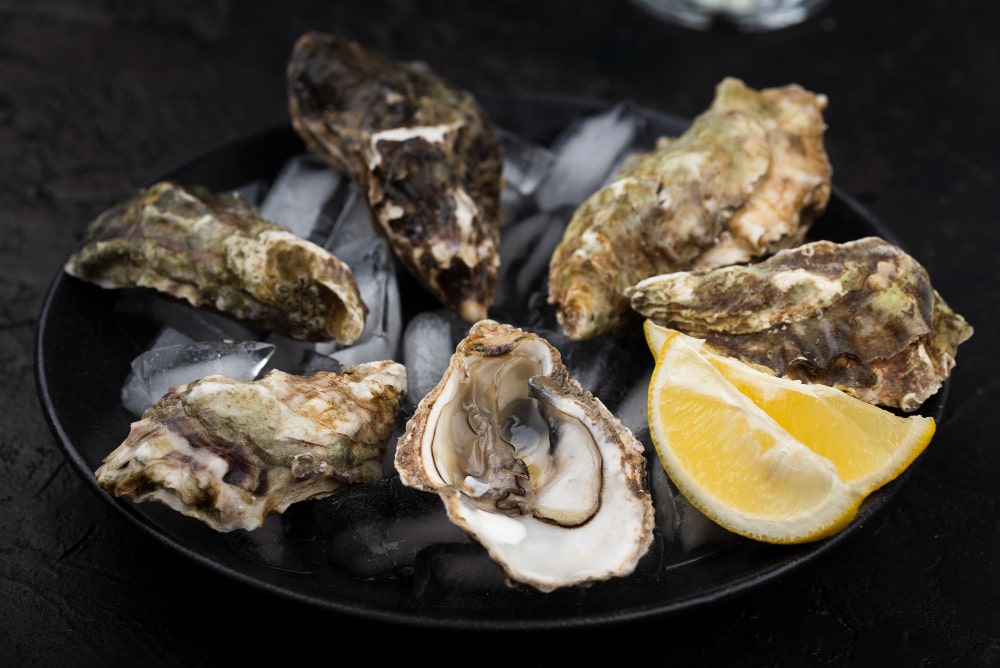 Consumption of cooked oysters during pregnancy has beneficial effects on both the expectant mother and fetus.
Boosts Fetal Brain and Eye Development: Oysters, being rich in Omega-3 fatty acids, significantly contribute to enhancing not only fetal brain development but also eye development.
Good Source of Zinc: Zinc is an essential mineral for growth and development, particularly during pregnancy. Oysters provide an abundance of this crucial nutrient.
Low in Mercury: Mercury contamination is often a concern when consuming seafood.Despite this, oysters are laden with docosahexaenoic acid (DHA) – a type of Omega-3 found in seafood. Their low mercury content also makes them an appropriate option during pregnancy.
Rich in Vitamin B12: Vitamin B12 is a crucial nutrient during pregnancy as its deficiency can lead to dire developmental issues, including problems with fetal growth. Hence, it's crucial to maintain an adequate Vitamin B12 level throughout pregnancy. Oysters provide a good supply of this vitamin.
Raw Vs. Cooked Oysters: What's The Verdict?
Contrasting views emerge when comparing raw and cooked oysters. Raw oysters, although enticing as a delicacy for many, carry the threat of foodborne illnesses. Pathogens like vibrio vulnificus, salmonella, and noroviruses may inhabit raw oysters and could potentially cause serious illnesses ranging from gastrointestinal distress to life-threatening conditions in severe cases.
Thus, while pregnant, it is generally advised to avoid raw oysters to circumvent these risks. Cooked oysters, on the other hand, eliminate this concern to a large extent. Cooking destroys harmful pathogens, rendering oysters significantly safer to consume. Therefore, it's safe to say that thoroughly cooked oysters can be included in a pregnant woman's diet.
Read More: Can You Take Aleve While Pregnant?
Safety Precautions When Eating Oysters During Pregnancy
While fully cooked oysters are an excellent choice during pregnancy, several safety measures need to be considered:
Thoroughly Cook Oysters: To mitigate the risk of foodborne illnesses like vibrio infection, ensure oysters are completely cooked when consuming them.
Proper Food Handling: Follow fundamental food safety measures such as keeping oysters away from other unprepared foods, particularly when cooking at home. Avoid cross-contamination on cutting boards and clean all utensils and surfaces used while preparing oysters.
Beware of Mercury Contamination: Though oysters have low mercury content, discernment should still be used. The expectant mother should limit total servings of fish two to three per week to avoid possible mercury contamination.
Are Oysters Safe to Eat for Pregnant Women?
Oysters are indeed safe and significantly beneficial for pregnant women if consumed appropriately. They are renowned for their rich nutrient content, which includes a buffet of essential nutrients that are incredibly vital during pregnancy. During pregnancy, several nutrients are crucial for the development and health of both the baby and the mother. Among these, Omega-3 fatty acids, Zinc, Vitamin B12, and having low mercury levels, stand out.
Omega-3 fatty acids take the lead, particularly due to their essential role in fetal brain evolution. A dietary allowance for zinc, a mineral that supports growth and development, jumps from 8 milligrams daily pregnancy to 11 milligrams during gestation. Low mercury contamination levels in oysters are advantageous given the neurological risks associated with high mercury intake.
Nevertheless, it's essential to note a significant caution. Eating raw or poorly cooked oysters during pregnancy presents certain risks and is generally discouraged. The raw oysters may introduce foodborne illnesses that could negatively affect the mother and the developing baby. Thus, fully cooked consumption is highly advised to ensure bacteria, such as vibrio, is eliminated.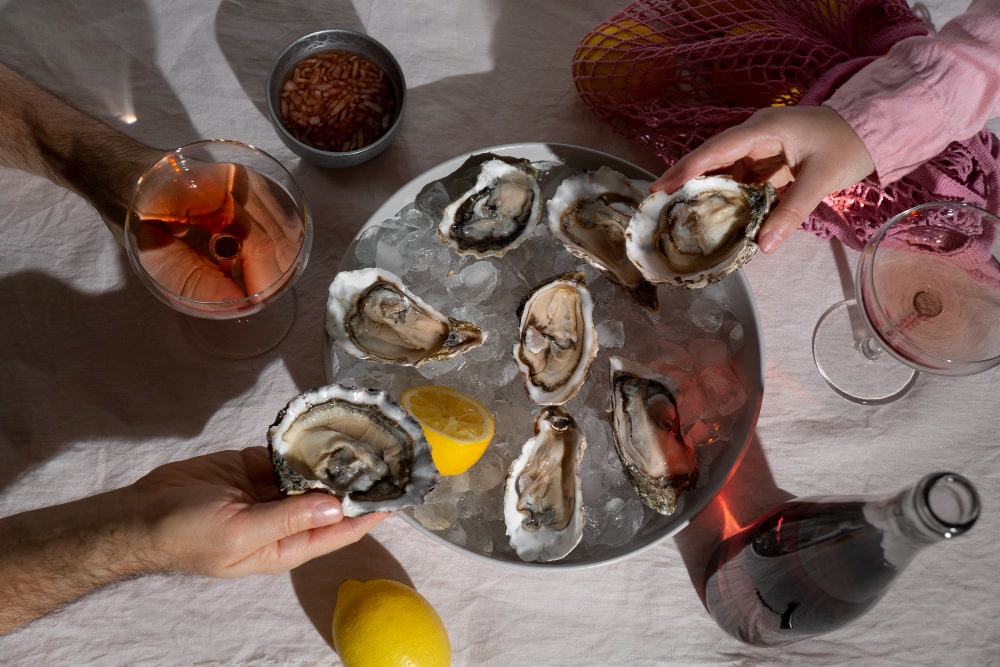 Read More: Strep Throat While Pregnant: Causes, Symptoms, Treatment
Long Story Short: A Practical Recommendation
Expectant mothers need not miss out entirely on the nutritional benefits oysters offer. The key is to consume oysters in a form that guarantees food safety along with nutrition.
Ensure your oysters are thoroughly cooked, which means they should be broiled or grilled until they become milky white or opaque and firm. During steaming, confirm that the edges have started to curl.
For optimal food safety, make sure cooked oysters are stored adequately prior to consumption and avoid cross-contamination during preparation, separating them from other raw food items.
Conclusion
So, can you eat oysters while pregnant? The answer is Yes, as long as they're fully cooked. With their rich nutritional package oysters offer essential nutrients for both the mother's health and baby's development. However, it's always advisable to consult your healthcare provider concerning your diet during pregnancy to personalize the diet plan based on your specific circumstances.
Read More: Can You Eat Grapes While Pregnant: A Comprehensive Guide
FAQs
How should oysters be prepared for consumption during pregnancy?
Oysters should be thoroughly cooked to kill potential bacteria and viruses. Boiling, grilling, baking, or frying are all safe methods to prepare oysters during pregnancy.
How often can I eat oysters when pregnant?
While there are no strict guidelines on the frequency, it's generally recommended to maintain a balanced diet and keep seafood consumption to 2-3 servings per week to avoid potential overexposure to mercury.
Can I have smoked oysters while pregnant?
While smoking does cook the oysters to some degree, not all smoking methods cook them to the temperature required to kill all bacteria. Therefore, it is safer to avoid smoked oysters during pregnancy unless you are entirely sure they are fully cooked.
What precautions should I take when preparing oysters at home?
Always purchase oysters from reputable sources, properly refrigerate until use, and thoroughly clean before cooking. Ensure they are cooked thoroughly and avoid cross-contamination by cleaning all utensils and surfaces properly.
Can potential foodborne illnesses from oysters harm my unborn child?
Yes, potential foodborne illnesses from raw or undercooked oysters can lead to serious complications, including miscarriage, preterm birth, and stillbirth. Therefore, strict precautions must be followed when preparing and consuming oysters during pregnancy.