Curly hair, with its unique beauty and charm, sometimes poses a challenge due to frizz, tangles, and the amount of time it takes for styling. Keratin treatment for curly hair have the ability to smooth, de-frizz, and add shine to all types and textures of hair, including curly locks. But what are these treatments, how do they work? Let's dive into the world of keratin treatment for curly hair to answer all these questions and unravel the magic behind these transformative processes.
What is Keratin Treatment?
Often referred to as a 'Brazilian blowout', Keratin treatment is a semi-permanent, hair-smoothing method where liquid keratin, a protein that is naturally present in your hair, is sealed into your tresses using high heat. This treatment tames frizz, smoothens locks and gives your hair a shiny finish.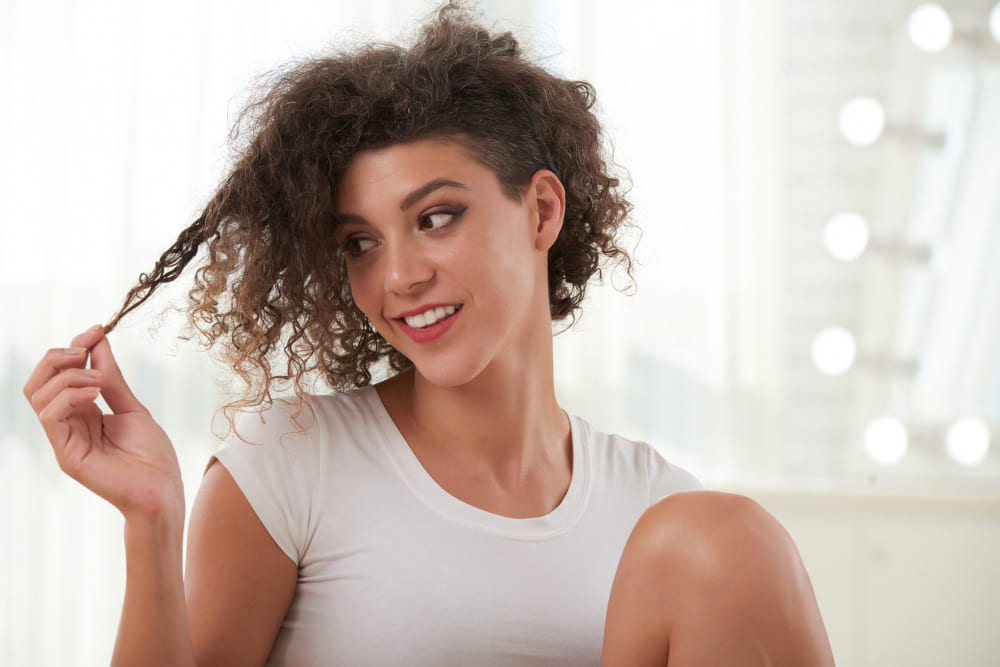 Read more: How to Dye Synthetic Hair: A Detailed Step-by-Step Guide
The Application Journey: What to Expect
The process involves washing and drying your hair followed by the application of a keratin solution. The solution is sealed using a straightening iron set at a high temperature. This procedure can take two to four hours depending on the length of your hair.
Impacts on Curly Hair
Keratin treatment can have a transformative effect on curly hair. It can help manage curl patterns and reduce frizz, which is common with curly hair. Remember though, your original curl pattern may not be completely straightened but softened, giving your curls a more defined and manageable shape.
Read More: What Vitamin Deficiency Causes Hair Loss?
Maintenance and Durability
Post-treatment maintenance plays a critical role in the longevity of the result. Avoid washing your hair for a couple of days to allow the keratin to set in. Specific sulfate-free shampoos and conditioners are recommended to ensure the treatment lasts longer, generally about 2-6 months depending on the products used and the care taken.
Potential Downsides
While Keratin treatment bestows manifold benefits, it's not without its downsides. Some find the cost, which ranges from $200-$800 per treatment, to be prohibitive. Also, there are concerns regarding the presence of formaldehyde, a potential health hazard, in keratin products. Always communicate with your stylist regarding these concerns.
To sum up, Keratin treatment can be a game-changing method for those struggling with unmanageable curly hair. But it's always wise to engage in a detailed discussion with your hairstylist about the potential impacts and aftercare methods before going ahead with the procedure.
Exploring Additional Factors of Keratin Treatment for Curly Hair
Going beyond the basics of keratin treatments, let's delve into other significant aspects that are essential in gaining a holistic understanding of this popular hair care procedure.
1. Keratin Treatment Variations
There are different types of keratin treatments available, each designed to cater to different hair types and needs. For instance, 'Soft Keratin Treatment' works best for enhancing natural curl patterns by reducing frizz but does not straighten the hair completely. On the other hand, 'Japzillian Keratin Treatment,' a combination of Japanese hair straightening and Brazilian Keratin treatment, ensures sleek straight hair for several months. Talking with your hair specialist about your hair goals and preferences can help in choosing the right kind of treatment.
Read More: Can Depression Cause Hair Loss?
2. The Role of Hair Porosity
The effectiveness of keratin treatments can also depend on the hair's porosity – the hair's ability to absorb and retain moisture. Curly hair tends to be high in porosity, which means keratin treatments can drastically improve moisture retention, thus reducing dryness and breakage.
3. Individual Lifestyle Factors
Factors like your exercise routine and swimming habits can impact the longevity of a keratin treatment. Activities that cause excessive sweat or expose hair to chlorine can diminish the lifespan of your treatment. Hence, adapting your lifestyle or incorporating specific precautions post the treatment can help in maintaining the results longer.
4. Environmental Impact
People residing in humid climates can benefit enormously from keratin treatment as it fights humidity, one of the major causes of frizz in curly hair. However, those living in areas with hard water containing minerals like magnesium or lead should be aware that these can wash the treatment out faster.
5. DIY Keratin Treatment
While professional salon treatments are deemed superior, DIY home kits offer a cost-effective alternative. While they may not offer the same degree of transformation as professional treatments, with careful application, they can still offer a reduction in frizz and increase hair manageability.
By considering these additional factors, one can make a more informed decision about opting for a keratin treatment and sustaining its results for a prolonged period. It's always best to consult with a professional stylist for personalized advice based on your hair type and lifestyle.
Read more: How to Diffuse Curly Hair: Step-By-Step Guide
Conclusion
Keratin treatments can be a transformative option for individuals with curly hair who want to achieve a frizz-free, glossy appearance. These treatments replenish keratin, a fibrous protein that your hair naturally loses over time due to exposure to external factors. While they cannot guarantee pin-straight hair, keratin treatments can significantly smooth and relax your texture, making your hair more manageable and easy to style. With options like Brazilian Blowouts, Japanese Keratin Treatments, Keratin Express, and Soft Keratin Treatments, you can select a treatment that suits your hair type and desired results. A wisely chosen, well-administered keratin treatment, complemented with the right aftercare, can result in healthier and aesthetically pleasing hair.
FAQs
What is Keratin Treatment on Curly Hair?
It's a hair straightening process that infuses keratin protein into your hair cuticles, resulting in smooth, frizz-free, and shiny hair.
Are keratin treatments safe for natural hair?
Yes, keratin treatments are safe for natural hair. However, it's important to ensure that the stylist is using safe chemicals and applying them properly to prevent any potential damage.
Can men with curly hair get keratin treatments?
Absolutely. Keratin treatments work just as effectively on men's curly hair as they do on women's. This can be a great option for any man desiring smoother and sleeker hair.
How long does a Keratin Treatment last?
Depending on your personal care routine and the specific brand of treatment used, keratin treatments can last from 2 to 6 months.
What are potential disadvantages of Keratin Treatments?
Despite the significant benefits, potential drawbacks include cost, high maintenance, and exposure to chemicals, including formaldehyde.