Depression is an emotional disorder that can have a wide array of effects on an individual's well-being, including physical, cognitive, and emotional impacts. One impact many individuals question is whether depression can lead to hair loss. While medical experts haven't found concrete evidence to suggest that depression directly causes hair loss, a more subtle relationship between the two may exist. Let's dive in and explore can depression cause hair loss, the role of stress and hormones and other to contribute hair loss.
Depression and Hair Loss
Depression is a mental health disorder characterized by persistent sadness or lack of interest in outside stimuli. While depression doesn't directly cause hair loss, its symptom, stress, can contribute to conditions that lead to hair shedding or thinning.
When we talk about depression-related hair loss, we're primarily focusing on a type of hair loss called telogen effluvium. This condition may occur after severe emotional or physical stress, pushing more hairs into the shedding phase of the growth cycle. The result is a sudden change from hair growth to hair shedding.
Additional forms of hair loss can include trichotillomania, an impulse control disorder that urges individuals to pull out their hair, and alopecia areata, an autoimmune disorder on the scalp.
Read More: Does Metformin Cause Hair Loss: Fact or Fiction?
The Role of Stress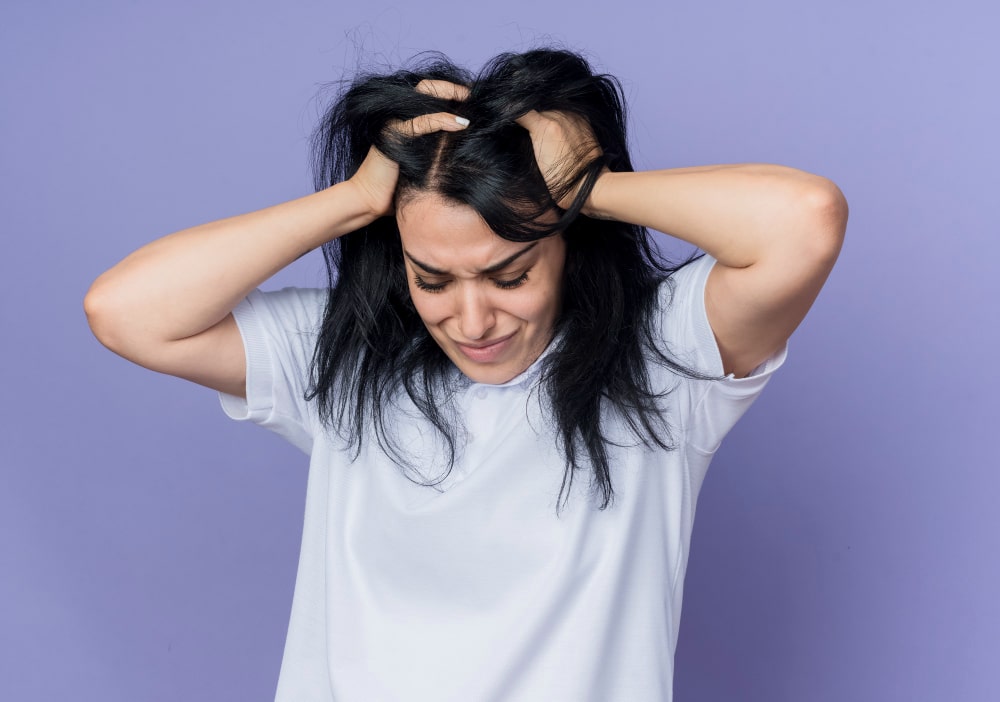 Stress, a known hair-thinning accomplice, often goes hand-in-hand with depression and could play a protagonist role in hair loss cases. Stressful life changes or prolonged challenges can heighten one's stress levels, potentially contributing to depression. Instances of acute stress, such as those resulting from significant life events like a divorce or job loss. It can lead to certain types of temporary hair shedding, which could be mistakenly attributed to depression.
High stress levels can induce three types of hair loss:
Telogen effluvium:
Stressful events can abruptly push hair follicles into the resting phase, causing an uptick in hair shedding and consequent hair thinning.
Trichotillomania:
Classified as an impulsive behaviour disorder, individuals feel a compelling urge to pull out hair from the scalp and other body parts.
Alopecia Areata:
An autoimmune disorder where the immune system mistakenly attacks hair follicles, often triggered by severe stress.
Hormones and Hair Loss
Hormonal changes due to life events, such as childbirth or due to medications like hormonal birth control pills, can also lead to temporary hair shedding, which could coincide with depression symptoms and create a false connection.
Read More: Can Hair Dye Cause Hair Loss? A Comprehensive Guide
When Mental Health Meets Hair Health
Examining the potential relationship between depression and hair loss necessitates a comprehensive approach that interconnects depression, stress, and hair health. Mental health significantly influences an individual's overall well-being, with intense distress from persistent depression or anxiety potentially manifesting as physical symptoms, like hair loss.
Nevertheless, it is important to understand that while depression can contribute to factors that cause hair loss, the relationship is indirect. Experiencing hair loss doesn't mean you're necessarily depressed, and vice versa.
Other Contributing Factors
While stress and depression could factor into hair loss, other elements lead to the same outcome: – Hormonal shifts due to childbirth, menopause, or hormone-based birth control – Certain antidepressants associated with increased risk of hair loss – Physical or emotional traumas that lead to sudden hair thinning.
Depression Treatment and Hair Loss
There's also a connection between certain antidepressant medications and hair loss. Some drugs used to treat depression, notably SSRIs (Selective Serotonin Reuptake Inhibitors), have been reported to cause hair loss in some individuals. In most instances, the hair loss is temporary, and hair regrows once the individual stops taking the medication.
That being said, altering a treatment plan, especially with regards to a mental health condition. Must always be undertaken under the direct supervision of a healthcare provider.
Read More: Shampoos That Cause Hair Loss in 2023: A Comprehensive Guide
What Does the Research Say About Depression and Hair Loss?
In a 2012 study conducted at a dermatology clinic, researchers investigated possible links between hair loss and depression symptoms in 157 women of differing ages. The study found that 54% of participants experienced hair loss, while 38% of these women were also dealing with at least two key depression symptoms. Despite these statistics, the study didn't establish that depression was a direct cause of hair loss.
Another more comprehensive study in 2018 examined data from over a million new users of several antidepressants. This research suggested that certain antidepressants, like bupropion (Wellbutrin, Aplenzin), could raise the risk of hair loss. However, this isn't necessarily a common side effect of depression medications; hair loss often relates to individual responses to certain medications.
Conclusion
While the possibility of depression influencing hair loss cannot be completely ruled out. It's crucial to understand that multiple factors are likely responsible for hair loss. Instead of attributing hair loss solely to depression, consult a healthcare professional to explore other potential causes and treatment options. Helping yourself by managing depressive symptoms, undergoing therapy, or making lifestyle changes can significantly improve your overall well-being and, possibly, your hair health too.
Read More: Scalp Yeast Infection: Causes, Symptoms, Treatment
FAQs
Can antidepressants cause hair loss?
Yes, certain antidepressant medications like selective serotonin reuptake inhibitors (SSRIs) have been associated with hair loss. However, this hair loss is usually temporary and can be remedied by discontinuing the medication.
Is hair loss associated with depression irreversible?
No, hair loss associated with stress and depression is usually temporary and can reverse after properly treating the underlying condition and reducing stress levels.
Should I consult a healthcare professional suffering from depression and hair loss?
Yes, if you experience symptoms of depression alongside unusual hair loss, it is crucial to seek help from a healthcare professional promptly.
Can lifestyle changes help with depression-related hair loss?
Yes, lifestyle changes such as regular exercise, maintaining a healthy diet, and managing stress can help mitigate depression-related hair loss.
Is hair loss more prevalent in people with depression?
Studies suggest a correlation between hair loss and depression, often related to the high stress levels experienced with depression. However, not everyone suffering from depression will experience hair loss.