Scalp yeast infection is a common yet bothersome skin condition that can be difficult to treat. It is a type of fungal overgrowth on the scalp and other parts of the body, causing irritation and sometimes hair loss. In this article, we will discuss the causes, symptoms and treatments for scalp yeast infection and provide preventive measures and tips to maintain optimal scalp health. Read on to learn more about treating and preventing yeast infections on the scalp. 
What is a Scalp Yeast Infection?
Yeast infections are caused by an overgrowth of a fungus that is called Candida albicans. This overgrowth can occur on various body parts, such as the scalp, genital areas, and mouth. The yeast feeds off keratin, a protein found in healthy hair follicles. When the fungus is allowed to spread unchecked, it can cause severe irritation and inflammation on the skin of the scalp. Scalp yeast infections, also known as seborrheic dermatitis, is an inflammatory skin condition that can cause scaly patches of redness and irritation on your scalp. It's estimated to affect up to 5% of the population in the United States. 
Read More: Does Alcohol Cause Hair Loss: Everything You Need to Know
Scalp Yeast Infection Causes and Risk Factors
The exact cause behind this condition is unknown, but it's thought to be related to a fungus called Malassezia. This fungus is found on everyone's skin but can over-multiply and cause an infection in certain individuals. People who are more likely to develop scalp yeast infections include:
Those with weakened immune systems due to illness, stress, or drugs
Those with diabetes
Those with neurological disordes such as Parkinson's disease 
Those with HIV or AIDS
Individuals who have undergone organ transplant surgery
Premature babies
People with oily skin.
Those who use harsh cleansers, shampoos, or creams on their scalp
Individuals of Central Asian descent
Signs and Symptoms of Yeast Infection on Scalp
Signs and symptoms of a yeast infection on the scalp can include:
Red scaly patches
Itching in the affected area
Flaking of skin
Oily yellow to white patches
Skin cracking and peeling
Hair loss in the affected area.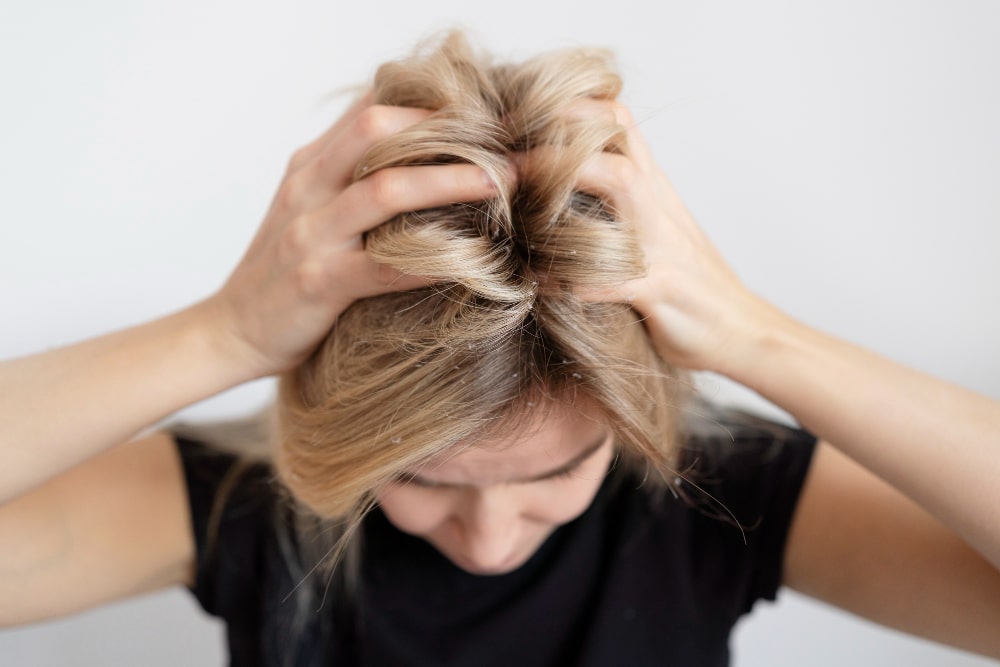 Read More: Does Lupus Cause Hair Loss? Everything You Need To Know
Diagnosis: Identifying Yeast Infection on the Scalp
A doctor can usually diagnose scalp yeast infection based on a physical examination. They may take a sample of the affected skin and send it to the lab for further testing. If an infection is caused by a fungus, they can identify it through this test. 
Scalp Yeast Infection Treatment Approaches 
The treatment for scalp yeast infection will depend on the severity of the infection. In mild cases, a doctor may recommend lifestyle changes or home remedies to help alleviate symptoms. For more severe infections, there are several options available: 
1) Topical Antifungal Treatments 
Topical antifungal creams and ointments can be applied directly to the affected areas on the scalp. These are often effective in reducing inflammation and relieving itching quickly.
2) Medicated Shampoos 
Medicated shampoos containing antifungal agents can be used to treat yeast infection on scalp. These shampoos should use regularly, at least twice or thrice a week, for several weeks to help clear the infection.
3) Oral Antifungal Medications 
In cases of severe infections, a doctor may prescribe oral antifungal medications such as fluconazole or itraconazole. These medications are usually taken for several weeks to help clear the infection. 
Read More: Can Dry Scalp Cause Hair Loss? Everything You Need to Know
4) Home Remedies for Yeast Infection on Scalp
Several home remedies can use to help treat yeast infection on scalp. These include: 
Applying a mixture of tea tree oil and coconut oil directly to the affected area
Applying a mixture of apple cider vinegar and water directly to the affected area
Applying aloe vera gel or juice directly to the affected place
Taking probiotics orally.
Using yoghurt or garlic to reduce inflammation and itching
Applying diluted apple cider vinegar to the affected place
We are applying diluted tea tree oil to the affected area.
Preventive Measures for Scalp Yeast Infection
There are several measures you can take to help prevent scalp yeast infection, such as: 
You are keeping your scalp clean and dry. This means washing your hair regularly and avoiding overuse of products.
Apply natural oils like olive or almond to soften and soothe the skin. Preventing overuse of styling products such as gels, waxes, and hairspray
Wear light and breathable clothing to help keep your scalp cool and dry, and use a humidifier in the home or workplace to keep the air moist. This helps prevent the skin from drying out, which can cause irritation and inflammation. Taking probiotics to help boost the immune system and reduce inflammation
Eating a healthy diet rich in nutrients and low in sugar, processed foods, and unhealthy fats. This helps keep the body's natural defences strong.
Reducing stress levels as much as possible. Stress can weaken the immune system, making it more difficult for the body to fight infection.
Avoid using harsh shampoos or cleansers on your scalp. Use a medicated shampoo containing antifungal agents regularly. Keep your scalp clean and dry, especially after showering or swimming.
Avoid tight hairstyles that pull on the scalp. Use a wide-toothed comb to detangle watery hair. Wear a hat or scarf in cold, windy weather. 
Read More: Can Low Vitamin D Cause Hair Loss? How to Maintain Level
Maintaining Scalp Health
The health of your scalp is essential for preventing yeast infection. Taking steps to keep the scalp healthy includes: 
Eating a balanced diet that contains plenty of fresh fruits and vegetables 
Drinking plenty of water to stay hydrated
Avoiding sugary and processed foods that can feed yeast growth.
The Connection Between Diet and Scalp Yeast Infections
Your diet can play a role in managing scalp yeast infection. Eating a balanced diet rich in vitamins and minerals helps maintain the body's natural defences against infection. This includes avoiding sugary and processed foods, which can cause an increase in yeast growth on the skin. Additionally, eating plenty of fresh vegetables and fruits provides important nutrients for a healthy scalp and hair. 
Impact on Hair Health: What You Need to Know
Scalp yeast infection can affect the health of your hair. When the scalp is irritated and inflamed, it can lead to infection, which in turn causes hair loss. This type of hair loss typically appears as bald patches or hair thinning. If left untreated, scalp yeast infections can worsen and cause extensive damage to the scalp and hair follicles. 
To help prevent hair loss, it's important to treat scalp yeast infections promptly and correctly. In addition, maintaining a healthy scalp can help reduce the risk of infection and keep your hair looking its best. By following these tips, you can keep your scalp healthy and free from infection. 
Read More: Can Wearing a Hat Cause Hair Loss: Everything You Need to Know
Addressing Scalp Yeast Infection in Children 
Scalp yeast infection can affect children as well as adults. Parents must know the risk factors and seek prompt treatment if their child develops a scalp infection. Common signs of infection in children include red scaly patches, itching, and flaking skin. Treatment options may include lifestyle changes, home remedies, or medications prescribed by a doctor. 
Debunking Myths About Scalp Infections
Due to the complexity of scalp yeast infections, many myths and misconceptions exist. One common myth is that the problem can solve with over-the-counter treatments. However, this is only sometimes true, as some infections may require medication prescribed by a doctor. Additionally, it's important to note that scalp yeast infections are not caused by poor hygiene. Overwashing can worsen the problem by stripping away the scalp's natural oils, leaving it vulnerable to infection. 
Living with Scalp Yeast Infections: Coping Strategies
Living with a scalp infection can be difficult, both physically and emotionally. It's important to find ways to manage the symptoms and cope with any emotional distress that may arise due to the condition. Some strategies for coping include:
Keeping a journal to track your symptoms and thoughts about them
Practicing relaxation techniques such as deep breathing or meditation
Talking to friends and family about your experience
Seeking professional support from a doctor or therapist
I am taking time for self-care activities such as yoga or massage.
By taking steps to manage the physical and emotional aspects of living with a scalp yeast infection, you can help keep yourself feeling healthy and in control. 
Read More: Foods That Cause Hair Loss: Everything You Need to Know
Conclusion
Scalp yeast infections can be a difficult condition to live with. However, you can take steps to manage them and prevent further infection. Preventive measures such as keeping the scalp clean and dry, wearing breathable clothing, eating a nutritionally balanced diet, and reducing stress levels can help keep the scalp healthy and free from infection. Additionally, it's important to seek professional advice and treatment if you suspect a scalp infection. With the right steps, you can manage your scalp yeast infection and keep your hair healthy and strong.
FAQs
Are scalp yeast infections contagious? 
No, scalp yeast infections are not contagious and cannot be spread through physical contact. However, the fungus that causes the infection can pass from person to person. 
Do over-the-counter treatments work for scalp yeast infections? 
Some over-the-counter products may provide relief from symptoms such as itching or inflammation. However, severe cases of scalp yeast infections may require prescription medication or topical treatments. It's important to discuss your symptoms with a healthcare professional before trying any over-the-counter treatments. 
Can I use styling products if I have a scalp yeast infection?
It's best to avoid using styling products, especially those that contain alcohol or other harsh ingredients when you have a scalp infection. This is because these products can irritate the scalp and worsen the condition. 
How long does it take for antifungal treatments to work? 
The time it takes for antifungal treatments to work can vary depending on the severity of your infection. Sometimes, it may take several days or weeks of treatment before you see improvement. It's important to follow your doctor's instructions and use the medication as prescribed to ensure that the infection is adequately treated.