Upper back pain experienced after sleeping can be a common and uncomfortable issue for many individuals. It can disrupt sleep quality and impact daily activities. In this article, we will delve into various aspects related to upper back pain after sleeping and explore effective strategies for prevention and relief.
Causes of Upper Back Pain After Sleeping
Understanding the Causes: Upper back pain after sleeping can occur due to several factors:
Poor Sleeping Posture: This is often the most common cause. Sleeping in awkward positions can strain muscles and ligaments of the upper back leading to discomfort.
Inappropriate Mattress and Pillow: An unsupportive mattress or a pillow that is too high or too low can misalign the spine and neck, leading to upper back pain.
Existing Medical Conditions: Certain medical conditions like osteoarthritis, disc diseases, or spondyloarthritis may contribute to upper back pain upon waking.
Muscular Overuse: If your daily routine involves repetitive activities that strain your upper back muscles, the accumulated tension might surface as pain after sleeping.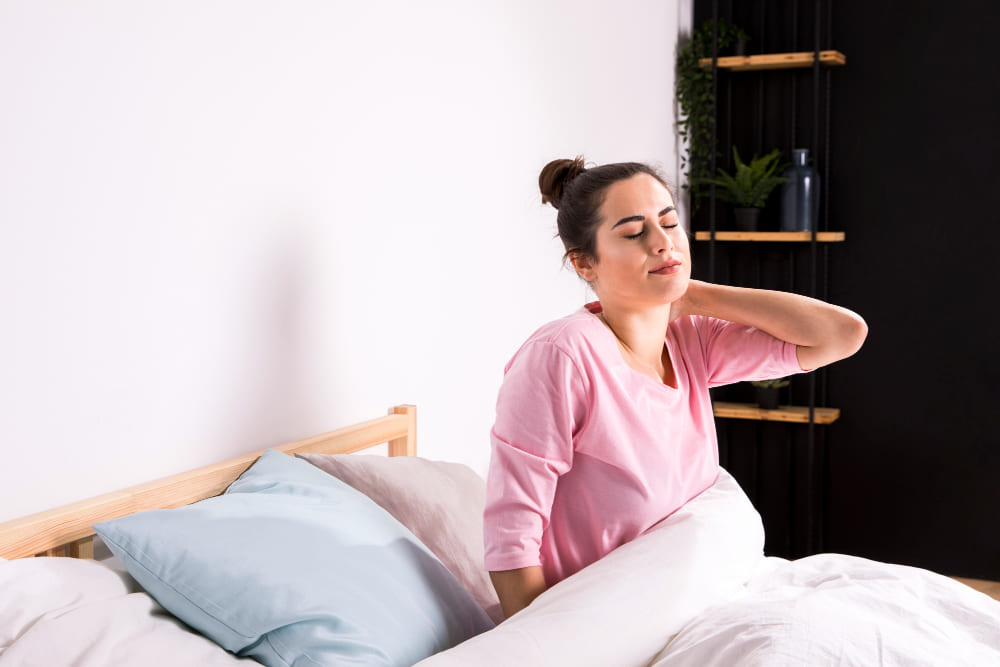 Read More👉 Prednisone in Back Pain: Everything You Need to Know
The Role of Stress and Mental Health in Upper Back Pain
Stress and mental health significantly influence physical well-being, including back health and the occurrence of topmost back pain after sleeping. High-stress levels can lead to muscle tension and increased sensitivity to pain, exacerbating existing back issues. Managing stress through relaxation techniques, meditation, and seeking professional support can help alleviate upper back pain and promote holistic wellness.
Creating the Ideal Sleeping Environment:
A back-friendly bed setup involves choosing the right mattress, pillow, and sleep position. Opting for a medium-firm mattress that offers adequate support to the spine is recommended. Additionally, using pillows that maintain proper neck and spinal alignment is essential for preventing upper back pain.
Using Supportive Pillows and Mattresses for Alleviating Upper Back Pain
Choosing the right pillows and mattresses tailored to individual needs can play a crucial role in alleviating upper back pain. Memory foam pillows that contour to the neck and shoulders and medium-firm mattresses that promote spinal alignment are recommended for individuals experiencing persistent upper back discomfort after sleeping.
The Power of Posture
Correct sleeping posture is vital to minimize the risk of upper back pain. Focusing on maintaining a neutral spine alignment while sleeping on your back or using supportive pillows while sleeping on your side can help alleviate discomfort.
Read More👉 Latissimus Dorsi Pain: Causes, Symptoms, and Management
Targeted Stretches and Exercises
Engaging in regular stretching and strengthening exercises can greatly assist in relieving upper back pain. Exercises that target the upper back, shoulders, and neck muscles help improve flexibility, release tension, and promote better posture.
Reevaluating Daily Habits
Certain lifestyle habits, such as prolonged sitting, poor ergonomics, and stress, can contribute to upper back pain while sleeping. Making adjustments like incorporating breaks for movement, practicing stress management techniques, and improving workstation ergonomics can reduce morning discomfort.
Read More👉 Anterior Ankle Pain: Causes, Diagnosis, and Treatment
Treatment of Upper Back Pain After Sleeping
Improve Your Sleeping Posture: To alleviate upper back pain, try to sleep on your side or back instead of your stomach. Ensure that your spine is aligned and the natural curve of your back is maintained.
Use the Right Mattress and Pillow: Invest in a firm, supportive mattress, and a pillow tailored to your sleeping style. The pillow shouldn't be too high or too low – it ought to align with the curve of your neck and spine.
Exercise Regularly: Stretching and strengthening exercises for the upper back and core muscles can alleviate muscular tension. Moderate activities such as yoga, swimming, and walking can also be beneficial.
Heat and Cold Therapy: Applying a hot pack can facilitate blood flow and loosen tight muscles. On the other hand, a cold pack can reduce inflammation and numb the pain.
Over-the-counter (OTC) Medications: Non-prescription pain relievers like ibuprofen can help reduce inflammation and relieve pain when taken as directed.
Physical Therapy: If back pain persists, consulting a physical therapist can be beneficial. They can provide personalized stretching and strengthening exercises and offer techniques to improve posture.
Read More👉 Can a Sinus Infection Make You Dizzy?
Exploring Alternative Therapies
Alternative therapies such as acupuncture, massage therapy, and heat or cold therapy can offer relief from upper back pain. These complementary approaches may help reduce muscle tension, promote relaxation, and enhance overall sleep quality.
How to Maintain a Healthy Back and Prevent Recurring Pain?
Implementing a comprehensive approach to back care involves integrating healthy lifestyle practices, ergonomic adjustments, proper posture, regular exercise, a balanced diet, and mindfulness techniques into daily routines. Prioritizing back health through conscious choices and proactive measures can prevent the recurrence of upper back pain and promote long-term physical well-being.
When to Consult a Specialist for Persistent Upper Back Pain
If upper back pain persists despite self-care measures, consulting a healthcare professional is recommended. They can perform a thorough evaluation, provide a diagnosis, and suggest appropriate medical interventions or therapies tailored to the individual's specific needs.
Read More👉 Back Pain After Eating: What Causes It, How to Prevent It?
Conclusion
In conclusion, upper back pain after sleeping can significantly impact daily life, but there are various strategies to alleviate discomfort and improve sleep quality. By understanding the causes, optimizing the sleeping environment, practicing proper posture, incorporating exercises, making lifestyle changes, seeking professional help when necessary, exploring alternative therapies, managing stress, and adopting long-term prevention strategies, individuals can find relief and enjoy restful nights free from upper back pain.
FAQs
What are the common causes of the pain in upper back after sleeping?
Common causes include poor sleeping posture, an unsupportive mattress or pillow, muscle tension or strain, and underlying medical conditions such as arthritis or spinal issues.
Can the type of mattress and pillow I use affect upper back pain while sleeping?
Yes, using an unsupportive mattress or pillow can cause poor alignment of your spine, leading to discomfort and pain. A medium-firm mattress and a pillow that maintains neck alignment are generally recommended.
Is it normal to consistently wake up with upper back pain?
While occasional upper back pain can be a common issue, it's not normal to consistently experience this discomfort. If you frequently wake up with upper back pain, it's advisable to seek medical attention to rule out underlying conditions and get suitable treatment.
Are there any home remedies to relieve upper back pain while sleeping?
Home remedies such as applying cold or hot packs, performing simple back exercises and stretches, taking over-the-counter pain relievers, and maintaining good posture can ease upper back pain. However, they should not replace professional medical advice.