Introduction
At times, we experience various forms of discomfort around the eye socket and the brow bone, which can emanate from a range of issues. This pain could be temporary, linked with conditions like headaches, or persist over a longer duration, often indicating more serious health concerns. In this article, we will explore causes, symptoms, and treatment options for pain in the eye socket and brow bone, as well as how to address this discomfort effectively.
Causes of Pain in the Eye Socket and Brow Bone
Pain in the eye socket and brow bone can be attributed to several causes:
1) Tension Headaches: People often associate tension headaches with a feeling of a tight band squeezing their head. They're notably the most typical type of headache and might be brought on by stress or inadequate sleep. This can cause moderate to intense pain in the eye socket and brow bone area.
2) Migraines: Known for their severe throbbing or pulsing pain, migraines typically affect one side of the head. They not only cause substantial discomfort in the eye socket but also result in additional symptoms like light and sound sensitivity, nausea, and sometimes vomiting.
3) Cluster Headaches: Cluster headaches are usually deemed the most painful type of headache. The resultant pain, localized around one eye, can be so intense that it can wake someone from sleep.
4) Glaucoma: Glaucoma refers to a group of eye conditions that can lead to damage to the optic nerve. This damage is caused by an excess buildup of fluid in the front part of the eye, leading to intense pressure and consequently cause severe pain in the eye socket and brow bone.
5) Sinusitis: Known also as a sinus infection, sinusitis happens when an infection affects the sinuses near the nose. This can cause facial pain or swelling around the eyes, affecting and causing pain in the eyebrow area.
6) Shingles: Shingles cause a painful rash in individuals who have previously suffered from chickenpox. Upon reactivation, the virus can surface anywhere on the body, including the face, leading to ache in the eye socket and brow bone.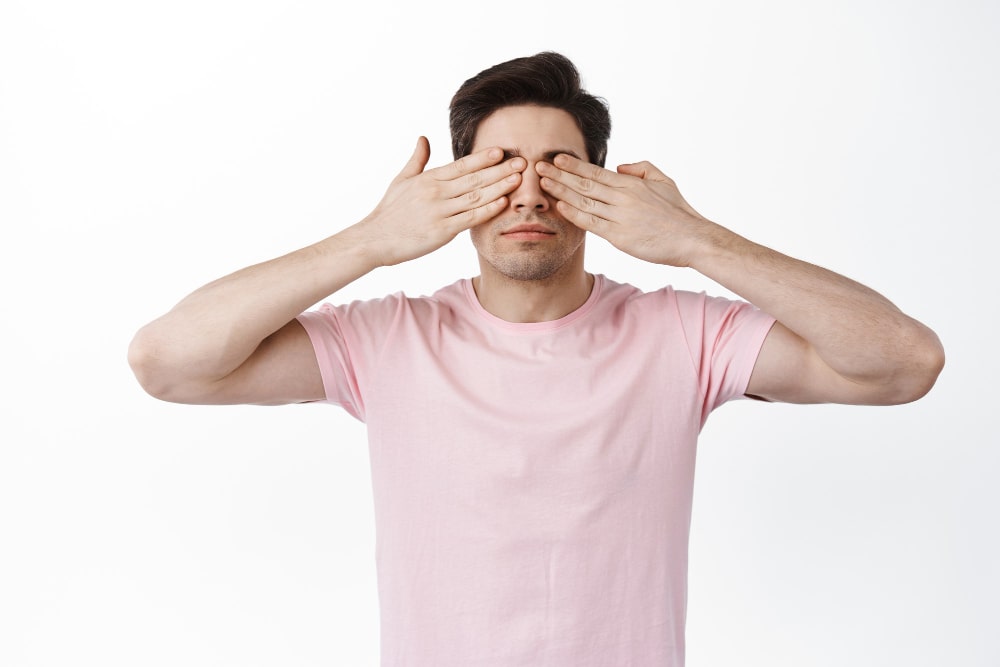 Read More: Pain in Lower Back When Coughing: A Comprehensive Guide
Symptoms of Pain in the Eye Socket and Brow Bone
The symptoms of pain in the eye socket and brow bone may vary depending on the underlying cause. Common symptoms include:
Sharp or throbbing pain in or around the eye socket and brow bone
Redness or swelling in the affected area
Sensitivity to light
Watery or itchy eyes
Blurred vision or visual disturbances
Headaches or migraines
Nasal congestion or discharge (in the case of sinusitis)
Eye fatigue or strain
Home Remedies for Pain in the Eye Socket and Brow Bone
Several home remedies can provide temporary relief from the ache:
Rest and Relaxation: One of the simplest treatments for eye or brow bone pain due to strain or fatigue is to rest your eyes and relax. Make an effort to take screen breaks if you work long hours on digital devices.
Cold Compress: If the pain is due to an injury or trauma, a cold compress or ice pack can help numb the area, reducing both pain and inflammation. Make sure to wrap the ice or cold pack in a thin cloth to avoid direct contact which could potentially damage the skin.
Meditation: It can lower stress levels and reduce the frequency of tension headaches and migraines.
Darkness and Quiet: With migraines, retreating to a quiet, dark room can help manage light and noise sensitivity.
Hygiene and Eye Care: Proper eye hygiene and care are essential for preventing and alleviating eye pain caused by conditions like conjunctivitis or other infections. This may include using prescribed eye drops, warm compresses, and following a strict hygiene routine. Drinking plenty of water can alleviate headaches resulting from dehydration.
Over-the-Counter (OTC) Medication: Non-prescription pain relievers like acetaminophen or ibuprofen can provide relief for various types of headaches.
Read More: Laser Treatment for Dark Spots: Extending the Discussion
Medical Treatment and Other Therapies
Should the pain persist, intensify, or be associated with other significant symptoms such as vision loss, immediate professional healthcare should be sought.
Prescription Medication: If the pain stems from an infection, your healthcare provider may prescribe antibiotics or antivirals. For cases related to migraines or severe headaches, specific medications to control and manage those conditions might be suggested.
Physical Therapy: Physical therapy could recommend for individuals whose pain relates to tension headaches stemming from poor posture or muscle imbalance.
Vision Therapy: If eye pain is related to a vision problem or eye strain, vision therapy exercises might be beneficial. This could be useful particularly in cases of convergence insufficiency, where the eyes struggle to work together for close-up tasks.
Lifestyle Modification: Adjustments in lifestyle can be significant in preventing and alleviating eye pain, especially if it's due to eye strain. Adapting habits such as using proper lighting, taking frequent breaks during screen time, maintaining good posture and practicing the 20-20-20 rule (looking at something 20 feet away every 20 minutes for 20 seconds) could be integral in treating this condition.
Surgery: In cases where the pain is due to a structural problem like a tumor or an anatomical anomaly, surgical intervention may be necessary.
Read More: Can Constipation Cause Lower Back Pain?
FAQs
Can allergies lead to pain in the eye socket and brow bone, and how should they be managed?
Allergies can cause eye discomfort, and antihistamines or allergy eye drops may help. If pain is severe or persistent, consult a healthcare professional.
Is there a connection between smoking and eye socket and brow bone pain?
Smoking can contribute to eye conditions and overall health issues. Quitting smoking can improve eye health and reduce the risk of pain.
What role does hydration play in preventing eye socket and brow bone pain?
Proper hydration supports overall health, including eye health. Dehydration can exacerbate eye strain, so maintaining good hydration is important.
How can I protect my eyes during outdoor activities to prevent eye socket and brow bone pain from UV exposure?
Wearing UV-protective sunglasses and a wide-brimmed hat can shield your eyes from harmful UV rays and reduce the risk of pain.