Lower back pain is a common ailment that can be triggered by various factors, including physical strain, poor posture, and underlying medical conditions. One particular situation that often exacerbates this pain is coughing. While coughing is a natural bodily response to clear the airways, it can significantly strain the muscles and tissues in the lower back, leading to discomfort and sometimes severe pain. This article aims to explore the causes of pain in lower back when coughing, symptoms, treatment options and effective strategies for managing and preventing this discomfort.
Underlying Causes of Pain in Lower Back When Coughing
1. Strain on the Muscles and Ligaments
One of the primary causes of lower back pain when coughing is the strain exerted on the muscles and ligaments surrounding the spinal column. This strain can occur due to sudden or forceful coughing, leading to micro-tears or irritation in the supporting tissues of the back.
2. Spinal Disc Herniation
In certain cases, persistent or severe coughing can exacerbate existing spinal disc issues, such as herniation. The increased pressure resulting from coughing can further compress the spinal discs, leading to heightened discomfort and pain.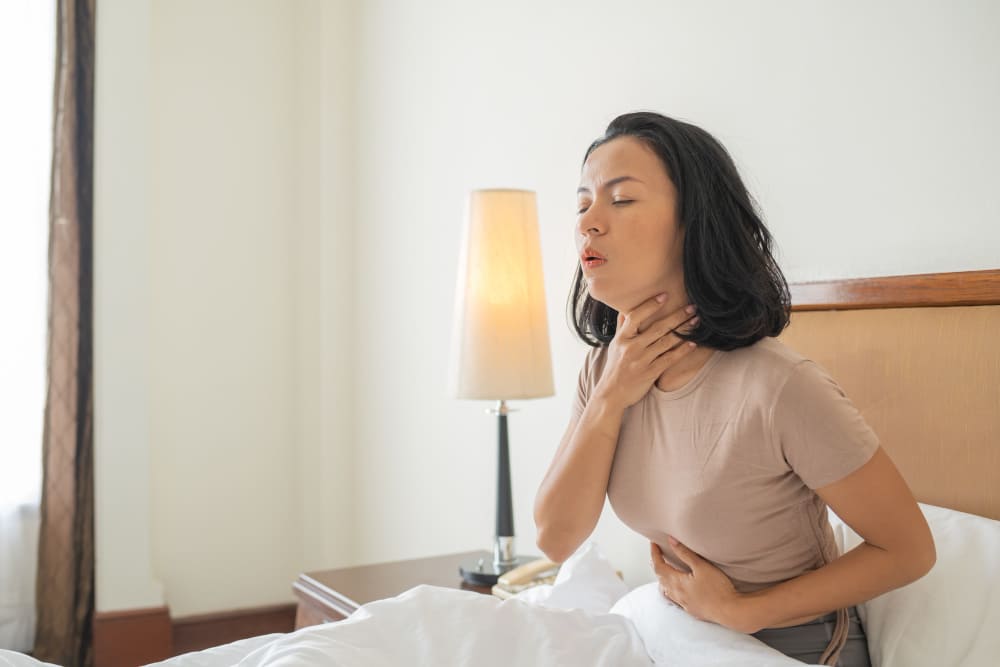 Read More👉 Roof of Mouth Pain: Causes, Symptoms, and Treatment Options
3. Degenerative Conditions
Individuals with pre-existing degenerative conditions, such as arthritis or osteoporosis, may experience intensified lower back pain during coughing episodes. The weakening of the spinal structure due to these conditions can make the back more susceptible to strain and discomfort.
Symptoms of Lower Back Pain When Coughing
The symptoms of pain in the lower back when coughing may include:
Sharp or dull aching sensation in the lower back region.
Increased discomfort during episodes of coughing.
Strain or tightening feeling in the back muscles.
Heightened pain or discomfort when coughing persistently.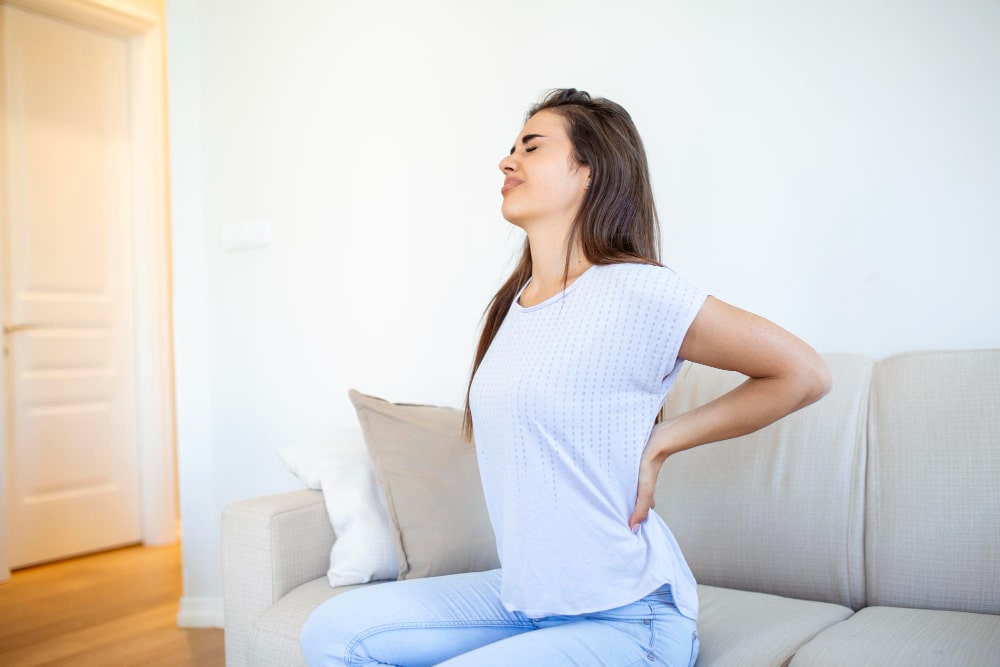 Read More👉 Latissimus Dorsi Pain: Causes, Symptoms, and Management
Prevention Techniques
Taking proactive measures to prevent lower back pain when coughing is crucial for maintaining overall well-being. Implementing strategies such as maintaining proper posture, strengthening core muscles, and Lifestyle Changes techniques can significantly reduce the risk of pain during coughing episodes.
Maintaining Proper Posture
Ensuring proper posture, both while sitting and standing, can alleviate the strain on the lower back during coughing. Engaging in ergonomic practices and using supportive chairs can contribute to maintaining a healthy spinal alignment.
Strengthening Core Muscles
Engaging in regular exercises that target the core muscles can improve the overall stability and support of the spine, reducing the risk of strain during sudden movements.
Lifestyle Changes
Adopting a healthy lifestyle that includes a balanced diet, regular exercise, and maintaining a healthy weight can positively impact back health and overall well-being.
Read More👉 Anterior Ankle Pain: Causes, Diagnosis, and Treatment
Tips for Easing Discomfort
In cases where lower back pain during coughing persists, implementing simple measures to ease discomfort can provide temporary relief. Utilizing supportive pillows while resting, applying heat or cold packs to the affected area, and engaging in gentle stretching exercises can help alleviate the strain on the lower back.
1. Using Supportive Pillows
Placing supportive pillows under the lower back while resting can help maintain a neutral spine position, thereby reducing the strain on the affected area. Supportive pillows can also provide additional comfort and alleviate pressure points, contributing to a more restful recovery.
2. Applying Heat or Cold Packs
The application of heat or cold packs to the affected area can help alleviate muscle tension and reduce inflammation. Heat therapy can promote blood flow to the lower back, while cold therapy can numb the area, providing a soothing effect and reducing pain sensations.
3. Engaging in Gentle Stretching Exercises
Incorporating gentle stretching exercises into a daily routine can help improve flexibility and alleviate muscle tension in the lower back. Stretching can also promote blood circulation, which aids in the healing process and stay away further strain during coughing episodes.
Read More👉 Back Pain After Epidural: Everything You Need to Know
Effective Treatment Options
When preventive measures and home remedies prove insufficient, seeking professional treatment options becomes necessary to address the underlying causes of lower back pain when coughing. Depending on the quality of the condition, several treatment options, including over the counter pain relievers, physiotherapy and in serious cases, invasive technique can be suggested.
1) Over-the-Counter Pain relief
Non-prescription pain-relievers, such as ibuprofen or acetaminophen, can help reduce the uncomfortableness associated with lower back pain produced by coughing. These prescription can temporarily reduce pain and inflammation, providing relief during the recovery process.
2) Physical Therapy
Engaging in physical therapy sessions under the guidance of a trained professional can help strengthen the muscles surrounding the lower back, improving overall flexibility and reducing the likelihood of pain during coughing. Physical therapy can also include specialized exercises and techniques tailored to the individual's specific condition.
3) Invasive Procedures in Severe Cases
In severe instances where conservative treatments fail to provide adequate relief, invasive procedures such as corticosteroid injections or, in rare cases, surgical interventions may be considered. These interventions aim to address the underlying structural issues contributing to the persistent lower back pain triggered by coughing.
Read More👉 How to Lose a Double Chin: A Comprehensive Guide
Knowing When to Seek Medical Help
It's important to seek medical attention if there are concerning symptoms such as changes in bowel or bladder function, unusual sensations in the legs, high fever along with cough and back pain, or weakness in the legs or arms. A doctor can provide a proper diagnosis and recommend appropriate treatments or further specialist referrals if necessary.
Remember, every individual is different, and treatment options may vary. Consulting with a healthcare professional is always advisable for personalized advice and guidance.
Conclusion
Understanding the relationship between coughing and lower back pain is crucial for maintaining overall spinal health and well-being. By implementing preventive strategies, incorporating gentle remedies, and seeking timely medical attention when necessary, individuals can effectively manage and alleviate the discomfort associated with lower back pain when coughing, ensuring a better quality of life and improved physical well-being.
FAQs
Can a simple cough cause lower back pain?
While a single episode of coughing might not typically cause significant lower back pain, persistent or forceful coughing can lead to strain on the muscles and ligaments, potentially resulting in discomfort
How can I alleviate lower back pain when coughing?
Home remedies like applying heat or cold packs, resting your back, or taking over the counter pain relievers can provide temporary relief. Cough bracing techniques can also be beneficial.
When should I be concerned about lower back pain when coughing?
If lower back pain persists or worsens despite implementing preventive measures and home remedies, or if additional symptoms such as radiating leg pain or loss of bladder control arise, it is essential to seek immediate medical evaluation to identify potential underlying issues.