In the quest to demystify health concerns, people often stumble upon surprising correlations. Among many such pairs, constipation and lower back pain stand out, raising intriguing questions about their interconnectedness. Are they related? Can constipation cause lower back pain? This article aims to shine light on these queries.
Constipation and Lower Back Pain
Constipation, characterized by infrequent or arduous bowel movements, might seem utterly unrelated to lower back pain at first glance. However, many empirical observations and clinical experiences have surfaced indicating a somewhat perplexing relationship between these two conditions. The intense physical strains as a consequence of constipation may lead to discomfort, extending into the lower back.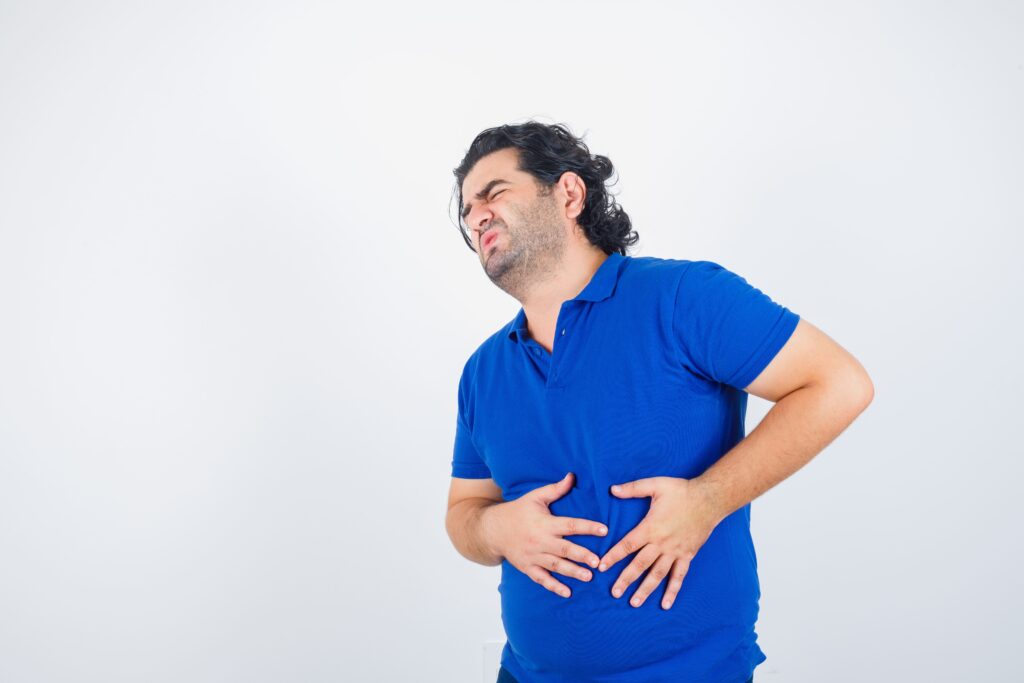 Read More: Apple Juice for Constipation: A Natural Remedy for Digestive Relief
How Can Constipation Cause Lower Back Pain?
The human body's physiology offers some insight into the process. The pressures of constipation can strain the body's abdominal muscles and nerves, including those that branch out to the lower back. As a result, chronic constipation and the resulting pressure build-up can kickstart a bout of lower back pain. The discomfort or pain tends to radiate from the abdomen to the lower back, forming a link between the two conditions.
Beyond Constipation: Alternate Causes of Lower Back Pain
While constipation can result in lower back pain, it's important to acknowledge that it's not the only potential cause. Multiple health conditions, including disc herniation, sciatica, spinal stenosis, and even kidney disorders, can also induce lower back pain. Hence, accurate diagnosis is key to an efficient treatment plan.
Read more: How to Make Rice Salad Recipe at Home?
Illustrative Medical Conditions
In more severe scenarios, conditions like fecal impaction underscore this connection. Fecal impaction ensues when hard stool gets stuck in the colon or rectum. An immense build-up of stool can put significant pressure on surrounding organs and nerves, translating to severe lower back pain. It's a severe condition requiring immediate medical attention. Therefore, while fecal impaction is not an everyday outcome of constipation, when it does occur, it dramatically escalates to cause substantial lower back discomfort.
Mitigating Back Pain through Constipation Management
Relief from constipation-induced back pain can often be achieved with effective constipation management. Incorporating more dietary fiber, staying well-hydrated, and ensuring regular physical activity are a few ways you can alleviate symptoms of constipation, potentially reducing associated lower back pain. However, if the symptoms persist, seeking professional medical advice is crucial.
Read More: 5 Best Juice for Constipation: A Comprehensive Guide
Prevention of Constipation-induced Lower Back Pain
Preventing constipation-induced lower back pain majorly requires a multi-faceted approach that prevents constipation in the first place and aims to protect the lower back.
High-Fiber Diet: Regular intake of fiber-rich foods like fruits, vegetables, and whole grains can soften the stool and promote regular bowel movements, thereby preventing constipation.
Adequate Hydration: Drinking plenty of water prevents dehydration, a common cause of constipation. It can also lubricate the lower back, thereby reducing back pain.
Regular Exercise: Physical activity promotes muscle health and accelerates bowel movement. Movement can prevent constipation and reduce the risk of back pain by strengthening the back muscles.
Proper Posture: Maintaining good posture, particularly while sitting and lifting, helps protect the lower back from strain, while supporting optimal intestinal positioning and function.
Treatment of Constipation-induced Lower Back Pain
If preventative measures don't suffice, several treatments can address both constipation and lower back pain:
Medication: Non-prescription remedies such as stool softeners can be effective in alleviating constipation. NSAIDs like ibuprofen can help manage lower back pain. However, it's critical to consult a healthcare provider before starting any medication regimen.
Exercise: Low-impact activities such as walking, swimming, and yoga can improve digestion and aid in reducing lower back pain.
Therapies: From physical therapy to build up strength and flexibility in your back muscles to massage therapy to relieve muscle tension, a variety of non-pharmacological interventions can help address back discomfort.
Lifestyle Adjustments: Reducing stress through methods like meditation and mindfulness, enhancing sleep quality, and adopting a healthier diet can not only alleviate both conditions but also improve overall health.
Read More: Pear Juice for Constipation: Nature's Solution to Digestive Woes
Conclusion
In conclusion, although constipation may seem a world away from causing lower back pain, the link between these conditions is real. It's pivotal to listen to your body and consider all potential causes when trying to decipher the origins of discomfort or pain. Moreover, maintaining an open dialogue with a healthcare professional can illuminate the path to effective treatment and relief.
FAQs
What is Constipation?
Constipation is a common condition when stools become hard and challenging to pass. Some people may have less frequent bowel movements when they're constipated.
How can constipation lead to lower back pain?
The lower back pain caused by constipation happens when the colon, which is in close proximity to nerves in the lower back, becomes full or distended. When constipation occurs, this may create pressure on these nerves causing discomfort or pain.
Can Constipation reason for Lower Back Pain?
Yes. In some situations, constipation can reason for lower back pain. This happens when the buildup of stool in your colon puts pressure on nerves in the lower back causing discomfort or pain.
How Serious is Constipation-related Back Pain?
A severe bout of constipation, accompanied by persistent lower back pain, could represent a more serious condition and should not be ignored. Such situations warrant immediate medical attention.
Can general constipation also cause back pain?
Absolutely, even general constipation can cause back pain. The extra fecal matter sitting in your bowel can make your intestine swell up, putting pressure on your body muscles, especially your back, leading to an ache and discomfort.