Juicing has become a popular way to consume healthy, nutrient-packed fruits and vegetables while alleviating digestion issues like constipation. If you have difficulty eating enough fibre through your diet, juicing can be an ideal solution for relieving constipation. Read on to learn more about how juicing helps with constipation relief and get ideas for the best juice combinations to help you feel regular again.
What is Constipation?
Constipation is a common digestive condition that causes hard stools, slower bowel movements, and discomfort. It is often due to a poor diet lacking fibre, fluids, and exercise. If left untreated, constipation can lead to bloating, headaches, abdominal pain and other uncomfortable symptoms.
The Role of Diet in Digestion
A healthy, balanced diet is key for regular digestion and preventing constipation. Eating plenty of fruits and vegetables, whole grains, and drinking plenty of water are all important aspects of a constipation-preventing diet. It's also important to limit processed foods and sugary drinks that can lead to constipation.
Read More: 12 Best Fruits to Juice: Boost Your Health
Fiber and Its Impact
Fibre is an important nutrient for preventing constipation. It helps add bulk, moisture, and softness to the stool so it moves more easily through the intestines. Eating fibre-rich foods like whole grains, fruits, and vegetables can help keep you regular.
Hydration: The Key to Regularity
Along with fibre, staying hydrated is essential for regular digestion. When your body lacks the fluids it needs, it will absorb water from the faeces, making it hard and difficult to pass. Drinking plenty of water throughout the day helps keep stools soft to move through easily.
Juices for Constipation Relief
Several types of juices can help with constipation relief. Read on to learn about the different types of juices that are good for constipation and how they can help.
1) Apple Juice
Apple juice is high in fibre, which helps add bulk to stool, and pectin, a soluble fibre that helps draw water into the intestines. It also contains malic acid, which helps soften stools and makes them easier to pass.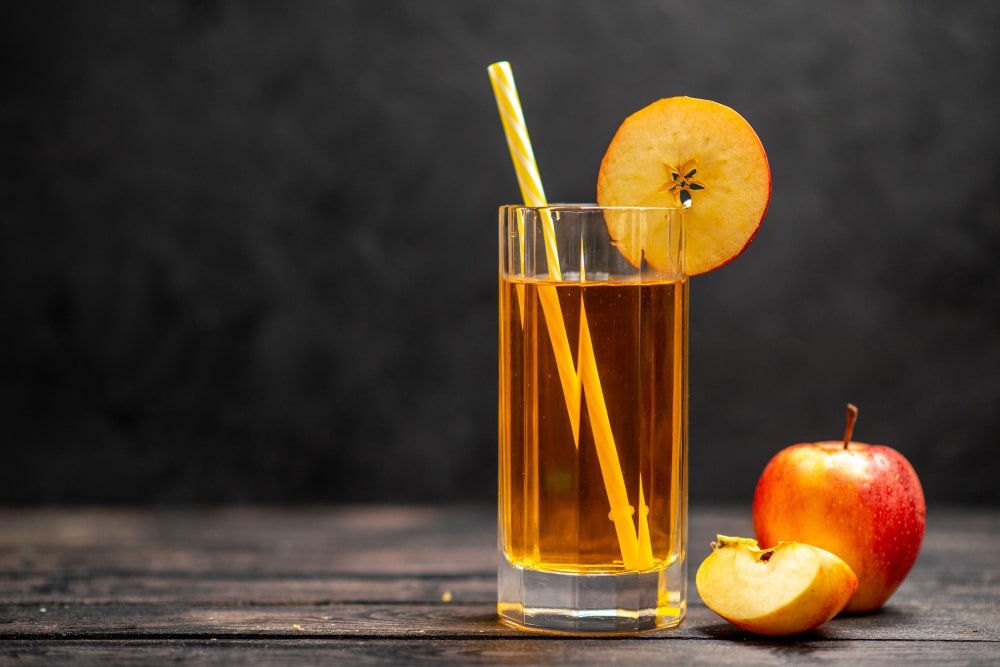 Read More: Apple Juice for Constipation: A Natural Remedy for Digestive Relief
2) Prune Juice
Prune juice is a popular remedy for constipation due to its high content of sorbitol, a naturally occurring sugar alcohol that acts as an osmotic laxative. This means it pulls water into the intestines, softening stools so they can easily pass.
3) Lemon Water
Lemon water is a great way to get more fluids into your body and avoid constipation. Lemons are rich in vitamin C and other essential nutrients that help keep the intestines healthy. The acidity of the lemons also helps stimulate digestion for better regularity.
4) Aloe Vera Juice
The natural anti-inflammatory properties of aloe vera juice are great for relieving constipation. It helps to lubricate and soften the intestines, which in turn aids digestion.
5) Pear Juice
Pear juice is a good source of pectin, which helps add bulk to stool and draw water into the intestines. It also contains polyols natural sugar alcohols that act as osmotic laxatives and help soften stools.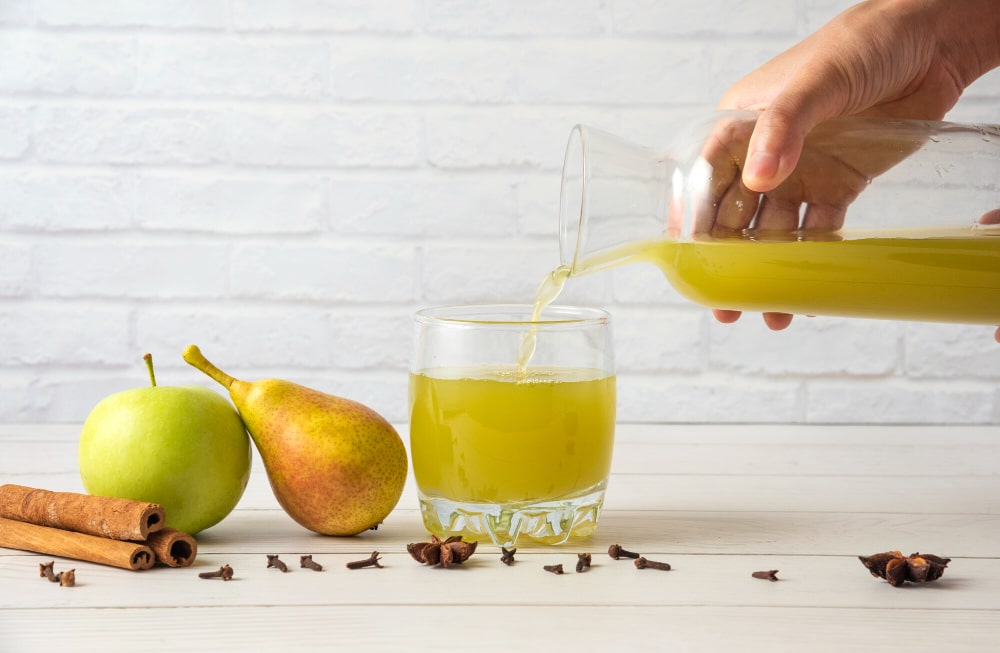 Read More: Pear Juice for Constipation: Nature's Solution to Digestive Woes
Making Your Constipation-Relief Juice
If you'd like to make your constipation relief juices at home, there are plenty of recipes available online. Try combining different fruits and vegetables to create a blend that contains the right nutrients to help relieve constipation. Some popular juice combinations for constipation relief include pear, apple, pineapple, ginger, cucumber and celery.
Precautions and Considerations
When juicing for constipation relief, it's important to remember that while fibre is beneficial for digestion, too much fibre can also cause constipation. Too many fruits and vegetables in a juice can lead to bloating and other unpleasant digestive symptoms. It's important to do just what is necessary when juicing and limit the servings of each fruit or vegetable in your juice.
Lifestyle Changes for Better Digestion
In addition to eating a balanced diet and drinking plenty of water, you can make some lifestyle changes that will help keep your digestion regular. Exercise is important for keeping the digestive system running properly, as well as helping reduce stress, which can have an impact on bowel movements. Probiotics are another way to support a healthy digestive system, as they contain beneficial bacteria that keep the intestines balanced.
Read More: Top 5 Inner Thigh Stretches: Boost Flexibility and Reduce Tightness
When to Seek Medical Attention
It may be time to seek medical attention if you're experiencing constipation that doesn't improve with dietary and lifestyle changes. Some underlying health conditions can cause constipation, such as irritable bowel syndrome or celiac disease. Your doctor can help diagnose any issues and suggest treatment options.
Conclusion
In conclusion, constipation can be a very uncomfortable condition to experience. Fortunately, there are many lifestyle and dietary changes that you can make to help ease the symptoms of constipation. Juicing is a helpful remedy that lets you get more fibre and fluids into your diet easily and deliciously. By combining different fruits and vegetables along with mindful consumption, you can get the relief and regularity that your digestive system needs. If you still have trouble with constipation, don't hesitate to seek medical help. Everyone can enjoy comfortable and efficient digestion with the right diet, exercise, and lifestyle!
Read More: Healthy Carbs for Weight Loss: A Nutritional Guide
FAQs
How long does it take for fruit juices to relieve constipation?
The amount of time it takes for fruit juices to relieve constipation can vary depending on the individual and what kind of juice you are drinking. Generally, you can expect to feel some relief within 1-2 hours after drinking a cup of juice. 
Are there any side effects to drinking too much fruit juice? 
Yes, it is possible to consume too much fruit juice, which can lead to gastrointestinal discomfort such as bloating, gas, and stomach pains. It's important to keep your servings of fruit juice in moderation when drinking for constipation relief. 
What other foods can help with constipation? 
In addition to drinking juices for constipation relief, many other foods can help with constipation. High-fiber foods such as beans, nuts and seeds, whole grains, fruits and vegetables, and prunes can all benefit digestion. Probiotic-rich foods like yoghurt and kefir can also add beneficial bacteria to the gut, which helps keep your intestines healthy. Finally, increasing your intake of fluids can also help with constipation relief. 
How much water should I drink to relieve constipation? 
You should drink at least eight glasses of water daily to keep your digestive system running properly and avoid dehydration. Adding lemon or lime to your water can be especially helpful, as the acidity of the citrus helps stimulate digestion. Drinking herbal teas and other natural juices can also help to keep your system regular and hydrated. Whatever beverage you choose, drink plenty so your body can flush out toxins and digest properly. 
Are there any natural laxatives that I can use? 
Yes, some natural laxatives can help with constipation. Examples include herbal teas like chamomile ginger and natural juice blends from fruits and vegetables. Coconut milk is another popular option for relieving constipation, as it contains healthy fats that help keep the digestive system running smoothly. Finally, prunes are known to be a natural laxative thanks to their high fibre content.