Introduction:
Imagine diving into an enticing fusion of colors, diverse textures, and an orchestra of flavors – that's a rice salad for you! This refreshing culinary delight promises not just an explosion of taste but also aligns perfectly with those seeking a healthy yet light meal. Its adapt is its charm, as it offers a perfect canvas for you to experiment with an assortment of ingredients waiting purposefully in your kitchen. Allow us to walk you through a classic recipe of a dynamic and savory rice salad. An ideal choice for a lazy noon meal, a go-to for picnic food, or a star side dish at dinner gatherings.
Rice Salad Recipe
Ingredients:
2 cups of long-grain rice
Refreshing shower of 4 cups of water
1 brimming cup of halved cherry tomatoes
1 large cucumber cut into neat cubes
1 vibrant red bell pepper, finely diced
1 radiant yellow bell pepper, chopped into dainty dices
1/2 cup of subtly sweet black olives, thinly sliced
1 moderately sized red onion, chopped with finesse
1 merry cup of corn kernels
Salt and pepper lovingly blended to your taste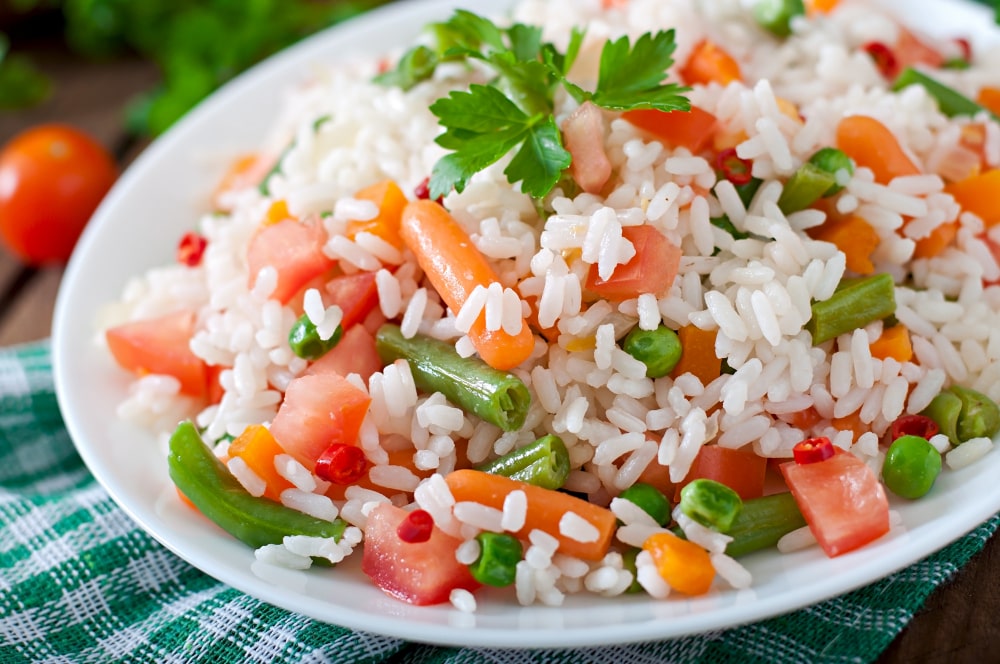 Read More: How Much Lemon Juice to Drink to Stop Period?
For the Dressing:
4 tablespoons of luscious extra virgin olive oil
2 tablespoons of invigorating white wine vinegar
1 teaspoon of spirited Dijon mustard
A sprinkle of fresh herbs as garnish – pick from enchanting parsley, refreshing mint, or fragrant basil
Instructions:
Kickstart the process by cooking the rice. Motivate the grains to part ways by washing the rice under cold, gushing water until the water runs clear. This ensures that the starch makes its exit, helping the grains to stay independent post-cooking. Slide rinsed rice into a pot and pour in water. Turn on the heat until the water starts dancing with bubbles, then simmer down the heat to the lowest setting. Let the pot wear its lid with elegance while the rice gently cooks to perfection. This mesmerizing process should wrap up in about 15-20 minutes.
Post cooking, make sure to drain any unwanted water and help the rice chill on a large tray. Cooling is crucial to maintain the vibrant crunch of the soon-to-be-added vegetables.
As the rice unwinds, turn your attention to the energetic veggies. Halve your cherry tomatoes, cube the cucumber dice the belles – red and yellow, master the fine chop for the red onion and slice your black olives. And, if you're playing with fresh corn, then it's cooking time for the kernels.
The dressing comes next. Vigorously whisk together extra virgin olive oil, white wine vinegar, and Dijon mustard inside a small bowl they're harmoniously combined. Add salt and pepper to match your desired tang.
Find the largest bowl from your kitchen and make it a platform for magic. Assemble the cooled, fluffy rice, introduce it to the prepared vegetables, and drizzle over the harmonious dressing. Stir and toss everything until you see an evenly coated, vibrant mixture.
Shower the salad with a garnish of your chosen wonder herbs – could be parsley, mint, or basil. Each brings its unique flair!
Cover and let the salad sit for 30 minutes before serving – this time allows the flavors to mingle, flirt and develop a wonderful bond.
Conclusion:
Be it the hero of your meal or the supporting sidekick, this vibrant rice salad adds a splash of color and flavors to every dining setting. It's also a friend for meal planning people, thanks to its yum factor that stays intact even after a few days. Plus, you control the rule book here! Add any veggie you fancy, proteins like a batch of cooked chicken or chickpeas, or take the dressing up a notch by adding honey lemon squeeze, or dancing around with assorted herbs and spices. So, the next time you're looking for a meal that not only tastes fantastic but also pleases the eyes – remember, the rainbow rice salad is here for your rescue!
Read More: What Is Pulp in Orange Juice: Unveiling the Mystery
FAQs
Can I make a rice salad in advance?
Yes, rice salads are great for making in advance. In fact, they often taste even better after the flavors have had some time to meld together. Just be sure to keep the salad refrigerated in an airtight container until you are ready to serve it. If the salad seems a bit dry after refrigeration, you can freshen it up with a little extra dressing before serving.
Can I substitute the type of rice in a rice salad recipe?
Absolutely! While certain types of rice, such as basmati or jasmine, are commonly used in rice salads, you can experiment with different varieties based on your preference or what you have on hand. Just keep in mind that different types of rice may have varying textures and cooking times, so adjust accordingly.
Can I customize a rice salad to meet dietary restrictions?
Yes, rice salads are quite versatile and can easily be customized to fit dietary restrictions. For example, if you are vegetarian or vegan, you can omit animal-based proteins and opt for plant-based alternatives like tofu or beans. Those with gluten restrictions can use gluten-free grains like quinoa or rice-based pasta. Additionally, you can adjust the dressing ingredients to accommodate specific dietary needs or preferences.
Can rice salad be served warm?
While rice salads are typically served cold or at room temperature, you can certainly serve them warm if you prefer. Some people enjoy the contrast of warm rice with a cold salad. Just be sure to adjust the ingredients accordingly, as certain vegetables and herbs may wilt or lose their freshness if exposed to heat for too long.