Metformin is globally recognized as the first-line medication for managing Type 2 diabetes. Notably, it works by increasing insulin sensitivity, concurrently reducing hepatic glucose production, and additionally enhancing glucose uptake by peripheral tissues. Therefore, this drug plays a crucial role in achieving balanced blood sugar levels. However, the question that has provoked numerous scientific discussions is – "Does metformin cause hair loss?" 
Let's delve deeper into the information available to provide a comprehensive analysis to answer the question.
Metformin and Hair Loss: Understanding the Connection
The simple answer to whether Metformin causes hair loss is No. Metformin in and of itself is not directly linked to loss. However, it treats conditions that may potentially induce hair loss, like polycystic ovary syndrome (PCOS) and Type diabetes. Losing hair is a shared concern among individuals with such conditions.
Hair Loss: Underlying Reasons and Metformin's Role
Hair loss is a multifaceted phenomenon, occurring due to several factors. It can be a medication side effect of regular hormonal changes or aging, a secondary outcome of certain diseases, or a manifestation of pathologic alopecia. Research suggests a potential connection between metformin use, vitamin B12, and folate (vitamin B9) deficiencies and ensuing hair loss.
Long-term use of Metformin may lead to a decrease in absorption of these essential vitamins, impairing hair growth. Def in vitamin B12 and folate can lead to anemia and neuropsychiatric symptoms. They don't exclusively drive hair loss. Their deficiency has been in individuals experiencing hair loss due to other conditions.
Read More: Can Hair Dye Cause Hair Loss? A Comprehensive Guide
Metformin's Surprising Effect on Hair Growth
Although conversation often gravitates towards hair loss, exciting evidence suggests Metformin might help stimulate hair growth. Preliminary findings from scientific studies indicate that Metformin enhances specific biomarkers linked to hair growth and improves the survival rate of transplanted hair follicles.
Inferring from these studies, Metformin might have a positive impact on hair growth rather than the generally assumed negative effect.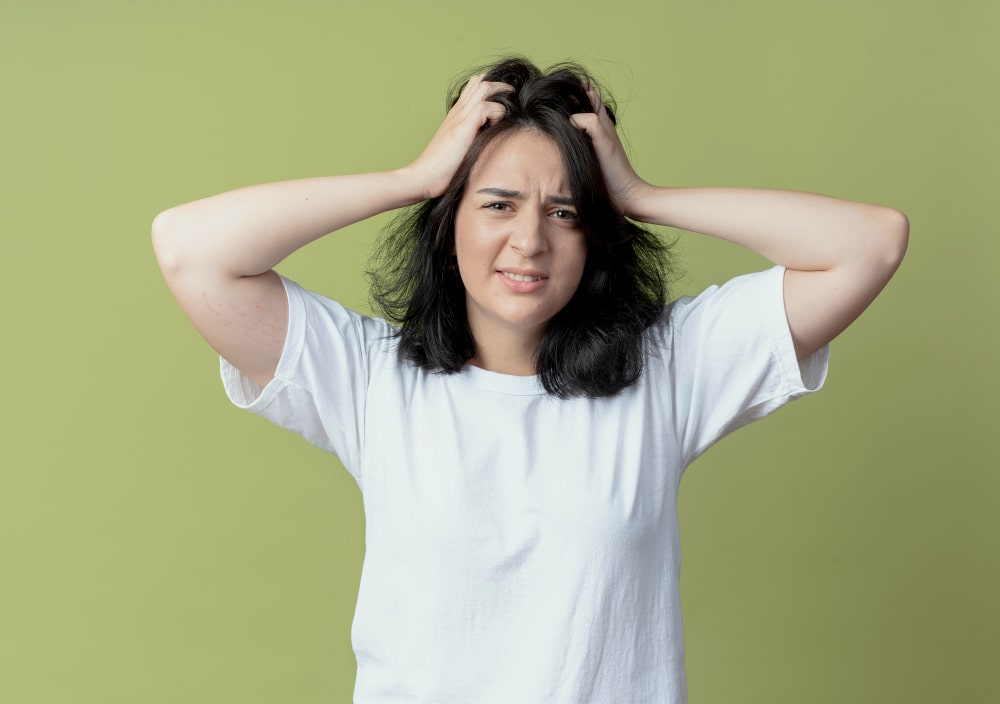 Hair Loss Associated With Conditions Treated By Metformin
One of the conditions Metformin is used to treat is PCOS, which is known to be a contributing factor in hair loss. PCOS is a hormonal disorder that is characterized by irregular menstrual cycles, excess androgen levels, and insulin resistance. Elevated androgen levels or abnormal androgen levels can lead to diffuse hair thinning over the central scalp, known as androgenetic alopecia (FAGA).
Similarly, 2 diabetes, another primary condition metformin is used to treat, is associated with hair loss. Prolonged high blood sugar levels can damage the vessels supplying hair follicles, causing hair loss. It's vital to mention that hair loss in these conditions isn't directly caused by Metformin but by the condition itself.
Read More: Shampoos That Cause Hair Loss in 2023: A Comprehensive Guide
Mitigating Hair Loss: Practical Approaches
If you're experiencing hair loss while taking Metformin, multiple treatment routes could help manage this problem. Early intervention, maintaining a balanced diet supplemented with vitamin B12 and folate, and sticking to the prescribed routine are significant first steps.
In addition to adopting a healthy lifestyle and considering over-the-counter treatments, Minoxidil could also help. As always, any treatment approach should do under the guidance of a healthcare professional to ensure its safety.
Conclusion
To sum it up, there may be a potential link between Metformin usage and hair loss in some unique scenarios, but it doesn't directly cause hair loss. Hence, if you are undergoing hair loss while on Metformin, a discussion with your doctor would be beneficial. In doing so, your medical practitioner can offer customized advice that's based directly on your unique health situation.
Read More: Does Alcohol Cause Hair Loss: Everything You Need to Know
FAQs
Does Metformin directly cause hair loss?
No, Metformin does not directly cause hair loss. However, conditions that Metformin treats, such as PCOS and Type 2 Diabetes, may contribute to hair thinning or loss.
Can Metformin indirectly contribute to hair loss?
Yes. Long-term use of Metformin can lead to vitamin deficiencies like B12 and folate. These vitamins are crucial for hair growth, so their deficiency could lead to hair loss.
Could Metformin potentially support hair growth?
Emerging scientific evidence suggests that Metformin might stimulate hair growth. However, more research is needed to confirm this conclusively.
How can I manage hair loss if I'm on a metformin regimen?
Key strategies include:
Managing the underlying conditions (like Type 2 diabetes or PCOS).
Supplementing nutritional deficiencies (such as B12 and Folate).
Seeking early intervention if hair loss is observed.
Maintaining a healthy diet.
What steps can be taken to recover from hair loss associated with metformin use?
Potential options include:
Adjusting your diet to ensure sufficient intake of essential nutrients.
Early intervention at the onset of hair loss.
Consider over-the-counter treatments such as Minoxidil (after consulting your healthcare provider).
Can Metformin cause vitamin deficiencies?
Long-term use of Metformin is associated with reduced absorption of essential vitamins like B12 and folate, leading to potential deficiencies.