Synthetic hair offers flexibility and affordability. However, when it comes to altering their color, traditional hair dyes won't do the trick. This article delves into the comprehensive, step-by-step process of dye synthetic hair, ensuring you can change up your look without having to replace your wig or extensions.
Nuances of Synthetic Hair
Developed to resemble real human hair, synthetic hair materials are commonly composed of materials like acrylic and nylon. However, these materials can also be blended to create hair that's almost indistinguishable from the real thing.
A pivotal point to remember is that synthetic hair materials typically don't respond well to traditional human hair dyes due to their inability to absorb them. Instead, alternative dyes, such as fabric dyes or alcohol-based ink, are utilized to color synthetic hair.
Steps For Dye Synthetic Hair:
1) Gather Necessary Supplies
To start, you'll need to gather the required materials:
Light-colored synthetic hair. It could be an entire wig, extensions, or a hairpiece. Remember, the lighter the hair, the easier it is to dye.
Alcohol-based ink of your chosen color, typically available at craft stores.
A spray bottle.
Water.
Latex gloves to keep your hands clean.
A newspaper or an old tablecloth.
Wide-tooth comb.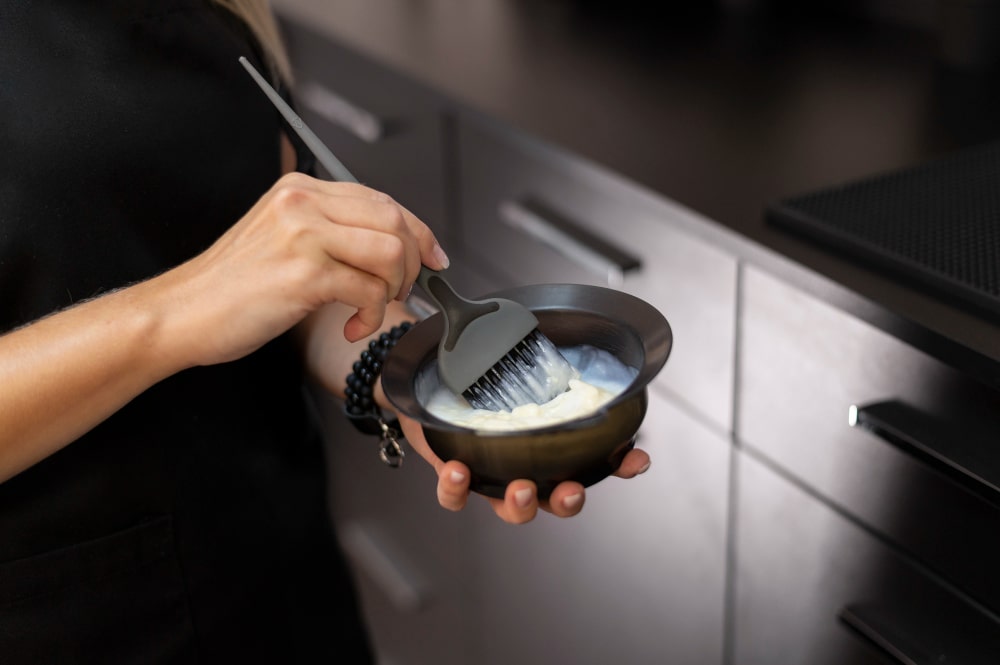 2) Making the Dye
Empty the contents of the ink bottle into the spray bottle. Then, add an equal amount of water to the spray bottle. The general rule of thumb is to use a 1:1 ratio of ink to water. However, if you desire a pastel shade, you can dilute your ink more by adding more water.
Read More: How to Remove Hair From Anus Permanently?
3) Preparing the Dyeing Area
The dyeing process can be messy, so space needs preparation. Choose an area where accidental spills won't be an issue (outdoors, a garage, or basement), cover a table with an old sheet or newspaper to protect the surface. Wearing old clothes and donning latex gloves will protect your hands and clothes from dye stains.
4) Applying the Dye
After setting up your workspace, put your synthetic wig or hair extensions onto the prepared table. Spray the dye onto a small section of hair, ensuring it's thoroughly coated. Use your fingers to work the dye into the hair. Make sure you're focusing near the roots and the top half of the hair strands.
5) Comb through the Hair
Once you've applied dye to all sections of hair, use a wide-tooth comb to ensure even distribution of the dye from roots to ends. This action will also help to create a uniform coloring across the synthetic hair.
6) Let the Wig Dry
After you finish applying the dye, it's time to let it dry. Place it outside in the sun, if possible. It typically takes about an hour to dry, but it could take longer, depending on the thickness of the wig.
7) Rinse the Wig
Once the synthetic hair is completely dry, rinse it under cool running water until the water runs clear.
Read More: How to Stop Facial Hair Growth in Females Naturally?
8) Comb and Style the Wig
After rinsing, use a wide-tooth comb to detangle the synthetic hair gently. During this process, you might find it helpful to use synthetic hair conditioner for avoiding any possible damage. Then, allow it to air dry.
Remember, avoid subjecting synthetic hair to excessive heat, as it can damage the fibers. If you wish to use heat styling tools, let the hair air dry completely first and set your tool to the lowest heat possible.
With these steps, you can successfully dye your synthetic hair, transforming your appearance significantly and infuse new life into your hairpieces. Now, you're ready to style your recolored hair and rock a fresh new look in no time.
Read More: How to Diffuse Curly Hair: Step-By-Step Guide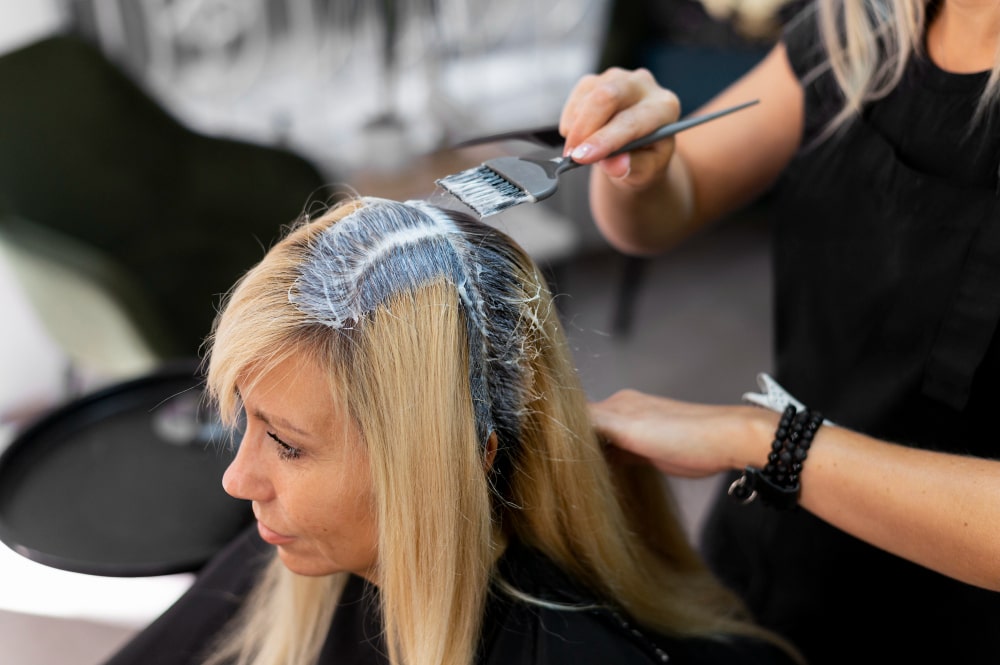 Advanced Techniques to Dye Synthetic Hair
Dying Synthetic Hair with Acrylic Ink: Similar to alcohol-based inks, acrylic inks are also effective in dyeing synthetic hair. They are primarily used in the process of 'sharpie dyeing,' a popular trend in the cosplay community.
Sharpie Dyeing: In this method, sharpie markers of respective colors are used. The sharpie's ink reservoir is dissected out, soaked in alcohol to produce the synthetic hair dye. While this method may seem unconventional, many have found success with this DIY technique, especially in cosplay communities where precise color matching is essential.
Airbrushing: In professional circles, airbrushing is used, particularly for gradient or specific VFX color effects. Airbrushing requires a high skill level to ensure accurate and even color application.
Safety Measures
Regardless of the dyeing technique employed, some safety measures are universal:
Always conduct a strand test: To ensure the right color outcome, always conduct a strand test. Apply dye to a small, hidden strand of hair first before applying to the whole wig.
Protect your workspace: Use newspapers or plastic sheets to protect your workspace from stains.
Wear protective materials: Always use protective gloves to avoid staining your hands.
Read More: Can Depression Cause Hair Loss?
After-Dye Care
Maintaining the vibrancy and overall health of your dyed synthetic hair is just as important as the dyeing process itself.
Avoid washing dyed synthetic hair too frequently as the color can fade.
Use only products meant for synthetic hair care. These are typically lighter and less harsh than their counterparts designed for human hair.
Always style synthetic hair on the lowest heat setting to avoid frizziness or melting.
Remember, dyeing synthetic hair can seem insurmountable. Yet, with the right approach and materials, changing your synthetic hairstyle's color can be a fun, creative, and successful endeavor. Always take the time to do your research and never forget to prioritize the material's safety.
Read More: Does Metformin Cause Hair Loss: Fact or Fiction?
FAQs
Can I use any standard hair dye on my synthetic hair?
No, traditional hair dyes formulated for human hair don't work well on synthetic hair. Because synthetic hair is made from plastic fibers, it doesn't absorb standard hair dye. Instead, use dyes specifically designed for synthetic materials such as fabric dye or alcohol-based ink.
Can heat be used to speed up the drying process after dyeing synthetic hair?
Not recommended. Synthetic hair is essentially plastic and heat can potentially damage it. Instead, allow dyed synthetic hair to air dry naturally.
How do I maintain my newly dyed synthetic hair?
It is important to use hair products designed for synthetic hair to maintain its health and vibrancy after dyeing. Maintain a minimal washing routine and avoid heat styling as much as possible to extend the life of the dye.
Can I use home ingredients like food coloring or coffee for dyeing synthetic hair?
While you may hear anecdotal stories of such methods, they may not deliver consistent or satisfying results. Synthetic hair doesn't absorb these substances as effectively as human hair would. Best results are obtained by using a dye designed for synthetic materials.
Can I re-dye synthetic hair if I don't like the first result?
Yes, but it's crucial to remember that you can only go from lighter to darker shades. If the synthetic hair is dyed a dark color, it cannot be lightened effectively.
Will dying synthetic hair shorten its lifespan?
If done correctly, the impact should be minimal. However, just like human hair, multiple rounds of dyeing might progressively degrade the synthetic hair quality.