Introduction:
Anus hair removal is a personal decision influenced by components of comfort, hygiene, or aesthetic value. Although having hair in the anal region is entirely normal and typically harmless, for some, its presence may be bothersome. In such cases, permanent hair removal methods can offer a long-lasting solution. This article reviews the methods you can use to permanently remove anus hair to help you make an informed decision.
How to Remove Hair From Anus Permanently?
Laser Hair Removal: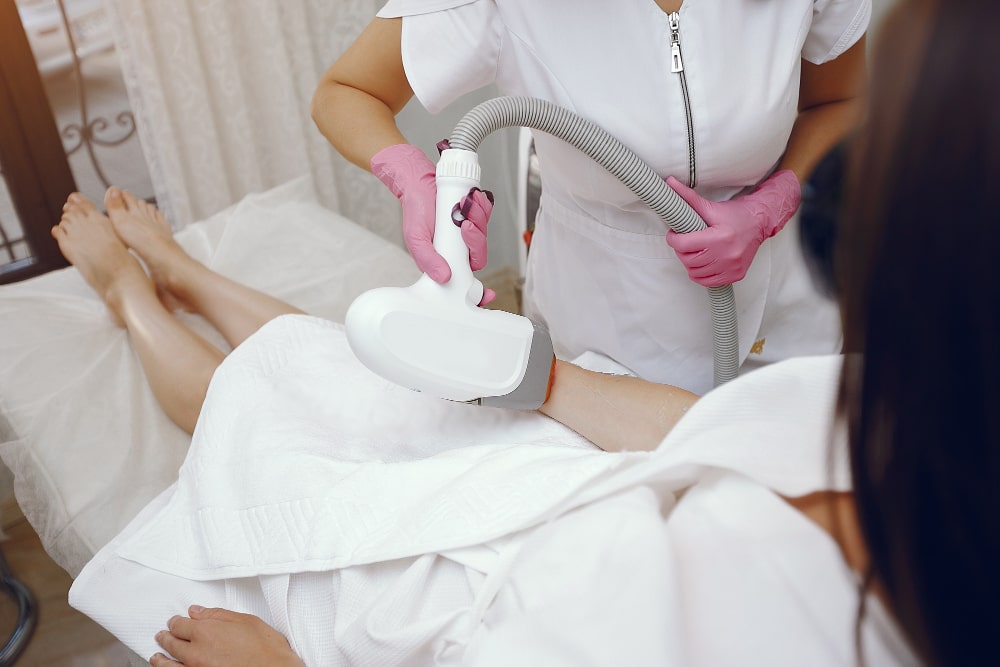 One of the most popular and effective methods for permanently remove hair from anus is laser hair removal. This method targets dark hair follicles using concentrated light, damaging them to prevent future hair growth significantly.
The process typically takes several sessions (usually around 3 to 7) spread over a few months, as it only works on hairs in the growth phase. Laser hair removal doesn't promise 100% hair elimination, but it drastically decreases the amount and thickness of hair present.
However, there are certain considerations to bear in mind. Laser hair removal can be costly, and the sensation during treatment may feel like a rubber band snapping against the skin. It's crucial to research and find a qualified professional to perform this treatment as the anal area is particularly sensitive.
Read More: How to Stop Facial Hair Growth in Females Naturally?
Electrolysis:
For a more assured route to permanent hair removal, you might consider electrolysis. This technique uses shortwave radio frequencies in hair follicles to stop new hair from growing. A small needle-like probe is inserted into each hair follicle to deliver an electrical current that destroys the hair root.
Electrolysis has the advantage of being effective across all hair and skin types, unlike laser removal which works best on a contrast between hair and skin color. However, it also requires multiple sessions and can be time-consuming as each hair needs to be treated individually. It can also lead to slight discomfort; numbing creams are available to alleviate any pain.
Given its highly technical nature, electrolysis should only be performed by a licensed professional to minimize possible side effects like skin discoloration or infection.
Post Treatment Care:
Regardless of the method chosen, post-treatment care is crucial. The treated area could be sensitive for a short while due to the treatment. Ensure you follow all your provider's advice concerning skincare post-treatment. Make sure to moisturize the area regularly to help soothe the skin and reduce any potential irritation.
Read More: How to Diffuse Curly Hair: Step-By-Step Guide
How to Remove Hair From Anus at Home?
 If you're considering at-home methods for anus hair removal, it's essential to do so safely to avoid irritation or potential damage given the area's sensitivity.
Here are viable, low-risk methods you can use to remove hair from the anus in the comfort of your own home.
Shaving:
It's one of the most commonly used methods for hair removal, and it can be done in your bathroom with simple tools: a quality razor, shaving cream or gel, and a mirror.
Before starting, trim long hairs using scissors to make the process smoother. Next, take a shower or bath to soften the hair. Apply ample amount of shaving cream or gel to the area. Use a handheld mirror to ensure you can see the area properly, then gently shave the hair off, cautiously following the hair's growth direction to avoid razor burns or skin irritation.
It's critical to rinse the razor following each stroke, eliminating any collected hair and preventing a dull blade effect that could lead to uneven shaving. Utilizing a new blade can significantly decrease the threat of cuts and possible infections.
Once you've completed shaving, cleanse the area gently with warm water and make sure to pat, not rub, it dry. To soothe and moisturize your skin further, it's recommended you apply a mild, hypoallergenic lotion or aftershave. This not only replenishes the skin but also helps ward off any potential irritation.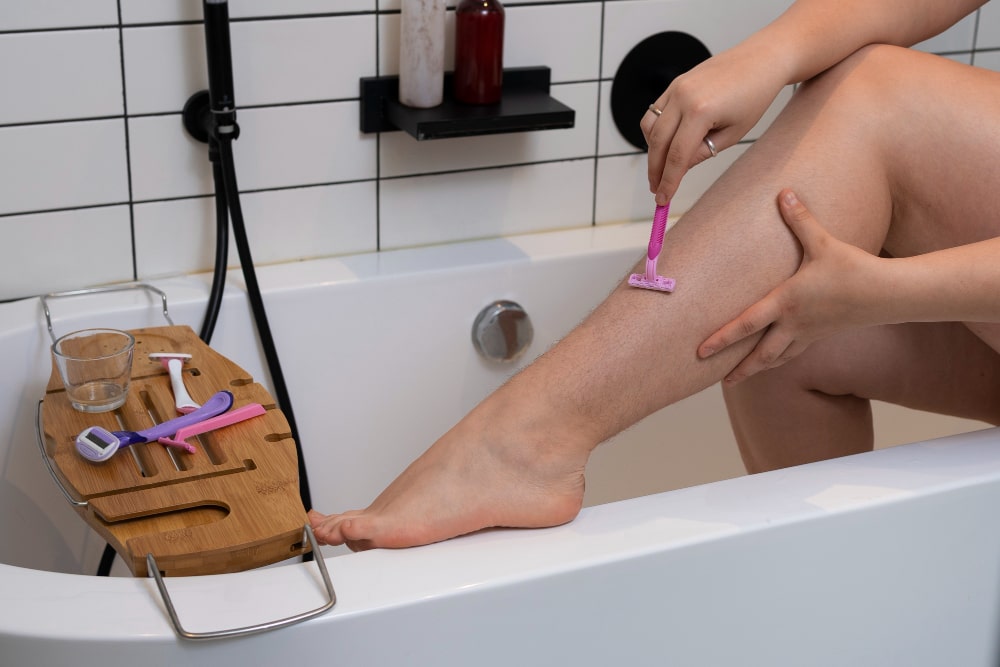 Read More: Can Depression Cause Hair Loss?
Depilatory Creams:
Depilatory creams are another option for home hair removal. These creams work by breaking down the hair's protein structure so it can be easily wiped off.
Firstly, do a patch test on a small area of skin to check for any adverse reactions. If no reaction occurs, apply the cream as directed on the package, using a mirror for guidance. Strictly adhere to the timing instructions to avoid skin irritation. Afterward, wipe the cream off and rinse the area thoroughly. Moisturize the skin after the process to soothe any potential irritation.
At-Home Waxing Kits:
At-home waxing kits can provide results that last longer than shaving or depilatory creams. However, this method can be a bit tricky, given the sensitivity and hard-to-reach nature of the anal area.
For this method, trim the hair if it is too long and clean the area. Heat up your wax as instructed on the package and, using an applicator stick, apply the wax in the direction of the hair growth. Apply a wax strip over the applied wax and smooth it in the direction of hair growth. After a few seconds, quickly pull the strip back in the opposite direction of the hair growth. Once you've waxed all the intended hair off, use a post-wax lotion or oil to remove any wax residues and soothe the area.
Read More: Does Metformin Cause Hair Loss: Fact or Fiction?
Conclusion:
While there's no health-related necessity to remove anal hair, the decision comes down to personal preference. The decision to opt for permanent methods of removal should be one of careful consideration. Laser hair removal and electrolysis offer effective treatments but require a significant investment of both time and money. They should only be carried out by licensed professionals to ensure a safe treatment process.
If you're considering permanent hair removal, it's always a good idea to consult a dermatologist or a professional in the field. They'll assess your skin and hair type, talk you through your options, and discuss any potential risks involved, helping you choose the best method that suits your needs.
While the results these options offer are appealing, the foremost consideration should always be your comfort, safety, and health. Permanent anal hair removal is an option available to you, but deciding whether it's the right option is a decision only you can make.
FAQs
Here are some FAQs for "How to Remove Hair From Anus Permanently"
How does laser hair removal on the anus work?
Laser hair removal targets the hair follicles with concentrated light which damages them, significantly reducing future hair growth. Several treatment sessions may be needed over a few months for optimal results.
Does permanent anal hair removal hurt?
The level of discomfort depends on the method used and the individual's pain tolerance. With laser hair removal, most people describe the sensation as a rubber band snapping against the skin. Electrolysis might be more uncomfortable, but topical numbing creams can be used to alleviate discomfort.
Are there any risks associated with permanent anal hair removal?
There can be some risks, like skin irritation, discoloration, and potential infection, whether you use laser removal or electrolysis. These risks can be significantly minimized by choosing a trained professional to perform the procedure.
How can I care for my skin following permanent anal hair removal?
After the procedure, maintaining good hygiene is vital. Keep the area clean and moisturized, and follow all post-treatment care instructions provided by your skincare professional.