Do you have an aching lower back that won't go away? Is the pain localized to one particular area, or does it move around? It might be easy to write off your backache as merely being due to poor posture, but the gallbladder is another potential cause of your suffering. While not often associated with back problems, gallbladder-related issues can manifest as aches and pains in our spine. They may even contribute to more long-term discomfort if left untreated. In this article, we'll explore can gallbladder cause back pain, discuss symptoms to watch out for, and provide tips on diagnosis and treatment.
Definition of the Gallbladder:
The gallbladder is a pear-shaped organ that helps break down fats and aid digestion by producing bile – a yellowish-green fluid secreted by the liver. Bile is then stored in the gallbladder, released into the small intestine when fats are ingested, and aids in breaking down fats from food so they can absorb into the body.
Importance of the Gallbladder in Digestion:
The gallbladder plays an important role in digestion as it helps process dietary fat and assists with the absorption of nutrients into the body. It also works to prevent indigestion by regulating the flow of bile throughout your digestive system.
Overview of Back Pain and its Causes:
Back pain is a common complaint that affects many people at some point during their life. There are various causes for back pain, including injury or strain, poor posture, aging, or a medical condition such as arthritis.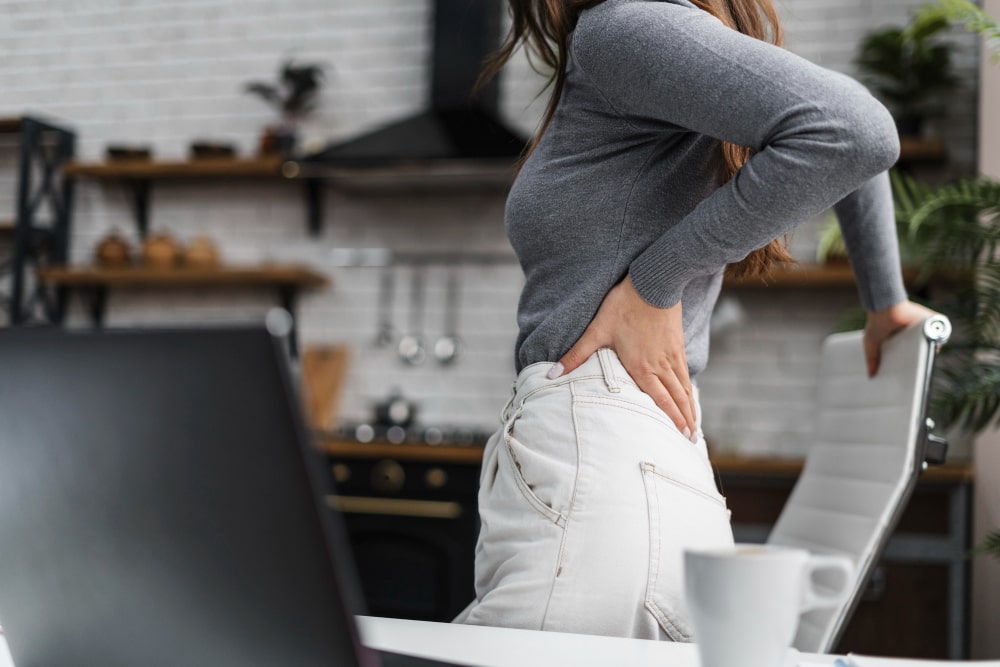 Read More: Diarrhea While Breastfeeding: Causes, Remedies, Precautions
Understanding the Gallbladder
Functions of the Gallbladder in Digestion: 
As mentioned above, the gallbladder plays an important role in digestion by releasing bile into the small intestine to break down dietary fats and help them absorb into the body. Additionally, it helps regulate cholesterol levels in the body by storing and excreting excess amounts when necessary. 
Common Conditions Affecting the Gallbladder:
A variety of conditions can affect your gallbladder, including;
1. Gallstones: These are hard deposits that form from bile salts, cholesterol, and other substances found in bile that accumulate inside your gallbladder, forming stones.
2. Cholecystitis: This is an inflammation of the gallbladder caused by blockage from a stone or other obstruction which prevents bile from exiting the organ.
3. Biliary Dyskinesia: This condition is characterized by abnormal muscle contractions in the gallbladder and surrounding organs that can cause pain and discomfort. 
Read More: Back Pain When Breathing Deeply: Causes, Symptoms, Cure
Link Between Gallbladder and Back Pain
Anatomy of the Gallbladder & Its Proximity to the Back:
The gallbladder lies beneath your liver, just behind your right ribs and close to your spine – making it possible for issues with this organ to cause back pain in some cases. In addition, because both organs are connected, gallbladder problems can also lead to liver issues and vice versa.
Possible Mechanisms of Back Pain Caused by Gallbladder Issues:
1. Referred Pain: This occurs when the pain from the gallbladder is felt in other parts of the body, such as the back, due to nerve pathways that connect these areas together.
2. Inflammation & Nerve Irritation: When inflammation or infection occurs inside your gallbladder, it can cause irritation of nearby nerves which sends pain signals into the back region as well as the abdominal area.
3. Spasm of Surrounding Muscles: The muscles in your abdomen and lower back naturally tense up when you experience any discomfort or pain, which can lead to back pain associated with gallbladder issues.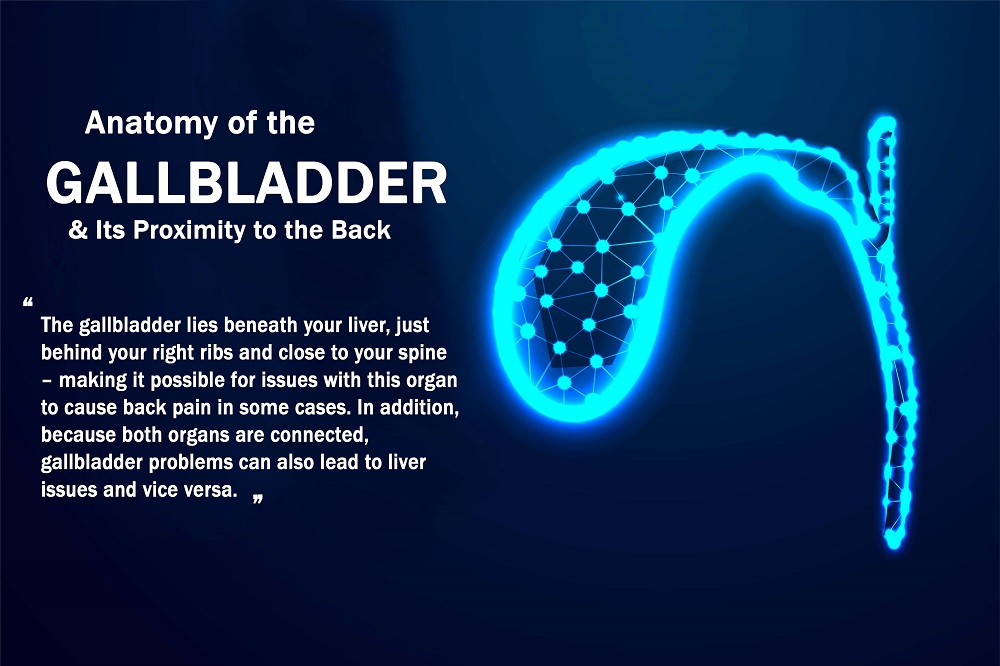 Read More: Sharp Breast Pain: Causes, Symptoms, and Treatment Options
Symptoms of Gallbladder Problems
Back Pain Associated with Gallbladder Issues:
Back pain is one of the most common symptoms experienced by people with gallbladder problems. The severity and location of this type of pain may vary, but it will generally describe as a dull ache that radiates from your side or lower abdomen into your back. 
Additional Symptoms Indicating Gallbladder Involvement:
Other symptoms may include;
Abdominal Pain: This could range from mild discomfort to severe cramping in the area around your ribs on the right side of your body.
Nausea and Vomiting: These could cause by gallbladder inflammation or blockage due to a stone. 
Jaundice: This yellowing of the eyes and skin is caused by an accumulation of bile in the bloodstream that can occur when there is a problem with your gallbladder. 
Diagnosis and Treatment 
Medical History and Physical Examination: When diagnosing back pain related to the gallbladder, your doctor will first need to take a complete medical history and perform a physical examination to assess any potential causes for your symptoms.
Diagnostic Tests for Gallbladder Conditions: To determine if your back pain is caused by an issue with your gallbladder, your doctor may order additional tests such as a blood test, ultrasound, CT scan, or other imaging studies to locate the source of pain.  
Read More: What Causes Pain Above Belly Button When Pressed?
Treatment options for gallbladder cause back pain:
Depending on the severity of your condition, treatment for gallbladder-related back pain could include:
1. Diet and Lifestyle Changes: Eating a low-fat diet and exercising regularly can help reduce inflammation in the gallbladder and thus decrease related back pain.
2. Medication: Your doctor may prescribe medications such as antibiotics or anti-inflammatory drugs to reduce inflammation and manage discomfort associated with gallbladder conditions.
3. Surgery: In some cases, surgery may need to remove the gallbladder if it is causing chronic pain or other complications.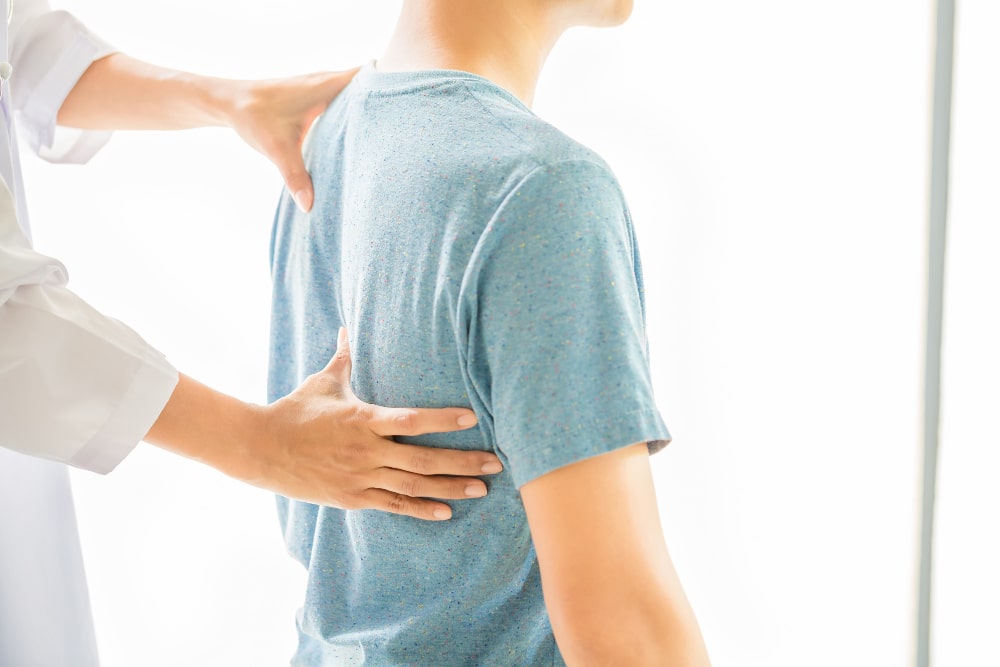 Prevention and Management:
Prevention: Preventing back pain associated with your gallbladder can achieve by making certain lifestyle modifications, such as eating a healthy diet low in fat and high in fiber, exercising regularly, maintaining a healthy weight, and avoiding alcohol or smoking. 
Management: If you are already experiencing back pain due to a gallbladder issue, then it is important to rest and apply heat to the area if possible. Additionally, medications may prescribe for pain relief depending on the severity of the condition. Surgery may also be necessary if other treatments fail to resolve the issue. It is important to speak with your doctor about any concerns you have regarding your gallbladder or back health to determine the best course of action. 
Read More: Throbbing Pain After Root Canal : Causes, Symptoms, Prevention
Tips for managing back pain associated with gallbladder issues:
1. Get plenty of rest: Resting will allow your body to heal and reduce any potential pain or discomfort associated with gallbladder-related issues.
2. Practice relaxation techniques: Stretching, deep breathing, yoga, and other forms of relaxation can help reduce stress levels which may be contributing to your discomfort.
3. Eat a healthy diet: Eating a balanced diet low in fats and high in fiber can help reduce inflammation and other issues related to the gallbladder.
4. Exercise regularly: Regular physical activity can help keep your gallbladder functioning properly by aiding digestion and reducing the risk of stones forming.
5. Speak to your doctor: If you are experiencing any symptoms or discomfort, it is important to discuss the cause and get appropriate treatment.
By following these tips, you can help reduce or prevent pain related to gallbladder issues and keep your overall health in check. Remember that if you ever experience sudden or persistent back pain, it is important to seek medical attention immediately, as it could be a sign of an underlying medical condition. 
Should I see a doctor if I am experiencing back pain?
A: Yes, if you experience any persistent back pain, it is always best to consult with your doctor to rule out any medical conditions, such as gallbladder disease, that may be the cause. Your doctor may recommend additional tests to determine the cause of your back pain and provide you with a personalized treatment plan to help alleviate any gallbladder-related symptoms. 
Read More: Sudden Sharp Stabbing Pain in Eye: Causes, Symptoms, Cure
Conclusion
In conclusion, the gallbladder can cause back pain. While this is not always the case, if you are experiencing any discomfort in your abdomen or lower back, it may be worth exploring whether your gallbladder could be causing the issue. With lifestyle changes and medical intervention, such as surgery in some cases, you can help reduce or prevent back pain associated with gallbladder issues. Suppose you ever experience any sudden or persistent back pain. In that case, it is important to seek medical attention immediately, as it could be a sign of an underlying medical condition involving your gallbladder.
FAQs 
Q: Can a Gallbladder Cause Back Pain on the right side? 
A: Yes, gallbladder disease can cause pain in the upper right abdominal area, as well as radiating pain to the back. A common symptom of gallbladder issues is intense or severe pain in the mid-back that may be accompanied by other digestive problems such as nausea and vomiting.
Q: What other symptoms indicate a gallbladder problem?
A: Besides back pain, common signs of an issue with the gallbladder include increased pain after eating fatty foods, abdominal pains that last for hours at a time, fever and chills, nausea and vomiting, yellowing of the skin or eyes (jaundice), indigestion and bloating. If these symptoms occur in combination with back pain, it could be a sign of gallbladder disease. 
Q: How can I reduce my risk of developing gallbladder problems? 
A: Eating a healthy, balanced diet can help reduce your risk of developing gallbladder issues. Try to avoid foods that are high in fat and cholesterol, which can increase your risk of gallstones. Additionally, regular exercise can help keep your digestive system functioning properly, reducing the likelihood of gallbladder-related pain or problems.
Q: Is there anything else I should know about gallbladder-related back ache? 
A: Yes. If left untreated, gallbladder issues can become more serious and even lead to emergency surgery. It is important to be aware of the signs and symptoms of gallbladder disease so that you can address them as soon as possible if they occur.