Neck pain is one of the most prevalent and debilitating health concerns worldwide. It ranges from mild discomfort to severe, chronic pain that interferes with daily life. Among various treatment modalities, acupuncture has emerged as a potential alternative to traditional pain management techniques.
Acupuncture, a significant component of Traditional Chinese Medicine (TCM), has been employed for millennia to alleviate numerous health conditions, including neck pain. The technique involves inserting thin needles into the body at strategic points aiming to restore the balance of 'chi' or 'qi' (the body's energy flow), thereby promoting healing and reducing pain.
Western also uses acupuncture as a method to stimulate nerves, muscles, and connective tissue, boosting the body's natural painkillers and increasing blood flow. This approach is often used to treat chronic musculoskeletal complaints like neck pain.
Acupuncture Procedure for Neck Pain
During an acupuncture session for neck pain, a certified acupuncturist identifies specific points on the body, referred to as acupuncture points or acupoints. These correspond to the patient's pain and the underlying condition causing the discomfort. For neck pain, these points could be in the neck area, but they could also located in other areas like the feet, hands, and ears, symbolizing the holistic approach of acupuncture.
In acupuncture, hair-thin needles are gently inserted into the skin at these acupoints. The depth of insertion and the number of needles can vary depending on the individual's condition. The purpose of stimulating these sites is to promote the body's healing response.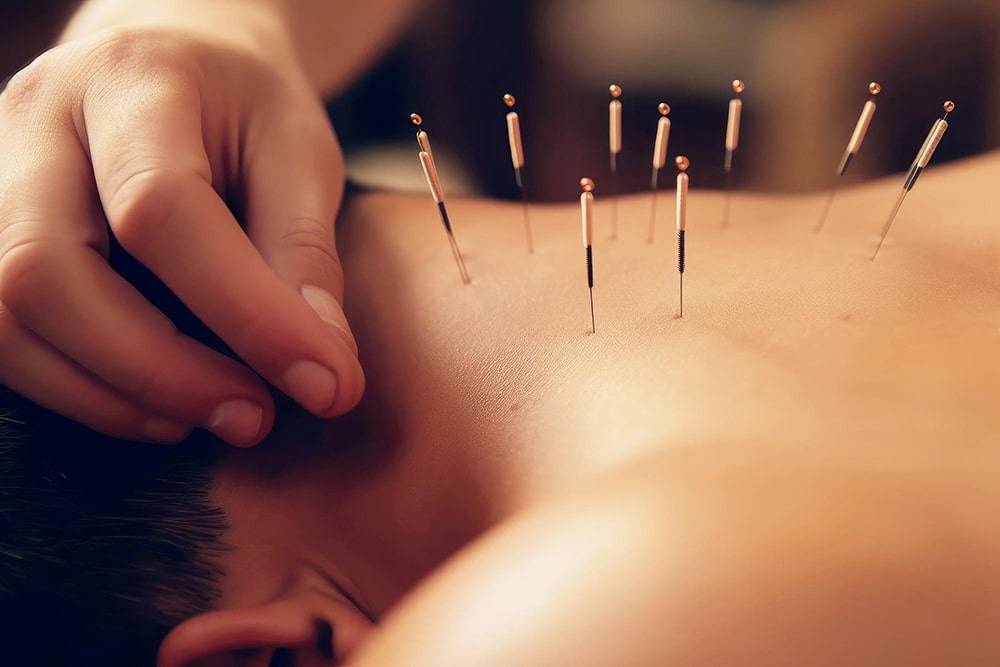 Read More: How to Lose Neck Fat: 10 Best Ways to Lose Double Chin
Mechanism of Acupuncture
Two essential theories explain how acupuncture may alleviate neck pain. First, according to Traditional Chinese Medicine (TCM), acupuncture helps restore the balance of 'Qi' (pronounced 'chee')—the vital energy flow of the body—which runs through pathways called meridians. Imbalances or blockages in this energy flow are believed result in ailments such as neck pain.
The second theory is rooted in Western medicine's understanding of acupuncture It postulates that needle insertion at acupoints stimulates the nervous system, releasing biochemicals such as endorphins and serotonin. These natural chemicals play a critical role in pain reduction, thereby helping alleviate neck pain.
Benefits beyond Pain Relief
Apart from offering pain relief, acupuncture could contribute to an overall sense of wellbeing. It is observed to reduce stress levels, promote better sleep, enhance mood, and improve energy levels. For individuals with chronic neck pain, this holistic improvement in quality of life is an additional benefit.
Read More: How to Lose a Double Chin: A Comprehensive Guide
Evidence Supporting Acupuncture for Neck Pain
Recent scientific literature provides some evidence supporting the use of acupuncture for neck pain relief. A review published in the Cochrane Database of Systematic Reviews assessed the effectiveness of acupuncture in treating acute, subacute, and chronic neck pain. The review demonstrated acupuncture provides an immediate-term benefit compared to sham (placebo) acupuncture in terms of pain intensity.
The study also revealed that, compared to inactive treatment, acupuncture can be more effective in relieving pain at short-term follow. Moreover, those who received acupuncture reported less pain and disability during short-term follow-up than those in a wait-list control group.
While the long-term sustainability of these effects remains a topic of ongoing research. These findings show promise for the of acupuncture in managing neck pain.
Read More: 10 Best Essential Oils for Nausea: Everything You Need to Know
Acupuncture: A Safe and Cost-effective Treatment Modality
Acupuncture generally has a low risk profile when performed by a competent, certified practitioner using sterile needles. The side effects if any, are usually minor and temporary, such as soreness or minor bleeding at needle insertion sites. The technique is also cost-effective, presenting a viable option for those seeking alternative treatments for neck pain.
Although acupuncture appears to hold promise as an effective intervention for neck pain, it is essential to consult with a healthcare professional before starting any new treatment. Your healthcare provider can help you fully understand potential risks and benefits, as well as guide you to a reputable acupuncture practitioner.
As with any treatment modality, acupuncture not be suitable for everyone. Individuals with specific conditions like bleeding disorders, or those with a pacemaker, or pregnant women, may need to avoid or modify acupuncture treatments.
Complementary Treatment
Acupuncture can conveniently into a comprehensive treatment plan dealing with neck pain. It can complement other treatments such as physical therapy, massage, and medication, providing additive benefits and enhancing the efficacy of these treatments.
Conclusion
While neck pain remains a widespread and often debilitating condition, acupuncture offers a potentially effective, safe, and cost-efficient alternative for those seeking relief. By incorporating it as an adjunct treatment with the guidance of healthcare professionals, individuals suffering from neck pain may find greater relief and improved quality of life. However, more high-quality, long-term studies are needed to ascertain the full extent of acupuncture's effectiveness in treating neck pain.
Read More: What to Eat After a Colonoscopy: A Guide to a Healthy
FAQs
How long does it take for acupuncture to provide relief from neck pain?
The response to acupuncture varies significantly among individuals. Some may feel relief immediately after the first session, whereas others might require several sessions before noticing an improvement.
Are there any risks or side effects associated with acupuncture for neck pain?
Acupuncture is generally safe, especially when performed by a certified practitioner. Common side effects can include soreness and minor bleeding or bruising at needle insertion sites. However, individuals with bleeding disorders, pacemakers, or pregnant women should consult the practitioner and disclose their condition before treatment.
Is the relief from neck pain via acupuncture long-term or temporary?
While some users report long-term relief, the benefits of acupuncture can vary significantly among individuals. Some people might need ongoing treatment to maintain the benefits, while others may enjoy prolonged relief after a series of treatments.
Can acupuncture for neck pain interfere with other treatments or medications I'm currently taking?
Acupuncture is generally considered safe to use alongside other treatments or medications. However, it's crucial to share all your current treatments or medications with your acupuncture practitioner before starting the treatment.