Introduction
As the seasons change, so does the human susceptibility to the common cold. A commonly held belief is that drinking orange juice can assist in combating this ailment. This article delves into this topic, examining existing scientific data to clarify whether orange juice truly help in relieving cold symptoms.
The Logic Behind the Belief
Many individuals gravitate towards drinking orange juice when dealing with cold symptoms influenced by the understanding that it is rich in Vitamin C. According to the National Institutes of Health, Vitamin C plays a pivotal role as a powerful antioxidant supporting our immune system. Remarkably, only 3/4 cup of orange juice delivers the entire recommended daily intake of this vital nutrient, stimulating our bodies to generate defensive antibodies.
Although vitamin C does indeed play a crucial role in immune system functioning, it may not necessarily "chase a cold away". A common misconception is that vitamin C or orange juice can directly cure a cold. Still, they can strengthen our immune system, better equipping it to fight off the cold.
Read More: Orange Mango Juice: Recipes, Benefits, Nutritional Value
The Nutrient Profile of Orange Juice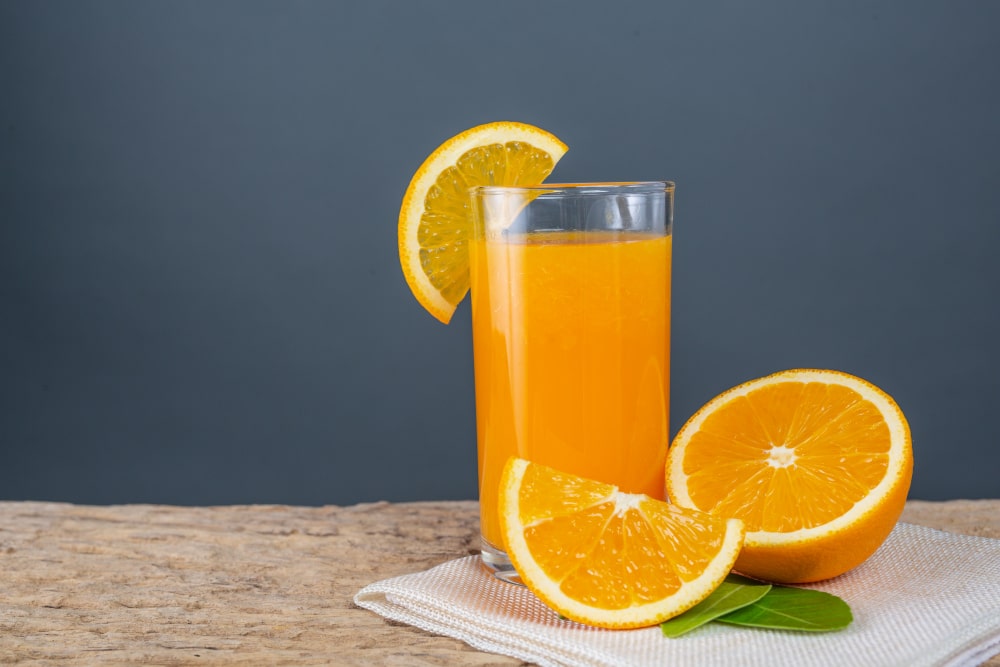 In addition to abundant vitamin C, orange juice is packed with potassium, a nutrient that plays a vital role in many body functions, including immune response. This makes orange juice beneficial during a cold, as it provides a nutritious, hydrating drink.
However, it is worth noting that an excessive intake of orange juice may not necessarily be beneficial, mainly due to its high sugar content. For those with sore throats, citrus-based juices like orange juice could potentially exacerbate the discomfort. Moderation in consumption is therefore advised.
A Panorama of Nutritious Drinks
While orange juice, with its high nutrient content, can contribute to maintaining a strong immune system, it is by no means the only beneficial beverage during a cold. A broad spectrum of other juices, rich in various essential nutrients, may offer a helpful boost during illness.
For example, a juice blend of ginger and turmeric is filled with antioxidants that have pronounced anti-inflammatory effects. Simultaneously, a combination of honey and ginger in a juice can invigorate the immune system and help lessen the discomfort of a sore throat. Vegetable juices such as spinach, kale, and tomato, rich in vitamins and minerals that boost immunity, can also prove advantageous.
Conclusion
To summarize, orange juice, packed with Vitamin C and other nutrients, aids in fortifying the immune system but isn't a standalone remedy for the common cold. Consuming it alongside other foods that support immune function, combined with hydration and a balanced diet, may help enhance our body's defense mechanism against the cold.
Read More: Pineapple Orange Juice: Benefits, Recipe, Nutrition Facts
FAQs
Is it beneficial to drink orange juice when you have a cold?
While orange juice can't cure a cold directly, its high vitamin C and potassium content can support immune function which may help your body cope with a cold.
How does the vitamin C in orange juice affect the common cold?
Vitamin C, abundant in orange juice, plays an essential role in boosting your immune system, helping to defend your body against pathogens, including those causing a cold.
Can a high intake of orange juice increase the rate of recovery from a cold?
Research indicates that while continuous use of vitamin C may slightly reduce the duration of colds, taking it after the onset may not necessarily speed up recovery. Orange juice offers supportive nutrients, but moderation is advised due its high sugar content.
Does the potassium in orange juice contribute to relieving cold symptoms?
Potassium, which is abundant in orange juice, contributes to balancing fluids in your body, a crucial factor when you are losing fluids due to symptoms like a runny nose or fever.
Are there alternatives to orange juice for cold relief?
Yes, there are many alternatives to consider. Beverages like ginger-turmeric juice or honey-ginger juice can provide antioxidants and soothe sore throats, while vegetables juices offer other immune-boosting vitamins and minerals.