Lifestyle changes, dietary habits, and regular exercise are considered essential when addressing the issue of losing arm fat. Although targeting fat loss in a particular area might not be feasible due to individual fat storage patterns, arm-related workouts can enhance muscle tone, giving the arms a leaner look. Let's walk through some effective strategies that could help in lose overall body fat and tone your arm.
Effective Strategies to Lose Arm Fat
1) Increase Overall Weight Loss
The idea behind spot reduction – losing fat from a specific spot of your body, such as arms, has been debunked. Studies have found that even a targeted workout doesn't necessarily reduce fat in the specific area being exercised. A comprehensive approach towards overall body weight loss is recommended. This approach includes a balanced dietary regime and regular physical activities.
2) Adopt Resistance Training
Resistance training is a type of exercise that involves working against a force to increase muscle tone and strength. It can effectively facilitate general fat loss and muscle toning. Example of resistance training includes weight lifting, bicep curls, overhead triceps extensions, overhead presses, and upright rows. It is recommended to incorporate a few of these in routine workout schedules to help your arms appear slimmer.
Read More: How to Lose a Double Chin: A Comprehensive Guide
3) Your Diet with Protein and Fiber
Protein can help decrease hunger and increase fullness, thereby managing your overall calorie intake. Foods like poultry, seafood, and legumes are high in protein and can support weight and fat loss. Fiber, on the other hand, contributes to a feeling of fullness, reducing hunger pangs and boosting overall weight loss. High fiber foods such as whole grains, vegetables, seeds, and nuts should be a part of your daily diet.
4) Make Cardio Part of Your Routine
Cardio is another significant element in the fat loss strategy. It helps burn calories and increase lean mass, contributing to weight loss. Regular cardio workouts such as jogging, biking, swimming, or dancing can carve the path towards achieving your goals of losing arm fat effectively.
5) Avoid Refined Carbs
Refined carbs often lack nutritional value. They are high in calories and low in fiber, frequently leading to weight gain and increased body fat. Instead, opting for whole grain foods like oats, quinoa, barley, and buckwheat contributes to a balanced and healthy diet.
6) Regulate Sleep Schedule and Hydration
Research has shown that an adequate sleep schedule plays a pivotal role in regulating appetite and promoting weight loss. Similarly, staying hydrated is equally vital for weight loss. Water can support feelings of fullness, decrease daily calorie intake, and increase metabolism rate.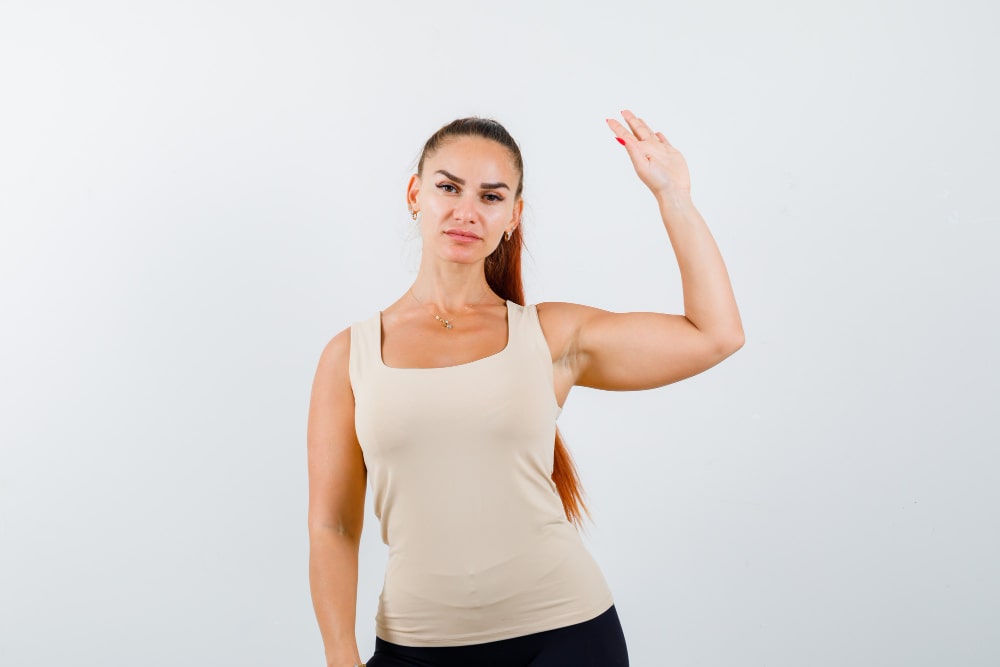 Read More: Smoothies to Lose Belly Fat Fast: Essential Ingredients & Recipes
7) Undertake Bodyweight Exercises
If access to a gym isn't an option for you, bodyweight exercises are a great alternative. Exercises such as tricep dips, planks, and push-ups, which don't require special equipment can enhance muscle strength and tone your arms.
Remember, there is no immediate, fast-track solution to fat loss. Regular exercise coupled with a well-rounded, nutritious diet and a consistent lifestyle pattern will ultimately lead to arm fat reduction. Patience and persistence are key to achieving your weight loss goals.
Exercises that Help to Lose Arm Fat
Here are a few exercises that can assist in losing arm fat:
High-intensity interval training (HIIT):
High-intensity interval training involves short bursts of high-intensity exercise alternated with low-intensity recovery periods. It significantly boosts body metabolism that can lead to a reduction in overall body fat, including the arms. They are time-effective and can be incorporated into cardio routines, resistance training or circuits.
Staying Persistent:
Lose arm fat is a process that takes time. It's crucial to stay consistent with the diet and exercise regimen. Regular monitoring and progressively increasing the intensity of workouts can bring about significant improvements.
Read More: Belly Fat Burning Juice Recipes: Everything You Need To Know
Yoga:
Yoga's benefits range far beyond flexibility and relaxation. Various yoga poses can help in toning and strengthening arm muscles. Poses like the downward dog, upward dog, and the plank can particularly help in addressing arm fat.
Pilates:
Pilates is another fantastic exercise for toning arm muscles. Pilates emphasizes on upper body strength which can lose arm fat and lead to leaner and toned arms.
Regular Check-ins and Adjustments:
Regularly checking in on your progress and adjusting your workout routine or diet plan as necessary can help create the most effective plan for you. Remember that each body is different, and it may take some trial and error to find what works for you.
Consult an Expert:
If you're struggling to shed the excess fat from your arms, it would be worthwhile to consult with a fitness or health expert. They can devise a tailored plan that matches your specific body profile, taking into account variables such as your age, health status, and any pre-existing injuries.
It's important to note that while many aspire to lose arm fat, the approach should be healthy and sustainably. Quick weight loss methods can potentially result in muscle wasting and may fail to offer lasting outcomes. It's always most advisable to aim for gradual but steady progress in achieving your fitness objectives.
Read More: How to Lose Underarm Fat With These 5 Effective Ways
FAQs
Can I lose fat specifically from my arms?
No. While you can tone and strengthen arm muscles, it's not feasible to only lose fat from your arms. Fat loss tends to occur evenly across the body.
Which exercises are beneficial to lose arm fat?
While it's not possible to target arm fat, exercises like bicep curls, tricep dips, push-ups, and some forms of yoga and Pilates can help you strengthen and tone your arm muscles.
Does diet play a role in reducing arm fat?
Yes. A balanced diet with proper macronutrient ratios will aid overall body fat loss, including the arms. High protein, high fiber, and low refined-carb foods can support weight loss.
Can sleep and hydration affect the process of losing arm fat?
Yes, sufficient sleep and proper hydration are key for maintaining bodily functions and supporting metabolism, both of which indirectly aid in weight and fat loss.