Visceral fat, commonly referred to as belly fat, isn't merely a matter of appearance. It's also a significant health risk that extends beyond the size of our waistlines. Many people combat this health risk by modifying their diets, with nutrient-rich smoothies being a popular addition. In this article, we'll explore how smoothies can help you lose belly fat fast and provide you with delicious recipes to get you started on your journey to a healthier, more confident you.  
What Is Belly Fat?
Belly fat, which is the fatty tissue encasing your abdominal organs, is normal to a certain extent as it provides protection. However, an excessive accumulation can pose significant health risks.
Why Is Belly Fat Harmful?
Having too much belly fat is not just a cosmetic concern; it can also lead to serious health issues like heart disease and diabetes. What makes it crucially hazardous is that it's not limited to the layer beneath the skin. It also encompasses the fat that encapsulates your internal organs.
Read More:  Belly Fat Burning Juice Recipes: Everything You Need To Know
The Role of Diet in Belly Fat Loss
What we consume each day is intrinsically linked to our bodily functions, including how our bodies accumulate and burn fat. By being mindful of our nutritional choices, leaning towards whole foods filled with fiber, and adopting beneficial eating habits like adding nutrition-dense smoothies, we can effectively tackle the challenge of reducing unwanted belly fat.  
Why Choose Smoothies to Lose Belly Fat Fast?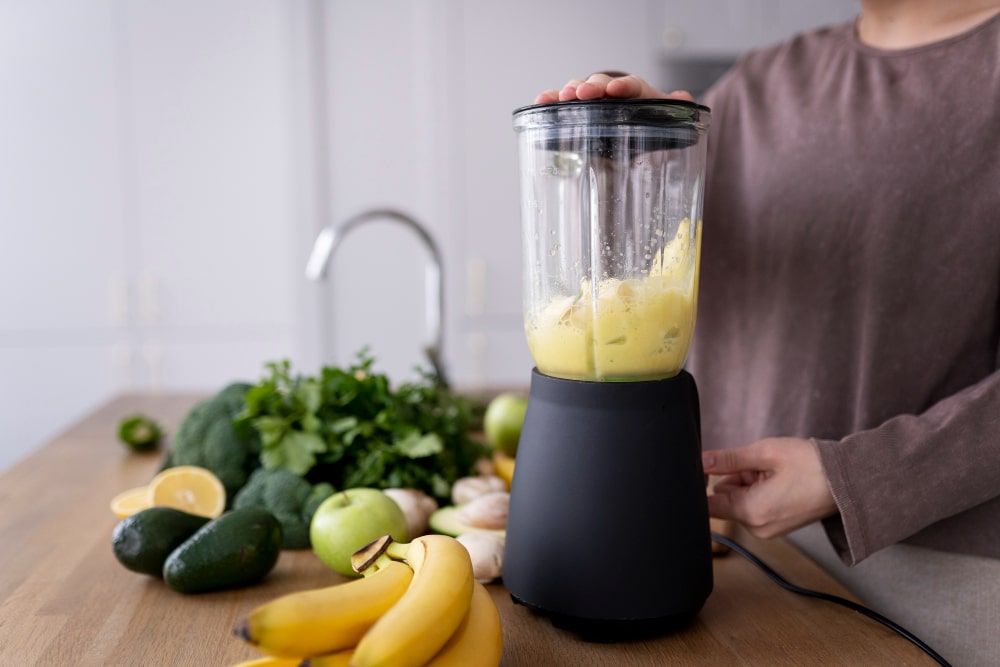 Smoothies, boasting high fiber content and densely packed nutrients, make an excellent choice for those aiming to lose weight. Their ease of preparation, portability, and ability to be filled with ingredients that help suppress hunger while boosting fat-burning add to their appeal for weight loss.
Nutrient Density in Smoothies
A well-curated smoothie can be a powerhouse of essential nutrients drawn from diverse food categories. The inclusion of nutrient-rich fruits, vegetables, whole grains, lean proteins, and healthy fats not only satisfies hunger but also furnishes the body with the vital nutrients it requires.
Balanced Smoothie Ingredients
The key to a weight loss-promoting smoothie is balance. Incorporating a mix of fruits, vegetables, proteins, and healthy fats ensures that you're consuming a nutrient-rich meal or snack rather than just a high-calorie drink.
Read More:  Belly Button Pain During Pregnancy: Causes and Remedies
Tips for Effective Belly Fat Reduction
Portion Control
Being conscious of portion sizes is crucial, even when dealing with the healthiest of ingredients. Without mindful measurement, the calorie count can quickly add up due to overconsumption.
Combining Ingredients
Choosing intelligent combinations of ingredients can amplify the health advantages of your smoothie. For instance, matching fiber-rich fruits with lean proteins could increase feelings of fullness and help maintain stable blood sugar levels.
The Importance of Fiber
Fiber plays a significant role in weight management by inducing a sense of satiety, regulating blood sugar levels, and supporting healthy digestion. Smoothie ingredients rich in fiber include items like berries, bananas, oats, chia seeds, and leafy greens.
Essential Ingredients for Smoothies
Fruits for Belly Fat Loss
Berries: Berries like strawberries, blueberries, raspberries, and blackberries offer abundant antioxidants, including anthocyanins. These compounds aid in lowering inflammation and combating oxidative stress. Plus, their high fiber content and low-calorie count help manage hunger and enhance feelings of fullness.
Citrus fruits: Citrus fruits such as oranges, grapefruits, and lemons are packed with Vitamin C. This essential nutrient aids your body in burning more fat. Moreover, they are rich in fiber, contributing to a feeling of fullness and satisfaction.
Apples: Apples are renowned for their high fiber content, which aids in mitigating feelings of hunger. They are also enriched with ursolic acid, a compound thought to amplify fat-burning processes and help decrease body fat composition.
Bananas (in moderation): Bananas provide a rich source of resistant starch, especially when they are unripe. This type of starch may promote fat-burning and reduce belly fat. However, they are slightly higher in calories than the fruits mentioned above, suggesting moderation in their inclusion.
Read More:  What Causes Pain Above Belly Button When Pressed?
Vegetables for a Flatter Belly
Leafy Greens: Leafy greens, like spinach and kale, offer an extremely low-calorie content and are packed with fiber. They also provide a significant amount of vitamins and minerals, which can help reduce water retention.
Cucumber: Cucumbers are low in calories and high in water content, which can aid in weight loss by helping control hunger and promoting hydration.
Celery: Celery offers high volume and fiber for very few calories, helping to keep you satisfied without consumption of excess calories.
Avocado: Avocado adds a creamy consistency to your smoothies and can help keep you full with its heart-healthy fats.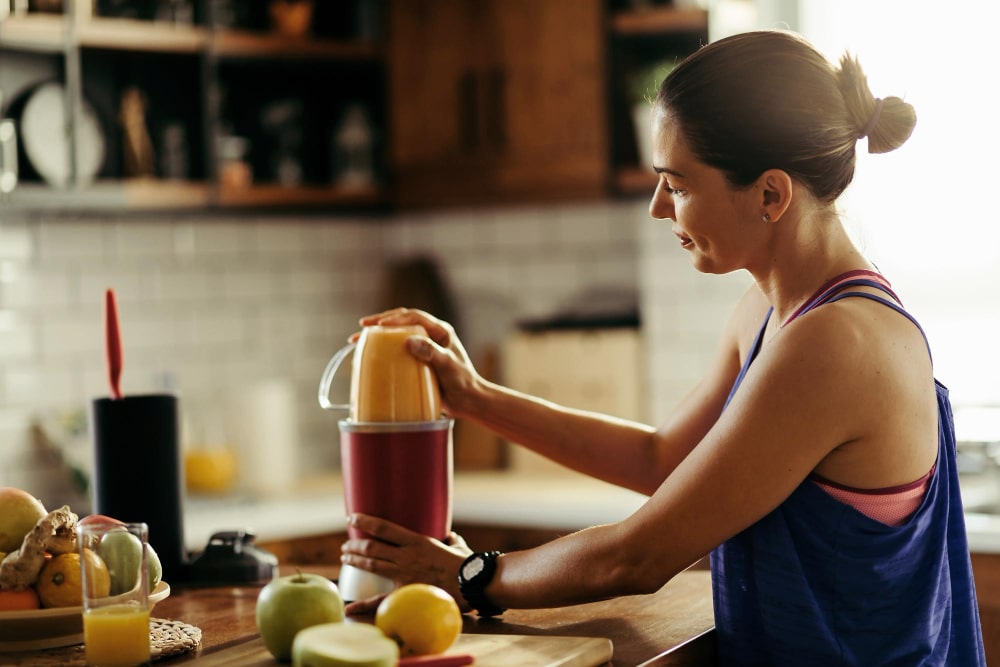 Protein-Packed Additions
Greek Yogurt: Greek yogurt is a great source of protein, which can help keep you fuller longer. It also contributes to a creamy and satisfying texture in smoothies.
Protein Powder: Protein powders (like whey, casein, or plant-based varieties) can significantly increase the protein content of your smoothies, supporting muscle maintenance and growth during weight loss periods.
Nut Butter: Nut kinds of butter such as almond or peanut butter also add healthy fats and a dose of protein to satisfy hunger. 
Including these ingredients in a balanced smoothie can facilitate a healthier dietary pattern, promoting efficient weight loss and, specifically, belly fat reduction.   
Read More:  How to Lose Belly Fat for Teens: Follow These Healthy Tips
Smoothies to Lose Belly Fat Fast Recipes
Berry Blast Belly Buster
Recipe: To make a Berry Blast Belly Buster, blend 1 cup of mixed berries, 1 cup of strawberries, 1 cup of vegan yogurt, 1 tablespoon of maple syrup, 1 teaspoon of vanilla extract, and 1.5 cups of orange juice. This produces a fruity smoothie that is as nutritious as it is tasty.
Nutritional Benefits: The smoothie made with berries, yogurt, and orange juice carries remarkable health benefits. Berries, a potent source of antioxidants, not only bolster your immune system but also mitigate inflammation and impede cellular harm. The inclusion of yogurt gives the smoothie an excellent protein profile, helping to satiate your hunger for an extended period and fostering the growth of lean muscles. Lastly, orange juice acts as an abundant provider of vitamin C, which accelerates the absorption of iron and further enhances the immune system's efficacy.
Green Machine Slimdown Smoothie
Recipe: Blend together 2 cups of leafy greens (spinach or kale), one green apple, one ripe banana, 1 cup of almond milk, and one tablespoon of ground flaxseeds. This will create a fiber-rich, low-calorie smoothie that's perfect for lose belly fat fast.
Nutritional Benefits: Green leafy vegetables like spinach and kale are low in calories and packed with dietary fiber, promoting satiety and aiding in weight loss. Apples and bananas add more fiber and also provide natural sweetness. Almond milk provides vitamin E, while the flaxseeds add healthy Omega-3 fats and more dietary fiber.
Read More:  The 7 Day Smoothie Weight Loss Diet Plan
Tropical Tummy Trimmer
Recipe: Blend together 1 cup of frozen mixed tropical fruits, including mango, pineapple, and papaya, along with 1 cup of coconut milk and one tablespoon of honey for a refreshing smoothie that takes you on a tropical getaway while providing nourishment to your body.
Nutritional Benefits: When it comes to nutritional benefits, tropical fruits like mango and pineapple are packed with essential vitamins and minerals. For example, mango is an excellent source of Vitamin C, fiber, and antioxidants, while pineapple has bromelain, an enzyme that facilitates digestion. Moreover, coconut milk not only lends the smoothie a creamy texture but is also packed with healthy fats, particularly medium-chain triglycerides (MCTs), renowned for aiding in weight loss.
Chocolate Peanut Butter Protein Powerhouse
Recipe: Blend together one banana, two tablespoons of peanut butter, 1 cup of almond milk, one scoop of chocolate protein powder, and a handful of ice. This smoothie combines the decadence of a dessert with the nutritional powerhouse of a meal.
Nutritional Benefits: Bananas provide a wealth of potassium and fiber, while peanut butter adds a protein punch and healthy fats. The chocolate protein powder not only makes the smoothie taste like a treat but also offers a substantial dose of protein essential for muscle repair and building. Almond milk adds calcium and vitamin D.
Adopting these smoothies as part of a balanced diet can facilitate efficient and healthy weight lose, particularly around the belly fat fast. 
Read More:   What is the Green Mediterranean Diet? Every You Need To Know
Conclusion
Ultimately, adding smoothies to your dietary regimen can support to lose of belly fat fast, particularly when they're part of a balanced diet and regular fitness routine. Loaded with nutrient-rich fruits, vegetables, and proteins, these beverages are not only delicious but also furnish your body with the essential nutrients for optimal operation. Nevertheless, it's important to remember that these smoothies should enhance a balanced diet, not substitute meals, and managing portion sizes is critical. With these delicious smoothie recipes designed to help slim down your belly and smoothie-making tips at your disposal, you're set on a journey towards a healthier you.
FAQs
Can these smoothies assist in reducing belly fat?
A: Indeed, smoothies can be an auxiliary tool for lose belly fat fast. They are usually filled with fiber and protein, which can keep you satiated longer.
Can I substitute meals with these smoothies?
A: While these smoothies are rich in nutrients, they are designed to supplement meals, not substitute them. It's recommended to have them along with a balanced diet for better health benefits.
Are there possible side effects of having these smoothies?
A: If you're allergic to any ingredients in the smoothies, it recommends to avoid or replace them. Seek medical attention if you observe any adverse reactions after consumption. 
Is it alright to use fresh fruits instead of frozen ones in the smoothies?
A: Certainly, you can use fresh fruits. However, frozen fruits give a thicker consistency to your smoothie and are just as nutritious as fresh ones.