Year after year, the Mediterranean diet consistently ranks at the top of health and wellness discussions and is frequently referred to as one of the healthiest diets worldwide. Recently, researchers have curated a new, modernized version of this renowned diet, labeled the Green Mediterranean Diet. Promising even more health benefits, this reformed eating style emphasizes plant-based foods while limiting meat intake and encouraging the consumption of additional green substances like green tea and specific plant-based shakes. This comprehensive dive into the Green Mediterranean diet will give you a deeper understanding of its components, benefits, and how to incorporate it into your lifestyle.
Components of the Green Mediterranean Diet
More "green," both literally and philosophically, the Green Mediterranean diet innovatively builds upon the original Mediterranean diet. Characteristically rich in fruits, vegetables, whole grains, legumes, nuts, and olive oil, it has a limited intake of red meat, favoring poultry and seafood as the primary source of animal protein. The green version takes this plant-first approach a step further and also adds a daily intake of green tea, walnuts, and a plant-based protein shake made from Wolffia globose or Mankai duckweed.
However, a strict meal plan does not govern the green Mediterranean diet. You can create hearty, nutrient-rich meals if you stick to the diet's core principle of emphasizing vegetables, fruits, and whole grains, reducing the intake of red meat and processed foods while integrating the new ingredients into your meals.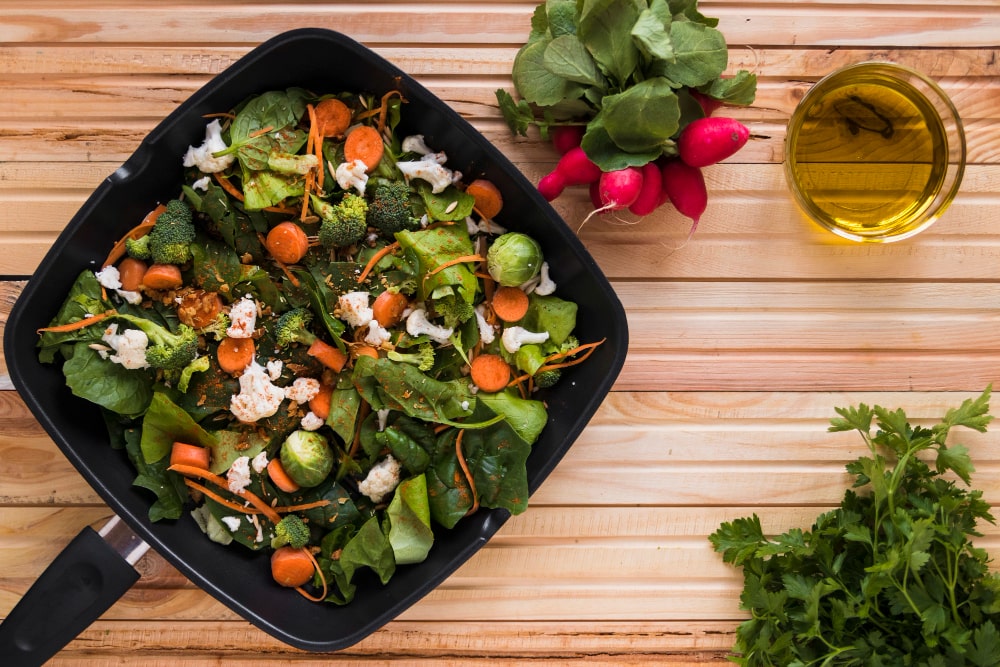 Read More: 7-Day Meal Plan for Gestational Diabetes: A Complete Guideline
Fundamentals of the Green Mediterranean Diet
While the Green Mediterranean diet may have yet to be extensively reviewed, it benefits from the established credibility of its predecessor. The Mediterranean diet was ranked first in the 2021 U.S. News and World Report Best Diets, scoring an impressive 4.2/5.
However, experts caution against restricting food types and quantities due to potential food cravings and weight cycling. They also recognize that aspects of the Mediterranean diet can contribute to a well-rounded lifestyle. Staples like walnuts provide fiber, omega-3 fats, and various vitamins and minerals, while increased fish consumption can further boost omega-3 intake while reducing saturated fat consumption. Adding more green tea to your diet may provide beneficial antioxidants that positively impact brain health and combat stress and inflammation.
What to Eat and What to Avoid
The Green Mediterranean diet includes nutrient-rich options from all food groups. The diet recommends an increase in vegetables, fruits, olive oil, and nuts. Fish and poultry are still on the menu but in smaller quantities. The diet discourages the consumption of red meat, refined grains, and processed foods.
In essence, aim for fresh, unprocessed fruits and vegetables, lean proteins like eggs, poultry, seafood, beans, and peas, and plant-based proteins, including a unique high-protein plant, Wolffia globosa (Mankai duckweed), and emphasize whole grains over refined grains.
Read More: Bone Broth Diet Plan: Benefits, Recipes and Meal Ideas
Does it differ from the traditional Mediterranean diet?
At their core, both diets advocate for increased consumption of plant-based foods and lean proteins while advocating for a reduction in red and processed meats. However, the primary distinction lies in the "greener" variant's heightened emphasis on plant foods. Its stricter limitation on meat consumption, and its incorporation of daily servings of green tea, walnuts, and a distinctive high-protein shake derived from plants.  
Adapting to the Green Mediterranean Diet
Several basic principles guide the green Mediterranean diet that can help you incorporate it into your lifestyle:
Prioritize Fruits and Vegetables: These should be the mainstay of your diet. Aim for diversity and avoid those that are processed or high in salt or sugar.
Choose Whole Over Refined Grains: Opt for whole oats, barley, millet, brown rice, whole-wheat bread, pasta, and crackers.
Lean and Plant Proteins are Key: Choose poultry, seafood, beans, peas, nuts, and duckweed for their high protein level.
Moderate Intake of Dairy: Milk products, cheese, and yogurt should be consumed in moderation.
Healthy Fats are your Friend: Consume an ounce of walnuts daily–they are a great plant source of omega-3 fatty acids. Olive oil, olives, other vegetable oils, and other nuts and seeds are also encouraged.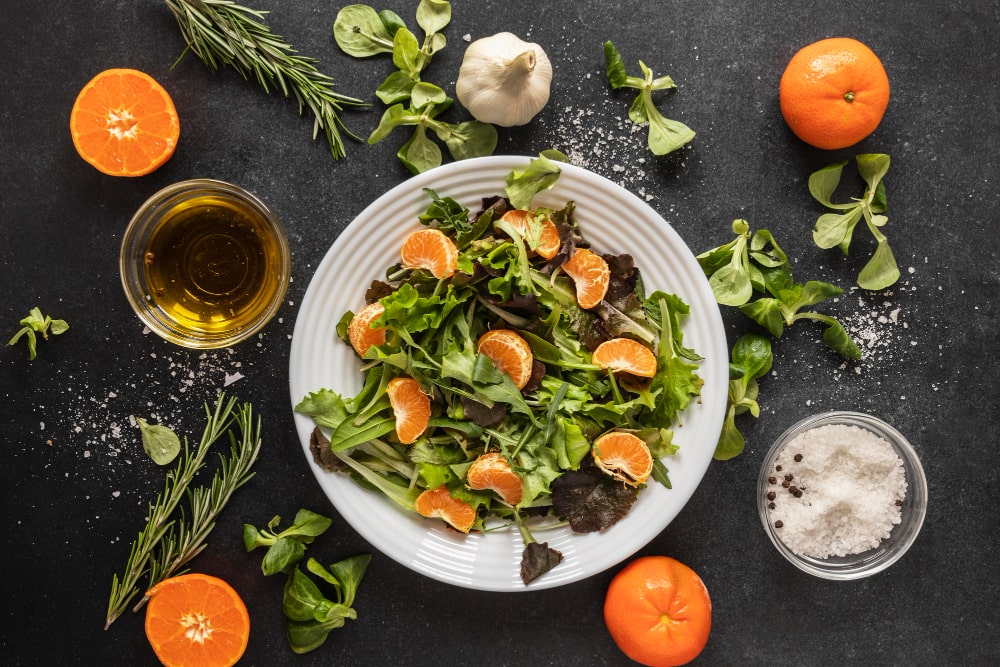 Read More: High Carbs Diet Weight Loss: The Guide to Shedding Pound
A 7-Day Diet Plan
Unlike many diet plans, the Green Mediterranean diet has no set meal pattern. Predicated on a shift towards greener, healthier food choices, it does, however, have daily essentials, like 3 to 4 cups of green tea, 1 ounce of walnuts, and 100-gram frozen cubes of Wolffia globosa (Mankai duckweed), the high protein plant-based shake cornerstone of this diet.
Potential Benefits
The Green Mediterranean Diet has notable potential benefits that make it a good consideration for individuals seeking healthier lifestyles.
Heart Health: A study published in the scientific journal Heart in 2020 suggested that the Green Mediterranean diet could greatly improve heart health. Participants following this diet showed significant improvements in their cholesterol levels and blood pressure when compared to those following a traditional Mediterranean diet.
Weight Management: The high fiber content of the diet, driven primarily by increased vegetable and whole grain intake, can help with weight management. High-fiber foods tend to be more filling, reducing overeating.
Gut Health: The increased intake of plant-based foods – particularly those rich in dietary fiber – on the Green Mediterranean Diet may benefit gut health. These dietary fibers act as prebiotics, feeding beneficial gut bacteria and promoting a healthy gut microbiome.
Chronic Disease Prevention: Like its traditional counterpart, the Green Mediterranean diet is believed to have preventative effects on chronic diseases such as diabetes and certain types of cancer. While more research is specifically required on the Mediterranean Diet. The prominence of plant-based meals and limiting processed foods is generally associated with these health benefits.
Brain Health: The inclusion of walnuts and green tea – rich in antioxidants – in this diet may positively affect brain health. Antioxidants help to reduce oxidative stress, which can damage cells, including those in the brain.
Environmental Impact: By emphasizing plant-based foods and reducing the consumption of meat. The Mediterranean Diet also has less environmental impact, contributing to lower greenhouse gas emissions compared to diets with high meat content.
It is important to note that while the Mediterranean Diet does have potential benefits. It should be adopted as part of an overall healthy lifestyle, including regular physical activity. 
Conclusion
The Green Mediterranean diet shows promising potential to improve overall health and well-being, striking an innovative balance between plant-first eating without entirely sacrificing animal-based proteins. It's an integrated, eco-friendlier approach to an already popular and substantial diet. As always, consult your healthcare provider or a registered dietitian before taking on a new diet plan. 
Read More: 5 Day Liquid Diet Weight Loss: Step-by-Step Guide
FAQs
What is the Green Mediterranean Diet?
The Green Mediterranean Diet is a more plant-focused version of the traditional Mediterranean Diet. It emphasizes the consumption of plant foods like fruits, vegetables, nuts, olive oil, and whole grains while limiting meat and poultry intake.
Are there any potential challenges with the Green Mediterranean Diet?
Some people may need help incorporating duckweed into their diet due to its limited availability. Additionally, a complete swap from meat to plant-based proteins may require careful planning to meet all nutritional requirements.
Can I follow the Green Mediterranean Diet if I have dietary restrictions or allergies?
The Green Mediterranean Diet is flexible and can be adjusted to fit many dietary needs. However, it's always recommended to consult with a healthcare provider or a registered dietitian to create a suitable eating plan if you have specific dietary restrictions or allergies.
What is Wolffia globosa or Mankai duckweed?
Wolffia globosa, also known as Mankai duckweed, is a high-protein water plant that contains essential amino acids, dietary fiber, omega-3 fatty acids, vitamin B12, iron, and polyphenols. It's a key component of the Mediterranean Diet.
Can I eat meat on the Green Mediterranean Diet?
While the Mediterranean Diet does not completely exclude meat, it promotes lean plant-based proteins. It suggests limiting the consumption of poultry and fish and discouraging red and processed meats.
How can I start the Green Mediterranean Diet?
You can start by gradually introducing more plant-based meals into your diet and reducing your intake of animal products. Include green tea walnuts, and try to include a plant-based protein shake in your daily diet. You may need guidance from a healthcare provider or a registered dietitian to ensure balanced nutrition.