Gestational diabetes, even though temporary, requires unique dietary adjustments to ensure both the mother's and the baby's health. The shift in insulin activity during pregnancy often leads to blood sugar imbalances, necessitating a carefully planned diet. This article presents a 7-day meal plan to help manage your gestational diabetes effectively.
Understanding Gestational Diabetes:
Gestational diabetes is a condition diagnosed for the first time during pregnancy. Around one in ten pregnancies in the US are affected by this condition. Hormonal fluctuations during pregnancy can impair the way insulin regulates your blood sugar, leading to gestational diabetes. Its risk factors include being chubby before pregnancy, having polycystic ovary syndrome (PCOS), a family history of diabetes, and more.
Despite its complications, gestational diabetes can be effectively managed through a balanced diet and regular exercise.
Read More: Top 9 Benefits of Spearmint Tea: Homemade Recipe
Guidelines for a Gestational Diabetes Diet:
Focusing on a balanced intake of healthy foods helps manage gestational diabetes by keeping your blood sugar under control. Your meals should include complex carbohydrates, lean proteins, and healthy fats. A key strategy is the consistent consumption of carbohydrates, fats, and proteins; this helps maintain consistent blood sugar levels.
Eating three meals and two to three snacks a day can avoid extended periods without eating which could result in blood sugar drops. High-fiber whole fruits and vegetables, lean proteins, healthy fats, and whole grains should be in your diet, while foods rich in refined carbohydrates and sugars should be limited or avoided for their risk of causing sudden blood sugar spikes.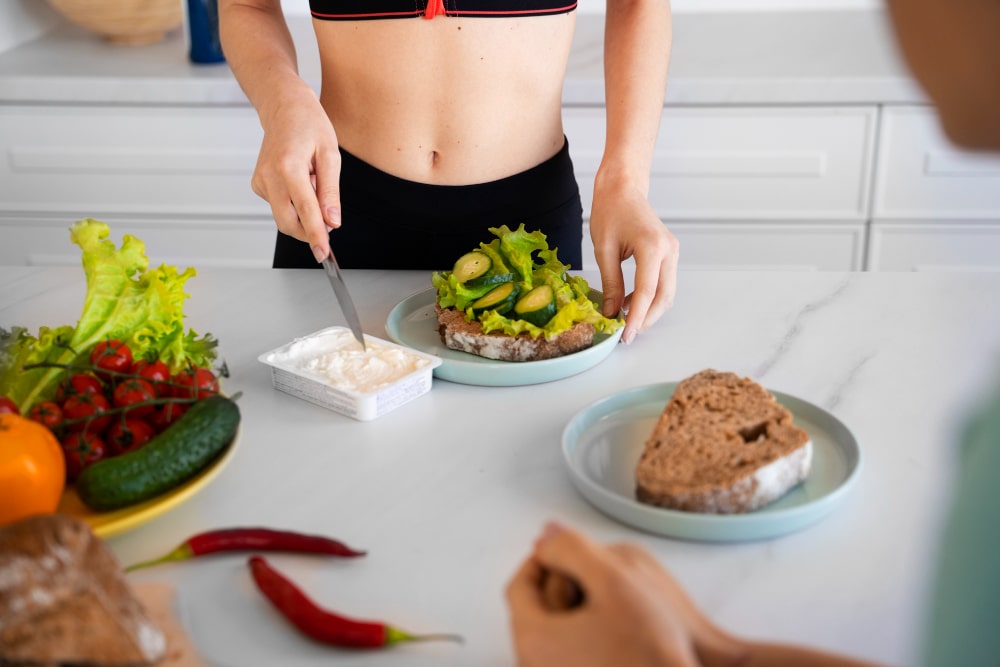 7-Day Meal Plan for Gestational Diabetes:
Here is a sample plan to guide your week:
Day 1:
Breakfast: Two scrambled eggs, one toast, and a cup of milk.
Snack: Half a banana with a string cheese stick.
Lunch: Veggie burger with lettuce and tomato and a side of baby carrots and broccoli.
Dinner: A 4 oz steak with broccoli and a large baked potato.
Bedtime Snack: Two tablespoons of natural peanut butter on graham crackers.
Day 2:
Breakfast: A bowl of Cheerios with milk.
Snack: A small apple and ten oyster crackers.
Lunch: Grilled chicken salad with a cup of noodle soup.
Dinner: Two crab cakes with collard greens and blueberries.
Bedtime Snack: Two cups of popcorn topped with grated Parmesan cheese.
Read More: Top Herbs for Headaches Relief: Natural Remedies
Day 3:
Breakfast: Vegan sausage (1 ounce) with one English muffin, and decaf coffee or tea (no sugar)
Mid-morning snack: One orange with 3 saltine crackers
Lunch: Rice and beans recipe (1/2 cup cooked rice and 1/2 cup pinto beans in 2 teaspoons olive oil), along with 2/3 cup green beans
Mid-afternoon snack: 3/4 cup fresh grapes with 1/2 cup milk
Dinner: 4 ounces of chicken strips, one cup of broccoli, and a large baked potato with 2 tablespoons of sour cream
Bedtime snack: Cheese sandwich (made with 1 ounce cheese and 1/2 slice whole wheat bread) and 1/4 cup pineapple.
Repeat such a pattern with daily variations for the remaining days.
Benefits of a Gestational Diabetes Meal Plan:
Following a specified meal plan can potentially prevent the need for medication. Research suggests that about 80% of women manage gestational diabetes with diet alone – sans medication. By controlling your blood sugar level with a healthy diet, you can avoid health complications for both you and the baby. Also, a balanced diet with regular physical activity reduces your risk of developing type 2 diabetes in the future.
Read More: Is Watermelon Good for Diabetes?
Conclusion
While managing gestational diabetes through a nutritious and balanced diet is indeed beneficial, never overly restrict your diet. Consult with a healthcare provider or a dietitian to ensure a well-balanced and individualized meal plan tailored to your nutritional needs during your pregnancy. With wise dietary choices and regular exercise, gestational diabetes can be effectively managed, ensuring a healthy pregnancy and a healthy baby.
FAQs
What is gestational diabetes?
Gestational diabetes is a condition that is first diagnosed during pregnancy. It affects the body's ability to use and produce insulin, leading to high blood sugar levels. It impacts about 10% of pregnancies in the U.S. each year.
Can gestational diabetes be prevented?
While there are some risk factors you cannot control, maintaining a healthy weight and exercising regularly before pregnancy can reduce the risk of gestational diabetes.
Does gestational diabetes affect the baby?
If gestational diabetes is not well managed, it can increase the risk for complications like large birth weight, premature birth, and low blood sugar levels in the baby. It can also increase the baby's risk of developing type 2 diabetes later in life.
Can my diet help manage gestational diabetes?
Yes, a healthy diet is one of the main strategies for managing gestational diabetes. Your meal plan should focus on balanced eating, with regular meals and snacks while limiting the intake of refined carbohydrates and sugars.
Will I have diabetes after my pregnancy?
Gestational diabetes usually goes away after birth. However, if you've had gestational diabetes, your chances of developing type 2 diabetes are increased. It's recommended to continue following a healthy lifestyle even after the pregnancy.