At one point or another, we've all experienced the discomfort of a nagging cough, often accompanied by various aches due to the strain it puts on our muscles. One such issue that might seem unrelated is stomach pain when coughing. In this article, we will explore the various causes of stomach pain when coughing, the symptoms associated with this condition, and some effective remedies to find relief.
Common Causes of Stomach Pain When Coughing
In some instances, more specific conditions might cause stomach pain when coughing.
Appendicitis: The inflammation of the appendix can cause severe abdominal pain and can be a medical emergency if left untreated.
Gallstones: These hardened deposits in the gallbladder can cause severe pain especially in the upper back or right shoulder.
Kidney Stones: These painful crystalline formations in the urine can cause severe back pain and bloody or cloudy urine.
Diverticular Disease: This condition affects the colon, with pouch-like formations causing bloating, abdominal pain, and changes in bowel habits.
Endometriosis: This condition is specific to women and can cause significant pelvic and abdominal pain, especially during certain activities.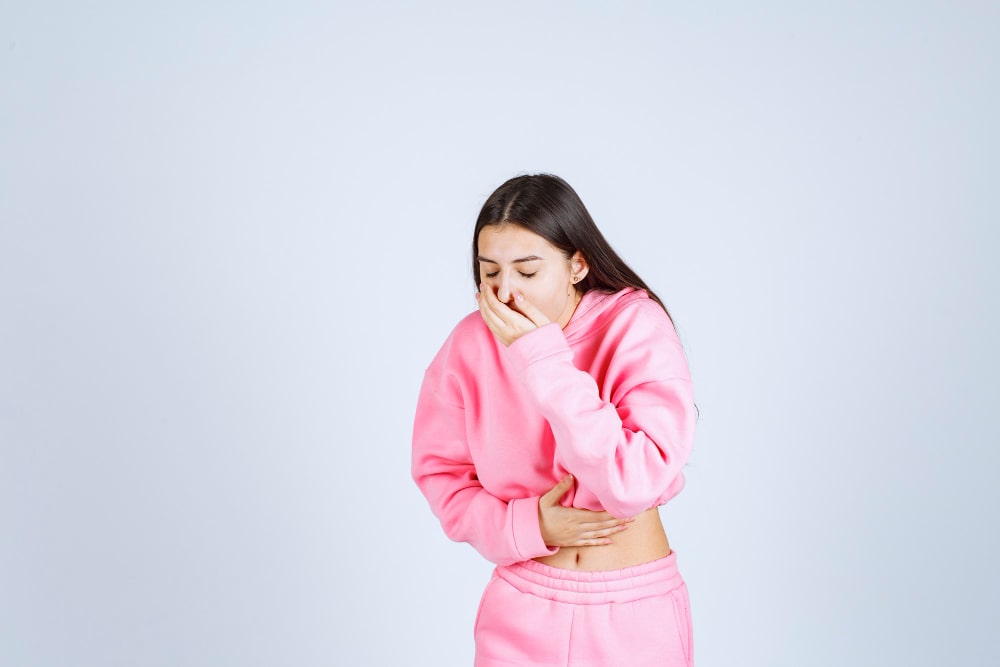 Read More: How to Settle Stomach Aches: Your Ultimate Guide
Overuse and Strain
The primary reason for stomach pain when coughing is often linked to the overuse and strain on the abdominal muscles. When we cough, especially during intense bouts such as those during a cold or flu, our abdominal muscles contract forcibly. This relentless contraction can lead to muscle soreness or strain, akin to the ache felt after intensive physical exercise.
This muscle strain typically leads to a temporary pain that subsides once the coughing stops. Gentle stretching might alleviate the discomfort, but persistent pain should not be ignored and warrants a consultation with a healthcare provider.
Underlying Health Conditions
An existing health condition might cause stomach pain when coughing, where the coughing exacerbates already-existing discomfort. For example, in individuals with chronic gastrointestinal problems, abdominal pain might intensify during a coughing bout. The same applies to people with a hernia, as the increased abdominal pressure during coughing induces pain. This complexity means the underlying cause of the pain might be elusive, thus meriting professional medical help.
Read More: Stomach Bug While Pregnant: Causes, Symptoms, Remedies
Location-Specific Pain and Indicated Issues
Abdominal pain can be split into four main regions, each signifying potential underlying health conditions.
Left Side: Pain originating from the left side could indicate issues with organs like the spleen or colon. Afflictions like kidney infections or diverticular disease could manifest as left-sided abdominal pain.
Right Side: Pain on the right is often associated with organs like the liver, gallbladder, or colon, indicating gallstones, liver disease, or infections.
Lower Abdomen: This area contains part of the reproductive system and urinary tract. Pain here can signal conditions such as ovarian cysts in women, prostate issues in men, urinary tract infections, or hernias.
Upper Abdomen: This region houses vital digestive organs like the stomach and pancreas. Pain here might indicate conditions like gastritis, pancreatitis, or ulcers.
Symptoms of Stomach Pain When Coughing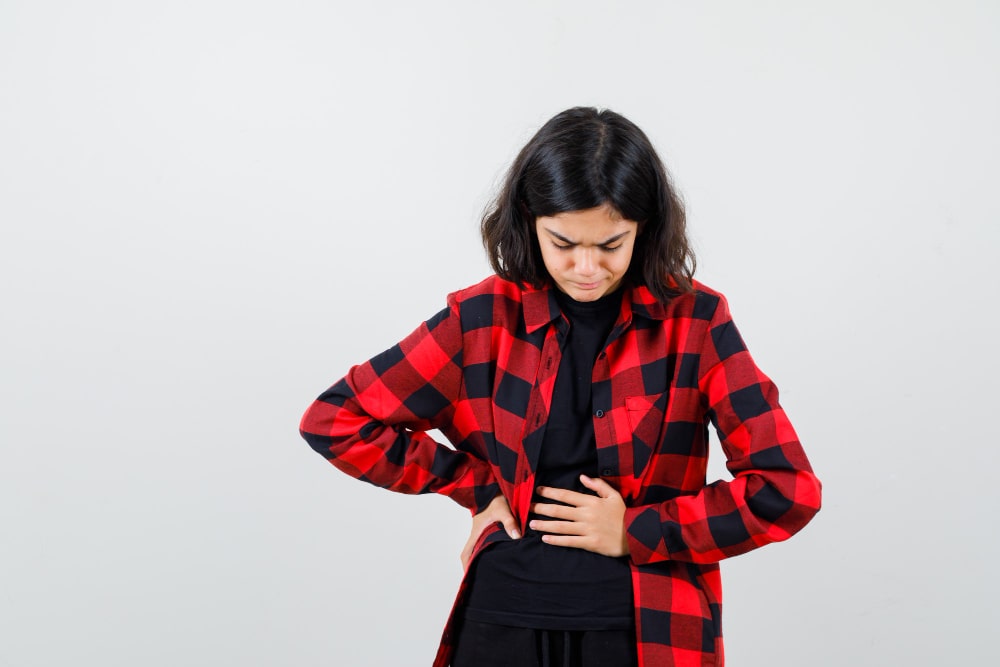 Sharp or dull pain in the abdominal area during or after coughing.
Discomfort in the chest, upper abdomen, or lower abdomen.
Heartburn or a burning sensation in the chest or throat.
Difficulty in breathing, particularly if a hiatal hernia is involved.
Nausea and vomiting in severe cases.
Changes in bowel habits if an underlying gastrointestinal condition is present.
Read More: Stomach Pain After Sex: Causes, Symptoms, and Remedies
Factors Affecting Stomach Pain
Influence of Posture
The body's position during a coughing spell influences the level and location of discomfort experienced in the abdomen. Routinely, people tend to bend forward or hunch while coughing, which places additional pressure on the abdominal muscles, contributing to discomfort or pain.
Severity and Frequency of Coughing
The severity and frequency of coughing spells can escalate the associated abdominal discomfort. A deep, forceful cough exerts more pressure on the abdominal muscles compared to a less severe cough, while more frequent coughing allows less time for muscles to recover between contractions.
Duration of Cough
Chronic or long-term coughing can lead to prolonged strain on the abdominal muscles, thus resulting in persistent pain. A lingering cough associated with conditions like chronic bronchitis, asthma, or GERD could lead to persistent stomach pain simply due to the duration of muscle strain.
Read More: Back Pain After Epidural: Everything You Need to Know
Diaphragmatic Flutter or Diaphragm Spasm
An unusual but plausible cause of stomach pain when coughing is a diaphragmatic flutter or diaphragm spasm, also known as "Belly Dancer's Dyskinesia." This rare disorder is characterized by involuntary contractions of the diaphragm, the muscle that separates the chest from the abdomen. These contractions can be triggered by actions like coughing and can result in abdominal pain.
Dehydration or Electrolyte Imbalance
Dehydration or an electrolyte imbalance can cause muscle cramping or spasms, which might be felt as stomach pain when coughing. Staying hydrated, especially during illnesses causing excessive coughing, can prevent muscle discomfort.
Remedies and Preventative Measures
While the primary solution for stomach pain when coughing is treating the underlying condition causing the cough, certain remedies and preventative measures can help manage the discomfort:
Warm Compress: Apply a warm compress to the affected area to ease the muscle pain.
Hydrate: Maintain hydration levels to avoid muscle cramps.
Pain Management: OTC pain relievers can be used if permitted by a healthcare professional.
Gentle Exercises: Gentle stretching exercises can help strengthen stomach muscles.
Proper Positioning: Maintain an upright position while coughing to minimize pressure on the stomach.
Read More: Gluteus Medius Pain: Causes, Symptoms, and Treatment
Conclusion
Understanding the causes of stomach pain when coughing, from muscle overuse and strain to more concerning health conditions, can help inform appropriate diagnosis and management. Regardless of the cause, any persistent or debilitating pain should warrant immediate medical attention. Stay informed and attentive to your body, as an early diagnosis often leads to the best recovery outcomes.
FAQs
How can I alleviate stomach pain associated with coughing at home?
Simple methods to relieve such pain at home may include applying a warm compress to the affected area, staying hydrated, or incorporating gentle stretching exercises. However, these methods should be accompanied by a resolution to the root issue causing the cough.
What role does posture play in stomach pain when coughing?
Posture can significantly influence abdominal pain experienced during a cough. A hunched or bent forward position can place additional pressure on the stomach muscles, exacerbating the discomfort. Maintaining an upright position can, therefore, help to minimize pressure.
Can drinking water help with stomach pain when coughing?
Yes, staying well-hydrated can help prevent muscle cramping and can soothe the throat, reducing the frequency and severity of the cough.