Stomach aches, also known as abdominal pain, can occur for various reasons. Unpleasant sensations in the abdomen may be caused by something minor like indigestion or tension and stress. Alternatively, they could indicate an underlying health issue that requires medical attention. Knowing what type of stomach ache you have and when to seek medical assistance. Here, we will explore how to settle stomach aches, the types of medicines and natural remedies available, dietary tips, lifestyle changes, and when to see a doctor. With this information, you can take charge of your health and be prepared for any abdominal discomfort you may experience.
Understanding Stomach Aches
Stomach aches can vary in intensity and range from mild to severe. Pain can be localized or spread across a wide area of your abdomen. It may come on suddenly or be chronic, lasting for weeks, months, or even years. Understanding the source of your abdominal discomfort is key to finding an appropriate treatment plan. Common causes of stomach aches include indigestion, gas, menstrual cramps, food allergies or intolerances, infection, and IBS. If you are concerned about a persistent stomach ache, it is best to seek medical advice.
Causes of Stomach Aches
Stomach aches can be caused by a variety of conditions. Indigestion occurs when the stomach acid in your digestive system is too high and irritates the lining. Gas is usually the result of eating certain foods that are difficult to digest or drinking carbonated beverages. Menstrual cramps, or dysmenorrhea, are often linked to hormonal changes and can cause stomach pain. Food allergies or intolerances can lead to abdominal discomfort when the body reacts negatively to a certain food. Infections such as viral gastroenteritis, food poisoning, and urinary tract infections can cause stomach aches. Finally, irritable bowel syndrome (IBS) is a chronic condition that causes bloating and abdominal cramps.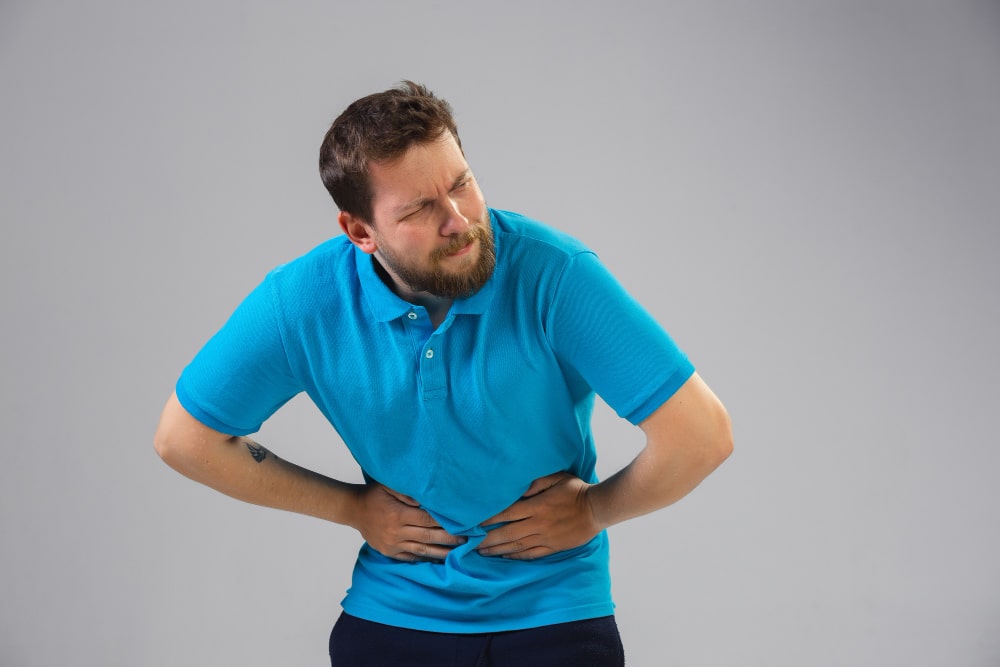 Read More: Stomach Bug While Pregnant: Causes, Symptoms, Remedies
Home Remedies For Settle Stomach Aches
1. Rest and Relaxation
Resting and relaxation are key to soothing stomach aches. Taking a break from your daily routine or stressful situation can help reduce the intensity of the symptoms. Additionally, focusing on calming activities like yoga, meditation, and deep breathing can provide relief.
2. Hydration
Staying hydrated is important for digestive health and can help settle stomach aches. Drinking clear fluids such as water, herbal teas, and sports drinks can help reduce the symptoms of abdominal pain.
3. Heat Therapy
Applying a hot water bottle or heating pad to your abdomen can provide soothing heat relief from cramps and tension. You can also try a warm bath or shower to relax your muscles and reduce stomach ache pain.
4. Ginger Tea
Ginger has been used for centuries to treat stomach aches and other digestive issues naturally. Drinking ginger tea can help reduce nausea, gas, bloating, and cramps. To make ginger tea, grate fresh ginger root into boiling water and steep for 10 minutes. Sweeten with honey or lemon to taste.
5. Peppermint Tea
Peppermint tea is another great natural remedy for stomach aches. It can help reduce gas, bloating, and cramps as well. To make peppermint tea, steep one teaspoon of dried peppermint leaves in boiling water for 5 minutes. Strain and drink 1-2 cups per day to reduce abdominal discomfort.
Read More: Stomach Pain After Sex: Causes, Symptoms, and Remedies
6. Bland Diet
Eating a bland diet can help settle stomach aches by providing nutrients without aggravating your digestive system. Foods like toast, white rice, boiled potatoes, plain oatmeal, and applesauce are easy to digest and can provide temporary relief from abdominal pain. Ensure you drink plenty of fluids and avoid spicy, fatty, and fried foods.
7. Exercise
Exercise can help reduce abdominal discomfort by promoting healthy digestion and relieving stress. Even a light walk or stretching routine can ease your stomach aches and get the digestive system working properly again. Just listen to your body – if exercise is making your symptoms worse, then take it easy.
8. BRAT Diet
The BRAT diet is a low-fiber, low-fat food plan to help settle stomach aches. This diet consists of the following foods: bananas, rice, applesauce, and toast. These bland foods are easy to digest and provide essential nutrients without aggravating digestive issues. If you follow this diet for a few days, it can help relieve abdominal pain, nausea, and other symptoms of stomach aches.
9. Acupressure
Acupressure is a safe and natural way to alleviate abdominal discomfort. This ancient therapy involves applying pressure to certain points in the body that can help regulate digestion and reduce pain. Some common areas for acupressure include the abdomen, lower back, wrists, and feet. It's important to consult a professional before attempting this form of therapy.
Read More: Strep Throat While Pregnant: Causes, Symptoms, Treatment
Over-the-Counter Medications For Stomach Aches Relief
Antacids
Antacids are over-the-counter medications that can help settle stomach aches quickly. These medications neutralize stomach acid and relieve heartburn, indigestion, and other digestive issues. They come in the form of tablets, powders, and liquids that can be taken orally or dissolved in water. Antacids are generally safe to take, but it's important to follow the directions on the package and consult a doctor if your symptoms don't improve.
Probiotics
Probiotics are live microorganisms that can help enhance digestion and reduce abdominal discomfort. They work by adding beneficial bacteria to the gut, which can help restore a healthy balance. Probiotics can be found in supplement form, as well as in yogurt and other fermented foods. Talking to your doctor before taking any supplement is important, especially if you have a pre-existing medical condition.
Anti-diarrheal Medications
Anti-diarrheal medications can be used to reduce the frequency and severity of diarrhea. These medications work by slowing down intestinal contractions and absorbing excess fluid in the intestines. Common anti-diarrhea medications include loperamide, bismuth subsalicylate, and diphenoxylate. As with all other over-the-counter medications, following the directions and speaking to a doctor if your symptoms don't improve is important.
Pain Relievers
Pain relievers such as ibuprofen can help relieve abdominal pain caused by cramps or other digestive issues. It's important to take these medications according to the instructions on the package and to speak to a doctor if your symptoms persist. Pain relievers can also have side effects, so it's important to be aware before taking them.
Read More: How to Stop Gout Pain at Night: A Comprehensive Guide
Lifestyle Changes for Settle Stomach Aches
1. Stress Management
Stress can worsen the symptoms of stomach aches, so it's important to find ways to reduce stress. This may include exercising regularly, practicing relaxation techniques such as deep breathing and mindfulness, and talking to a therapist or counselor if needed. Additionally, avoiding caffeine, alcohol, nicotine, and other stimulants can help keep stress levels in check.
2. Adequate Sleep
Getting adequate sleep is important for overall digestive health. Aim for 7-8 hours of quality sleep each night and avoid overeating late to ensure your body has time to rest and digest properly. Additionally, avoiding screens close to bedtime can help you fall asleep easier.
3. Eating Habits
Eating a balanced diet is important for overall digestive health. Try to incorporate more fiber-rich foods such as fruits, vegetables, and whole grains into your meals to help settle stomach aches. Additionally, avoiding processed or sugary snacks can help reduce digestive issues. Smaller meals throughout the day can also be easier on your digestive system than large meals.
4. Smoking and Alcohol
Limiting the amount of smoking and alcohol you consume can help reduce stomach aches. Smoking can irritate your digestive tract, while excessive drinking can lead to dehydration worsening stomach ache symptoms. If you're experiencing abdominal pain, avoiding both of these is best.
When to Seek Medical Attention
If your stomach aches persist for more than a few days, it is advised to seek medical attention. Additionally, if you experience any of the following symptoms alongside your stomach ache, such as fever, vomiting, or bloody stools, please see your doctor immediately.
Read More: Subscapularis Pain: What Causes It, and How to Relief Pain
Conclusion
In conclusion, taking steps to improve your lifestyle habits can help reduce the symptoms of stomach aches. Eating a balanced, fiber-rich diet and avoiding smoking, alcohol, and stimulants can help keep your digestive system functioning properly. If you are still experiencing abdominal pain after trying these tips, it is best to seek medical attention. By following these guidelines, you can take steps to settle your stomach aches and improve your overall health.
FAQs
How long should I wait for relief after trying these remedies? 
It may take a few days to improve your stomach ache symptoms. However, if you do not see any relief after trying these tips, it is best to seek medical attention. 
What should I do if the stomach ache persists?
A: If you have tried the remedies mentioned above for settling stomach aches and are still experiencing abdominal discomfort, it is best to seek medical attention. Your doctor can provide further advice on how to manage your symptoms. They may also recommend a course of medication or other treatments depending on the cause of the stomach ache. 
Are there any foods I should avoid when settling stomach aches? 
A: Generally, it is best to avoid processed and fatty foods as they can be difficult for the digestive system to break down. Additionally, spicy foods are known to aggravate stomach aches. Caffeine and alcohol can also harm digestion, so limiting your intake of these substances may be wise. Lastly, acidic fruits like oranges, lemons, and grapefruits can cause stomach irritation in some people. If you have difficulty settling your stomach ache, it is best to experiment with different foods until you find the ones that work for you.