The human hand is a delicate marvel of engineering, designed for various functions, from simple grasping to intricate movements that we use for tasks requiring fine motor skills. A major factor contributing to this dexterity involves an area known as the thenar eminence, which includes a group of muscles at the base of the thumb. In this article, we will focus on thenar eminence pain, diving deep into its symptoms, causes, diagnosis, and treatment, preventions.
What is the Thenar Eminence?
The thenar eminence is the rounded mound located on the palm of your hand, specifically at the base of the thumb. This small area consists of three muscles, which are:
Opponens Pollicis: Responsible for the flexing and medial rotation of the thumb.
Abductor Pollicis Brevis: Supports thumb abduction and its opposition.
Flexor Pollicis Brevis: Involved in thumb flexion and rotation.
These muscles play a pivotal role in thumb mobility, including its ability to oppose the other fingers, a movement known as opposition.
Read More: Lose Arm Fat: Effective Strategies and Exercises
Pain in the Thenar Eminence
Pain in the thenar eminence can significantly affect daily activities, given the thumb's fundamental role in hand functions. This pain often emerges from various conditions and is usually characterized by discomfort, weakness, tingling, or numbness in the thumb and adjacent fingers.
Causes of Thenar Eminence Pain
Carpal Tunnel Syndrome (CTS): As the most common cause, CTS involves the median nerve's compression as it traverses the narrow passageway in the wrist, known as the carpal tunnel. This compression can trigger thenar eminence pain, numbness, and weakness.
Trigger Thumb: This is a condition where the thumb gets stuck in a bent position due to inflammation of the tendon sheath. Pain, in this case, usually occurs at the base of the thumb.
Trauma: Any blunt force or injury to the thumb or wrist can directly impact the thenar muscles, leading to pain and limited movement.
Arthritis: Both osteoarthritis and rheumatoid arthritis can lead to ache in the thenar eminence owing to joint inflammation.
Overuse Injuries: Repetitive motions, such as typing or manual labor, can lead to inflammation and strain on the thenar muscles.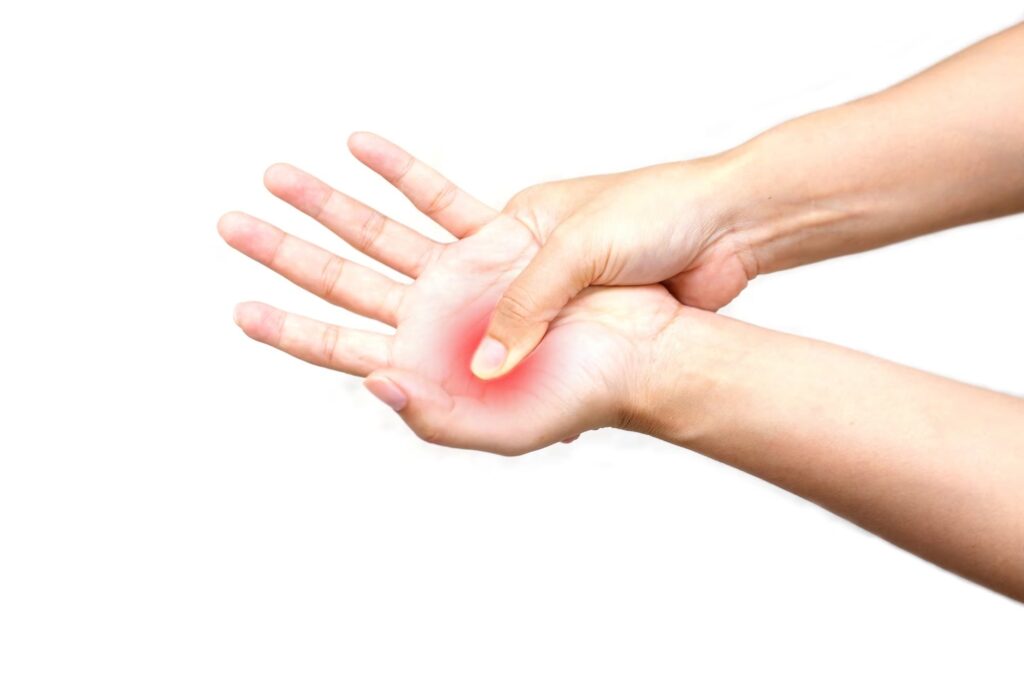 Diagnosing Thenar Eminence Pain
Diagnosing the cause of thenar eminence pain often involves a thorough physical examination paired with a detailed evaluation of the patient's medical history. Key diagnostic methods include:
Tinel's Test: This involves tapping on the median nerve in the wrist to check for tingling or pain.
Phalen's Maneuver: Involves flexing the wrist for up to a minute to see if symptoms emerge.
Electromyography: This is used for confirming CTS by detecting impaired median nerve function.
Ultrasonography: It may be beneficial in visualizing inflammation or structural abnormalities.
Read More: How to Lose a Double Chin: A Comprehensive Guide
Treating Thenar Eminence Pain
Treatment is tailored based on the underlying cause and may include conservative methods or require surgical intervention.
Conservative Treatments: These include rest, splinting, anti-inflammatory medication, corticosteroid injections, physical therapies, and therapeutic ultrasound.
Surgery: In cases where conservative treatment fails or the severity of the case demands it, surgical decompression might be necessary.
Aftercare and Rehabilitation: Physical therapy exercises are crucial for restoring hand and thumb mobility. Rehabilitation often includes strength and flexibility exercises.
Prevention Tips
Prevention is always better than cure. Several preventative strategies could help mitigate the risk of developing thenar eminence pain. These include:
Regular breaks: Avoid engaging in lengthy, uninterrupted periods of activities that involve repetitive thumb movement.
Ergonomic Design: Use tools and devices specifically designed to minimize strain on the hand, such as ergonomic keyboards and smartphone holders.
Proper Hand Posture: Ensuring correct hand positioning during manual tasks can dramatically reduce the strain placed on the thenar muscles.
Read More: Vertebrogenic Low Back Pain: Causes, Symptoms, Treatment
Exercises for Thenar Eminence Pain
There are varied exercises one can perform to help alleviate thenar eminence pain and promote muscle strength and flexibility. Remember to consult your healthcare provider before starting any exercise regimen to ensure these activities are suitable for your condition. Let's go through some of the exercises:
Thumb Flex and Extension:
Start by holding your hand upright, making sure your thumb is separated from your other fingers.
Move your thumb across your palm so it reaches towards the base of your little finger.
Hold the position for 10 seconds before releasing.
Repeat this movement 5-10 times with each hand.
Thumb Abduction and Adduction:
With your palm facing up, straighten your fingers and thumb.
Move your thumb away from your palm (abduction). Hold for 10 seconds.
Now move your thumb across your palm, in the direction of your little finger (adduction). Hold for 10 seconds.
Do 5-10 repetitions with each hand.
Rubber Band Stretch:
Place a rubber band around your thumb and fingers. Be sure the band offers some resistance but is not too tight.
Open your hand and spread your fingers, stretching the rubber band.
Hold this stretch for about 5 seconds before slowly releasing to the starting position.
Repeat this stretch 10-15 times for each hand.
Squeezing a Stress Ball:
With your elbow bent, hold a stress ball or similar object in your hand.
Squeeze the ball gently and hold this squeeze for about 5 seconds before releasing.
Do this 10-15 times for each hand.
Read More: 8 Signs Your Liver is Healing: A Comprehensive Guide
Self-Management of Pain
Weathering through the pain might not always be in your best interest, here are a few self-management tips:
Cold & Heat Therapy: Alternating cold and heat packs can assist in reducing inflammation and promoting blood circulation. Cold packs often provide immediate relief from acute pain, while heat therapy helps relax muscles and improve mobility.
Hand Stretching: Regular practice of light stretching exercises for the hands and fingers can improve flexibility and strength, minimizing the risk of injury.
Over-the-counter Medication: Non-prescription anti-inflammatory medication can provide temporary relief from discomfort.
When To Seek Professional Help
Despite these strategies, it's crucial to know when to seek professional help. Pain persisting for more than a week, an inability to perform daily tasks, visible physical deformities, increasing pain intensity, or accompanying symptoms such as tingling or numbness should warrant immediate medical attention. Remember, delaying treatment could exacerbate the condition or even lead to permanent damage.
Read More: Why Does My Back Hurt When I Breathe?: Causes and Treatments
Conclusion
In conclusion, while thenar eminence pain might be a common condition, it's far from trivial given the vital role of the thumb in hand functionality. Thus, awareness about the condition and strategies for prevention and pain management is key. However, when symptoms persist, consulting a healthcare professional is crucial to enable effective treatment, preserve hand function, and ensure good quality of life.
FAQs
Can an improper typing technique cause thenar eminence pain?
Yes, incorrect typing technique, particularly if you're typing for long periods, can lead to thenar eminence pain. This is due to stress and repetitive strain placed on the thenar muscles, which can ultimately result in inflammation and strain injuries.
What are some simple exercises to alleviate thenar eminence pain?
Hand and thumb exercises involving gentle stretching and strengthening movements can alleviate thenar eminence pain. These might include thumb flexion and extension exercises, thumb opposition stretches, and even squeezing a stress ball. However, it's recommended to discuss these exercises with a healthcare professional first, to ensure they're suitable for your circumstances.
What steps can I take at home to ease thenar eminence pain?
Basic home remedies for thenar eminence pain include applying an ice pack to the affected area to reduce inflammation, engaging in prescribed hand exercises to strengthen the thenar muscles, taking OTC anti-inflammatory drugs like ibuprofen, or using ergonomic devices that ease strain on your thumb and hand.
Can thenar eminence pain become chronic and what complications could arise?
Yes, if untreated or if the cause of the pain is continuous, such as ongoing repetitive strain, thenar eminence pain can potentially become chronic. Further complications can include permanent muscle weakness, numbness, ongoing pain, and even atrophy (a reduction in muscle mass) in severe cases. It's crucial to address this pain promptly to avoid such complications.