Introduction
Sinus pain in teeth—often called a "sinus toothache"— is a symptom that straddles the fields of dentistry and otolaryngology. Though it might initially present as a traditional toothache, the actual source is inflammation within the sinuses, a condition is known as sinusitis. This complex interplay between dental health and sinus structure prompts several questions. What causes sinus toothaches? How are they diagnosed? Plus, is there any definitive approach to their treatment? Let's delve deeper to find answers.
Understanding Sinus Toothaches
The roots of the upper teeth are in close proximity to the uses. Inflammation of the sinus membrane, caused by conditions such as sinusitis, can impact these roots, leading to an aching sensation in the upper teeth and jaw. This tooth pain is not related to any dental injury or disease but is a result of nerve pain triggered by the compression of sinus-related nerve roots. Although the back upper teeth are most commonly affected. This referred pain can, certain cases, extend to the lower teeth and jaw.
Read More: Why Your Teeth Hurt When You're Sick: Causes and Remedies
Causes of Sinus Pain in Teeth: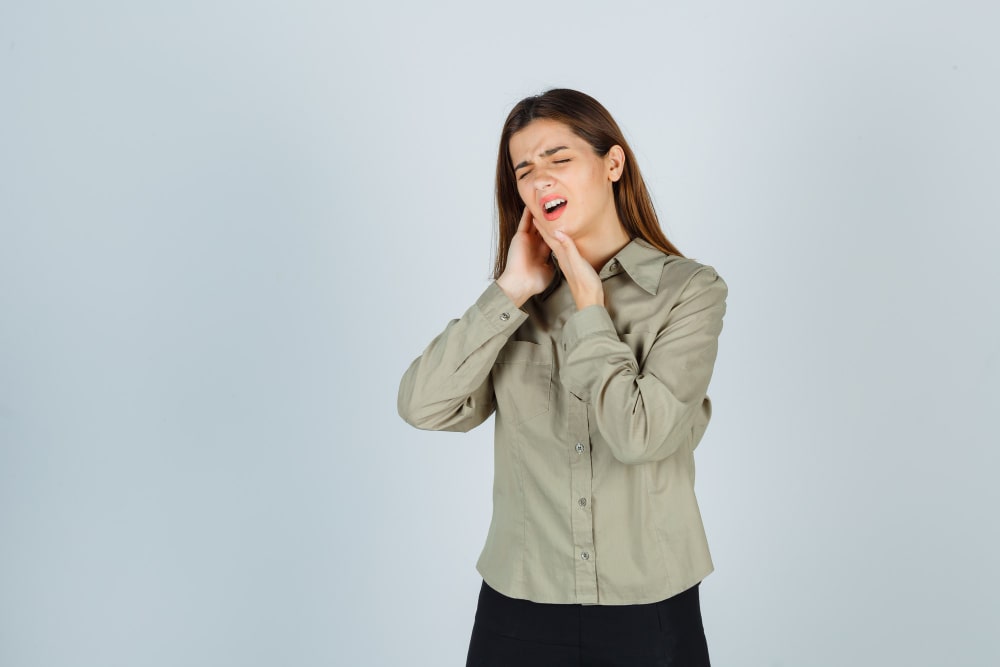 Sinusitis: Inflammation of the sinuses, commonly known as sinusitis, can surprisingly cause pain in the upper teeth and jaw. This happens because the swollen tissues near the sinuses can compress the nearby nerve roots, ultimately leading to aching pain in the upper teeth. Sinusitis, moreover, can be triggered by allergic rhinitis, frequently referred to as hay fever, or upper respiratory infections.
Sinus Pressure: When you have a sinus infection or congestion, the pressure buildup in the sinuses can cause discomfort or pain in the upper teeth. The roots of the upper teeth and jawbone are in close proximity to the sinuses. So the referred pain may be felt in the teeth.
Referred Pain: Sin tooth pain is a type of referred pain, meaning the pain is felt at a location other than where it originated. The compressed nerves near the sinuses can radiate pain to the upper teeth and jaw.
Upper Jaw Nerve Network: The network of nerves connecting the upper jaw to the lower jaw can contribute to the spread of sinus-related tooth pain. The referred pain may extend from the upper teeth to the lower teeth and jaw.
Tooth Decay and Gum Disease: While less common, toothaches can also be caused by tooth decay and gum disease. However, sinus-related tooth pain is unrelated to dental issues and is instead a result of sinus inflammation.
Symptoms of Sinusitis-Induced Toothaches
A sinus toothache is characterized by a persistent dull ache in the upper teeth. Enhanced sensitivity to hot or cold drinks, amplified discomfort during physical activities such as walking or bending over, and aggravated pain while lying down. These are additional signs associated with tooth pain derived from sinus issues. It is crucial to understand that toothaches resulting from sinusitis are frequently misidentified as tooth decay or gum disease. However, a distinguishing characteristic is that sinus-related toothaches usually impact multiple teeth at once instead of affecting a single tooth, as is typical with dental ailments.
Read More: Pineapple Juice Wisdom Teeth: Why it is Beneficial, How to Use it?
Diagnosis of Sinus Pain in Teeth
Patients experiencing seemingly inexplicable tooth pain often approach dentists first. However, a comprehensive dental examination often reveals no apparent dental issues, leading to an investigation of sinus-related problems as the potential culprit. Signs like an extended sinus, an inflamed sinus lining, and indications of sinusitis on X-ray images serve as substantial proof of a sinus-related toothache.
In situations where patients experience intense or recurring symptoms, medical practitioners might resort to conducting tests like nasal or sinus swabs, nasal endoscopy, computed tomography (CT), or allergy tests. These measures can help determine the root cause of the inflammation. The integration of medical history and clinical examinations can aid in differentiating between dental pathologies and sinus-related toothaches.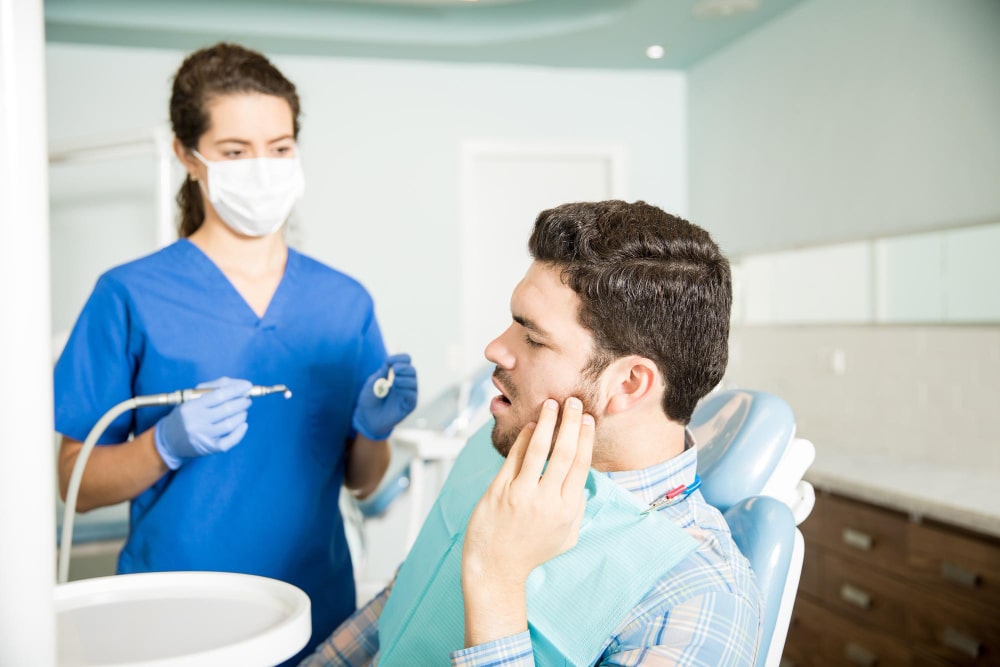 Treatment of Sinus Pain in Teeth
Home Remedies for Sinus Pain in Teeth
The first line in addressing pain in the teeth can often be home interventions that primarily aim to reduce sinus inflammation and stimulate drainage, subsequently relieving the pressure-induced tooth discomfort.
Hydration: Adequate fluid intake, in the form of water, herbal tea, or clear broths, can keep the sinus membranes hydrated, thinning out the nasal mucus and promoting drainage.
Warm Compress: The application of a warm, damp cloth to the face several times a can help soothe sinus pain and induce mucus flow.
Humidifiers: Devices such as humidifiers that raise the level of moisture in the environment can provide relief from sinus congestion. They work by dissolving mucus and assisting in the removal of blockages within the nasal passages.
Read More: 6 Best Comfortable Foods to Eat After Wisdom Teeth Removal in (2023)
Over-the-Counter Medications
Over-the-counter (OTC) medications can also alleviate sinus-induced toothaches. These drugs work effectively to lessen the inflammation in the sinuses and clear nasal blockages.
Antihistamines: For those primarily dealing with allergies, antihistamine medications, including substances like Loratadine or Fexofenadine, can be a significant help. These medications function by reducing the immune response that triggers sinus inflammation.
Anti-inflammatory medication: Nonsteroidal anti-inflammatory drugs, such as ibuprofen, serve a dual purpose. They can ease pain and decrease inflammation in the sinus tissues, providing comfort to the individual.
Decongestants: Constriction of blood flow to the inflamed sinuses is achieved via decongestants. They are available in various forms, including nasal sprays, drops, or tablets, and can alleviate inflammation in the sinuses effectively.
Saline Nasal Irrigation: Saltwater treatments can alleviate swelling by drawing water out from inflamed tissues, promoting better sinus drainage.
Prescription Medications
When the sinus toothache is persistent or severe, it might require prescribed medication, often under supervision from a healthcare provider.
Antibiotics: When a bacterial infection is the root cause of sinusitis, antibiotics might be prescribed to eliminate the infectious agent.
Immunotherapy: For long-term allergies causing repeated cases of sinusitis, immunotherapy may be recommended. This involves exposing the person to incrementally increasing doses of allergy-causing substances, reducing their sensitivity and subsequent immune response.
Specialist Care In cases where sinusitis is chronic, severely impacts the person's quality of life, or leads to persistent sinus-induced toothache. The individual might be referred to a specialist, an otolaryngologist (ear, nose, and throat doctor). Besides initial medical therapy, the specialist might suggest surgical intervention if required, like functional endoscopic sinus surgery (FESS) to remove obstructions and improve mucus clearance and breathing.
Read More: 10 Best Ways For Tooth Abscess Pain Relief Fast: Quick Comfort
Conclusion
Sinus toothache, a fascinating intersection between dental health and sinusitis, can significantly affect an individual's quality of life. Understanding the interplay between these areas is an integral part of not only diagnosing but also form a comprehensive treatment plan. As sinus pain can often materialize as a toothache, awareness about this phenomenon can help in prompt diagnosis and treatment, saving patients from unnecessary dental interventions and prolonged discomfort. Moreover, the integrated approach towards the treatment of sinusitis-induced toothache exemplifies the importance of considering the interconnectedness of our body systems when diagnosing symptoms and planning for effective treatment.
FAQs
Can sinusitis cause tooth pain?
Yes, sinusitis can cause tooth pain. The inflammation and swelling of the sinuses can lead to pressure on the neighboring nerve roots, resulting in tooth pain.
How can I differentiate between a sinus toothache and a regular toothache?
Sinus tooth pain is primarily felt in the upper molars and can affect multiple teeth instead of just one. It is often accompanied by other sinus infection symptoms such as congestion, runny nose, and facial tenderness.
What can I do to alleviate sinus tooth pain?
Treating the underlying sinus inflammation is key to easing sinus tooth pain. Certain home strategies can help soothe the discomfort of sinus symptoms. Ensuring you stay hydrated, applying heat to your face via warm compresses. Using humidifiers, and doing saline nasal irrigations can all offer relief. Over-the-counter drugs like decongestants and antihistamines can also be useful.
Can a sinus infection affect the eyes or the brain?
Yes, a severe sinus infection can potentially affect the eyes or the brain. Complications such as facial skin infections, optic nerve involvement, brain abscess, meningitis, or sinus thrombosis can occur, although they are rare. It is important to seek medical attention if you experience persistent or worsening symptoms.