When grappling with sickness, an additional complication of an aching tooth can enhance discomfort. For many people, teeth hurt is a common symptom of being sick. In this article, we explore why your teeth hurt when you are sick, the link between sickness and tooth pain, contributory factors such as sinus pressure, and fever, and effective remedies to alleviate pain.
The Connection Between Sickness and Tooth Pain
Sinus Pressure and Tooth Pain
The proximity of your sinuses to the roots of your upper teeth is one reason why you might experience tooth pain when you're not feeling well. As your sinuses inflate and congest due to the ailment, they exert pressure on your tooth roots, leading to pain. This sensation is especially pronounced when you lie down or bend over.
Your maxillary sinuses situated in your cheekbones closely neighbor your upper teeth. Therefore, the pain you feel in your teeth might originate from distress in your sinuses—a phenomenon known as referred pain. Additionally, sickness can prompt the expansion of blood vessels in your gums, triggering inflammation and pain, and when combined with sinus pressure, might exacerbate tooth pain.
Read More: Wisdom Tooth Pain in Jaw: What Causes it, How to Prevent It?
Remedies for Sinus-Induced Tooth Pain:
Utilize over-the-counter pain relievers, such as acetaminophen or ibuprofen.
Apply a warm compress to your face to reduce sinus pressure.
Use a saline nasal spray for decongestion.
Elevate your head while sleeping to reduce sinus pressure.
Maintain hydration to thin mucus and alleviate congestion.
Fever and Tooth Pain
Fevers connected with ailments can also induce tooth pain. As your body warms up, your gums' blood vessels expand, potentially inflaming and hurting your gums. Moreover, increased blood flow can make your tooth nerves more susceptible to pain.
When running a fever, your body scrambles to combat the infection, activating your immune system. This response escalates blood flow, causing dilation in blood vessels, which can result in inflammation and pain in various body parts, including your gums and teeth.
Read More: Pineapple Juice Wisdom Teeth: Why it is Beneficial, How to Use it?
Remedies for Fever-Induced Tooth Pain:
Over-the-counter pain relievers can help.
Stay hydrated by drinking ample water.
Keep the fever in check using fever-reducing medicine, like acetaminophen.
Rinse your mouth with warm salt water to reduce gum inflammation.
Gently brush your teeth to eliminate plaque or bacteria, which could intensify pain.
Remember, tooth pain caused by a fever is commonly short-lived and subsides once the fever does. However, persisting or intense tooth pain could signal an underlying dental issue like a cavity or infection, necessitating a dental consultation.
If your fever results from a bacterial infection, your dentist or doctor might prescribe antibiotics, assisting in infection treatment and pain relief. It's critical to adhere to proper self-care guidelines when ill to alleviate discomfort and expedite recovery.
Read More: 10 Best Ways For Tooth Abscess Pain Relief Fast: Quick Comfort
Causes of Teeth Hurt When Sick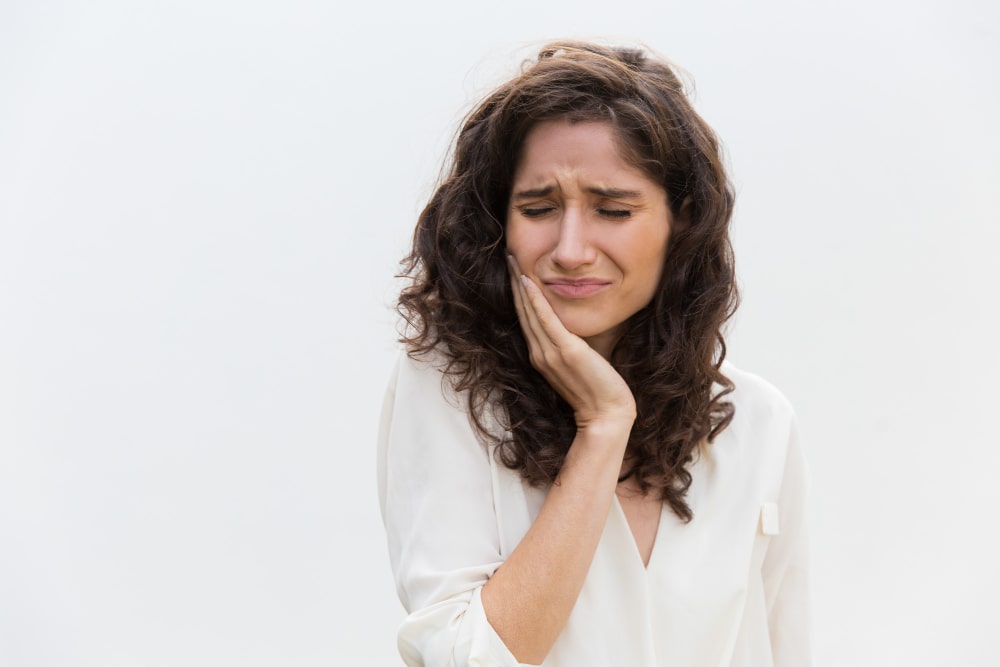 Gum Disease: Infections such as gingivitis and periodontitis can cause inflammation in the gums, leading to mild or severe pain. If pain intensifies, the infection may be in its advanced stages.
Tooth Decay: Plaque, a sticky layer of bacteria forming on tooth enamel, can gradually erode the outer surface leading to cavities. If this decay reaches the inner tooth layer/dentin, it can cause sensitivity and pain.
Sensitive Teeth: Cavities, worn fillings, receding gums, or cracked teeth can lead to exposed dentin. The subsequent sensitivity can cause quick sharp pain upon exposure to triggers such as cold air or dental cleaning.
Bruxism: If you grind your teeth while asleep or awake, the constant clenching and grinding may lead to tooth sensitivity, cracks, facial pain, or even temporomandibular joint disorder (TMJ).
Cracked Tooth: A cracked tooth can cause sharp pain, temperature sensitivity, and discomfort while chewing. Cracks can occur due to trauma, severe teeth grinding, or pressure from biting down on something hard.
Tooth Abscess: An untreated cavity or pulpitis (inflammation of the pulp) might lead to dental abscess, a painful condition emanating from an accumulation of bacteria in the pulp chamber.
Read More: 6 Best Comfortable Foods to Eat After Wisdom Teeth Removal in (2023)
Signs That Demand Professional Help
The severity of tooth pain is not always an accurate reflection of the severity of the problem, making it challenging to identify when tooth pain signals a serious issue that warrants a dental consultation. You should see a dentist if:
The tooth pain persists for over two days
The pain is severe
You have a fever, earache, or pain when open your mouth wide
You're experiencing difficulty swallowing or breathing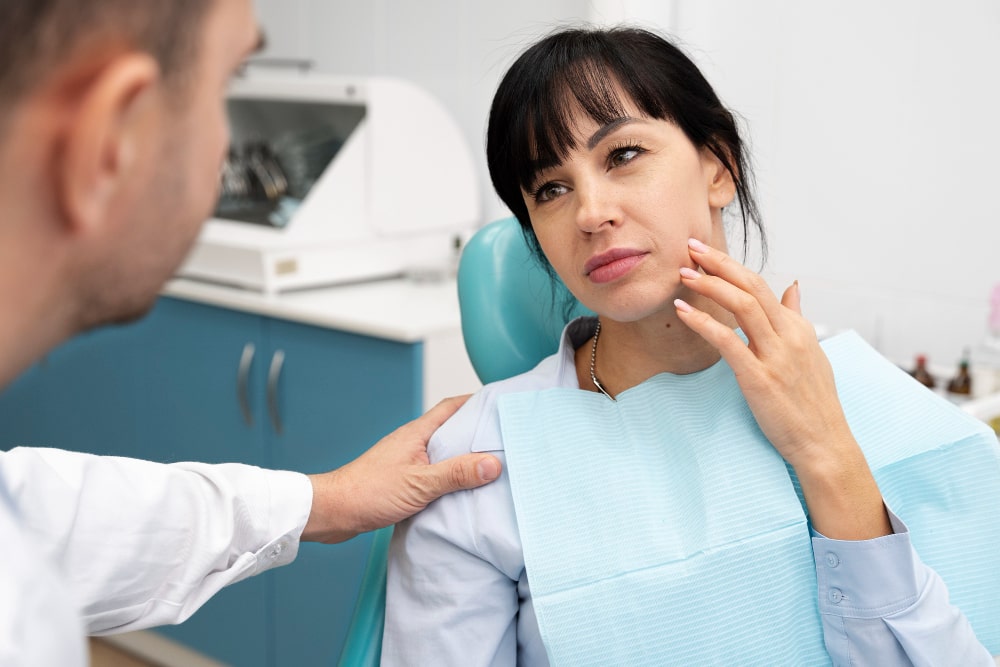 Read More: 7 Effective Home Remedies for Abscess Tooth in (2022)
Treatment Options for Tooth Pain
Your dentist will diagnose the cause of the tooth pain and provide appropriate treatment that could include:
For Infections: For infections, such as a cavity, dental abscess, or gum disease, your dentist may prescribe antibiotics to combat and prevent the spread of the infection.
For Tooth Decay or Cracks: If tooth decay or a cavity is the cause, your dentist could fill or extract the decayed tooth. For a cracked tooth, your dentist might suggest a crown.
For Bruxism: For bruxism-related toothaches, your dentist may recommend wearing a mouth guard at night to prevent grinding.
For Pulpitis or Tooth Abscess: Severe pulpitis or a dental abscess may require root canal therapy, where the infected pulp is removed, and the inside part of the tooth is cleaned and sealed.
Conclusion
While a teeth hurt when you're sick be uncomfortable, it is often temporary. Employing some of the remedies mentioned above can help alleviate discomfort. However, always consult a healthcare professional if toothache persists, as it may be a sign of a serious underlying dental condition. Underlying all of this, taking care of yourself while sick is crucial.
Read More: 6 Natural Antibiotics for Tooth Infection: Causes, Symptoms
FAQs
1. Can a sinus infection really cause tooth pain?
Yes, sinus congestion and pressure can extend to your teeth, causing discomfort, especially in the upper teeth.
2. How can I prevent tooth sensitivity when I'm sick?
Staying hydrated and avoiding extreme temperature changes in your diet can help reduce tooth sensitivity during illness.
3. Is it normal for my teeth to ache during a cold or flu?
It's relatively common for teeth to hurt when you're sick due to various factors, but it's essential to monitor the pain and seek professional advice if it persists.
4. Should I still brush my teeth when I'm too sick to move?
Yes, maintaining oral hygiene is crucial even when you're sick. Consider using a soft-bristle toothbrush if your gums are sensitive.
5. When should I see a dentist for teeth hurt when sick?
If your tooth pain is severe, persistent, or accompanied by other concerning symptoms, it's advisable to consult a dentist for a thorough evaluation and appropriate treatment.