The shoulder is a complex joint made up of three bones and several muscles, tendons, and ligaments. Commonly associated with injury or arthritis, shoulder pain can be quite debilitating for many people. One type of shoulder pain that is commonly experienced is burning shoulder pain, which can range from mild to severe. In this article, we will discuss the various causes and symptoms of burning pain in the shoulder, as well as treatment options that can help to alleviate discomfort.
What is Shoulder Pain? 
Shoulder pain is a common complaint among many individuals, with symptoms ranging from mild to severe. The cause of shoulder pain can be linked to numerous factors, such as injury or overuse of the joint, age-related degeneration, or inflammation. In some cases, shoulder pain can be associated with medical conditions, including bursitis, rotator cuff tears, and arthritis.
Common Causes of Burning Pain in the Shoulder
Burning shoulder pain is a type of shoulder discomfort that can have numerous causes. An injury to the muscles, tendons, ligaments, or other soft tissues around the shoulder joint typically causes it. Overuse of the shoulder joint can also result in burning pain, as can age-related degeneration and inflammation. Medical conditions such as rotator cuff injury, bursitis, arthritis, and tendonitis can also cause burning pain in the shoulder. 
Read More: Shoulder Acne: Common Causes, Home Remedies, Prevention
Symptoms Associated with Burning Shoulder Pain
Burning shoulder pain can be accompanied by some symptoms besides the burning sensation. These may include sharp or dull sensations, stiffness, swelling, weakness in the arm or hand, numbness in the fingers or palm, and difficulty moving the affected area. Depending on the underlying cause of the pain, other symptoms such as fever or chills may also be present.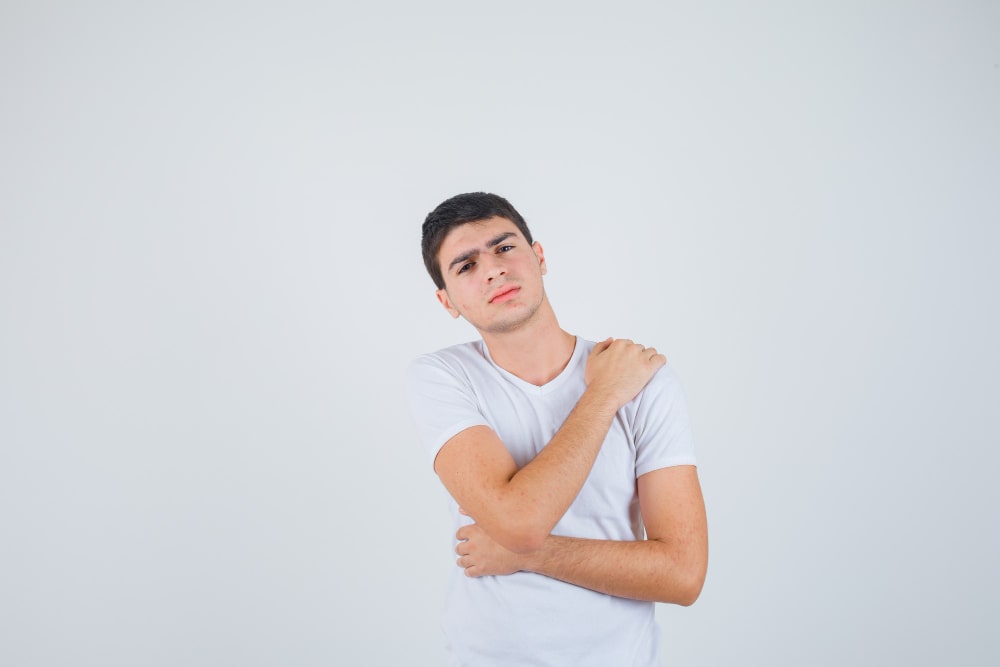 Diagnosing the Underlying Cause
To properly diagnose burning pain in the shoulder and identify its cause, a physical exam and imaging tests may be necessary. During the physical exam, your doctor will assess your range of motion, look for signs of inflammation or injury, and palpate (feel) for any tenderness or swelling. Imaging tests such as X-rays, MRI scans, and ultrasound may be used to evaluate further the shoulder joint and surrounding soft tissues.
Medical Conditions Linked to Shoulder Pain
Several medical conditions can cause burning pain in the shoulder, including rotator cuff tears, bursitis, tendonitis, arthritis, and impingement syndrome.
Rotator cuff tears can cause severe pain in the shoulder, particularly during activities that involve overhead motion.
Bursitis is an inflammation of the bursa (fluid-filled sacs) around the shoulder joint, which can cause localized pain and tenderness.
Tendonitis occurs when the tendons that connect muscles to bones become inflamed, resulting in pain and difficulty with everyday tasks.
Arthritis is a condition that causes deterioration of the joint cartilage, causing stiffness and pain.
Impingement syndrome is caused by inflammation of the tendons due to overuse or injury, leading to shoulder pain and weakness. 
Read More: 10 Best Ways For Tooth Abscess Pain Relief Fast: Quick Comfort
Lifestyle Factors and Shoulder Pain
Lifestyle factors such as poor posture, inadequate rest, or overtraining can sometimes contribute to burning shoulder pain. It is important to maintain proper posture when sitting, standing, and sleeping to avoid putting unnecessary strain on the joints.
It is also important to get adequate rest between workouts or other physical activities to give the body time to recover. Additionally, it is important to understand your limits and avoid overtraining or pushing yourself too hard. 
Treatment Options for Burning Shoulder Pain
Treatment for burning shoulder pain depends on the underlying cause. In some cases, rest and physical therapy are enough to alleviate discomfort. Pain medications such as non-steroidal anti-inflammatory drugs (NSAIDs) or corticosteroids may be prescribed to reduce inflammation and relieve pain. Other treatments include therapeutic injections, ultrasound or electrical stimulation, and even surgery in severe cases.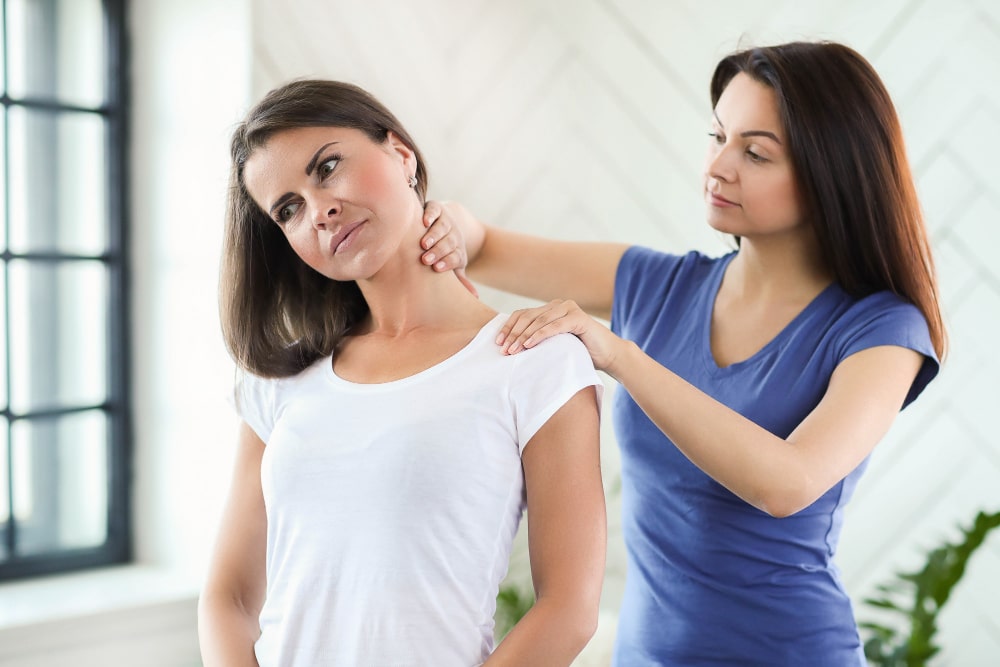 Physical Therapy and Exercise
Physical therapy is an important part of treatment for burning shoulder pain. Exercises focused on strengthening the muscles around the shoulder joint can help restore the range of motion and reduce pain. If necessary, your physical therapist may also recommend other treatments, such as ultrasound to reduce inflammation or electrical stimulation to improve muscle strength. 
Read More: Back Pain After Eating: What Causes It, How to Prevent It?
Medications for Pain Relief
If over-the-counter medications are not enough to provide relief, your doctor may prescribe stronger pain relievers or anti-inflammatory drugs. These medications can help reduce inflammation and manage pain in the shoulder area. It is important to follow your doctor's instructions regarding dosage and use of these medications to avoid any potential side effects. 
Surgical Intervention for Shoulder Pain
In some cases, surgery may be necessary to treat underlying conditions causing burning shoulder pain. This could include repairing a rotator cuff tear or other structural damage to the shoulder joint. Before undergoing any surgical procedure, discussing the risks and benefits with your doctor is important. 
Read More: Sinus Infection Ear Pain: What Causes It and How to Treat?
What are some alternative therapies for shoulder pain?
In addition to physical therapy and medications, there are some alternative therapies that may help relieve shoulder pain.
Acupuncture is an ancient Chinese healing art that involves inserting thin needles into the skin at specific points to improve circulation and reduce inflammation.
Chiropractic care is another option for treating shoulder pain; this involves manually manipulating the spine to restore balance to the body and relieve pain.
Massage therapy can also be beneficial for reducing tension in the muscles and improving range of motion.
Mind-body techniques such as yoga, tai chi, or meditation may help reduce stress and improve overall well-being.
All of these treatments can help alleviate symptoms associated with burning shoulder pain. It is important to work with your doctor or healthcare provider to determine the best treatment for your needs.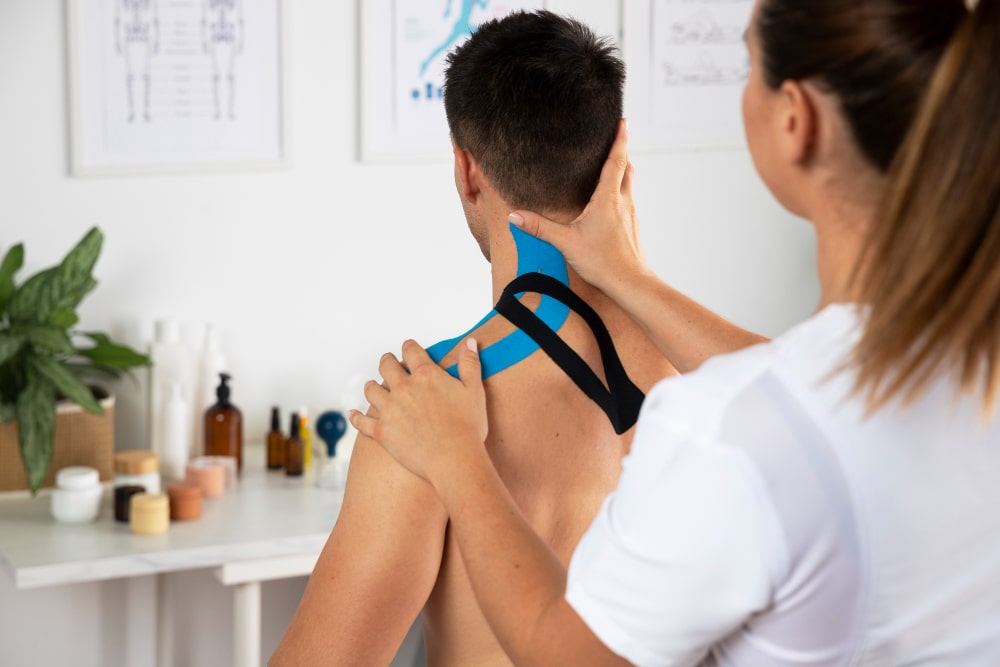 What are some home remedies for burning shoulder pain?
In addition to medical treatments, there are several home remedies that can help alleviate burning shoulder pain. Cold or heat therapy can reduce inflammation and discomfort in the affected area. Over-the-counter analgesics such as ibuprofen or acetaminophen may also provide relief. Additionally, massaging the shoulder area or performing gentle stretches may reduce tightness and improve the range of motion in the joint. 
Read More: Sharp Pain in Leg: What Causes It and How to Treat?
How can I prevent burning shoulder pain?
There are several steps that can be taken to help prevent burning shoulder pain. Maintaining posture during daily activities, such as sitting or sleeping, is important for avoiding excess strain on the shoulder joint. Stretching and strengthening exercises can also help maintain flexibility and strength in the shoulder area. Additionally, it is important to allow enough time between physical activities for the body to rest and recover. These tips can help you avoid shoulder pain and enjoy an active lifestyle.
Lifestyle Changes for Shoulder Pain Relief
Making lifestyle changes can have a positive effect on shoulder pain. Eating a balanced diet, getting sufficient rest, and avoiding activities that may aggravate the condition is important for managing symptoms. It is also beneficial to find ways to reduce stress levels; this could include taking up a new hobby or going for a walk after work. Additionally, engaging in regular exercise can help maintain strength and flexibility in the muscles surrounding the shoulder joint. Making small lifestyle changes can have a significant impact on shoulder pain management. 
Read More: How to Relieve Hernia Pain? Cause, Symptoms, Treatment
When should I see a doctor for burning pain in my shoulder?
If you are experiencing burning shoulder pain, it is important to seek medical advice. While many cases of shoulder pain can be managed with home remedies or physical therapy, it is important to rule out any underlying conditions that could be causing the pain. Seeing a doctor can help determine the cause of your shoulder pain and ensure you receive the appropriate treatment. If your shoulder pain persists despite home remedies or self-care, visit your primary care physician or orthopaedic specialist. Getting prompt medical attention can help reduce further damage to the shoulder and relieve pain.
FAQs
Can stress cause burning in the shoulder?
Yes, stress can cause burning in the shoulder. Stress often leads to tension in the muscles surrounding the shoulder joint, leading to pain and discomfort. 
Is there a link between shoulder pain and diet?
Yes, there is a potential link between shoulder pain and diet. Eating an anti-inflammatory diet rich in fruits, vegetables, lean protein, and healthy fats can help reduce inflammation in the body, leading to lessened pain symptoms. Additionally, avoiding processed foods and consuming adequate amounts of vitamins and minerals can help promote overall health. 
Does exercise help with shoulder pain?
Yes, exercise can be beneficial for relieving shoulder pain. Regularly performing stretching and strengthening exercises as instructed by your doctor or physical therapist can help maintain flexibility and strength in the muscles surrounding the shoulder joint. Additionally, engaging in aerobic activity can help reduce stress levels which may reduce pain. However, it is important to note that exercises should always be performed at a level that feels comfortable and does not cause further discomfort. If you are still determining which exercises are safe for you to do, consult with your doctor.