Ear pain is one of the many symptoms that can be caused by sinus infection, often known as sinusitis. Infected or inflamed sinuses can impact the tissues and structures nearby, causing discomfort and agony in various places, including the ears. In this article, we will explore the causes, symptoms, and treatment options for sinus infection and ear pain.
What is Sinus Infection?
Sinuses are hollow spaces in the facial bones that surround the nose that can develop an infection or inflammation. These infections can be brought on by a number of conditions, such as allergies, bacterial, fungal, viral, or fungi infections, as well as structural problems. Pressure increases in the sinuses due to congestion or mucus buildup, which causes pain and discomfort. This pressure may occasionally reach the ears, resulting in ear discomfort and other associated symptoms.
Anatomy of the Sinuses and Ears
Understanding the anatomy of the sinuses and ears is crucial to comprehend the relationship between ear pain and sinus infections. The nasal passages are connected to the sinuses, which are hollow cavities filled with air and covered with a mucous membrane. The outer, middle, and inner ear are the three primary components of the ears. The Eustachian tube, a little tube that runs from the middle ear to the back of the throat, aids in pressure regulation and fluid drainage from the ear.
Read More: Essential Oils for Sinus Infection: Quick Healing Naturally
How Can Sinus Infections Lead to Ear Pain?
The Eustachian tube may get blocked during a sinus infection due to the swelling and inflammation in the sinuses. Making it difficult for the tube to drain fluids and equalize the pressure as it should. As a result, discomfort or a sense of being overly full may develop in the ears. Barotrauma, as this condition is often known, is frequently brought on by flying or changing altitudes. A secondary ear infection may result from spreading from the sinuses to the ears, aggravating the pain and discomfort.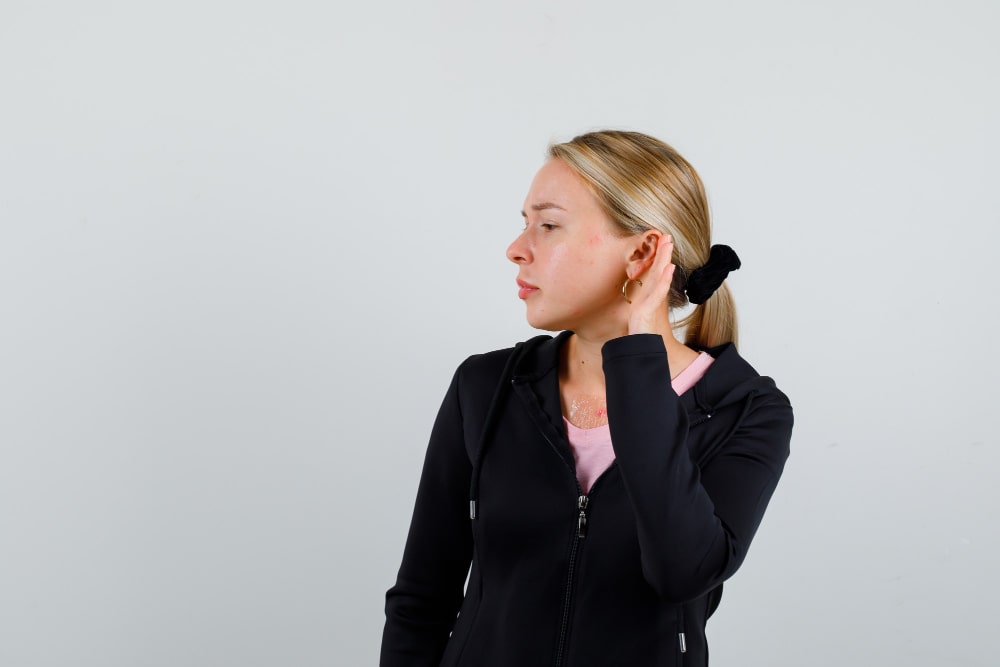 Symptoms of Sinus Infection Ear Pain
Sinus infection ear pain can manifest in several ways. Common symptoms include:
Earache or ear pain
A feeling of fullness or pressure in the ears
Reduced hearing or muffled sounds
Tinnitus (ringing in the ears)
Dizziness or vertigo
Headache or facial pain
Nasal congestion or discharge
It's important to note that these symptoms can also cause by other conditions, such as middle ear infections or temporomandibular joint (TMJ) disorders. Consulting a healthcare professional for an accurate diagnosis is crucial.
Read More: Sinus Massage: 4 Best Techniques to Cure Pain
Diagnosing Sinus Infection and Ear Pain
Healthcare providers often begin by taking a thorough medical history and conducting a physical examination when examining sinus infection and ear pain. They will ask about any pertinent medical illnesses or allergies, as well as the kind of symptoms you are experiencing and how long they have been going on. The examination could involve looking for inflammation or infection in the throat, nose, and ears.
In some circumstances, additional diagnostic tests could require to confirm the diagnosis or determine the underlying reasons. Imaging tests, such as CT scans or MRIs, may be a part of these examinations to see the sinuses and look for any anomalies or indications of infection.
How to Treat Sinus Infection Ear Pain?
The underlying cause and severity of the problem will determine how to manage ear pain from a sinus infection. Smaller instances frequently get better on their own or with self-care techniques. Here are a few regularly used therapy options:
Self-care techniques: Symptoms can relieve by resting, drinking plenty of water, using warm compresses, and taking over-the-counter painkillers.
Sinus infection medications: To lessen inflammation, ease congestion, and treat infections, doctors may prescribe decongestants, nasal sprays, antihistamines, or antibiotics.
Sinus Irrigation: Using a saline solution to flush the sinuses clear of mucus and allergens relieves symptoms and speeds up the healing process.
Surgical Interventions: In severe or persistent instances, when non-surgical procedures like balloon sinuplasty or endoscopic sinus surgery fail to improve sinus outflow and relieve symptoms, surgery may be considered.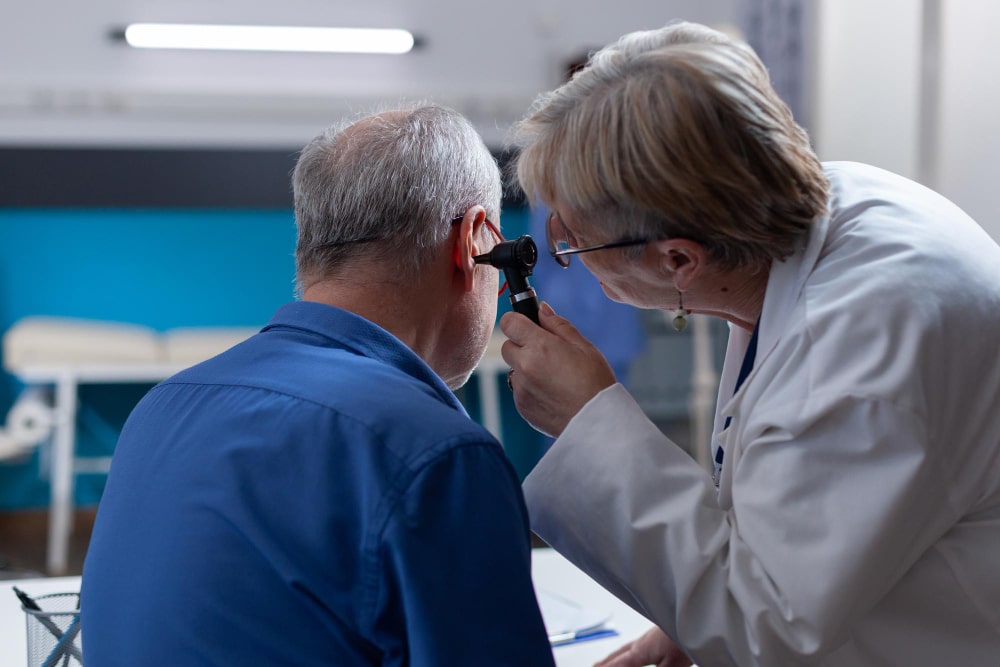 Read More: Sharp Pain in Leg: What Causes It and How to Treat?
Preventing Sinus Infections and Ear Pain
Preventative steps can help lower the likelihood of sinus infections and the ear pain they cause. Think about the following tactics:
Changes in Lifestyle: A robust immune system and lowering risk of infections can support by avoiding irritants like cigarette smoke and maintaining a healthy lifestyle.
Hygiene Practices: Practise good hygiene by routinely washing your hands and using saline nasal sprays to keep your nasal passages wet. This can help stop the transmission of illnesses.
Allergy Management: Management of allergens can help avoid recurring sinus infections because of allergies, which can aggravate sinus inflammation.
Home Remedies for Sinus Infection Ear Pain
Warmth Compress: Use a warm compress on the troubled ear to ease discomfort and encourage drainage. For 10 to 15 minutes, gently press a clean towel soaked in warm water on the ear.
Saline Nasal Rinse: Rinse your nasal passages with a saline solution. This helps relieve ear pressure by encouraging nasal drainage and clearing congestion. A saline nasal spray is available at pharmacies, or you can make your own by combining salt and warm water.
Steam Inhalation: Inhaling steam might help soothe congestion by moistening the nasal passages. To capture the steam, pour boiling water into a basin and bend over it while wearing a towel over your head. For five to ten minutes, inhale the steam.
Elevation: To promote nasal drainage and lessen pressure in the ears while you sleep, elevate your head by using additional pillows.
Hydration: Drink plenty of liquids to stay hydrated and prevent dehydration to thin mucus. Warm beverages, such as herbal teas or soups, are preferable because they help you feel better overall.
Avoid Triggers: Steer clear of irritants that might exacerbate sinus problems and cause ear pain, such as cigarette smoke, potent perfumes, and allergies.
Gentle Nasal Massage: Gently massage your nose, cheeks, and temples with your fingertips. This can ease discomfort and encourage sinus drainage.
Relaxation: Relaxation is essential for lowering general inflammation and accelerating healing. Ensure you sleep enough and practise relaxation techniques like deep breathing or meditation.
When to Seek Medical Attention
While many cases of sinus infection and ear pain can treat at home, some warning signs demand that you see a doctor. Immediately seek medical help if you experience the following:
Severe or worsening pain
High fever
Severe headache or facial swelling
Changes in vision
Persistent dizziness or vertigo
Signs of a secondary ear infection
Consulting a healthcare professional is essential for a proper diagnosis and appropriate treatment.
Read More: How to Relieve Hernia Pain? Cause, Symptoms, Treatment
Conclusion
Sinus infection Ear discomfort is a painful sign of sinusitis. Effective therapy depends on being aware of the link between sinus infections and ear pain, identifying the symptoms, and getting the right care. People can lessen the negative effects of sinus infections on their ear health by taking preventive steps and rapidly treating any troubling symptoms.
FAQs
Can ear pain from sinus infections occur without congestion?
Yes, even in the absence of severe nasal congestion, sinus infections can result in earache. Eustachian tube damage from sinus inflammation and pressure buildup can result in earache.
How long does sinus infection and ear pain last?
Depending on the infection's severity and personal characteristics, sinus infection ear pain length varies. With the right care, symptoms usually subside within a few days to a few weeks.
Can over-the-counter drugs help with ear pain from a sinus infection?
Decongestants and over-the-counter painkillers can temporarily ease the discomfort caused by a sinus infection in the ear. However, it's crucial to speak with a medical expert for a correct diagnosis and advice on the best course of action.
Do sinus infections spread easily?
In most cases, sinus infections are not contagious. However, underlying viruses or bacteria that cause sinus infections can spread easily.
Can chronic sinus infections cause permanent damage to the ears?
If chronic sinus infections are not treated, problems may develop. Rarely, these issues may impact the ears and maybe harm them permanently. To avoid such issues, it is imperative to seek medical care as soon as possible.