Do you also have sharp pains in your leg? This pain can bother you and affect your daily activities. And it can also make it difficult for you to walk. Many people feel this pain. This pain occurs due to various reasons. Some causes can be serious. It is easy to treat by understanding its symptoms. In this article, we will talk about every essential treatment to reduce sharp pain in leg. And I will also give you the reasons and symptoms which will help you.
What is sharp leg pain?
A sharp pain in the legs is a pain that can suddenly turn your smile into a stabbing sensation. It can start suddenly and keep you in pain for a long time. Sharp pain in leg is usually felt more on the thighs, calves, or calves. It doesn't have to be while moving, but it can also start while resting. Most muscle tension, nerve pressure, blood loss, or injury is caused by distance. It is better to consult a doctor for proper treatment.
Read More: How to Relieve Hernia Pain? Cause, Symptoms, Treatment
What causes sharp pain in leg?
There are numerous potential causes of sharp leg pain, including:
Muscle strain
A muscle strain occurs when you do excessive physical activity. It is also called a stretched tendon. This is a major cause of leg pain. Muscle tension can also occur while exercising. It can also cause by lifting more weight while playing. Muscle strains can also affect different leg muscles, such as the quadriceps, hamstrings, or calf muscles.
Nerve compression
Nerve compression is a condition that causes pain down the leg. Conditions such as herniated discs, spinal stenosis, or piriformis syndrome put pressure on the lower back or hip nerves. This type of pain is often described as a shooting or burning sensation.
Peripheral Artery Disease (PAD)
Peripheral artery disease is a circulatory disorder that causes narrowing or blockage of blood vessels in the legs. When the blood flow to the leg muscles is reduced, it causes sharp pain in the legs. It weakens the legs, which causes pain.
Deep Vein Thrombosis (DVT)
Deep vein thrombosis occurs when a blood clot forms inside the veins of the leg. This condition causes swelling, warmth and redness in the affected area. It causes severe leg pain. If not treated in time, this clot can dislodge and reach the lungs, which can be fatal.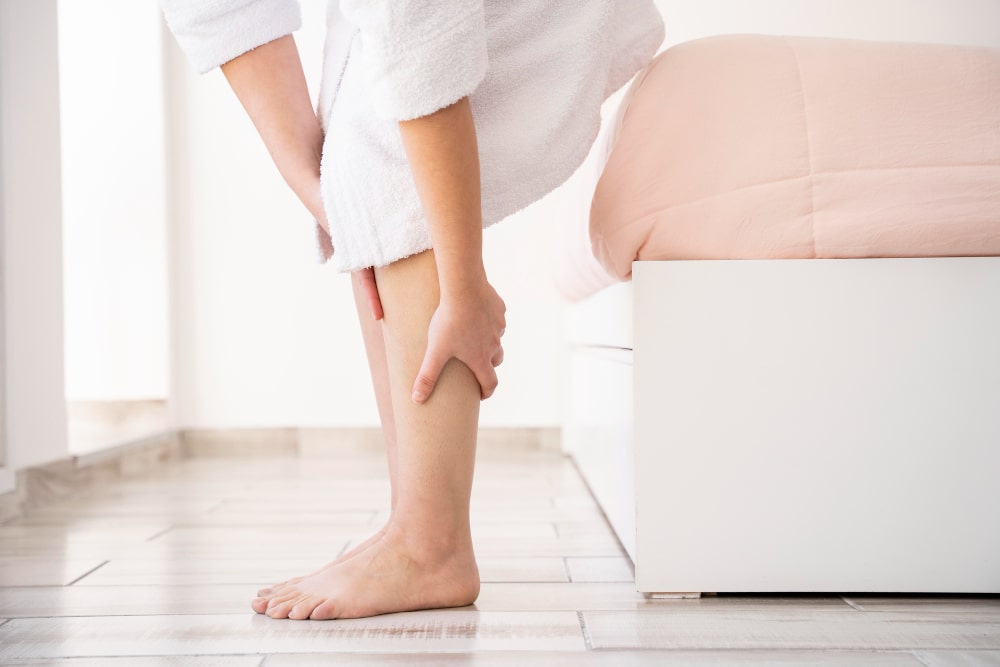 Read More: Burning Pain in Knee: What Causes It and How to Relief
Stress Fracture
A stress fracture occurs when too much force is applied to the bone. This causes small cracks in the bone that can make you uncomfortable. These fractures are usually caused by repetitive activities.
Sciatic nerve
The sciatic nerve is compressed in a condition known as sciatica. Pain in the lower back that travels down the leg is caused by this. The hips also contribute to further pain in the back of the leg. As a result, the muscles become numb and weak.
Restless leg syndrome (RLS)
A neurological condition known as restless leg syndrome (RLS) is characterized by moving the legs and pain in the lower back.
Varicose veins 
Varicose veins tend to enlarge because they put more pressure on the surrounding tissue. And the veins swell, which can cause severe leg pain.
Osteoarthritis 
Osteoarthritis is a disorder that causes inflammation in the joints, which causes pain and stiffness in the legs.
Gout 
Gout is a type of arthritis. This sharp pain is caused by the accumulation of uric acid crystals in the joints.
Read More: Forearm Muscle Pain: What Causes It and How to Find Relief
What are the symptoms of sharp pain in leg?
The most common symptom of sharp leg pain is a stabbing sensation in the affected area. Other symptoms may include
Swelling 
Numbness 
Tingling 
Burning sensations
Muscle weakness 
Difficulty walking 
How is a sharp pain in leg diagnosed?
A doctor often performs a physical examination and analyzes the patient's medical history. To find out the cause of severe leg pain. To help with the diagnosis, the doctor may order an imaging test such as an X-ray, MRI, or CT scan. Blood tests may do to rule out conditions such as infection or inflammation.
Treatment Options for Sharp Leg Pain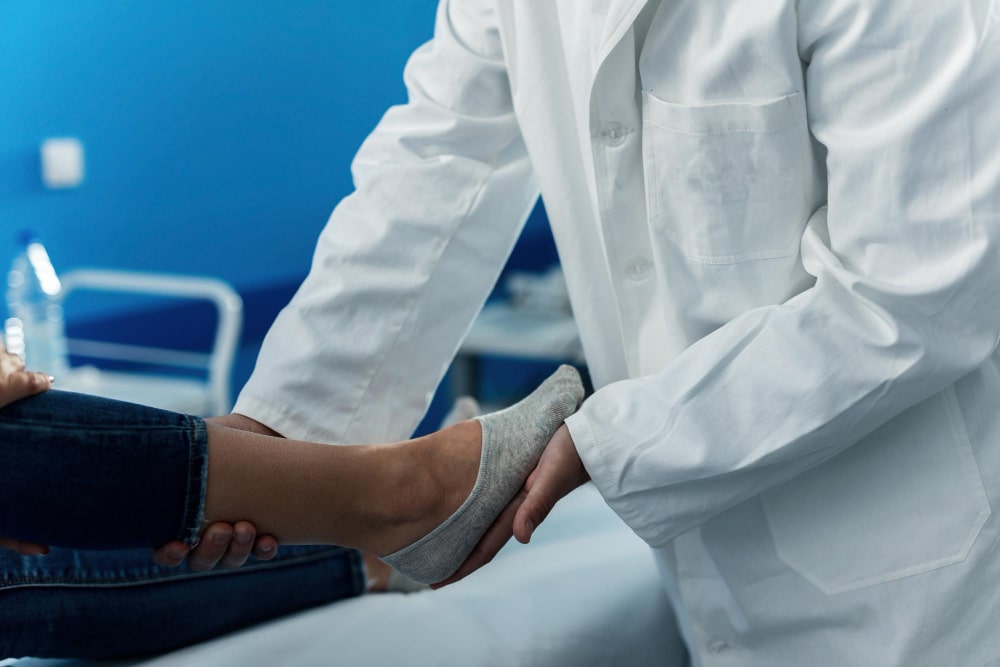 The treatment of sharp leg pain depends on the underlying cause. Common treatments include:
Rest and Ice – Resting and applying ice to the area can help reduce inflammation, swelling, and sharp pain in leg.
Medications – Over-the-counter or prescription medications may use to manage symptoms of shooting pain in leg, such as inflammation, pain, and swelling. 
Physical Therapy – A physical therapist can help design an exercise program to strengthen the muscles that support the leg and improve overall mobility. Stretching exercises can also help reduce shooting pain in leg. 
Exercise and Stretching – Regular aerobic exercise and stretching of the affected area can help improve flexibility and reduce pain.
Supportive Devices – Special devices such as braces, orthotics, or cushions can help reduce pressure on the affected area and support the leg.
Alternative Therapies – Acupuncture, massage therapy, chiropractic care, and yoga may use to manage shooting pain in leg. 
Surgical Interventions – In severe cases, surgery may be necessary to treat the underlying cause of sharp leg pain.
Lifestyle Modifications – Maintaining a healthy weight and avoiding activities that cause shooting pain in leg can help prevent the worsening of symptoms. 
Read More: Stomach Pain After Sex: Causes, Symptoms, and Remedies
What can I do to prevent sharp pain in my leg?
Sharp leg pain can prevent by following these tips: 
Stay active and exercise regularly. 
Stretch before and after exercising. 
Avoid activities that cause shooting pain in the leg. 
Wear supportive footwear to reduce strain on the legs. 
Maintain a healthy weight to reduce stress on the joints and muscles. 
Take regular breaks when engaging in repetitive activities. 
When should I seek medical attention for shooting pain in my leg? 
Sharp leg pain should not ignore, as it can signify a more serious underlying condition. It is important to seek medical attention if you experience any of the following: 
Pain that does not go away after rest or icing the area. 
Pain that worsens with activity. 
Shooting pain radiates from the back to the leg. 
Numbness, tingling, or weakness in the affected limb. 
Fever, chills, redness, and swelling of the affected areas. 
Read More: Sharp Pain in Vagina: Causes, Symptoms, and Treatment
The Bottom Line
Sharp leg pain can cause by various conditions, ranging from muscle strains to peripheral artery disease. If the pain persists or worsens with activity, it is important to consult a doctor as soon as possible and seek medical attention. The best way to prevent acute leg pain is to stay active. Stay away from activities that can cause severe pain in your legs. 
FAQs 
Q: What are some home remedies for sharp pain in leg? 
You can relieve your pain to a great extent with home remedies. Apply ice to the affected area. You are taking over-the-counter or prescription medications as needed. Stretching exercises and using assistive devices (such as braces, orthotics, or cushions) also reduce pain. Apart from this, massage therapy can also relieve your leg pain.
Q: Are there any long-term effects of shooting pain in leg? 
A: Depending on the underlying cause of shooting pain in leg, there may be long-term effects. For example, peripheral artery disease can lead to tissue death or gangrene in the affected limb if left untreated. Other conditions may also have potential long-term effects, such as joint damage, loss of mobility, or nerve compression. 
Q: Can stress cause sharp pain in the leg? 
A: Stress can contribute to muscular and musculoskeletal conditions that cause sharp leg pain. For example, if a person experiences ongoing stress and anxiety, they may experience muscle tightness, leading to tension in the leg muscles and causing sharp pain. Stress can also lead to poor posture, which can increase strain on the legs and joints, resulting in sharp pains. 
Q: Can a vitamin deficiency cause sharp pain in the leg? 
A: Yes, certain vitamin deficiencies can cause sharp leg pain. For example, a deficiency in Vitamin D can lead to muscle cramps and spasms, which can result in sharp pains. A lack of calcium or magnesium may also cause the muscle tissue to become brittle and weak, resulting in sharp pains. Eating a balanced diet and taking vitamin supplements can help prevent these deficiencies. 
Q: Is there a difference between sharp pain in leg and cramps? 
A: Yes, the main difference between sharp pain in the leg and cramps is that cramps usually involve muscle spasms that cause sudden and severe pain. Sharp pains, on the other hand, can cause by a variety of conditions that may result in more gradual and localized discomfort.