Every now and then, you may notice that my head hurts when I cough. This occurrence, while slightly concerning, is often not dangerous and can be associated with a variety of reasons. Let's delve into why my head hurt when I cough and what can be done about this.
What is a Cough Headache?
A cough headache is a rare variety of headache that is provoked by actions like coughing and various strains including sneezing, nose-blowing, laughing, crying, singing, bending over, or during physical exertion. It's crucial to differentiate between the two kinds of cough headaches: primary and secondary.
Primary vs. Secondary Cough Headache
Primary cough headaches, also known as benign cough headaches, are usually harmless. They may occur spontaneously, often in response to coughing or other straining activities. It typically starts suddenly just after straining, lasts a few seconds to a few minutes, and is usually felt in the front or side of the head but may radiate throughout the entire head.
Contrasting with primary cough headaches, secondary cough headaches carry more severe implications. Symptoms like these often suggest serious underlying medical conditions, such as brain tumors, issues with cerebrospinal fluid, or Chiari malformations, a situation where brain tissue extends into the spinal canal. These complex cough headaches can often be more long-lasting, sometimes linger for weeks, and could result in more severe symptoms including dizziness, unsteadiness, or loss of consciousness.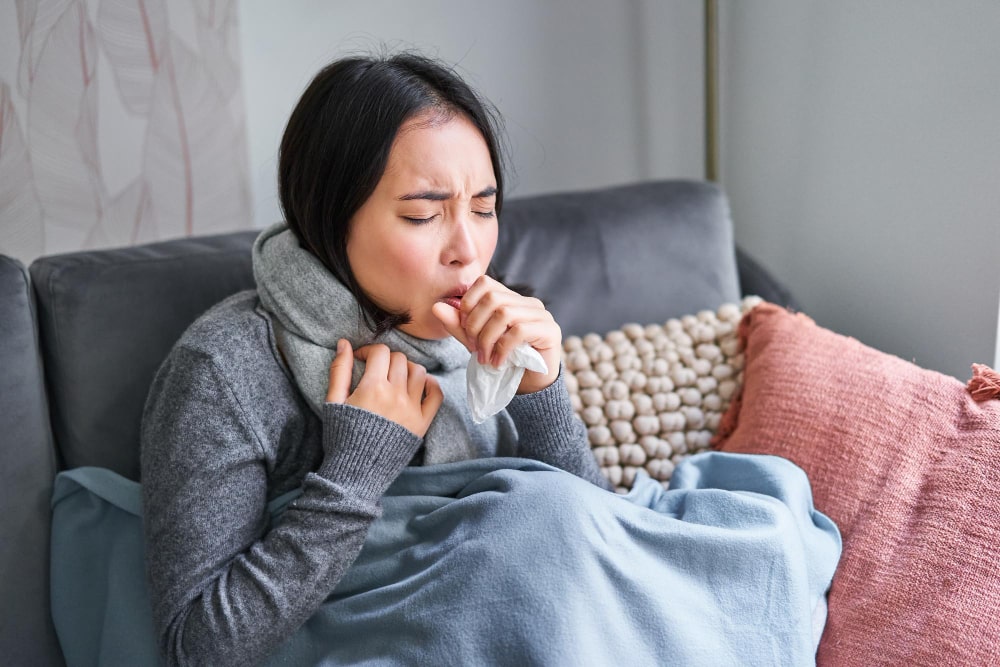 Read More: Top Herbs for Headaches Relief: Natural Remedies
Why Does My Head Hurt When I Cough?
When you cough, there are slight changes in the position of your body, including your head and neck. These movements can generate or exacerbate head pressure, leading to headaches especially if you already have an existing headache. The act of coughing itself does not typically cause a headache unless there is an underlying issue.
Mild Causes:
In many cases, coughing-related headaches are the result of benign factors such as mild upper respiratory infections, sinus infections, or tension headaches. These types of headaches often subside once the underlying condition clears up. Ongoing tension headaches and migraines can also worsen when you cough or make sudden head movements.
Serious Causes:
While most cough-related headaches are mild and self-limit, severe headaches that occur exclusively with coughing could be a more serious underlying health complication. If any of the following signs or symptoms emerge, it's critically important that you promptly seek out medical care: expectorating blood, extreme vertigo, intense nausea and vomiting, heightened temperature, the presence of a skin rash, discomfort in the chest, symptoms relating to your nervous system, or alterations in levels of awareness or wakefulness. These symptoms could suggest severe conditions, including meningitis, encephalitis, a brain infection, or potentially cancer.
Read More: Bumps on Back of Tongue: What Causes It and Remedies
Symptoms of Head Hurt When I Cough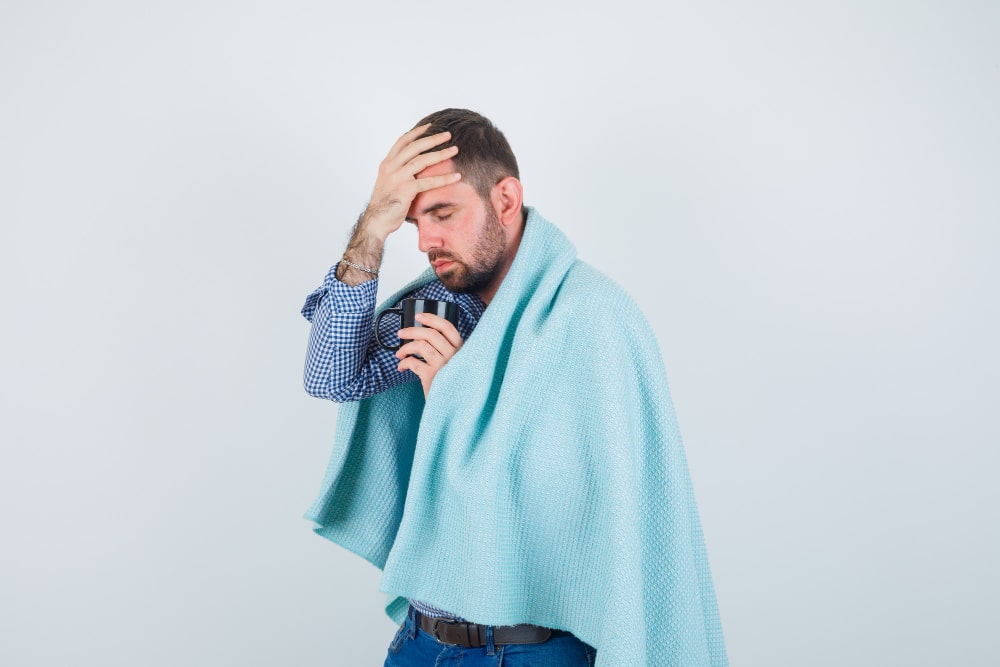 Primary cough headaches typically present with immediate, sharp discomfort that is set off by a cough, laugh, sneeze, or any other form of strain. This pain generally persists for a few seconds to several minutes, although it can sometimes last for up to two hours in certain situations.
Secondary cough headaches often come across with more severe symptoms. These can include long-lasting headaches, dizziness, unsteadiness, fainting spells, and sometimes other neurological symptoms, indicating the possible presence of a more severe issue in the brain.
Dealing With Cough Headaches
If you find yourself experiencing frequent primary cough headaches without severe symptoms, over-the-counter treatments like ibuprofen might suffice. Certain medications such as indomethacin, a type of non-steroidal anti-inflammatory drug (NSAID), and acetazolamide can help reduce the frequency and severity of the headaches.
For secondary cough headaches, addressing the underlying cause is crucial. Medical attention is required, and treatment depends on the specific health problem identified. It could vary from medication to, in some serious cases, surgery.
Treating Head Hurt When I Cough
Treating primary cough headaches can be as simple as managing the cough itself. Over-the-counter pain relievers might help alleviate the pain, and treating the cause of your cough such as a cold or bronchitis can also help decrease the frequency of these headaches.
However, for secondary cough headaches, you should seek immediate medical advice. Headaches that arise from coughing combined with other neurological symptoms can be a potentially serious condition. A medical professional might request imagining tests, such as CT or MRI scans, to look closely for any abnormalities that could be causing the headaches. Depending on the identified condition, treatments can range from medication to surgery.
Read More: Why Your Teeth Hurt When You're Sick: Causes and Remedies
Tips to Prevent Cough Headaches
Preventive measures for cough headaches include maintaining overall health with regular physical check-ups and avoiding excessive straining whenever possible.
Treat the underlying cause: If your headache is secondary to an underlying condition, addressing that condition is paramount for symptom relief. Consult a healthcare provider for an accurate diagnosis and appropriate treatment.
Rest and hydration: Getting sufficient rest and staying hydrated can help your body recover from infections or mild causes of coughing-related headaches.
Proper positioning: Avoid sudden or excessive straining, such as bending over, lifting heavy objects, or prolonged periods of head movements. Minimizing these movements can reduce the strain on your head and neck.
Over-the-counter pain relievers: Pain relievers that you can purchase without a prescription, such as ibuprofen (brands include Advil and Motrin), acetaminophen (under the brand, Tylenol), or naproxen sodium (marketed as Aleve), can serve to soothe the symptoms of headaches related to coughing. Always adhere to the advised dosage and don't hesitate to consult with a health professional if you have any uncertainties.
Home remedies: Home treatments can also provide some relief. This could entail applying a cold or hot compress to the affected area, creating a serene and quiet environment, avoiding exposure to loud sounds, and engaging in some stretching exercises.
Conclusion
In conclusion, if you often find your head hurt when you cough, it might be linked to a variety of factors. Identifying the type of headache and understanding its probable cause is the first step toward diagnosis and treatment. If your headache persists or is severe, it's critical to seek medical attention promptly.
Read More: Red Spots on Feet: What Causes It, How to Treat It?
FAQs
How long do cough-induced headaches usually last?
The duration varies. They can be brief, lasting only a few moments, or they can potentially linger for several weeks depending upon the individual and potentially the underlying cause.
Are cough-induced headaches more common in certain people?
According to some studies, primary cough headaches often affect males and those over the age of 40, but they can really happen to anyone.
What could be causing my headache when I cough?
Headaches triggered by coughing can be due to sudden pressure changes within the head during a cough. However, in some cases, they might be signaling underlying conditions such as brain disorders or structural defects in the skull.