When it comes to losing weight, people often focus on diet and exercise. And we think that vitamins are only beneficial for health. However, the role of vitamins in promoting weight loss is often overlooked. Certain vitamins play an important role in boosting metabolism, supporting energy levels, and aiding in the breakdown of fat. In this article, we will tell you about the top vitamins that can help you weight loss. They can provide practical suggestions for incorporating them into your diet.
How Does Vitamin B12 Aid in Weight Loss?
The maintenance of appropriate energy levels, which are crucial for weight loss, requires vitamin B12. It facilitates the metabolism of lipids, proteins, and carbs, which helps turn food into energy. B12 also aids in the creation of red blood cells, which provide oxygen to all parts of the body, including the muscles. Vitamin B12 can support weight reduction attempts by increasing muscular function and maximizing energy output.
Read More: Pineapple Juice Wisdom Teeth: Why it is Beneficial, How to Use it?
What is the Role of Vitamin D in Weight Loss?
Although vitamin D is well recognized for its contribution to bone health, it also helps people control their weight. According to research, a vitamin D deficiency may contribute to obesity and make it difficult to weight loss. Better insulin sensitivity and enhanced metabolism are linked to adequate vitamin D levels. Goals for weight reduction can be supported by being outside and eating foods high in vitamin D, such as fatty fish, and fortified dairy products.
How Does Vitamin C Aid in Weight Loss?
An antioxidant called vitamin C promotes the oxidation of lipids during exercise. It can increase the body's ability to burn fat and enhance exercise performance, which makes it an important tool for weight loss. Vitamin C also strengthens the immune system and encourages general well-being, which can help lead an active lifestyle.
Vitamin E: The Antioxidant Support
Another potent antioxidant that supports weight reduction attempts is vitamin E. It aids in shielding cells from free radical damage, which can obstruct the process of losing weight. Additionally, vitamin E helps the body use stored fat as an energy source, which makes it simpler to lose those excess pounds. Including spinach, almonds, and seeds in your diet can help you get a sufficient amount of vitamin E.
Read More: Best Cranberry Juice for UTI: Remedy for Urinary Tract Infection
Vitamin B6: The Hormone Balancer
The body's ability to regulate hormone levels is greatly aided by vitamin B6. Unbalanced hormone levels can cause weight gain and make it harder to weight loss. Vitamin B6 aids in mood regulation and prevents emotional eating by promoting the synthesis of neurotransmitters such as serotonin and dopamine. Additionally, it promotes a healthy weight by assisting in the metabolism of fats, proteins, and carbs.
Vitamin K: The Bone Strengthener
Vitamin K is crucial for strong bones and indirectly helps in weight loss. It's crucial to maintain muscle mass when reducing weight, and vitamin K support bone density in this way. For greater physical performance during workouts, strong bones give a solid basis for muscles. Foods high in vitamin K, such as leafy greens, broccoli, and Brussels sprouts, can help in weight reduction attempts.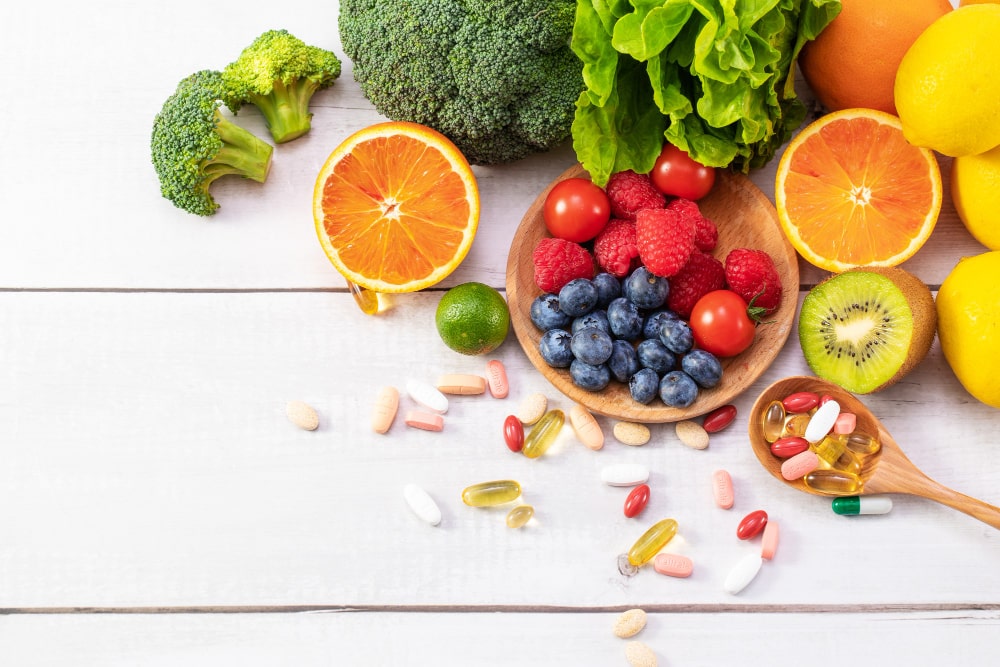 Vitamin A: The Appetite Regulator
The immune system and eyesight are two of vitamin A's well-known functions, but it also controls hunger. Leptin, a hormone that indicates feelings of fullness, helps keep levels in a healthy range. Vitamin A can help moderate cravings and stop overeating by promoting appropriate leptin signaling, which supports weight management.
Vitamin B3: The Cholesterol Regulator
Niacin, a form of vitamin B3, is essential for the metabolism of lipids and cholesterol. It stimulates the breakdown of triglycerides, a kind of fat present in the bloodstream, and aids in the conversion of lipids into energy that can be used. Vitamin B3 helps to maintain appropriate cholesterol levels, which benefits cardiovascular health in general and may help with weight reduction inadvertently.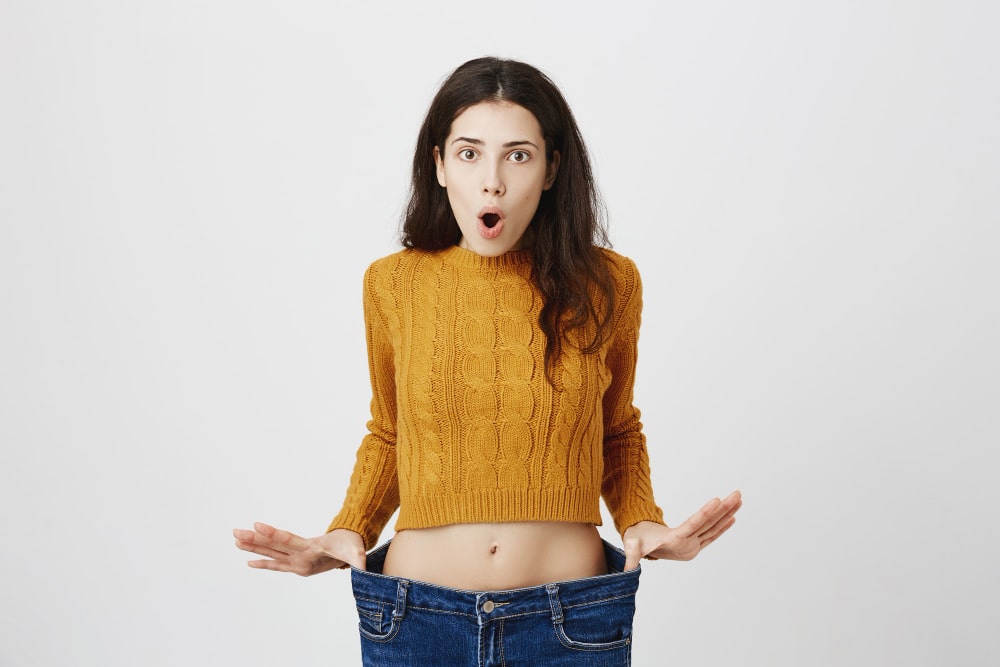 Read More: Tomato Juice Nutrition: Unveiling the Benefits of Red Wonder
Vitamin B5: The Stress Reduce
Pantothenic acid, often known as vitamin B5, is essential for the body's stress response. Our bodies release cortisol, a hormone linked to weight growth when we are under stress. By regulating cortisol levels, vitamin B5 lessens the negative effects of stress on our metabolism. Effective stress management helps us concentrate more intently on our weight reduction objectives.
Vitamin B2: The Fat Metabolizer
The metabolism of lipids, carbohydrates, and proteins as well as the creation of energy are both regulated by vitamin B2, commonly referred to as riboflavin. It helps in nutrient oxidation, which is important for maintaining an active lifestyle and reaching weight reduction objectives. You may guarantee an appropriate intake of vitamin B2 by including foods like lean meats, dairy products, and leafy greens in your diet.
Vitamin B1: The Energy Converter
Thiamine, often known as vitamin B1, supports the body's energy metabolism by assisting in the conversion of carbohydrates to energy. Vitamin B1 can improve physical performance and help with weight reduction by guaranteeing a continuous flow of energy. A healthy diet can include whole grains, legumes, and nuts as rich sources of vitamin B1.
Read More: Is Cranberry Juice Good for Kidneys?
Conclusion
The appropriate vitamins can help in weight loss and promote general health when they are included in your diet. Vitamins including B12, D, C, E, B6, K, A, B3, B5, B2, and B1 have a variety of functions in the body, including regulating hormones, oxidizing fats, and regulating hunger. A certified dietician or healthcare professional should be consulted before making any substantial dietary or supplementation changes.
FAQs
Can vitamins alone help me with weight loss?
Vitamins are not a miracle cure for weight loss. They promote body functions by promoting energy production, metabolism, and general health. For effective weight loss, vitamins must combine with a balanced diet and frequent exercise.
Can I get all the necessary vitamins from food alone?
Most of the required vitamins can obtain through a varied diet that includes whole grains, lean proteins, fruits, vegetables, whole grains, and healthy fats. To treat certain deficiencies, nutritional supplements may prescribe in certain situations.
Does consuming too many vitamins carry any risks?
While vitamins are typically safe when taken in moderation, some vitamins when taken in excess might have negative consequences. It's crucial to adhere to the suggested daily allowances and get personalized guidance from a healthcare provider.
How long does it take for weight loss vitamin use to produce results?
The length of time it takes to see benefits might change based on a person's dietary habits, level of activity, and general health. When adding vitamins to a weight reduction diet, consistency and patience are essential.
Can vitamin deficiency interfere with attempts at weight loss?
Yes, some vitamin deficiencies can have an impact on energy levels, metabolism, and general health, which may impede weight reduction efforts. To support your weight reduction objectives, it's crucial to keep your nutritional levels appropriate.