Do you love the taste of juicy, fresh tomatoes but need to know what sort of nutrition it provides? From its heart-healthy benefits to its surprising wealth of vitamins and minerals, tomato juice has an abundance of nutritional value that can benefit your overall health. This article will explore the nutritional composition of tomato juice, its various health benefits, considerations, and precautions when incorporating it into your diet, as well as recipes for using tomato juice to maximize its nutrition. 
What is Tomato Juice?
Tomato juice is a nutritious beverage choice that can be enjoyed on its own or used as an ingredient in various dishes. It is made by blending, cooking, straining, and then pressing the pulp of tomatoes to extract the juice. The end product contains the same nutrients found in fresh tomatoes, such as vitamins, minerals, and antioxidants. Tomato juice is often fortified with additional nutrients, making it a nutritious beverage choice.
Read More: Blueberry Pomegranate Juice: A Nutrient-Packed Beverage
Nutritional Composition of Tomato Juice:
Tomato juice is rich in many vitamins and minerals that are essential for optimal health, including Vitamin A, C, folate, potassium, magnesium, iron, and calcium. It also provides high levels of antioxidants such as lycopene, lutein, and beta-carotene – all of which contribute to its excellent tomato juice nutrition benefits. These compounds help to reduce inflammation and protect against chronic disease.
Nutritional Composition of Tomato Juice (per 8-ounce glass)
| | |
| --- | --- |
| Nutrient | Amount |
| Calories | 40 |
| Protein | 2 grams |
| Carbohydrates | 6.5 grams |
| Fat | 0.3 grams |
| Fiber | 1.2 grams |
| Vitamin A | 19% of the RDI |
| Vitamin C | 34% of the RDI |
| Potassium | 9% of the RDI |
| Lycopene | A powerful antioxidant responsible for the red color of tomatoes |
Nutritional Profile of Tomato Juice
How to make tomato juice nutrition at home?
Making homemade tomato juice is easy! All you need is a blender, tomatoes, and seasonings of your choice. Here's a basic recipe to get you begun:
Wash and cut 4-5 ripe tomatoes into smaller cubes.
Place the cubes in the blender with 1/4 cup of water and blend until smooth.
Add seasonings such as sea salt, black pepper, garlic powder, oregano, or basil to taste.
Pour the mixture into a saucepan and simmer for 10 minutes.
Strain the mixture through a fine sieve or cheesecloth and serve immediately, or store in an airtight container and refrigerate for up to 5 days.
Enjoy your homemade tomato juice.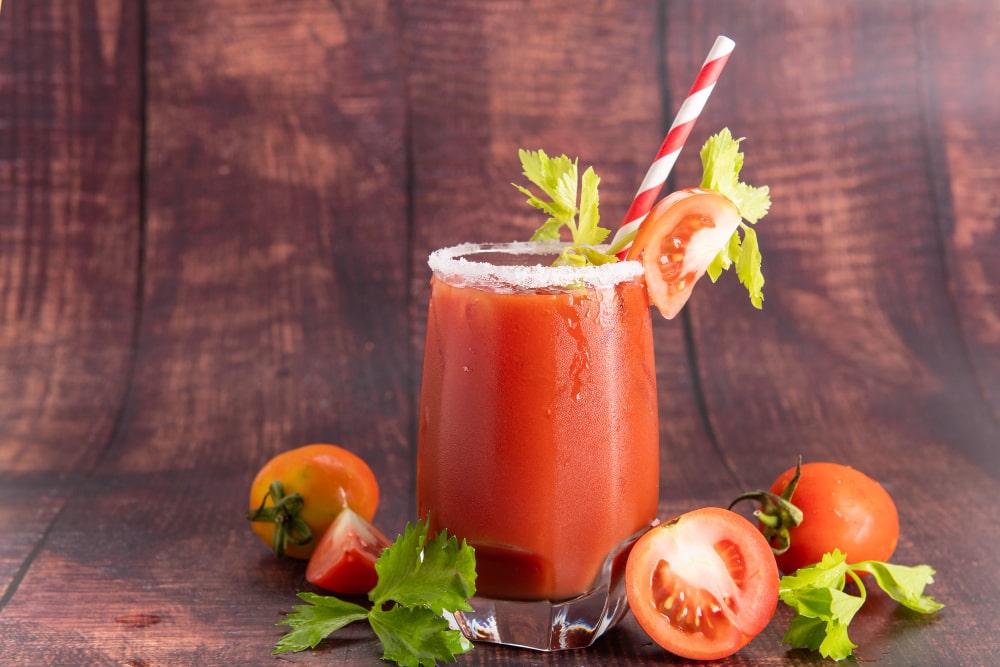 Read More: Can You Eat Cheesecake While Pregnant?
Health Benefits of Tomato Juice:
Tomato juice offers many health benefits due to its nutritional content. Here are several of the most notable benefits of tomato juice nutrition:
1) Heart Health: 
Tomato juice is rich in potassium and magnesium, both of which are important minerals that help to support heart health. Potassium helps to reduce blood pressure and the risk of stroke, while magnesium helps to lower cholesterol levels and prevent atherosclerosis. 
2) Skin Health: 
Tomato juice is packed with essential nutrients and antioxidants like vitamin A, vitamin C, and lycopene that provide a range of nutrition benefits. Vitamin A helps to promote collagen production, which prevents wrinkles and keeps skin looking youthful. Vitamin C also boosts collagen synthesis and provides a shield against UV rays. Lycopene found in tomato juice is a powerful antioxidant that helps to reduce skin inflammation and protect from sun damage, making it an excellent addition to any healthy diet.
3) Digestive Health: 
Tomato juice can help improve your digestive health due to its high fiber content. Fiber is essential for healthy digestion and regular bowel movements, as well as keeping the gut microbiome balanced. In addition, tomato juice contains probiotics that can help to maintain a healthy balance of bacteria in the gut.
4) Weight Loss: 
Tomato juice is low in calories and rich in fiber, making it an ideal drink for aiding weight loss. Its high water content keeps you full longer and helps to prevent overeating. Additionally, the fiber helps to slow down digestion so you feel fuller longer. 
Read More: Are Protein Bars Good for Weight Loss?
5) Eye Health: 
Tomato juice is rich in carotenoids like lutein and zeaxanthin, important eye health nutrients. These antioxidants help to reduce oxidative stress that can lead to macular degeneration and other age-related vision conditions.
6) Bone Health: 
Tomato juice is a good source of calcium, which is essential for healthy bones and teeth. Additionally, the vitamin K found in tomato juice helps to strengthen and protect bone structure by promoting proper absorption of calcium.
7) Hydration: 
Tomato juice is a great way to stay hydrated, containing 95% water content. It helps to replenish fluids lost through sweat and keeps the body functioning optimally.
8) Detoxification: 
Tomato juice is a great choice to include in your daily diet when trying to detoxify your body, as it is packed with antioxidants that can help reduce inflammation and flush out toxins. Additionally, the high water content helps to flush out toxins more effectively.
9) Cancer Prevention: 
Tomato juice contains lycopene, which is a powerful antioxidant that can help protect against certain types of cancers. Additionally, the vitamin C and carotenoids found in tomato juice can help reduce oxidative stress and inflammation that can lead to cancerous cell growth. 
Read More: The 5 Best Teas for Headaches to Relief Pain Naturally
Precautions when Incorporating Tomato Juice into Your Diet:
When adding tomato juice to your diet, it is important to consider the following points.
Tomato juice is low in calories but high in sugar, so it should be consumed in moderation.
It is best to opt for organic and unsweetened tomato juice as these are less likely to contain artificial ingredients or added sugars.
If you have kidney stones, it is best to avoid consuming large amounts of tomato juice as it contains oxalates which can aggravate the condition.
If you are pregnant, it is best to speak with your healthcare provider before consuming tomato juice, as some of the ingredients may not be suitable during this time.
Tomato juice should not be given to babies or toddlers as it may contain bacteria that can cause foodborne illnesses in young children. 
Juicing vs. Buying:
When buying store-bought tomato juice, it is important to opt for brands that are organic and non-GMO, as this will ensure that you are getting the most nutritional benefits from your juice. Try to make your own tomato juice at home, as this guarantees you the freshest and most nutrient-rich juice. 
Read More: 7 Effective Home Remedies for Abscess Tooth in (2022)
Incorporating Tomato Juice into Your Diet: 
Tomato juice can enjoy on its own or used as an ingredient in various dishes. Here are some ideas for using tomato juice: 
Make a classic Bloody Mary cocktail with vodka, tomato juice, and spices.
Use it as the base for a savory soup or stew.
Mix it with other juices, like orange or pineapple, for a refreshing beverage.
Add it to smoothies for extra vitamins, minerals, and antioxidants.
Use it as a marinade for grilling meats, vegetables, and tofu.
Make your homemade tomato sauce or salsa with tomato juice.
Freeze it in ice cube trays and use it as cubes instead of regular ice in cocktails or other cold beverages.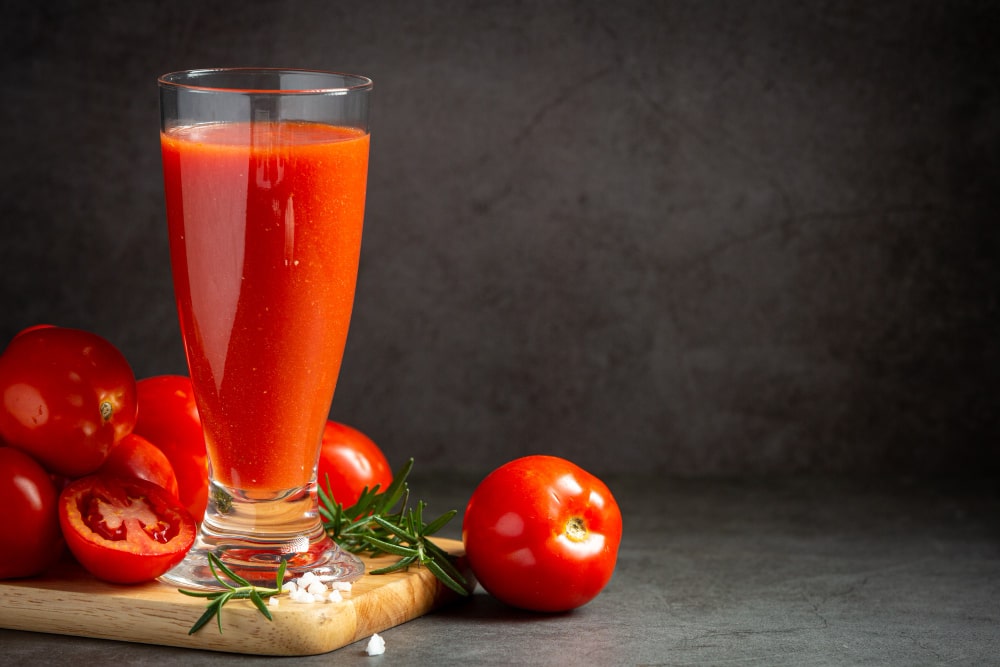 Recipes Using Tomato Juice:
There are many recipes that incorporate tomato juice for a nutritious and delicious meal. Here are some of our favorites:
Tomato Juice Smoothie: Blend tomato juice, banana, almond milk, and a pinch of sea salt for a refreshing smoothie packed with vitamins.
Vegetable Soup: Simmer tomato juice, carrots, celery, onion, and garlic together for a hearty soup.
Tomato Chicken: Marinate chicken in tomato juice before grilling or baking for an easy meal.
Tomato Pasta Sauce: Simmer tomato juice with onions, garlic, and spices for a flavorful pasta sauce.
Grilled Vegetables: Marinate vegetables such as eggplant, zucchini, or mushrooms in tomato juice before grilling for added flavor.
Adding tomato juice to your diet is an easy way to boost vitamins, minerals, and antioxidants. With its distinct flavor and wide range of health benefits, tomato juice can enjoy as a refreshing beverage on its own or used in various recipes for a nutritious meal. Try adding it to your diet today! 
Read More: 6 Natural Antibiotics for Tooth Infection: Causes, Symptoms
Conclusion
Overall, tomato juice is a nutritious and delicious addition to your diet with many health benefits like improved digestion, weight loss, eye health, bone health, hydration, and detoxification. It is also packed with powerful antioxidants that can help protect against certain types of cancer. When purchasing store-bought tomato juice for its nutrition benefits, opt for organic and unsweetened options for the most nutritional value. Add it to your diet today to boost vitamins, minerals, and antioxidants – all part of the great nutrition benefits of tomato juice!  ​
FAQs 
How much tomato juice should I include in my daily diet? 
The amount of tomato juice you should include in your daily diet depends on your individual health needs. Generally speaking, it is recommended that adults consume between two to four servings per day for optimal health benefits. However, if you have a specific medical condition or are taking medications, talk to your healthcare provider about the best amount of tomato juice. 
Does tomato juice contain any essential vitamins and minerals? 
Yes, tomato juice is a good source of essential vitamins and minerals such as vitamins A, C, K, potassium, and folate. It also contains some dietary fiber to support healthy digestion. Additionally, research has shown that tomatoes have antioxidant properties that can help protect against cell damage from free radicals.
Is drinking fresh or canned tomato juice better for me, nutritionally speaking?
Both types of tomato juice have their own nutritional advantages. Freshly made tomato juice contains more vitamins and minerals than canned, but canned versions are usually lower in sodium. Choosing the best option for you depends on your individual needs and preferences. Opt for fresh tomato juice for the most nutritional benefits. 
Is there a difference between the nutrition in cooked and raw tomato juice?
Yes, cooked tomato juice has fewer nutrients than raw. Cooking tomatoes breaks down the cell walls, which releases more of their beneficial compounds, but the heat also destroys some of the vitamins and minerals. Additionally, cooked tomato juice usually contains added sugar or salt for flavor, which can add to the calorie count. For the most nutritional benefit, opt for raw tomato juice whenever possible. 
Are there any side effects associated with drinking too much tomato juice? 
Drinking too much tomato juice can lead to digestive problems such as diarrhea and nausea due to its high acidity. Additionally, some may experience allergic reactions such as skin rashes or itching due to the citrus acids found in tomatoes. If you experience any of these symptoms, it is best to consult a healthcare professional.