If you're looking for a delicious and easy way to prepare chicken, then the smoked chicken breast recipe is a perfect choice. Smoking brings out the bird's natural flavour while infusing it with smoky goodness that will tantalize your taste buds. Plus, it's a great way to feed large groups in less time. In this guide, we'll walk you through the process of selecting the proper chicken, preparing a marinade, setting up your smoker, choosing wood chips, and more for the perfect smoked chicken breast recipe. We'll provide tips on ensuring that your smoked chicken is juicy and succulent every time.
Selecting the Right Chicken Breast
When it comes to smoking chicken breasts, make sure you select breasts with skin. The fat within the skin will help ensure that your chicken remains moist, even after smoking. You'll want to choose breasts of similar size so they cook evenly. Aim for breasts that are 2-4 ounces each and about 1 inch thick for optimal cooking times. 
Read More: 5 Best Juice for Constipation: A Comprehensive Guide
Ingredients Needed
To make a smoked chicken breast recipe at home, you'll need the following ingredients:
Four boneless skinless chicken breasts
1/2 cup olive oil
Two tablespoons of fresh lemon juice
Two teaspoons of garlic powder
Two teaspoons of dried oregano
One teaspoon of onion powder
One teaspoon paprika
1/2 teaspoon black pepper
Salt to taste
Preparing the Marinade
The marinade will give your chicken the most flavour, so it's important to get it right. Start by combining the olive oil, garlic, lime juice and brown sugar in a bowl; stir until the sugar is dissolved. Then add the paprika, cumin and sea salt; mix until fully incorporated. If you're adding chilli powder or hot sauce, do so now.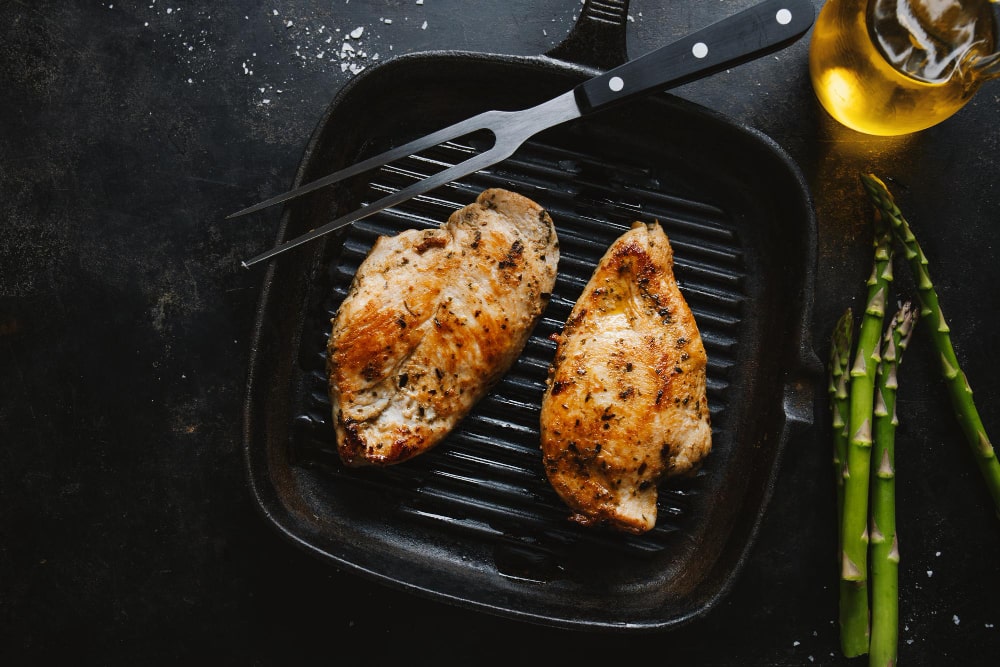 Read More: Turmeric Rice Recipe: Easy to Make It
Marinating the Chicken
Once the marinade is ready, add the chicken breasts to a resealable bag and pour in the marinade. Seal the bag and massage until each breast is completely coated with the marinade. Place in your refrigerator for at least an hour or overnight for best results.
Setting Up the Smoker
Getting your smoker set up correctly is key to ensuring that your chicken comes out perfectly. Start by ensuring you have enough wood chips; either hickory or mesquite works great for smoking chicken. Soak them in cold water for at least an hour; this will help create more smoke and add moisture to the smoker. Add the chips to the firebox of your smoker and set it up according to the manufacturer's instructions.
Choosing the Wood Chips
When it comes to smoking chicken, hickory and mesquite are two of the most popular types of wood chips. Hickory has a slightly sweet flavour that pairs well with poultry, while mesquite imparts an earthy, robust flavour. Try both and see which one you prefer.
Read More: 12 Best Fruits to Juice: Boost Your Health
Preheating the Smoker
Once your smoker is set up, preheat it to between 220 and 250 degrees Fahrenheit. This low temperature will ensure that your chicken doesn't dry out or burn while smoking. The high heat will also help create more smoke for a richer flavour.
Smoking Temperature and Time
For smoked chicken, the ideal temperature is between 165 and 175 degrees Fahrenheit. Insert an instant-read thermometer into the thickest part of the breast and leave it in for at least five minutes to get an accurate reading. The total smoking time will vary based on the size of your breasts but typically takes 2-4 hours.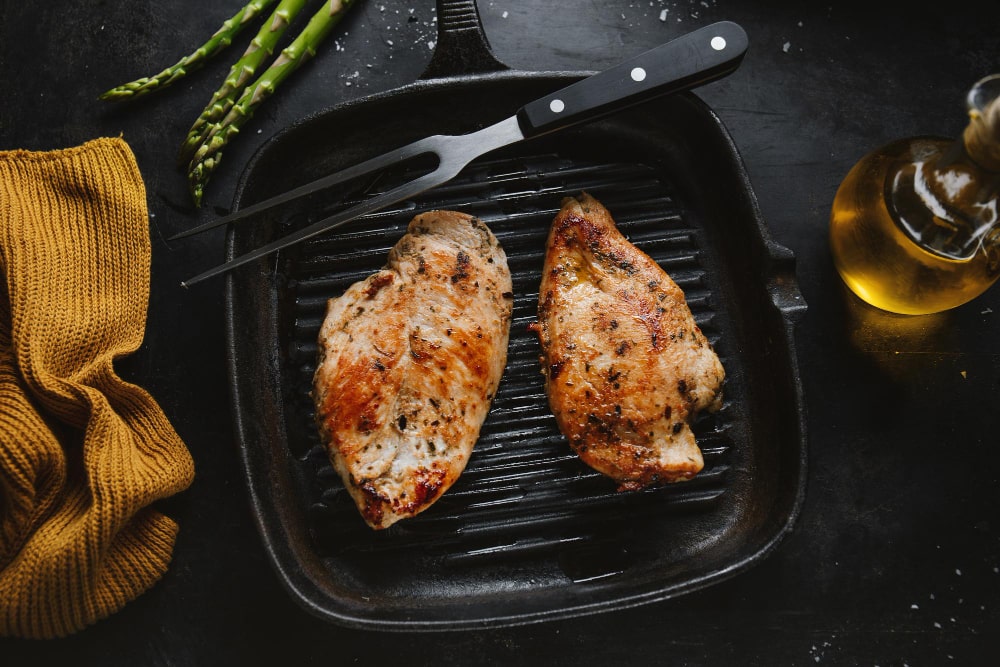 Monitoring the Smoke
Make sure you keep an eye on your smoker to make sure that it's producing enough smoke. Too much smoke can lead to a bitter flavour, while too little won't give you the desired smoky flavour.
Read More: Can You Eat Grapes While Pregnant: A Comprehensive Guide
Flipping and Basting the Chicken
Around the 1-2 hour mark, flip each chicken breast over and baste with some of the marinade. This will help keep the chicken moist and add a bit more flavour. Flip again at 3-4 hours if needed to ensure even cooking.
Checking for Doneness
When your chicken is done, it should register between 165 and 175 degrees Fahrenheit on an instant-read thermometer. You can also check doneness by cutting into one of the breasts; if no pink or red is visible, then it's done.
Resting and Slicing
Once your smoked chicken is fully cooked, please remove it from the smoker and let it rest for at least 10 minutes before slicing. This will help ensure that all of the juices stay inside the breast. Slice against the grain for the most tender pieces of chicken. 
Read More: Healthy Carbs for Weight Loss: A Nutritional Guide
Serving Suggestions
Smoked chicken is great as a main dish but can also be served in tacos, salads and sandwiches. For an easy side dish, serve it with roasted potatoes and your favourite vegetables.
Storage and Reheating Tips
Any remaining smoked chicken should be stored in an airtight container in the refrigerator. It will keep for up to four days. When ready to reheat, put it in a preheated 350-degree Fahrenheit oven for 10-15 minutes or until warmed.
Smoked chicken breast recipe ideas
Smoked chicken can be served in a variety of ways. Here are a few delicious recipes to get you started:
Smoky Jalapeno Grilled Chicken – Marinate your chicken with jalapenos, olive oil and lime juice before smoking. Serve with grilled corn and tomatoes for an easy Mexican-inspired meal. 
Smoked Herb Chicken with Roasted Potatoes – Rub your chicken with a mixture of thyme, rosemary and oregano before smoking. Serve the chicken with roasted potatoes for an easy dinner that's sure to please.
Smokey BBQ Pulled Chicken Sandwiches – Marinate the chicken in your favourite BBQ sauce before smoking. Shred the chicken once done and serve it on toasted buns with coleslaw for a delicious sandwich.
Chipotle Chili-Rubbed Smoked Chicken – Rub your chicken with ground chipotle chilli powder and smoked paprika before smoking. Serve with roasted sweet potatoes and a side salad for a simple but flavorful dish.
Honey-Mustard Glazed Smoked Chicken Breast – Make a glaze of honey, mustard, garlic and olive oil. Once your chicken is cooked, brush it with the glaze and serve over a bed of quinoa for an easy weeknight dinner. 
Read More: Pear Juice for Constipation: Nature's Solution to Digestive Woes
Conclusion
Smoked chicken is a delicious and easy-to-prepare dish that can be enjoyed as a main course or in tacos, salads, and sandwiches. With the help of this guide, you'll be able to make juicy and succulent smoked chicken every time – including an amazing smoked chicken breast recipe. Just remember to select the right chicken breasts, prepare your marinade, set up your smoker, and monitor the smoke. Remember to let your chicken rest before slicing for the best results. Enjoy! 
FAQs
Can I use a gas grill for smoking chicken breast? 
Yes, you can smoke chicken breast on a gas grill. You'll need to wrap the wood chips in aluminium foil and place them over one of the burners before preheating the smoker. Make sure to monitor the temperature and adjust as needed throughout cooking time. 
What are some creative marinade ideas for smoked chicken breast?
There are so many marinade combinations that you can use for smoked chicken breast! Some unique ideas include a citrus marinade (lemon or lime juice, olive oil, garlic and herbs), a teriyaki marinade (soy sauce, honey and garlic) or even an Indian-inspired marinade (yoghurt, ginger, garlic and cumin). Experiment to find your favourite! 
Can I use frozen chicken breasts for smoking? 
Yes, you can use frozen chicken breasts for smoking. Make sure they are completely thawed before marinating. This will help ensure that the marinade is absorbed evenly throughout the chicken. Additionally, it's important to cook them until a food thermometer registers 165-175 degrees Fahrenheit.