Introduction
In the vast landscape of diet plans and weight loss techniques, a newcomer growing in popularity is the "Metabolic Confusion Diet." Unlike many stricter dietary plans, the Metabolic Confusion Diet hinges on variety and flexibility, focusing on the restricted consumption of calories and the cycling between high and low-caloric intake. This style is also known as calorie cycling or calorie shifting.
What is Metabolic Confusion Diet?
The metabolic confusion diet challenges traditional weight loss approaches, usually consisting of stringent low-caloric intake and eliminating certain foods. Instead, it incorporates variation in eating patterns by alternating larger quantities of calorie consumption with periods of lower intake.
The premise behind this dieting style is to keep the body's metabolism from adapting to a recurring intake and hitting a 'weight loss plateau.' By introducing high and low-caloric days, the metabolic confusion diet intends to keep your metabolism active since it will constantly adjust to calorie intake changes. However, one essential thing to note is that one cannot technically "trick" the metabolism; instead, the metabolic confusion diet aids in preventing substantial slowdowns in metabolic rates caused by long-term calorie restriction.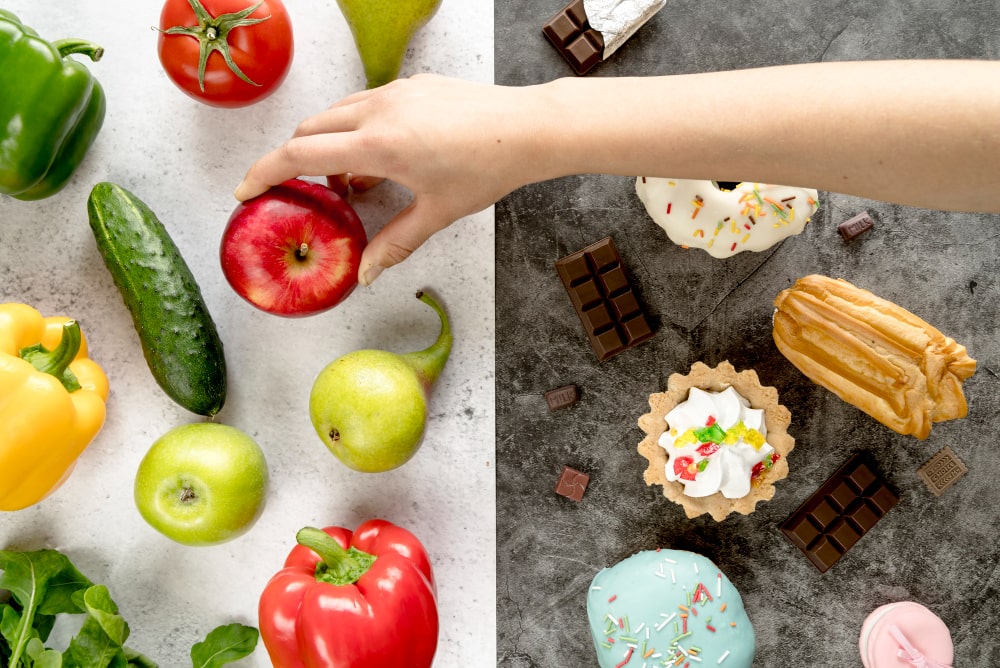 Read More: What is the Green Mediterranean Diet? Every You Need To Know
Calorie Cycling
Also known as "calorie shifting," the Metabolic Confusion Diet operates on the principle of randomness. Instead of following a standard caloric intake daily, this diet encourages alternating between high and low caloric intake periods. This way, it aims to keep the metabolism guessing, thereby stalling any potential metabolic slowdown that could hinder weight loss.
Decoding "High-Calorie" and "Low-Calorie" Days
While there are no formal guidelines, high-calorie days generally feature meals amounting to around 2,000 calories or more, while low-calorie days would drop this intake to about 1,200 calories. The lack of strict directives allows flexibility, permitting you to tailor the diet based on individual needs, body size, and lifestyle.
The frequency of these high-calorie and low-calorie days is also flexible. Some people like to alternate daily. Others prefer longer spans of high and low-caloric intakes, such as weekly. Importantly, the diet does not endorse extreme calorie restriction but advocates for a balanced approach.
Read More: Bone Broth Diet Plan: Benefits, Recipes and Meal Ideas
Metabolic Confusion Diet Plan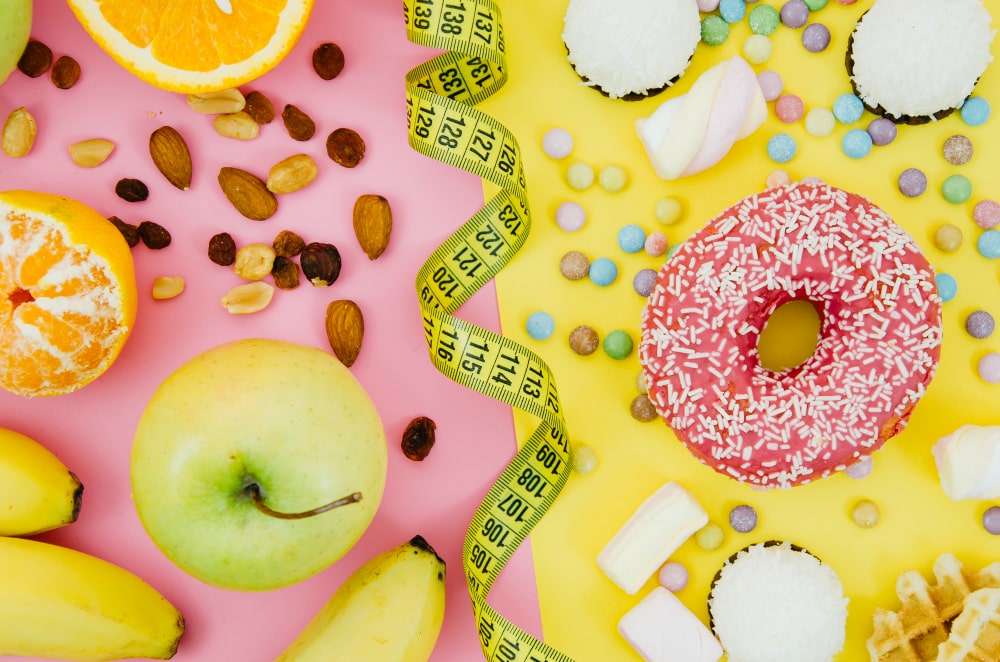 Certainly, here's a general sample plan for the metabolic confusion diet:
Day 1 (High-Calorie Day):
Breakfast: Avocado, scrambled eggs, a slice of whole-grain toast, and fresh orange juice.
Lunch: Tuna salad with olive oil dressing, mixed green vegetables, and a cup of berries as dessert.
Snack: Greek yogurt with mixed nuts.
Dinner: Grilled steak, sweet potato fries, and steamed asparagus.
Day 2 (Low Calorie Day):
Breakfast: A smoothie made with spinach, half a banana, mixed berries, and a scoop of protein powder.
Lunch: Grilled chicken on a large mixed salad with a light vinaigrette dressing.
Snack: A handful of almonds.
Dinner: Baked fish with a side of steamed broccoli.
Read More: High Carbs Diet Weight Loss: The Guide to Shedding Pound
Day 3 (High Calorie Day):
Breakfast: Pancakes with a small amount of maple syrup and a side of mixed fruits.
Lunch: Stir-fried shrimp with vegetables served with brown rice.
Snack: Dark chocolate and a handful of cashews.
Dinner: Roast chicken with corn and a salad.
Day 4 (Low Calorie Day):
Breakfast: An omelet with spinach and a side of fresh fruit salad.
Lunch: A bowl of vegetable soup served with a small whole-grain roll.
Snack: An apple with a tablespoon of peanut butter.
Dinner: Grilled turkey with a side of mixed green vegetables.
Day 5 (High Calorie Day):
Breakfast: Oatmeal with fresh strawberries, a drizzle of honey and walnuts.
Lunch: Spaghetti with turkey meatballs, a side salad.
Snack: A piece of fruit with a serving of cheese.
Dinner: Salmon fillet seasoned with garlic lemon butter, a portion of quinoa, and Mediterranean salad.
Day 6 (Low Calorie Day):
Breakfast: Two boiled eggs and a banana.
Lunch: A light chicken salad with a lemon dressing.
Snack: Carrot and cucumber sticks with hummus.
Dinner: A bowl of beef and vegetable stir-fry.
Read More: 5 Day Liquid Diet Weight Loss: Step-by-Step Guide
Day 7 (High Calorie Day):
Breakfast: French toast with a side of mixed berries and mascarpone.
Lunch: Cheese and ham sandwich with whole wheat bread and a side of potato chips.
Snack: Yogurt with a mix of your favorite nuts.
Dinner: Pork chops with sweet potato mash and steamed green beans.
Exercise and the Metabolic Confusion Diet
Though less prescriptive, the Metabolic Confusion Diet does recommend regular physical activity. Exercise is a proven means of boosting metabolism, burning calories, and promoting overall health. Regular physical activity, when combined with this diet, may aid in achieving better weight management outcomes.
Advantages of the Metabolic Confusion Diet
The metabolic confusion diet offers several potential benefits underpinning its growing popularity:
Flexibility: Unlike many dietary regimes that demand strict control over food choices, this dieting approach affords dieters greater flexibility. You can decide the frequency of high and low-caloric days based on your preferences and habits.
Reduced Hunger: Because this diet does not continually cause low-calorie intake, it can help block feelings of deprivation and hunger common in long-term restrictive diets. This can balance energy levels and lessen cravings.
Potentially Prevents Metabolic Slowdown: The key draw for this diet is that by alternating between caloric intakes, we might prevent the metabolic slowdown that can hinder weight loss during long-term calorie restriction.
Read More: Vegan Diet Plan for Weight Loss: Healthy & Sustainable Approach
Limitations of the Metabolic Confusion Diet
Limited Research: Current research on the metabolic confusion plan needs to be improved, making it difficult for professionals to draw firm conclusions about its long-term effectiveness and safety.
Questionable Long-term Sustainability: Some people find the constant change between high and low-calorie days challenging to maintain in the long run.
Requires Calorie Counting: Because the diet centers on shifting caloric intakes, it does necessitate keeping an account of calorie consumption, which some may find tedious or stressful.
The Research Evidence
While the theory behind the Metabolic Confusion Diet might seem sound, it's crucial to remember that scientific research supporting this diet is still relatively scarce, with a mix of supportive and inconclusive studies. Some findings have suggested better weight management and sustenance of resting metabolic rate compared to continuous calorie restriction diets. However, other studies have found no significant differences in long-term weight loss outcomes against traditional diets.
Therefore, as intriguing as the metabolic confusion is, it's crucial to be aware that research is ongoing, and more long-term results are required to establish its effectiveness conclusively.
Read More: 7 Day Japanese Diet Plan for Weight Loss: Benefits, Tips
Metabolic Confusion Diet: A Final Word
While the metabolic confusion diet offers an intriguing alternative to traditional weight loss plans, its benefits and potential drawbacks must be considered in tandem. Each individual's unique metabolism, dietary preferences, and health goals should guide their choice of a weight management plan. As always, consulting a healthcare professional before starting any new diet plan is advised.
FAQs
Is exercise required in the Metabolic Confusion Diet?
While the metabolic confusion diet does not prescribe specific exercise guidelines, regular physical activity is recommended as it aids in boosting metabolism and overall health.
Is the Metabolic Confusion Diet effective for weight loss?
Metabolic confusion can contribute to weight loss since alternating between high and low-calorie days may prevent metabolic slowdown. However, research is limited, and individual results can vary. 
Are there any risks associated with the Metabolic Confusion Diet?
As the metabolic confusion diet involves varying caloric intake, it may cause fluctuations in energy levels. Also, without proper guidance or control, high-calorie days might lead to overeating. It's essential to maintain a balanced intake of nutrients throughout.