Making a dish of beef fried rice is a great way to use up leftovers while creating a delicious and filling meal. Combining cooked white rice with flavorful ingredients like garlic, ginger, scallions, and lean ground beef makes for an easy-to-prepare meal that can be enjoyed by everyone in the household. This article provides step-by-step instructions for how to make tasty beef fried rice recipe. We'll cover everything you need to know, from selecting the right type of rice and prepping the ingredients to cooking and seasoning the dish so it comes out perfectly every time. With just a few simple steps, you can make an authentic-tasting beef fried rice meal that your family will love! 
Beef Fried Rice Recipe
This beef fried rice recipe should feed four to six people, depending on their appetites. Feel free to adjust the amounts of ingredients as necessary.
Ingredients:
1/2 pound lean ground beef
Two tablespoons oil (vegetable or canola)
4 cups cooked long-grain white rice
1/2 cup frozen peas and carrots
1/4 cup soy sauce
Two tablespoons of oyster sauce 
Read More: How to Make Smoked Beef Ribs Recipe: A Flavorful Delight
Equipment Needed:
Large skillet or wok
Spatula or wooden spoon
Preparing the Beef
Begin by browning the ground beef in a large skillet or wok over medium-high heat. Use a spatula or wooden spoon to break up any large chunks of meat while it cooks. Once the beef is cooked through, transfer it to a plate and set aside.
Cooking the Rice
If you still need to get cooked rice on hand, now is the time to prepare it. For four cups of cooked rice, you'll want to start with two cups of uncooked long-grain white rice. Add the two cups of rice and four cups of water to a saucepan and boil over high heat. Once boiling, turn down the heat and let the rice simmer for about 15 minutes or until it is softened and cooked through.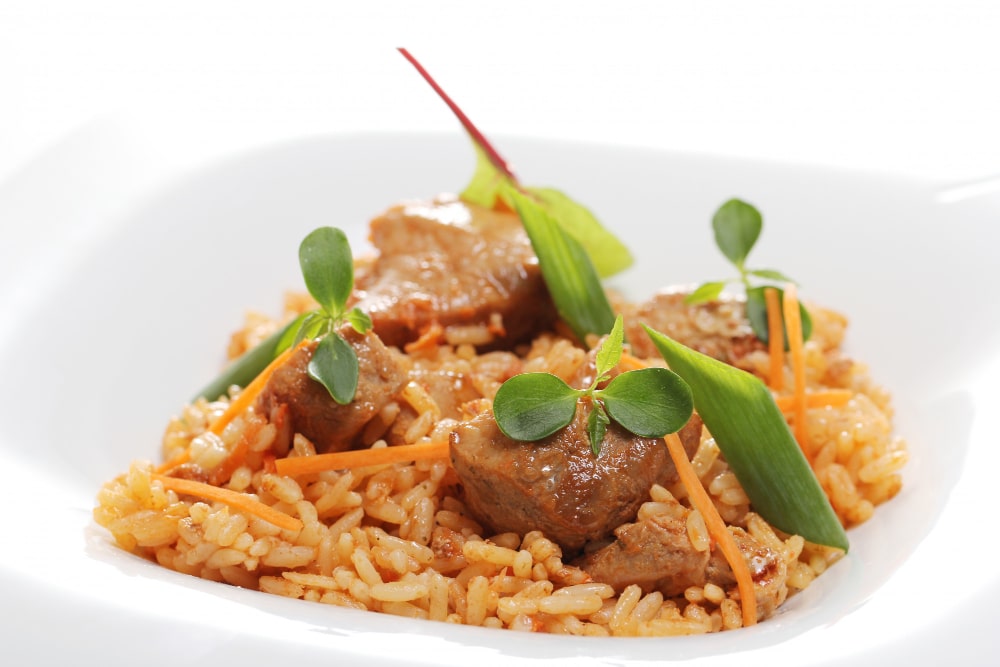 Read More: White Sweet Potato Recipe : A Delicious and Nutritious Delight
Stir-Frying the Ingredients
Once your beef is cooked and your rice is ready, it's time to begin stir-frying. Reheat the same skillet or wok over medium-high heat and add two tablespoons of oil. Once heated, add the cooked beef, frozen peas and carrots, and cooked rice. Stir-fry everything together for about 5 minutes or until the vegetables are heated.
Seasoning the Fried Rice
Once all of your ingredients are stir-fried together, it's time to season them. Add the soy and oyster sauce and stir until everything is evenly coated. Taste the mixture and add additional seasoning if desired.
Serving and Enjoying
Your beef fried rice is now ready to be served! Divide the fried rice among four to six plates or bowls and garnish with fresh herbs, such as scallions or cilantro. Serve immediately and enjoy! 
Read More: 5 Healthy Noodles Recipes in (2023): Benefits, How to Cook?
Tips for Variations
This beef fried rice recipe offers endless possibilities for variations. Feel free to add any other vegetables or proteins that you have on hand. You could also try swapping the white rice for brown, wild, or jasmine rice. If you're looking to make the dish spicier, try adding a few dashes of hot sauce or chili flakes. Have fun experimenting, and enjoy!
Nutritional Information of Beef Fried Rice
Beef fried rice is a great source of protein due to the addition of ground beef. It also contains healthy carbohydrates from white rice and vegetables. Depending on your other ingredients, it can be high in sodium, so adjust your seasoning accordingly. 
Conclusion
In conclusion, beef fried rice is a delicious and easy-to-make dish that can be enjoyed by the whole family. It's also incredibly versatile, so feel free to experiment with different ingredients and flavorings. With this recipe as your guide, you'll be able to whip up delicious beef fried rice in no time! 
Read More: Back Pain After Eating: What Causes It, How to Prevent It?
FAQs 
Q: Can I use other types of ground meat instead of beef? 
A: Absolutely! You can substitute ground meat, such as turkey or pork, for the beef. You may need to adjust the cooking time slightly depending on the type of meat you are using. 
Q: What other vegetables can I add to my fried rice? 
A: Any vegetable can be added to your fried rice. Some popular options include bell peppers, mushrooms, snow peas, zucchini, and broccoli. 
Q: Is beef fried rice suitable for vegetarians? 
A: Yes! You can easily make a vegetarian version of this dish by omitting ground beef and replacing it with proteins such as tofu, tempeh, or edamame. 
Q: Does fried rice freeze well? 
A: Yes! You can easily store leftover fried rice in an airtight container and freeze it for up to three months. When ready to eat, thaw the fried rice overnight in the refrigerator and then heat it in a skillet or wok. 
Q: Can I use brown rice instead of white? 
A: Absolutely! Brown rice does take a bit longer to cook, so you may need to adjust the cooking time accordingly. You can also substitute any long-grain rice for the white. 
Q: Is there a way to make the fried rice less salty? 
A: Yes! To cut down on sodium, try reducing the amount of soy sauce used in the recipe. Alternatively, you can add a splash of vegetable or chicken broth when stir-frying for additional flavor without all the salt.