Are you concerned about potential hair loss as a result of supplementing your diet with creatine? Many people worry that this popular sports performance enhancer might be causing them to lose their precious locks. Thankfully, recent studies have shed some light on the subject, and we can now report that, in most cases, there is no scientific evidence suggesting that creatine causes hair loss. So please sit back, relax, and let's take an in-depth look at this interesting topic together. In this article, we will explore can creatine cause hair loss, the possible link between creatine and hair loss, examine what scientific evidence exists on the topic and discuss potential preventive measures.
2) What is Creatine?
Creatine is an organic acid naturally produced in our bodies from the amino acids arginine, glycine, and methionine. It's found primarily in muscles but also in other organs like the brain and kidneys. When consumed as a dietary supplement, creatine converts into phosphocreatine, which stores energy in cells and makes it available for muscle contraction. For this reason, creatine supplementation has been used by athletes to improve performance and increase muscle mass.
Read More: Does Diabetes Cause Hair Loss: Exploring the Connection
3) Can creatine cause hair loss?
A: No, there is no scientific evidence that suggests a connection between creatine and hair loss. Creatine is not known to have any adverse effects on the scalp or follicles. Therefore it should not lead to any hair loss in most people. In rare cases, individuals with underlying medical conditions may experience some side effects, such as acne and itching of the skin. However, these issues are usually symptom-specific and will resolve once the individual discontinues using creatine. It is important to consult your doctor if you have any concerns about taking creatine before starting supplementation.
4) The Link Between Creatine and Hair Loss:
The potential link between creatine and hair loss has become increasingly controversial in recent years. While some studies suggest that high doses of creatine can cause temporary hair shedding, other research suggests no direct correlation exists between the two. As such, it's unclear whether long-term use of creatine supplementation can cause permanent hair loss or balding.
5) Scientific Studies on Creatine and Hair Loss: 
At this time, there have been no scientific studies that directly examine the effects of creatine on hair loss. However, two studies conducted in 2019 and 2020 suggest a possible link between creatine supplementation and testosterone levels, which could be a contributing factor to hair loss. In the first study, researchers found that men who took 20g of creatine per day for three weeks experienced an increase in their testosterone levels compared to those who did not take the supplement. The second study also found similar results, with participants seeing an increase in their testosterone after taking 10g of creatine daily for 12 weeks. 
Read More: Can Low Calcium Cause Hair Loss? Everything You Need to Know
6) Potential Mechanisms of Hair Loss:
While the exact mechanism by which creatine may cause hair loss is yet unknown, some experts believe that increased testosterone may be to blame. Testosterone is known to act as a trigger for the creation of new hair follicles, meaning that high levels could increase hair growth.
However, it's also possible that supplementing with creatine could interfere with the body's natural hormone balance, leading to excessive amounts of hormones like D.H.T. (dihydrotestosterone), which can cause male pattern baldness. Additionally, higher testosterone levels have been linked to higher levels of cortisol – a stress hormone known to cause hair loss when present in excess.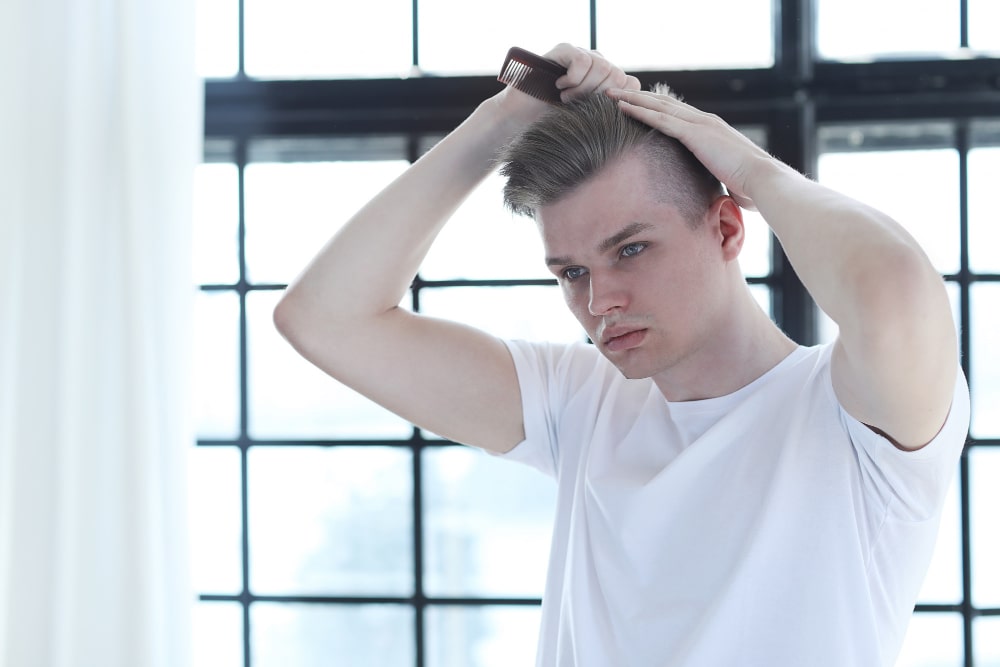 7) Factors That Influence Hair Loss: 
Hair loss is a complicated process that can influence by many factors, including genetics, stress, diet, and lifestyle choices. 
Genetics: Genetics plays a major role in determining the likelihood of experiencing hair loss. Those with a family history of baldness are more likely to experience it themselves. While those with no history may never have any issues with thinning hair. Additionally, genetic factors can influence the way an individual responds to taking creatine supplements. Those predisposed to higher testosterone levels are more likely to experience increased hair shedding when taking creatine than those without this genetic predisposition. 
Stress: Stress has been linked to increased cortisol levels and other hormones, which can cause hair loss over time.
Diet: Eating a balanced diet rich in vitamins and minerals can help keep your body healthy and strong, including the scalp, where hair follicles grow. Poor nutrition can lead to nutrient deficiencies that can contribute to hair loss.
Lifestyle Choices: Smoking, excessive alcohol consumption, drug use, and other lifestyle choices have all been linked to increased risk of experiencing hair loss.
It's important to note that everyone will experience hair loss differently. Some people may not notice changes in their hair after taking creatine supplements, while others may experience more significant shedding. 
Read More: Lack of Sleep Cause Hair Loss : Tips For Better Sleep Habits
9) Dosage and Duration of Creatine Use:
The dosage and duration of creatine use may also impact the extent to which hair loss occurs. Generally, it's recommended that individuals start with lower doses (2-5 g/day) for at least two weeks before increasing the dosage if necessary. Additionally, individuals should monitor their own body's response to supplementation over time – those who experience increased shedding of their hair should consider reducing or discontinuing their creatine supplementation.
Preventing Hair Loss Related to Creatine Use: 
If you are concerned about experiencing hair loss related to creatine use, there are a few steps you can take to help prevent it.
First, make sure that you're taking the appropriate dose and duration of supplementation for your body type and fitness goals.
Second, drink plenty of water while supplementing with creatine – dehydration has been linked to an increased risk of shedding.
Third, try to get enough rest, as stress and fatigue can both contribute to increased hair loss.
Finally, make sure to eat a balanced diet rich in vitamins and minerals – poor nutrition has been linked to nutrient deficiencies that can lead to hair loss. 
Read More: Can Selenium Cause Hair Loss : Everything You Need To Know
Other Possible Side Effects of Creatine:
In addition to hair loss, creatine supplementation can also cause to other side effects, such as:
Nausea: Nausea can occur during the first few days of starting a creatine supplement.
Water retention: Creatine can lead to water retention in some individuals, resulting in bloating and discomfort.
Digestive issues: Some people may experience upset stomach, diarrhea, or cramps when taking creatine.
Although these side effects are generally mild and temporary. They should still take into consideration when deciding whether to supplement with creatine. Additionally, it's important to note that creatine can interact with certain medications and medical conditions. So it always recommends that you consult your doctor before starting a new supplement regimen. 
Conclusion
In conclusion, while creatine is a safe and effective supplement for many people. It may also cause to hair loss in some individuals. The exact mechanism by which this occurs is not yet known, but experts believe that increased testosterone levels or disruption of the body's hormone balance are likely contributing factors. To prevent any unwanted side effects associated with creatine supplementation. It's important to adhere to recommended dosages and duration of use, stay hydrated, get enough rest, and maintain a healthy diet. If you're concerned about possible side effects from taking creatine supplements, always consult your doctor before beginning a regimen.
Read More: Does Smoking Cause Hair Loss? You Should Know in (2023)
FAQs 
Q: Are there any other potential side effects associated with creatine? 
A: Yes, besides hair loss, other potential side effects of creatine include gastrointestinal issues such as cramping, bloating, and diarrhea; dehydration; muscle tightness; weight gain; and reduced kidney function over time. It's important to be aware of these risks and talk with your doctor before starting a supplement regimen. 
Q: Is creatine safe for long-term use? 
A: While there is no definitive answer regarding the safety of long-term use of creatine. Research has shown that it can safely use in healthy individuals for up to a year. However, if you are taking any other medications or have a pre-existing medical condition, it's best to speak with your doctor first. 
Q: Are there any natural alternatives to taking creatine? 
A: Yes, there are several natural alternatives to taking creatine supplements. Such as eating a balanced diet rich in protein, exercising regularly, and getting plenty of rest. If you're looking to increase muscle strength and power without using supplementation, these lifestyle changes can be beneficial. Additionally, research suggests that omega-3 fatty acids help improve muscle growth when taken alongside weight training. Talk with your doctor about the best ways to naturally build muscle mass and achieve desired results. 
Q: Is it okay to take creatine and other supplements simultaneously? 
A: Generally speaking, taking creatine in conjunction with other supplements is safe. However, it's important to discuss your supplement regimen with your doctor beforehand. Certain combinations of supplements may contraindicate for certain individuals or medical conditions, so it's always best to check first. Additionally, it's also important to follow the recommended dosage instructions on any product you purchase for optimal safety and effectiveness.