Freezing watermelon is an effective method to preserve this quintessential summertime fruit beyond its regular season. However, how the fruit is frozen, stored, and subsequently used can significantly influence the quality and enjoyment of the preserved product. Below we delve deeper into 'Can you freeze watermelon?' examining the nuances that can help maintain its quality and expand its usefulness.
Watermelon, a sweet and refreshing fruit, is a staple during the summer season. But what happens when you've got more watermelon than you can eat, or you want to enjoy this fruit's delightful tastes even when it's not in season? The answer to extending your watermelon enjoyment lies in freezing.
Yes, you can definitely freeze watermelon. This process doesn't require any specialized equipment, nor is it overly complicated.
Freezing alters the texture of watermelon – it won't have that crisp bite when defrosted, becoming a bit mushy. However, frozen watermelon is ideal for numerous recipes and preparations such as beverages, desserts, and sauces.
Importance of Proper Storage
As frozen watermelon serves best in specific uses, proper storage plays a significant role. Freezing causes the cell walls to break down due to the high water content, leading to a soft, almost slushy texture upon thawing. Though this retains the fruit's flavor, it affects its crispness, making it unsuitable to be used as fresh unfrozen chunks in salads.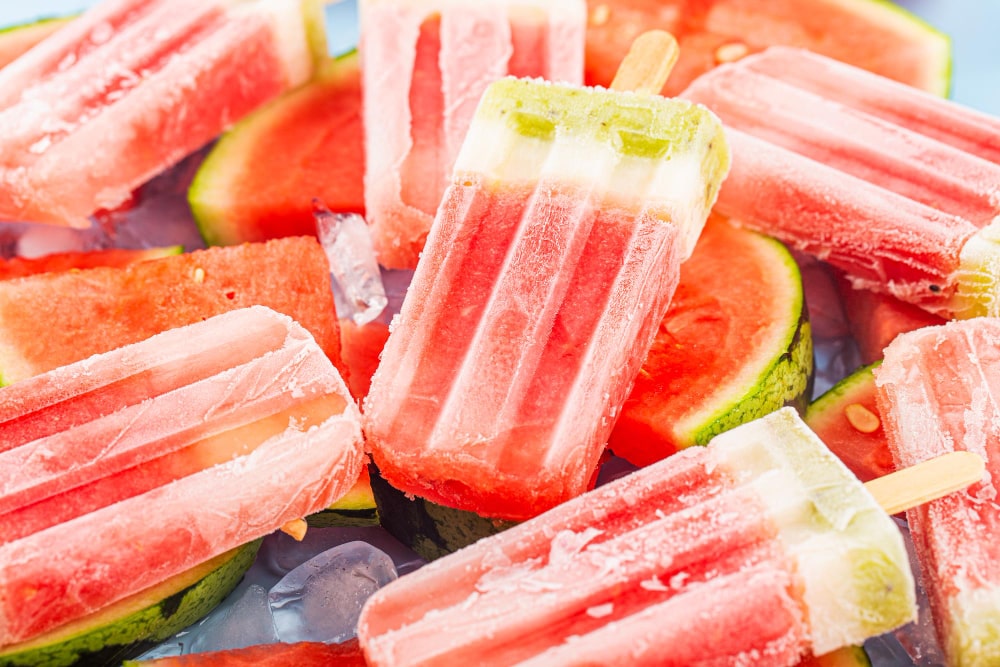 Read More: Is Watermelon Good for Diabetes?
Double Bagging
To reduce the risk of freezer burn or absorption of unwanted freezer flavors, some suggest double bagging the watermelon pieces during storage. Therefore, place the initial freezer bag containing the fruit into another one, which provides an added layer of protection, preserving the watermelon's flavor and quality.
How to Freeze Watermelon Effectively?
Here's a step-by-step guide on how to freeze watermelon effectively:
Preparation: Begin by selecting a ripe, fresh watermelon. Clean it under running water to eliminate any residual dirt or debris. Cut the watermelon into small portions; remember to remove the seeds as they can get hard when frozen, posing challenges while consuming later.
Cutting: Cut the fruit into chunks or scoop it with a melon baller. If intending to use it for smoothies or sorbets, irregularly sized pieces will suffice.
Freezing: To freeze, place the prepared watermelon pieces on a sheet of parchment paper, ensuring that they are set in a single layer and none of the pieces are touching each other. This is done to prevent the watermelon from sticking together when frozen. Afterward, put the baking sheet into your freezer and let the watermelon freeze until they are firm. This step is pivotal to ensure the watermelon pieces remain separate, easing the process of long-term storage later.
Storage: Once the watermelon pieces are frozen solid, shift them to freezer bags or airtight containers for longer-term storage. Make sure to leave some space in the bags or containers to accommodate any expansion that may occur during freezing. Don't forget to label and date your bags.
Frozen watermelon can last up to a year, but it's best to consume it within eight months for optimal taste and nutrition.
When ready to use, defrost the watermelon in the refrigerator. For a firmer consistency, partially thaw the watermelon. Keep in mind that completely defrosted watermelon may have a more pureed consistency.
Frozen watermelon can enhance a variety of recipes. Try it in smoothies, juices, or sorbets or as an addition to fruit salads. Spontaneously freeze watermelon juice in ice cube trays for a chilled, flavorful addition to drinks.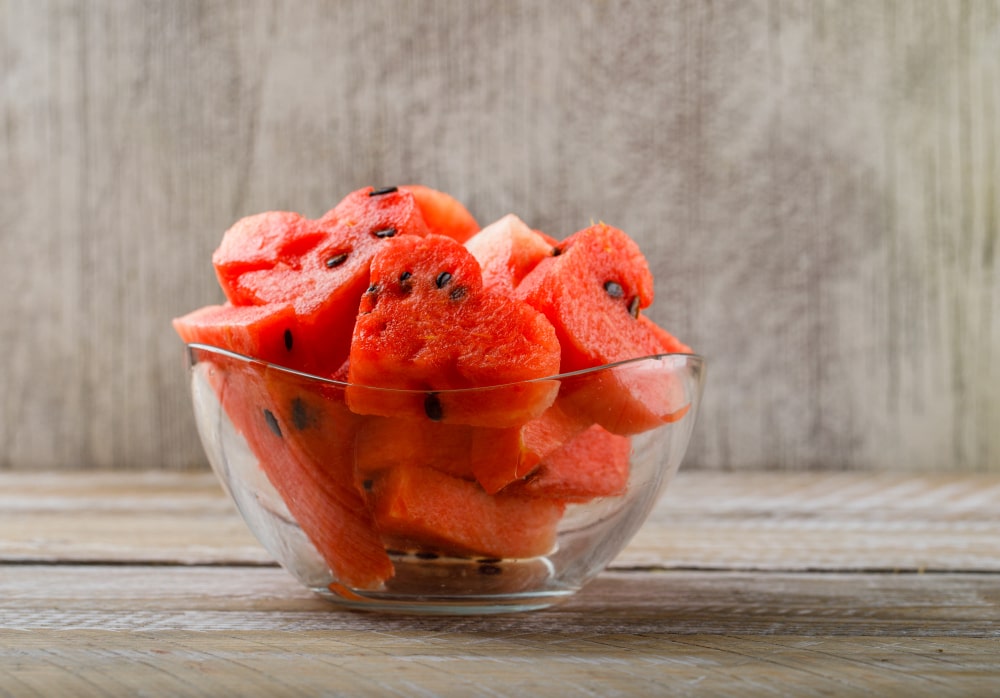 Ways to Use Frozen Watermelon
Read More: Smoothies to Lose Belly Fat Fast: Essential Ingredients & Recipes
Frozen watermelon can be ideal for different applications that utilize its sweetness and vibrant color.
Watermelon Smoothies and Slushies: This is arguably the most popular use. Using the frozen watermelon yields a delightful slush-like consistency to beverages, which also conveniently removes the necessity for additional ice. You can blend this fruit with a myriad of other ingredients like tangy lime, refreshing mint, your favorite fruits, or even yogurt. If desired, a sprinkle of honey can enhance the drink with a touch of added sweetness.
Frozen Watermelon Pops: For a quick and nutritious snack, consider creating Frozen Watermelon Pops. Simply push popsicle sticks into chunks of watermelon and place them in the freezer. The end result is an enjoyable and healthful frozen treat.
Watermelon Sorbet or Granita: Puree frozen watermelon chunks in a blender or food processor with sweetener if needed. For sorbet, freeze the puree until firm. For granita, scrape the mixture with a fork every 30 mins during the freezing process to achieve a flaky texture.
Adding to Cold Beverages: Frozen watermelon cubes can act as flavor-infusing ice cubes in water, iced tea, or cocktails.
Watermelon Jelly or Jam: Pureed frozen watermelon can also be used in making jelly or jam.
In conclusion, freezing watermelon is not only feasible but also a great way to extend the fruit's lifespan and versatility. While the characteristics of watermelon may change post-freezing, the uses are countless, and its delightful flavor can be enjoyed beyond its seasonal availability.
Conclusion
In conclusion, the answer to 'Can you freeze watermelon?' is a definite yes. While the texture changes upon defrosting, its supreme usefulness in a variety of culinary applications makes it a great candidate for freezing. Proper freezing and storage methods ensure quality and taste, allowing you to savor the essence of summer during colder months.
Read More: What is the Green Mediterranean Diet? Every You Need To Know
FAQs
Does freezing watermelon alter its nutritional content?
Freezing watermelon should preserve most of its nutrients, particularly its water-soluble vitamins like vitamin C. However, like all frozen fruits, there may be a small decrease in certain nutrients due to the freezing process.
Can you refreeze watermelon once it's thawed?
It's generally not recommended to refreeze any foods once they've been thawed, including watermelon, as fluctuations in temperature can lead to a loss of quality and potential health risks.
Can frozen watermelon still be eaten raw?
You can certainly eat the pieces of watermelon frozen or slightly thawed. However, the texture will be different from fresh watermelon, resembling more of a firm slushie consistency. Remember that fully defrosted watermelon may lose its crunch and become softer or mushier.
Is there any prep work required before freezing watermelon?
Yes, before freezing watermelon, cut the fruit into desired size, remove any seeds, and place the pieces on a baking sheet lined with parchment paper to freeze initially. This is to ensure the pieces don't clump together. Once frozen, the pieces can be transferred to freezer-safe bags or containers.