Pomegranate juice is a popular and delicious beverage that has been enjoyed for centuries. It is made from the fruit of the pomegranate tree, which boasts numerous health benefits due to its high levels of antioxidants and other beneficial compounds. Pomegranate drink can be consumed plain or blended with other juices or fruits, making it an extremely versatile drink. In recent years, it has become increasingly popular among health-conscious individuals looking to reap the many benefits of this superfood. This article will explore the best pomegranate juice options, including cold-pressed or organic varieties, health benefits, and nutritional value. It will also provide tips for selecting a high-quality product and suggestions for incorporating juice into your diet.
Best Pomegranate Juice
When it comes to finding the best pomegranate juice in 2023, there are a few factors to consider. It would be best to opt for a pure, 100% juice product without added sugars or preservatives. Additionally, look for organic and cold-pressed juices for maximum freshness and nutrient content. Some of the most recommended brands include POM Wonderful, R.W. Knudsen's Organic Pomegranate Juice, Naked Cold-Pressed Juice, and Lakewood Organic Pomegranate Juice. These brands have established reputations for delivering high-quality products with no added sugar or preservatives.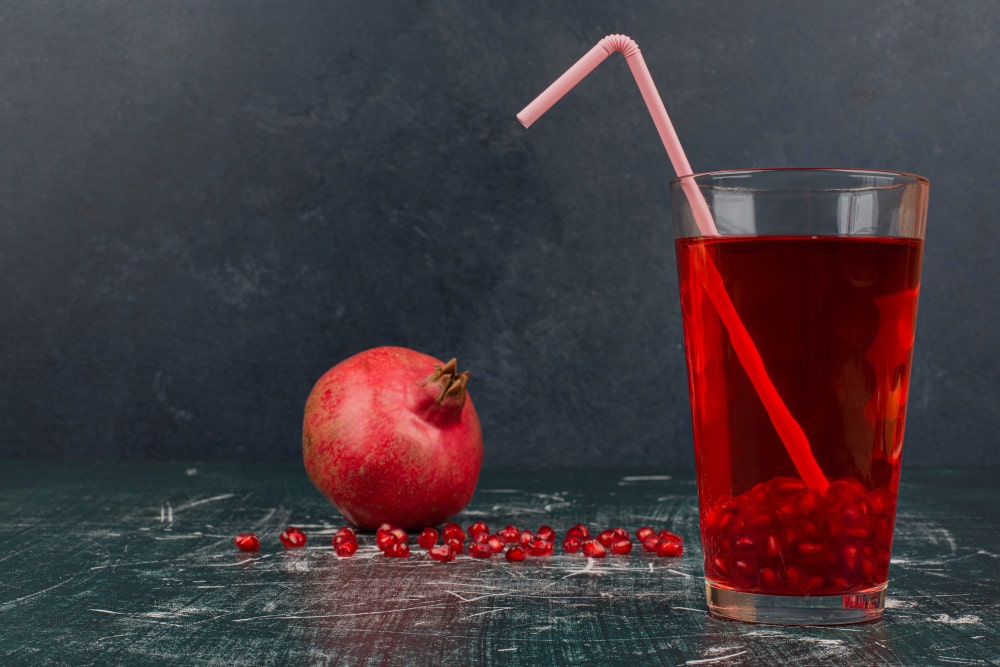 Read More: How to Make Grape Juice: A Refreshing and Nutritious Drink
Health Benefits of Pomegranate Juice
Consuming pomegranate juice has numerous health benefits due to its high antioxidant content. Antioxidants help to protect the body from oxidative damage caused by free radicals, which can lead to chronic diseases and premature aging. Pomegranate drink is also rich in vitamin C, potassium, and other essential vitamins and minerals.
In addition to its antioxidant properties, pomegranate drink has some cardiovascular benefits, including lowering blood pressure and improving circulation. It is also known to have anti-inflammatory effects, which can help reduce the risk of chronic diseases such as diabetes and cancer. Furthermore, pomegranate drink has dietary fiber, which aids in digestion and gut health.
Nutritional Value of Pomegranate Juice
Pomegranate juice is a great source of essential vitamins and minerals. It is rich in vitamin C and potassium, which are important for healthy bodily function. Pomegranate drink also contains dietary fiber, folate, magnesium, calcium, phosphorus, and other essential nutrients.
The nutritional content of pomegranate drinks can vary depending on the type and brand you choose. For example, some brands may contain added sugar or sweeteners, so it is important to read the label carefully. Additionally, cold-pressed and organic varieties retain more of the original nutrients from the fruit than blended flavors.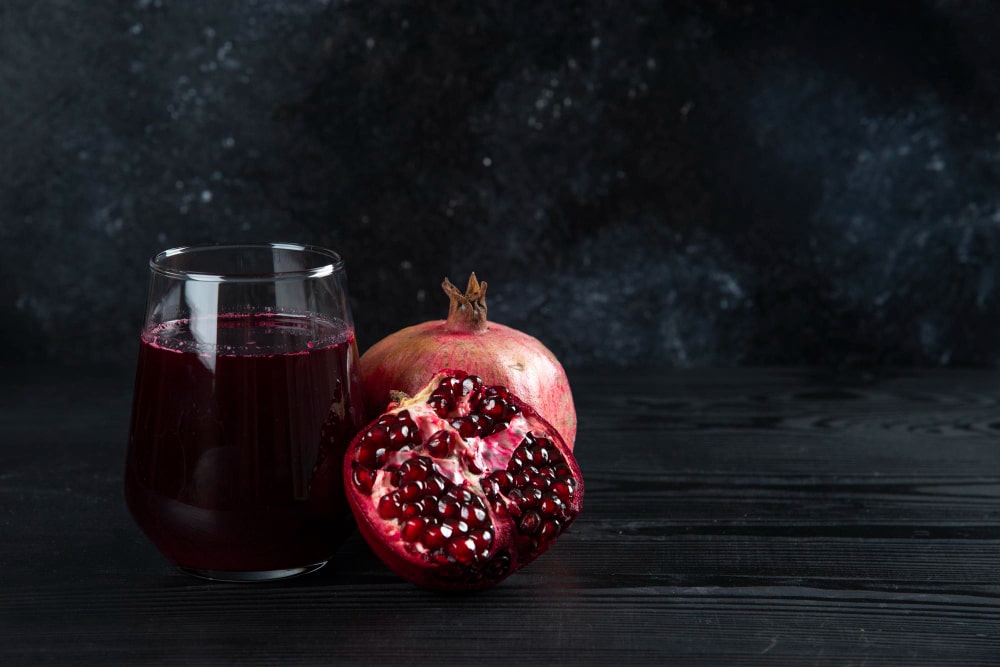 Read More: How to Make Pickle Juice: A Tangy and Refreshing Recipe
Nutritional composition of Pomegranate Juice
| | |
| --- | --- |
| Nutrient | Amount (per 8 fl oz) |
| Calories | 150 |
| Protein | Less than 1 gram |
| Carbs | 35 grams |
| Sugar | 30 grams |
| Fat | 0.5 grams |
| Sodium | 4.5 mg |
| Potassium | 300 mg |
| Vitamin C | 20% of the RDI |
Incorporating Pomegranate Juice into Your Diet
Incorporating pomegranate juice into your diet is easy and delicious! It can be enjoyed as a refreshing beverage or added to smoothies, salads, and other recipes. It is also a great addition to marinades for meat or fish or used as a base for sauces and dressings. Pomegranate drink pairs well with sweet and savory dishes, making it an extremely versatile ingredient.
When consuming pomegranate drinks, moderation is important. As it is high in sugar and calories, it should be consumed in small amounts and not used as a substitute for water. Additionally, it is important to be aware of possible allergic reactions or interactions with certain medications.
Read More: Pineapple Juice Wisdom Teeth: Why it is Beneficial, How to Use it?
Is pomegranate juice good for skin health?
Pomegranate juice is also a great way to improve skin health. The antioxidants in pomegranate drink protect the skin from free radical damage and can help reduce inflammation and even out pigmentation. Additionally, the vitamin C content helps to boost collagen production for firmer, more youthful-looking skin. Pomegranate drinks can be consumed orally or applied topically as a face mask for maximum benefits.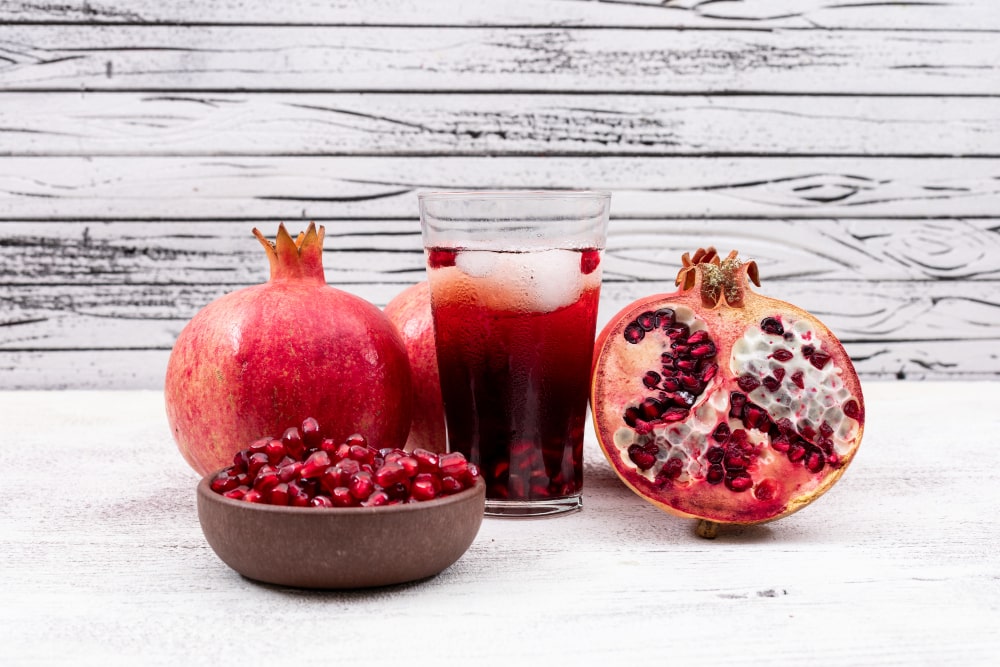 Can pomegranate juice help with weight loss?
In addition to its skin benefits, pomegranate juice can also be an effective tool for weight loss. Due to its high fiber content, it helps to promote fullness and control hunger cravings. The vitamin C in the juice is also beneficial for boosting metabolism and burning fat. When consumed as part of a healthy diet and exercise plan, pomegranate drinks can help to support your weight loss goals.
Storing and Shelf Life of Pomegranate Juice
To maximize the freshness and shelf life of pomegranate juice, it is important to store the product properly. Organic and cold-pressed varieties should be refrigerated after opening and consumed within two weeks. If left at room temperature for longer than a few hours, bacteria can form, which could cause spoilage. It is also important to understand expiration dates on packaging, as this indicates the date the product should no longer be consumed.
The shelf life of an unopened bottle of pomegranate juice can vary depending on the brand, but it is generally between six to twelve months. Once opened, it should be stored in the refrigerator and consumed within two weeks for best quality. Additionally, frozen pomegranate drinks can be kept in airtight containers in the freezer for up to a year. To thaw, it is best to place the container in the refrigerator or overnight or until it reaches room temperature.
Read More: Apple Juice for Constipation: A Natural Remedy for Digestive Relief
Are there any potential side effects associated with pomegranate juice?
Although pomegranate juice is generally considered safe, there are certain side effects and precautions to be aware of. Too much pomegranate drink can lead to an upset stomach, nausea, or diarrhea. Additionally, those allergic to citrus fruits may also be allergic to pomegranates. Pomegranate drinks may also interact with certain medications, so it is important to speak with your doctor before consuming the product.
Conclusion
In conclusion, pomegranate juice is a delicious and nutritious drink with numerous health benefits. From its high antioxidant content to its ability to boost collagen production, it can effectively improve overall health. However, it should be consumed in moderation, and any potential side effects or interactions should be discussed with your doctor before consuming the product. With proper storage and preparation, pomegranate drinks can be a delicious and healthy addition to any diet.
Read More: Best Cranberry Juice for UTI: Remedy for Urinary Tract Infection
FAQs
Q: How much pomegranate juice should I consume daily? 
A: It is generally recommended to limit consumption of pomegranate juice to 8 ounces per day. However, individuals may have different needs, so it is always best to consult a healthcare professional before increasing your intake. Additionally, you should be aware of any potential side effects, and if you experience any adverse reactions, discuss them with your doctor. 
Q: Can I use pomegranate juice as a face mask? 
A: Yes! Pomegranate juice can be used topically as a face mask for its antioxidant and anti-inflammatory benefits. It also helps boost collagen production for firmer, more youthful-looking skin. To use the pomegranate drink as a face mask, mix equal parts of the drink and coconut oil and apply it to the face. Leave for 10 minutes before rinsing off with warm water. Be sure to patch test on a small area of skin before applying it all over your face. 
Q: Is it better to drink fresh pomegranate juice or store-bought? 
A: Both fresh and store-bought pomegranate juices can provide the same health benefits. However, store-bought products may contain added sugars or preservatives, which could potentially reduce the nutritional value of the product. It is always best to read labels carefully before purchasing and look for organic, cold-pressed juices with no added sugar. Fresh pomegranate drink is easy at home with a blender or juicer. 
Q: Does pomegranate juice contain caffeine? 
A: No, pomegranate juice does not contain any caffeine. The drink is naturally free of any stimulants so it can be enjoyed at any time of the day. It can also be beneficial for those looking to reduce their overall caffeine intake or for those who are sensitive to the effects of caffeine.